Thyme Marinated Tender Pork Chops
I am big on local food. Including local meat. Which means that every fall I head out to various farms and bring home boxes of assorted cuts for my freezer. Today I am turning some of these into Thyme Marinated Tender Pork Chops.
I love knowing where my food has been. I feel more secure buying local than with corporate organic, especially after stories like a chicken's "access to the outdoors" can mean crowded conditions with a small door that it may never use. With most of the local farms, I actually walk the land, seeing the cattle grazing the fields or watching chickens run over my feet and gobble up unsuspecting toads and grasshoppers. I meet the farmers and hear of their commitment to grass-feeding or low stress care, or organic practices …
In addition, buying bulk from the farm usually means some choice of cuts & packaging. Leg of lamb… whole for Christmas Eve, instead of bacon… let's go with side pork, when grandma remarries and a daughter leaves for college… let's shrink the package sizes.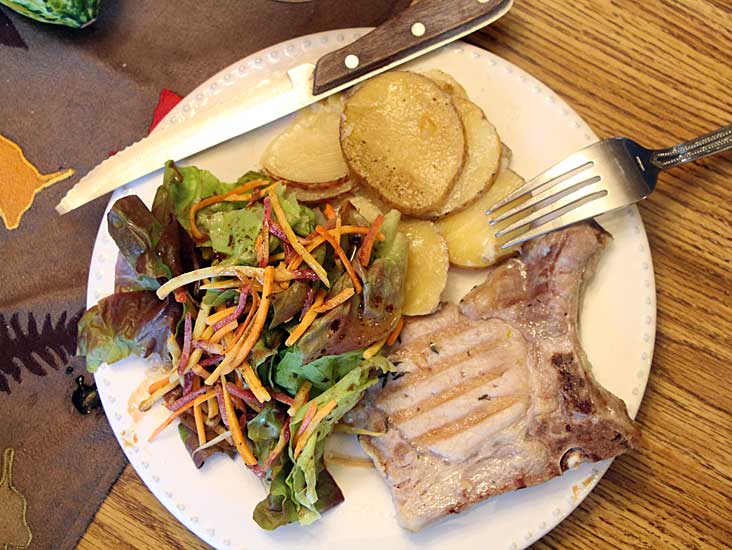 Of course the wide range of cuts can be both good and bad. When it's time to empty the freezer for the new year's supply and there are 6 packages of pork chops, it's clear I have a recipe problem! The new year's supply is coming. Procrastination is not an option!
My problem with pork chops is that they always turn out tough. Even marinating first. I decided to give the internet one last chance and (drum roll)… thank you the Kitchn! In addition to a marinade, they introduced a new cooking technique—start with a quick pan fry then transfer to finish baking in the oven. Magic!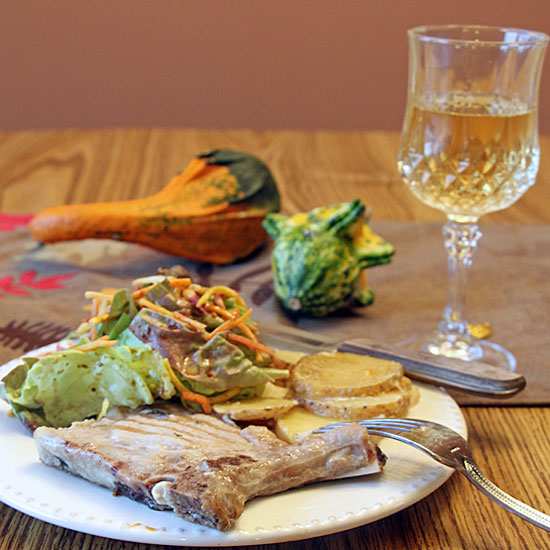 I recently tried this technique (brown on the stove top, then bake) on hamburgers and produced some of the best burgers I've ever made, so I'm convinced it's a winner.
Here's how it works:
You prepare a marinade of salt water and seasonings…
Marinade your chops from 1/2 hour to 4 hours (I probably went 2-3)…
Pat dry your meat (you get a much better sear on dry meat)
Place chops on to a very hot (preheated in 400 degree oven) oven safe pan and cook until first side is turning golden (the sear will be darker and bigger with a standard frying pan than you see here with my grill pan)
Turn the meat, then put pack in the 400 degree oven to finish cooking. Bake for approximately 6-10 minutes until meat thermometer reads 140-145 F. (My fairly thin chops went about 8 minutes).
Enjoy!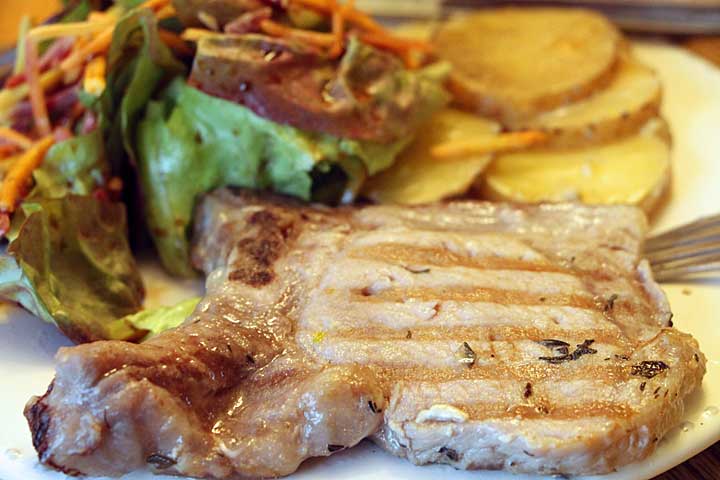 Thyme Marinated Tender Pork Chops
2015-11-08 13:17:35
Serves 4
Marinating, pan searing and oven finishing makes for super tender pork chops.
Nutrition Facts
Amount Per Serving
* Percent Daily Values are based on a 2,000 calorie diet. Your Daily Values may be higher or lower depending on your calorie needs.
For the marinade
1 cup boilng water
2 cups cold water
3 tablespoons sea salt (or 2 1/2 tablespoons table salt)
Flavorings: 2 smashed garlic cloves, 1/2 teaspoon black peppercorns, 1 bay leaf, 1 tablespoon fresh thyme (or flavorings of your choice)
4 pork chops, bone in, 1/2 - 1 inch cut
1-2 teaspoons Olive oil
Salt
Pepper
Instructions
To brine the chops (optional if you are in a hurry), in a shallow heat proof dish, add 1 cup of boiling water, salt and optional flavorings, then stir until salt is dissolved. Add 2 more cups of cold water to bring the temperature of the brine down to room temperature. Add the pork chops to the dish. If needed to submerge the chops, add additional water and salt (1 cup water to 1 tablespoon salt) . Cover the dish and refrigerate for 30 minutes or up to 4 hours.
Place the skillet in the oven then preheat the oven (and skillet) to 400°F.
While the oven heats, prepare the pork chops. Remove the chops from the brine or remove the chops from their packaging. Pat dry with paper towels. Rub both sides with olive oil, then sprinkle with salt and pepper.
Using oven mitts, carefully remove the hot skillet from the oven and set it over medium-high heat on the stovetop.
Lay the pork chops in the hot skillet (they should sizzle immediately). Sear until the undersides of the chops are golden, about 3 minutes.
Use tongs to flip the pork chops to the other side. Immediately transfer the skillet to the oven using oven mitts (even the pan handle will be extremely hot).
Roast until the pork chops are cooked through and register 140°F to 145°F in the thickest part of the meat with an instant-read thermometer. Cooking time will be 6 to 10 minutes depending on the thickness of the chops, how cool they were at the start of cooking, and whether they were brined. Start checking the chops at 6 minutes and continue checking every minute or two until the chops are cooked through.
Transfer the cooked pork chops to a plate and pour any pan juices over the top (or reserve for making a pan sauce or gravy). Tent loosely with foil and let the chops rest for at least 5 minutes before serving.
Art of Natural Living https://artofnaturalliving.com/