Wine Glazed Mushroom and Liver Pate
Growing up with a Danish mother, my childhood lunches or dinners regularly included liver pate (or leverpostej as we knew it). My siblings would gobble it down, considering it a treat, and I would eat just enough to take the edge off my hunger or ask for tuna fish. Yes, this was not the part of my heritage I most enjoyed.
I do remember when I started to appreciate the dish, however. It was many years later and this time had a French twist. My husband and I were attending the Festival of Cheese at an American Cheese Society conference and enjoying the specialty foods there (amid the mountains of amazing cheese). One of these was a liver pate by Les Trois Petites Cochons. We kept going back for seconds and it soon became a fixture on my holiday appetizer trays.
Last year, however, fate really lent a hand when I picked up my annual lamb for the freezer. Meeting the farmer at the butcher shop, I got an interesting question, "Would you like the lamb liver?"
"Sure," I said, guessing that my mother would take it if I couldn't figure anything out. One of the farmers looked at the other and grinned, "Give it all to her. No one else is going to want it." Six packages of lamb liver later I knew I needed a recipe.
The recipe below is a composite from two sources—one for the pate and one for the wine jelly that I like over the top. Originally made with chicken liver, I ended up using half lamb liver and half mushrooms to create a version that mutes the greater intensity that lamb or beef liver (versus chicken) brings. If you can get beef or lamb right off the farm that has is grass-fed organic even better.
I originally made this dish because I enjoy it, but in doing research for the post I learned that lamb liver (and presumably beef as well) packs a serious nutrition punch. The chart below from Poppies & Papyas has more detail.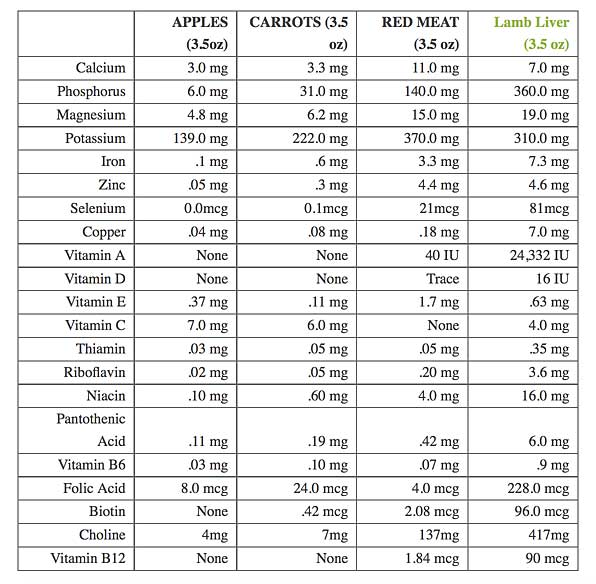 Now pate sounds like it should be hard, but it isn't at all and it can even be made ahead. The only thing remotely "tricky" is getting a smooth spread on the top. I ended up turning one of those special butter serving knives (see the "smoothing" picture below) into a makeshift offset spatula since its small size was perfect. Slight irregularities will be hidden by the wine jelly topping anyway.
To help you out even more in the busy holiday season, the pate itself freezes (for a few weeks only), covered with a layer of wax paper and sealed. Leave the jelly top off for freezing, and add it a day before serving. Still easy-peasy.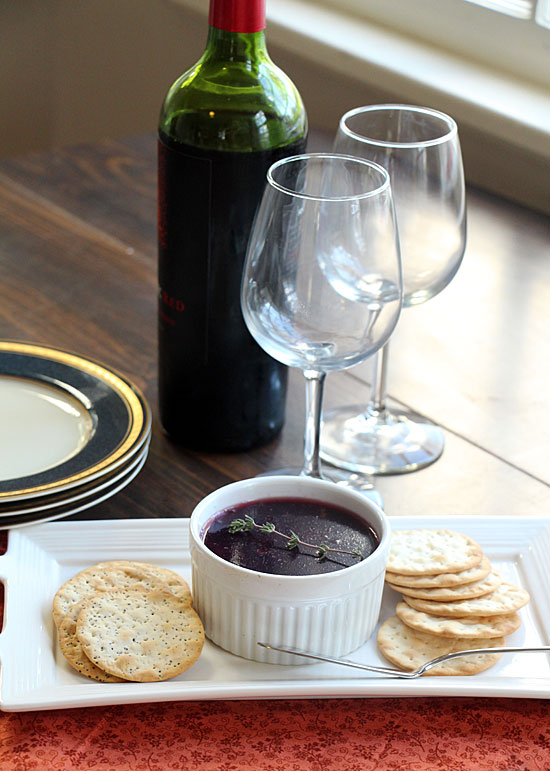 Do you have a favorite make-ahead appetizer?
Mushroom and Liver Pate
2015-11-19 13:31:20
Serves 12
Add a touch of class to your appetizer table with wine glazed mushroom and liver pate. Super easy and Mom would approve!
Nutrition Facts
Amount Per Serving
* Percent Daily Values are based on a 2,000 calorie diet. Your Daily Values may be higher or lower depending on your calorie needs.
For the pate
o 1 stick butter, divided
o ½ lb mushrooms, sliced
o 1 cup finely chopped onion
o 1 large garlic clove, minced
o 1 teaspoon minced fresh thyme or 1/4 teaspoon dried
o 1 teaspoon minced fresh marjoram or 1/4 teaspoon dried
o 1 teaspoon minced fresh sage or 1/4 teaspoon dried
o 3/4 teaspoon salt, divided
o 1/4 teaspoon black pepper
o 1/8 teaspoon ground allspice
o ½ lb lamb or beef liver
o 2 tablespoons bourbon or brandy
For the jelly
• 1 T water
• ¼ c plus 1 T port wine (or 1 T sherry & ¼ c red wine)
• 1 t sugar
• ½ t unflavored gelatin
• pinch of ground allspice
Instructions
Melt 2 tablespoons butter in medium skillet. Add sliced mushrooms and ¼ teaspoon salt, then sautee until golden.
Melt remaining butter in a large skillet over moderately low heat, then cook onion and garlic, stirring, until softened, about 5 minutes. Add herbs, ½ teaspoon salt, pepper, allspice, and livers and cook, stirring, until livers are cooked outside but still pink when cut open, about 8 minutes. Stir in bourbon and remove from heat. Add cooked mushrooms, then purée mixture in a food processor or blender (I think a blender creates a smoother pate) until smooth. Transfer pâté to crock or mini loaf pans and smooth top.
Chill pâté until firm, about 30 minutes, then cover with plastic wrap and chill at least 2 hours more. (Freeze at this point if desired)
To make the jelly, put the water in a small bowl and sprinkle the gelatin over it. Let sit 5 minutes.
In a small pan, warm the port (or wine/sherry mixture) with the sugar and allspice, then pour it over the softened gelatin, stirring until the gelatin is completely dissolved (you won't see the little dots of gelatin when complete). Let the mixture cool until it's tepid, then spoon it gently over the chilled pâté.
Art of Natural Living https://artofnaturalliving.com/