Maple Glazed Whole Wheat Pumpkin Donuts
Is there any such thing as too many pumpkin recipes? Given pumpkin's great flavor—and super nutritional value, I'd say no! It even comes dressed for fall! My latest recipe is for Whole Wheat Pumpkin Donuts and I've done them two ways—first with a simple cinnamon sugar coating and then with a maple glaze.
I have to give credit where credit is due! In the case of these Whole Wheat Pumpkin Donuts it goes to one of my blogging friends, Abby of The Frosted Vegan who kept posting amazing looking donuts. So when a mini donut pan appeared at TJ Maxx, I was ready to jump.
The original donut recipe is from King Arthur but I have made it healthier by using whole wheat pastry flour. Whole wheat pastry flour is a great way to get whole grain goodness in non-yeast baked goods while still keeping them light! The original recipe had a cinnamon sugar coating, which I loved—and which is the healthier of the two toppings. But for a fancier pumpkin donut I tried a maple glaze from Sally's Baking Addiction. Mmmm.
Despite the success of this recipe, I have to admit to a little quilt on buying another one-use kitchen item. Is "just one more pan" really worth it? While this recipe can be made in muffin cups (a little less successfully), I was really glad I had the pan. These were so easy and so popular everywhere I took them that I've made them three five times in one week.
In fact, I brought two dozen of these Whole Grain Pumpkin Donuts to the annual (fun and beautiful) Rare Earth Farm CSA harvest party and they disappeared almost immediately. There are clearly more donuts in my future!
And back to the nutrition—a serving (two mini or one full size) of donuts has nearly all of your RDA of vitamin A. How many times can you count donuts as a serving of vegetables? If you substitute a cinnamon sugar dipping mixture for the glaze, you will save about 100 calories!
Yes it's for good reason that 'tis the season of All. Things. Pumpkin.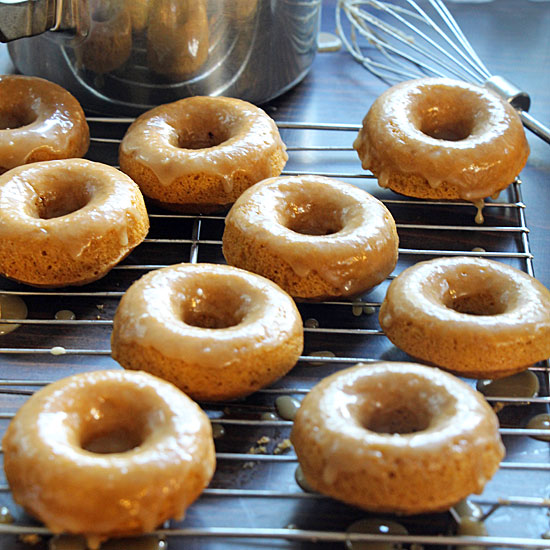 Whole Wheat Pumpkin Donuts
2015-10-18 16:25:29
Serves 12
With nearly a full days worth of vitamin A, these quick, easy and delicious Whole Wheat Pumpkin Donuts say "never too much pumpkin."
Nutrition Facts
Amount Per Serving
* Percent Daily Values are based on a 2,000 calorie diet. Your Daily Values may be higher or lower depending on your calorie needs.
For donuts
1/2 cup vegetable oil
3 large eggs
1 1/2 cups granulated sugar
1 1/2 cups pumpkin purée (canned pumpkin)
1 1/2 teaspoons pumpkin pie spice, or 1 teaspoon ground cinnamon plus 1/4 teaspoon each ground cloves, allspice and ginger (and nutmeg if you like)
1 teaspoon salt
1 1/2 teaspoons baking powder
2 cups whole wheat pastry flour (or 1 3/4 c + 2T unbleached all purpose flour)
For glaze (see note)
1/4 cup butter
1/2 cup pure maple syrup
1 cup sifted confectioners' sugar
Donut Instructions
Preheat oven to 350 F.
Beat together donut ingredients until smooth.
Lightly grease two standard doughnut pans.
Fill the wells of the doughnut pans about 3/4 full. I found that a pastry bag (or a zip loc bag with a corner cut off) made this super-easy.
Bake full sized doughnuts for 15 to 18 minutes (I went 14 minutes for mini-donuts), or until a cake tester inserted into the center of one comes out clean.
Remove the doughnuts from the oven, and after about 5 minutes, loosen their edges, and transfer them to a rack to cool.
Glaze instructions
Melt butter and maple syrup together.
Whisk in confectioners sugar and beat until smooth.
Let cool slightly then dip in cool donuts.
Alternatively, mix a few tablespoons of sugar and a teaspoon of cinnamon in a bag and shake warm donuts in this (see note)
Notes
If you substitute the cinnamon sugar dipping mixture for the glaze, you will save about 100 calories per serving (2 mini donuts or 1 full size donut).
King Arthur says that if you don't have doughnut pans, you can bake these in a couple of standard muffin tins. Muffins need to bake for 23 to 25 minutes. (I haven't tried this.)
Art of Natural Living https://artofnaturalliving.com/