Join me on a fun adventure foraging for wild grapes, then turning them into grape juice. Free all-natural food–how good is that!
Found food. As in food you find–right out in nature. Organic. Healthy. Free even. How good is that? When my daughter announced she had found a large patch of wild grapes, right along the bike path, I was excited.
You see, I had discovered the pleasure of wild grapes a few years ago. Small and tart, wild grapes are great for juice and jelly making. If you have never seen wild grapes, they aren't large juicy fruits like backyard concords or supermarket reds. Tart and tannic, they won't compete for fresh eating either. But wild grapes are loaded with antioxidants and, processed correctly, make a delicious juice or homemade jelly.
In Search of the Wild Grape
Wild grapes grow in small clusters of petite berries on long vines, often along the edge of woods. They use curled tendrils to climb the trees and it can take a bit of hunting to find enough within arm's reach. Wild grapes ripen in early to mid fall and the best time for picking is a brief window when the clusters are mostly purple (vs having a lot of still-green fruits) but before the older grapes begin to shrivel and decay. The last weekend of September was perfect this year in Wisconsin.
You need a couple gallons (e.g. ice cream buckets) of clusters to make a reasonable quantity of juice—which is easy if you find a big clump, but challenging if you need to traipse along a lot of country roads. I don't mind an extended search on a brilliant fall day, but on a cold one… A scissors or pruning shears will make harvesting easier.
As with any wild foraging, you need to make sure you are getting the correct plant. Take a look at articles like this (and I recommend checking more than one source) for (relatively easy) instructions on how to distinguish wild grapes from the poisonous moonseed plant.
What to Do with Wild Grapes
As I've mentioned, wild grapes are not likely to find fame as a fresh eating fruit. The problems range from size (teeny) to tartness (pucker up) to a high tartaric acid content that may actually cause stomach and skin irritation (see tips on how to avoid this below).
I have always used my wild grapes for juice. I make and can a concentrate, then mix it with plain or fizzy water for a beverage that is healthier and tastier than a commercial soft drink. Other people use wild grapes for jelly and or a homemade sweet wine.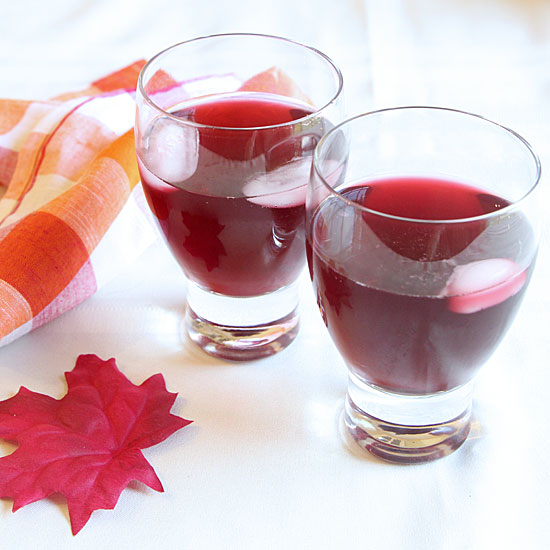 How to Work with Wild Grapes
There are a number of different species of wild grapes and some may require fewer precautions than the high tartaric acid species I find here in Wisconsin. But it won't hurt to take the extra preparation steps—better safe than sorry!
The first step is pressing the grapes. This can be done right on the stems though I prefer to separate the grapes first. Many people recommend pressing with a glass or your hands rather than a mechanical process which may nick the seeds and produce a bitter flavor (I don't have a juicer so I have always pressed manually). If you use your hands, gloves are recommended since some people report painful skin irritation. I am normally careful but my daughter got really into it (literally) and commented on a mild itchiness afterwards (though not as bad as the time she barehanded the world's hottest poblano peppers).
After pressing you strain the juicy pulp, ideally through cheesecloth, and let the juice sit in the refrigerator overnight. The tartaric acid will settle on the bottom of your container and you can pour the juice off the top and discard the (seriously unappealing) sludge. And yes, sludge is an apt description.
Some people suggest you avoid cooking the grape pulp, again due to the possibility of adding bitterness. This year I didn't have any cheesecloth to squeeze out the last of the juice so decided to try an experiment. After pressing and straining, I covered the remaining skins and seeds with water and simmered them for about 15 minutes. I then strained this mixture to create additional juice. I also let this sit overnight to separate and discard the "sludge". After sweetening, this "second pressing" was quite tasty, so I may continue this process to increase my yield.
Wild Grape Juice
Join me on a fun adventure foraging for wild grapes, then turning them into grape juice.  Free all-natural food–how good is that!
Ingredients
2

or more gallons of wild grapes, including stems

3

cups

of sugar

or more to taste

2

cups

water
Instructions
Remove grapes from stems and press grapes to extract juice. Strain through a strainer lined with cheesecloth, then squeeze the cheesecloth to release as much juice as possible. Discard the remaining pulp. Let juice sit in your refrigerator overnight until a sludge settles on the bottom. Pour the juice off the top and discard the sludge. You should have about 3-4 cups of juice.

In a large saucepan over medium heat, stir water and sugar together until sugar is dissolved and syrup is hot. Add strained juice and stir to combine. Taste test for sweetness by putting a teaspoon of juice in a glass then adding water. Add sugar as needed. If you plan to can the juice, bring it back to just below boiling.

The resulting juice concentrate can be frozen or canned in a water bath in pint jars processed for 5 minutes, adjusting for altitudes over 1000 ft. For complete canning instructions, see the link below.

To serve, mix 2-3 tablespoons (or to taste) of concentrate with fizzy (or plain) water.
Nutrition
Calories:

74

kcal

Carbohydrates:

19

g

Sodium:

1

mg

Sugar:

19

g

I am not a health professional and nutrition data is calculated programatically. Accuracy may vary with product selection, calculator accuracy, etc. Consult a professional for the best information.

For complete canning instructions, see this National Center for Food Preservation link.