(Real) Pumpkin Chai Latte
My oldest daughter is seriously pumpkin obsessed–every fall she goes wild with pumpkin foods and decorations. Since she is also the queen of tea, I was not at all surprised when she announced she was going to learn to make Pumpkin Chai Latte.
Chai is defined by Wikipedia as "a blend of black tea and herbs and spices, originating in India". It has a warm, rich and subtly exotic flavor that is delicious in any season. I couldn't wait to try a fall version!
I suggested that she start with my Pumpkin Spice Latte recipe. A simple and delicious coffee blender drink, I figured it would convert perfectly to a chai version! Whirred up in a blender (start on low–blending hot liquids can be dangerous), either drink is every bit as foamy as something made by a barista! Blended with real pumpkin, they are even loaded with nutrition.
If you don't have packaged chai handy, you can create your own with black tea and ordinary household spices. Whole Foods recommends a blend of black tea, cardamom, cinnamon, cloves, black pepper & ginger that I tried and enjoyed (though it's not quite as strong as I like mine). If you don't have the whole form of some of these, substitute a pinch of the ground spice instead.
My oldest has an October birthday and has always loved fall. She is still famous for her teeny girl statement (picture a little squeaky voice), "Fall is the best time of my year." With its mellow weather, colorful ambiance, and bountiful harvests, I think it may the best time of many people's year!
Warm pumpkin drinks can only make it better.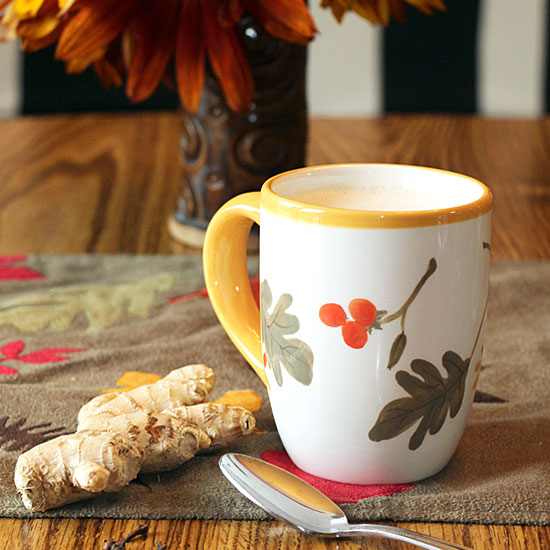 Pumpkin Chai Latte
2015-09-27 17:31:00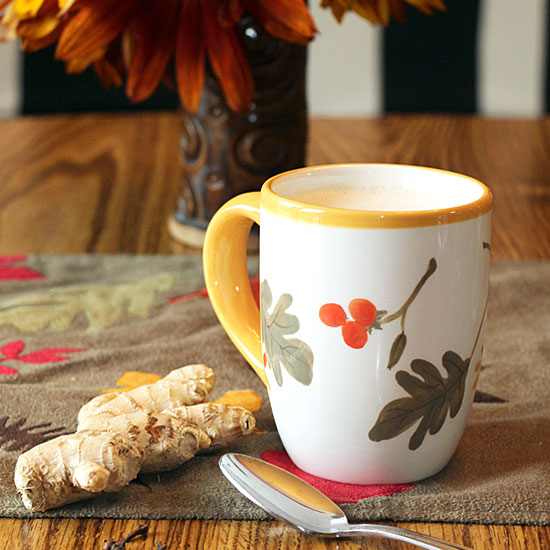 Serves 2
Pumpkin Chai Latte has a warm, rich and subtly exotic flavor with a healthy dose of pumpkin. Whirred in a blender, it's as foamy as one made by a barista!
Nutrition Facts
Amount Per Serving
* Percent Daily Values are based on a 2,000 calorie diet. Your Daily Values may be higher or lower depending on your calorie needs.
Ingredients
1 cup prepared chai (without milk or sweetener)
1 cup warm skim milk (dairy or your favoirite non-dairy)
2 T maple syrup or sugar
2 T canned pumpkin
Instructions
Put all ingredients in a blender.
Start on low and blend to combine. Increase speed as desired to create foam.
Enjoy
Art of Natural Living https://artofnaturalliving.com/