A vibrant syrup that is perfect for unique beverages, cocktails and mocktails, Wild Violet Syrup is a fun and economical family project.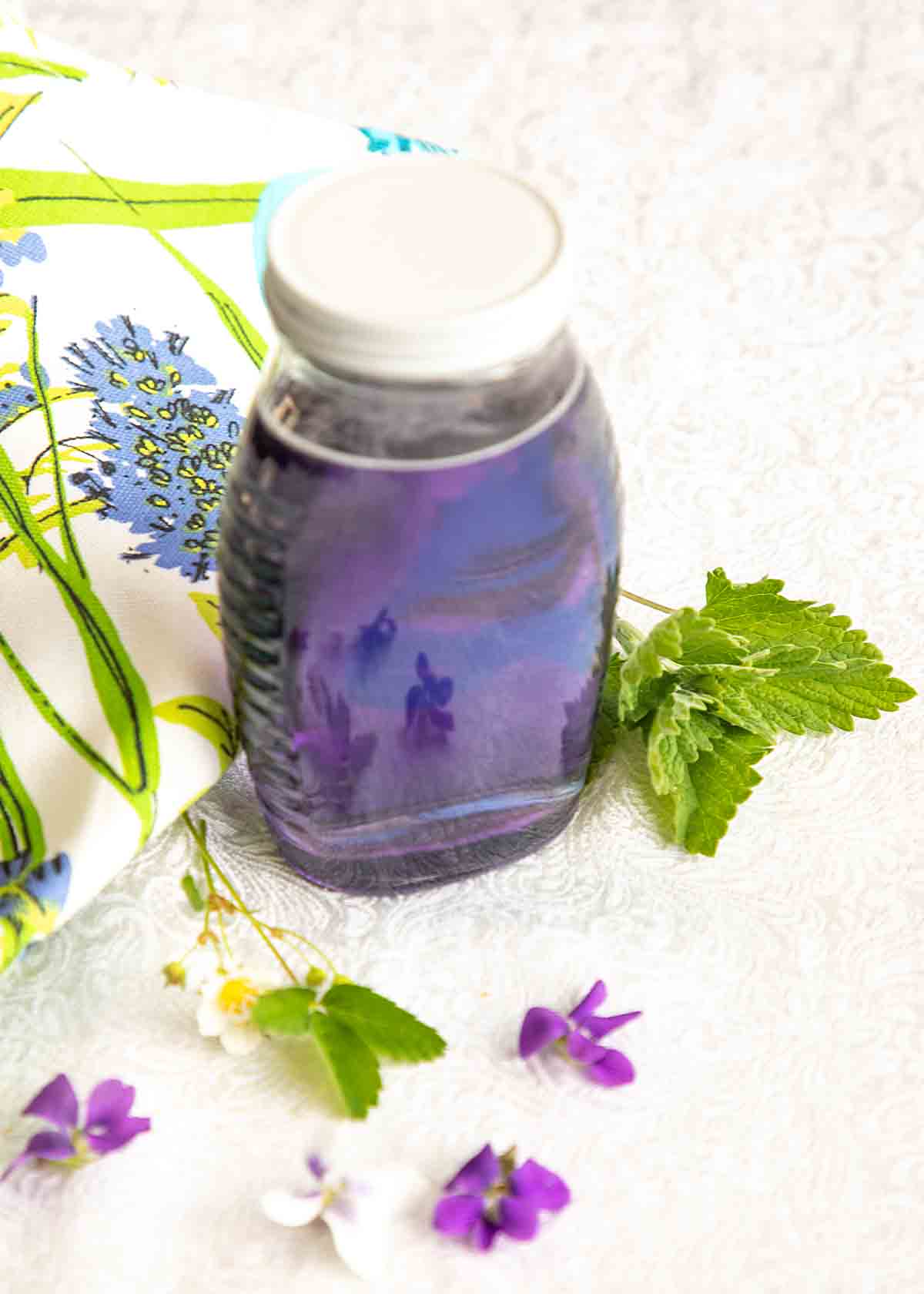 I love having flavored syrups in my kitchen–they are so versatile! Make a refreshing fizzy water, create a unique lemonade or whip up a fun cocktail.
And wild violet syrup has the fringe benefit of being the product of spring foraging. After a long cold winter, who doesn't want to spend time outdoors! It even makes a fun science experiment for the kids, since the color changes when lemon is added for a lesson in ph (acid/alkaline scale)!
Violet syrup is very lightly flavored with slight floral and herbal overtones. Truthfully it's more fun for the color than taste. But the upside is that people who are lukewarm about floral flavors (like my husband) will likely be two thumbs up on this!
And just one safety note, African Violets are a different plant (actually a different genus) and are poisonous, so don't use those!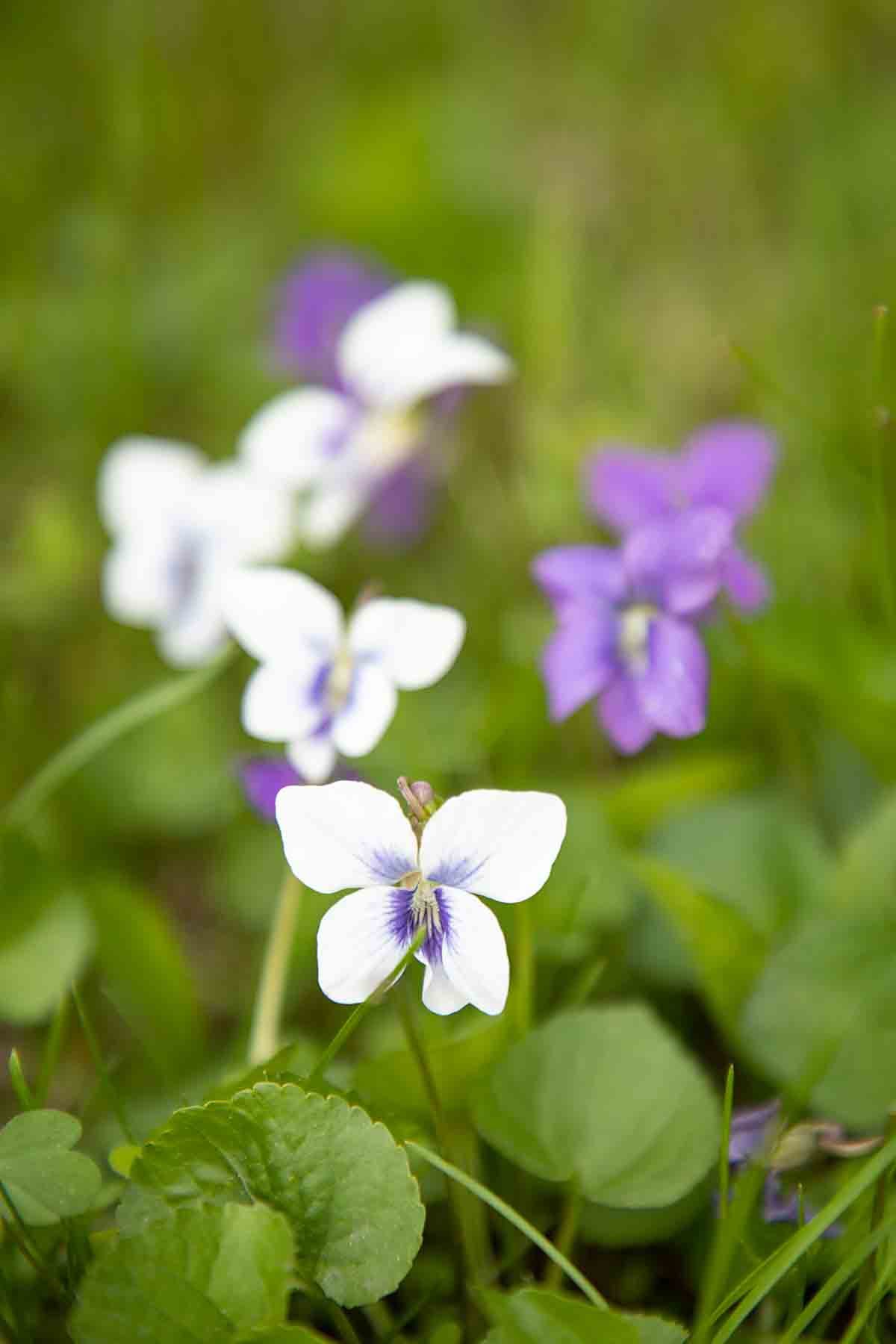 Why You'll Love This!
Violet Syrup is basically a tea made with violets that is then sweetened in the same ratio as a simple syrup (1:1). You could also call this Violet Simple Syrup. It is…
Fun to Forage After a long cold winter, foraging for violets is a great excuse to spend some time outside!
Economical Feeling poor lately? With just the cost if a little sugar and lemon juice, you can have a fun syrup!
A Great Beverage Addition From fizzy water to violet lemonade to fun cocktails, this will liven up your spring beverage repertoire!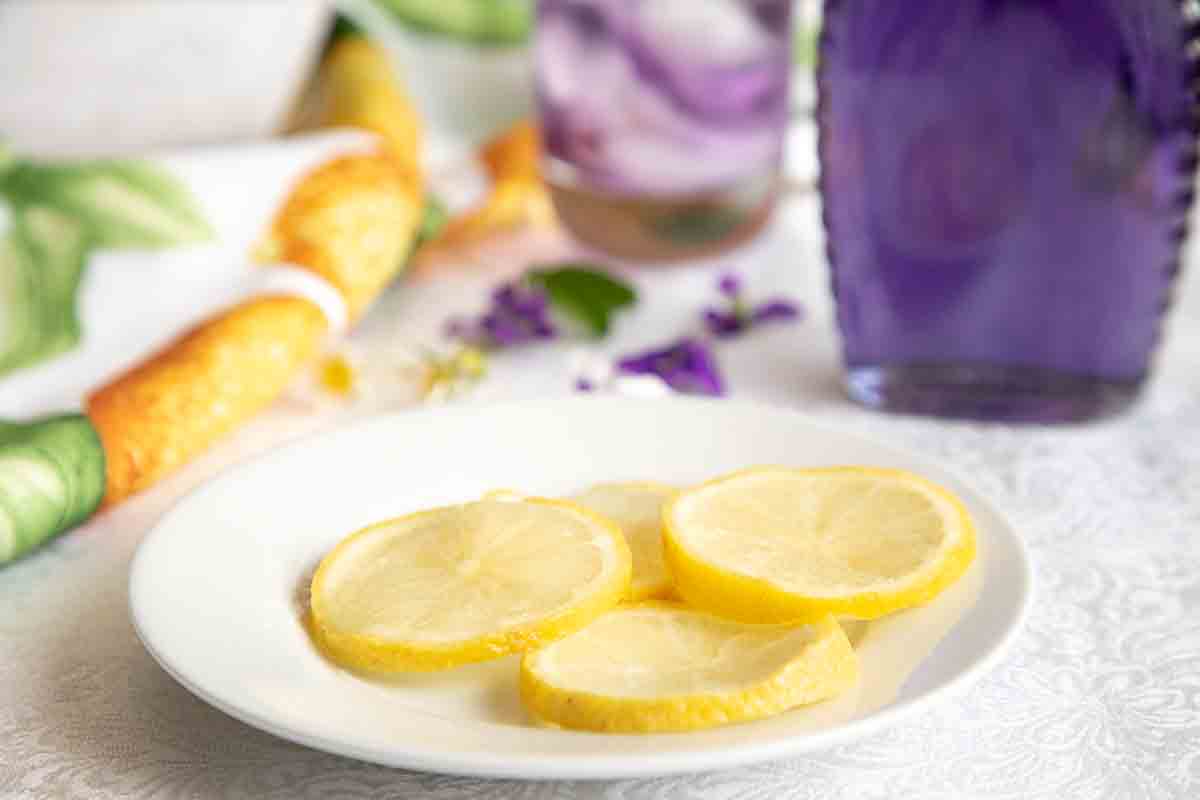 What You'll Need
Ingredients
Wild violets. These provide the color and flavor.
Water. This is the base of the syrup and the solvent that steeps the flowers
Sugar. This adds sweetness and thickens the syrup just slightly
Lemon juice (just a few drops). This adds a hint of flavor and changes the ph to achieve your desired color
Special Tools
You will need a strainer to strain the violets after steeping.
Step by Step Directions
Top violet blossoms, stems removed, with one cup boiling water. Let steep at room temperature until cool.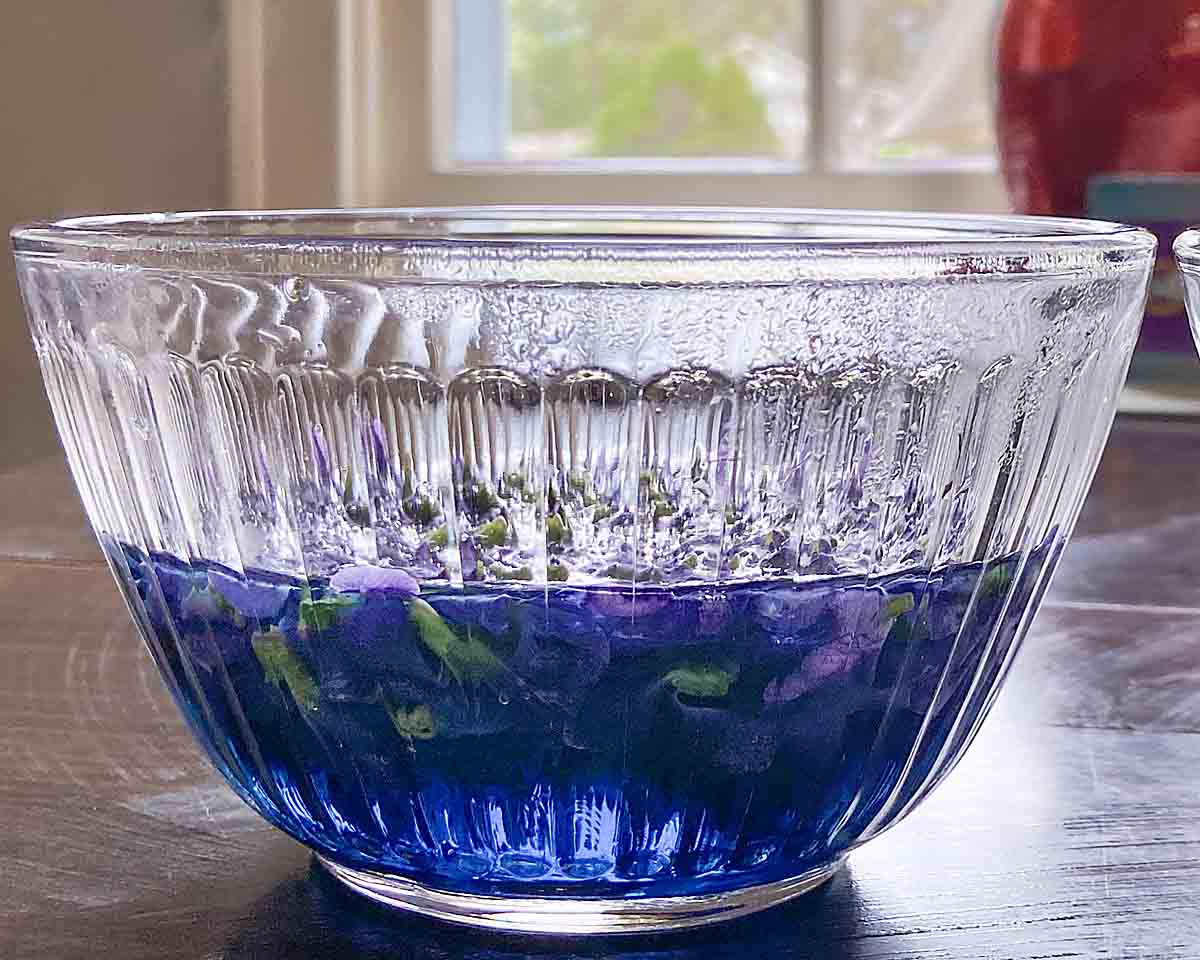 Strain and reserve the liquid. You can compost the flowers. The picture shows straining with cheesecloth, but a strainer works fine alone.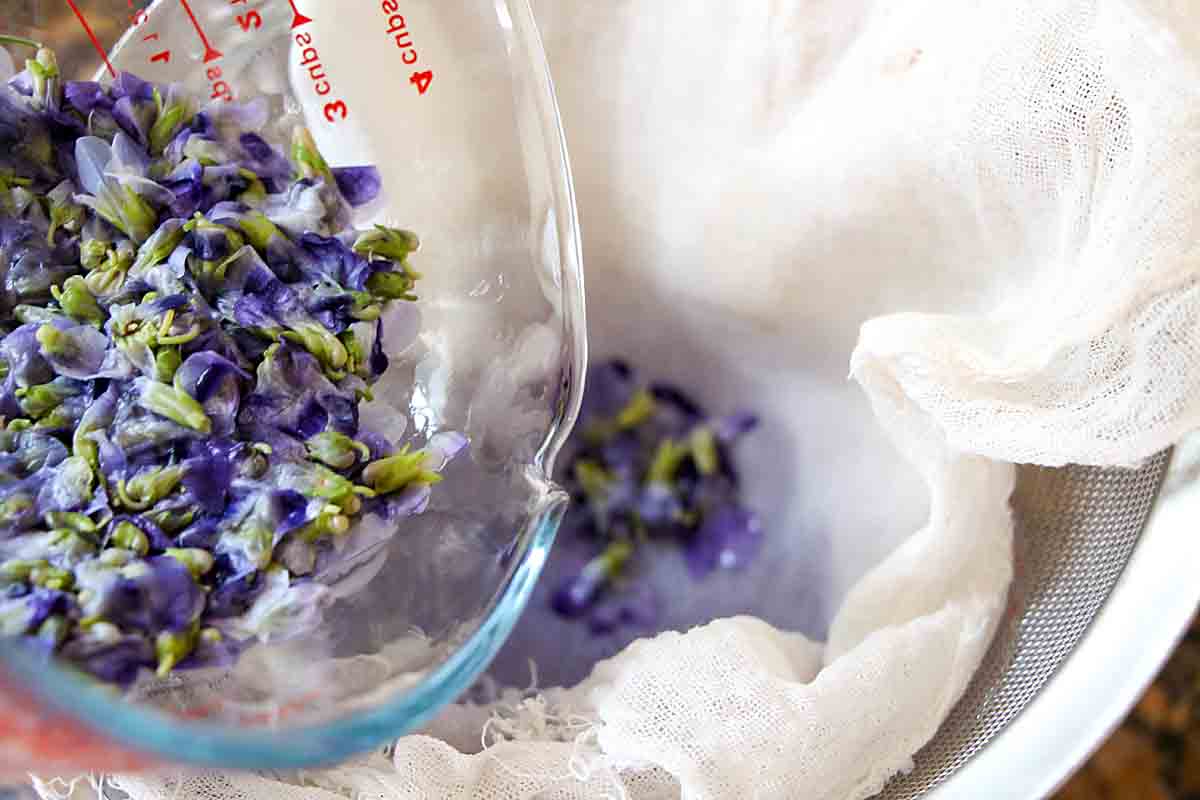 Heat the liquid with sugar until sugar dissolves.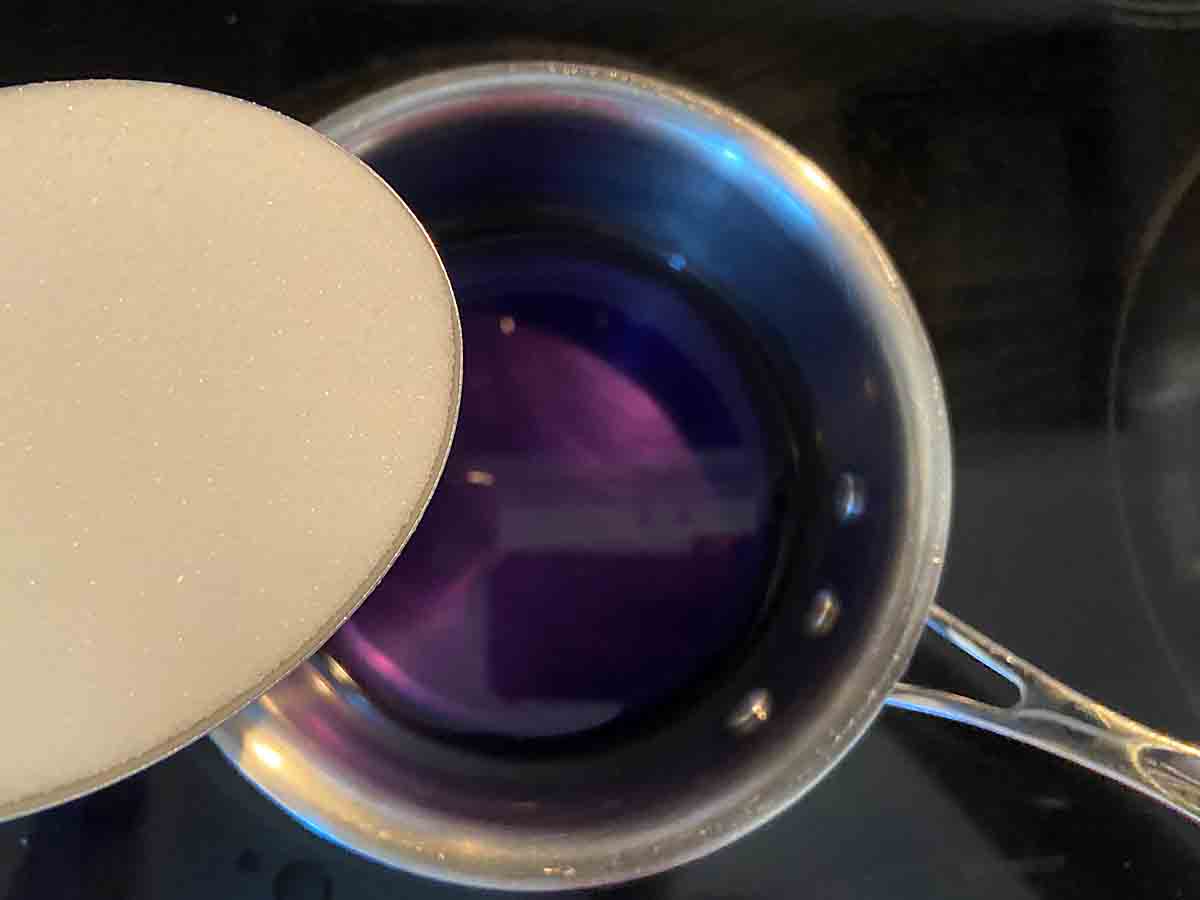 Add lemon juice a drop at time until the syrup is the color you'd like. Store in the refrigerator.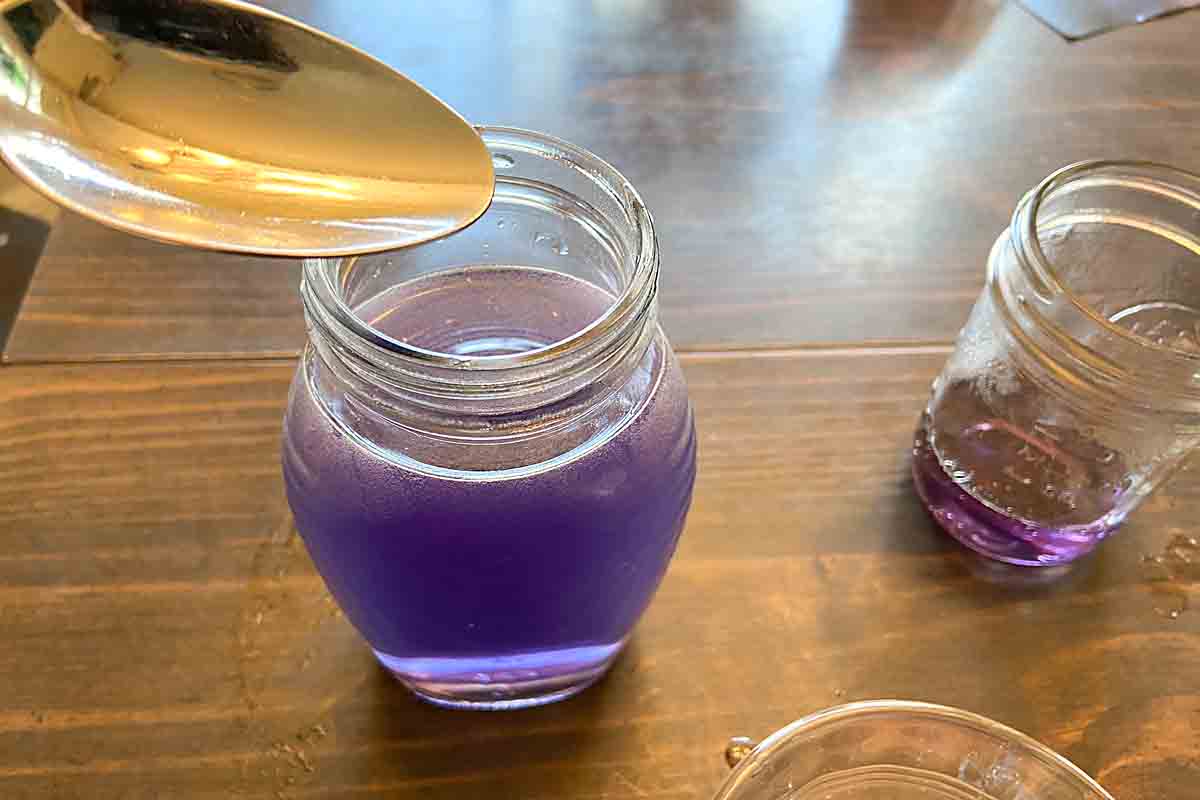 How to Serve
While you will read that violet syrup can be used in baking, a homemade syrup (versus a commercial artificially colored and flavored syrup), is not very intense in either color or flavor. When I tried using it in buttercream frosting, it came out, more or less, like plain buttercream. So I would say this is not a good baking ingredient.
But it is beautiful used in beverages. The easiest option would be lightly flavored fizzy water. Just top ¼ cup of your homemade violet syrup with ice and club soda. And if you use fizzy water from a soda stream, it's a very economical spring beverage!
Violet syrup makes a beautiful pink colored lemonade. And I have some cocktails in the works as well!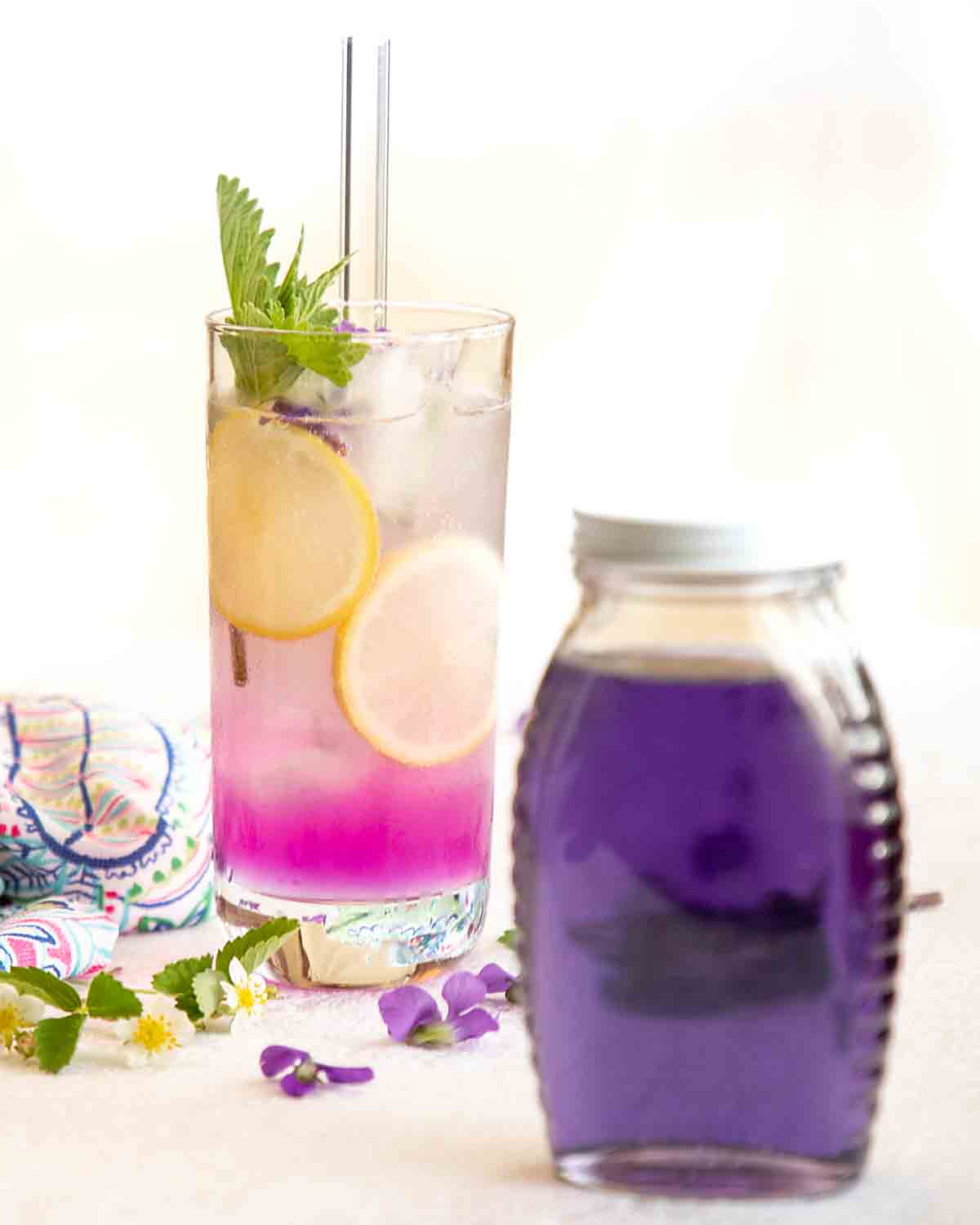 On Foraging
Almost all edible plants have toxic lookalikes. So I always check online and learn how to identify the plant I am looking for and also how to distinguish it from doppelgangers. (Though not used in this recipe, violet leaves can be harder to ID before the plant flowers.) I check a minimum of two wild foraging sites like this article from Foraged Foodie.
You also want to be aware of environmental contaminants. Don't forage on any lawn that has been treated with pesticides or chemical fertilizers. And be aware of other potential concerns like pet waste or road spray. Although our grass is unsprayed, and our cats live indoors, I steer away from the area along the road.
But if you like wild foraging, check out Stalking the Wild Grape and get psyched for fall!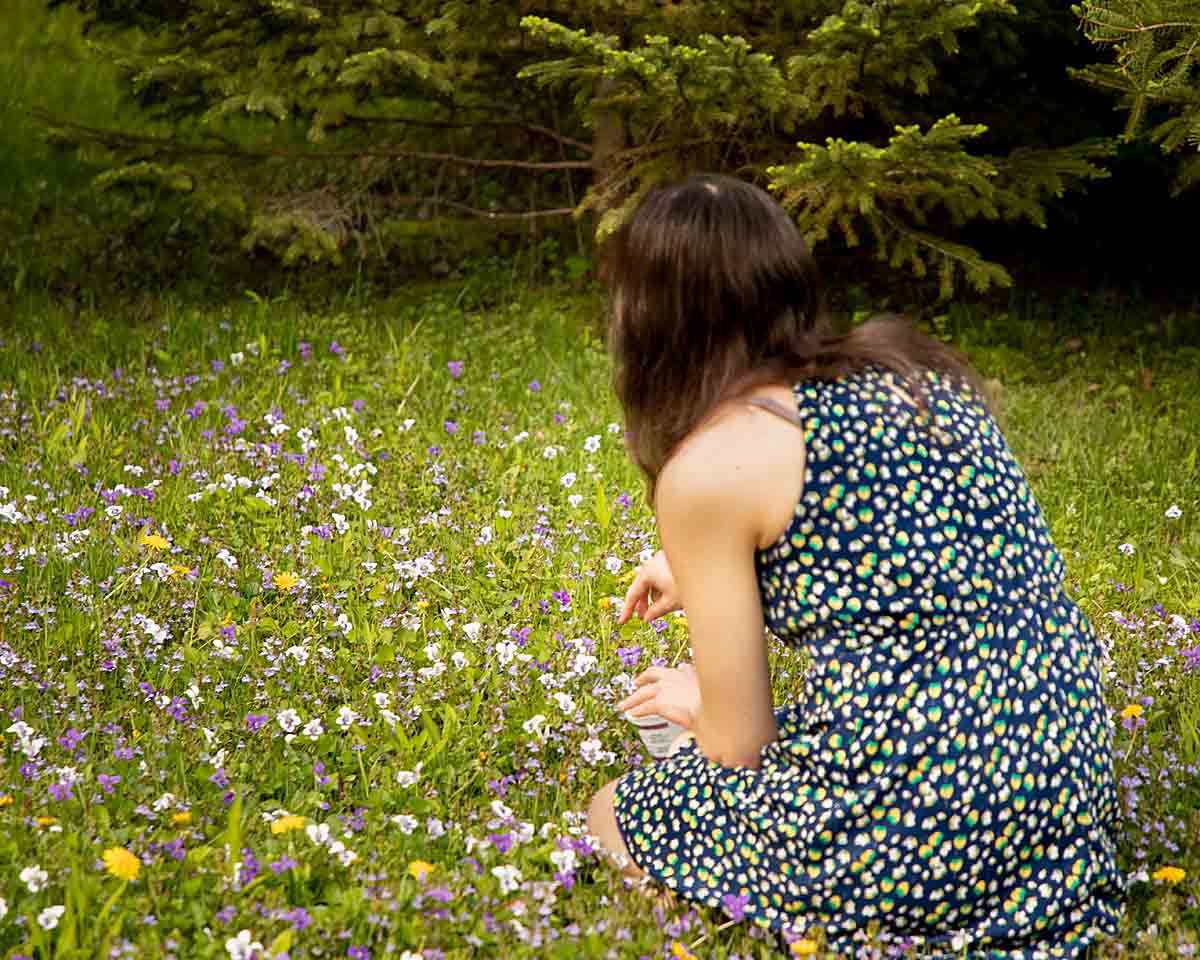 Storage and Leftovers
Store your syrup in the refrigerator. Since it doesn't make very much, I've never kept it longer than a couple weeks, though I hear it lasts a month or longer (mold will be your sign of spoilage).
If you pick more violets than you use, they will last up to a week in a sealed container in the refrigerator.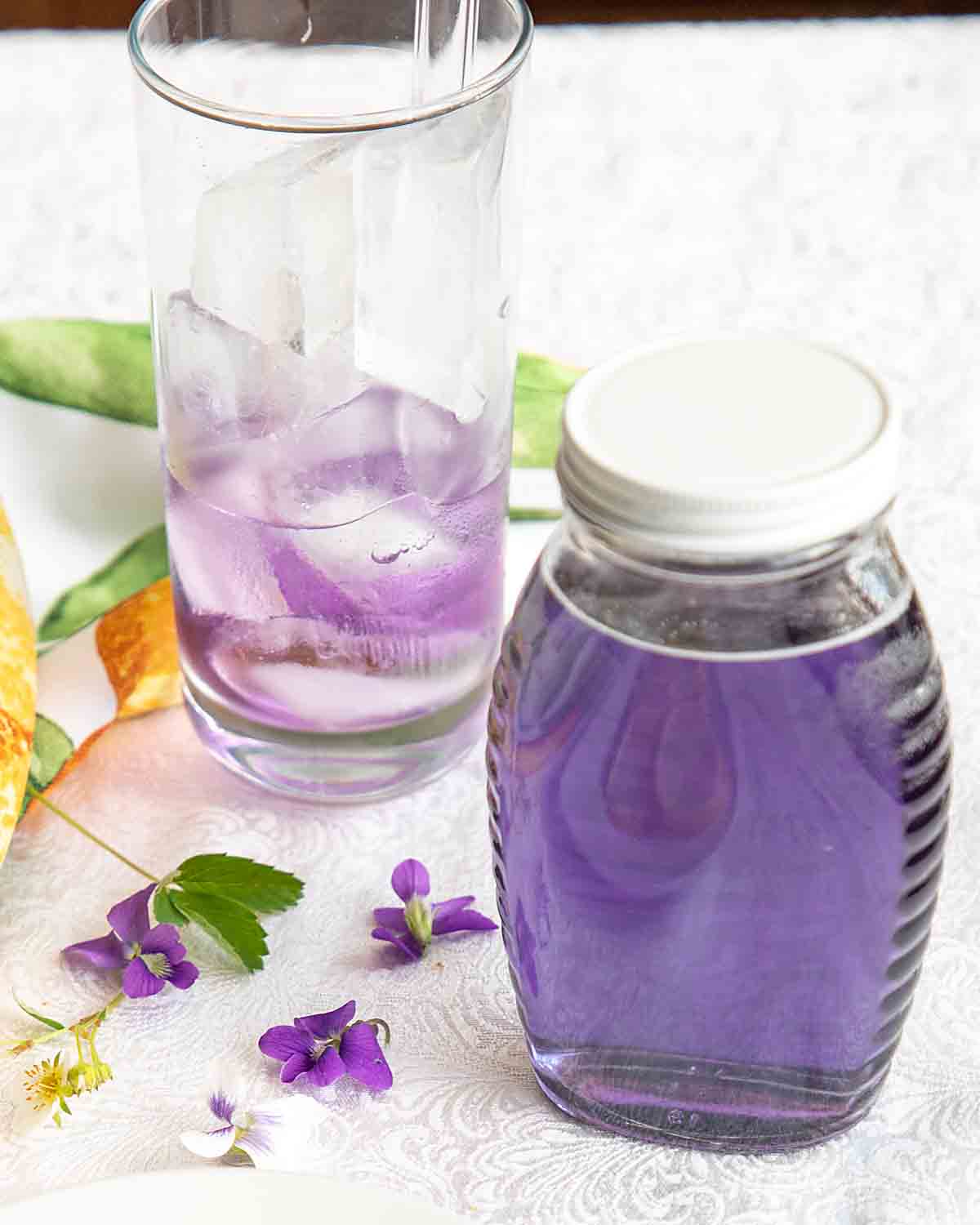 Tips & FAQs
Why does the color change with lemon juice?
Violet syrup is ph sensitive and will get pinker in color as it becomes more acidic. Since lemon juice is an acid, it will take the color from blue to purple to pink as more is added.
My original color, before the lemon juice, ranged from blue to purple even with the same ingredients (same filtered water and violets from the same patch)!
Are violets nutritious?
Years ago, when we had guinea pigs, I liked to take them outside for "outings" in the spring. And violets were their favorite snack! This was my first clue they might be nutritious!
According to the Marion Institute, "Violet leaves and flowers are high in vitamins A and C and make a beautiful addition to salads as well as decorative toppings for cakes and pastries." And a nice syrup of course!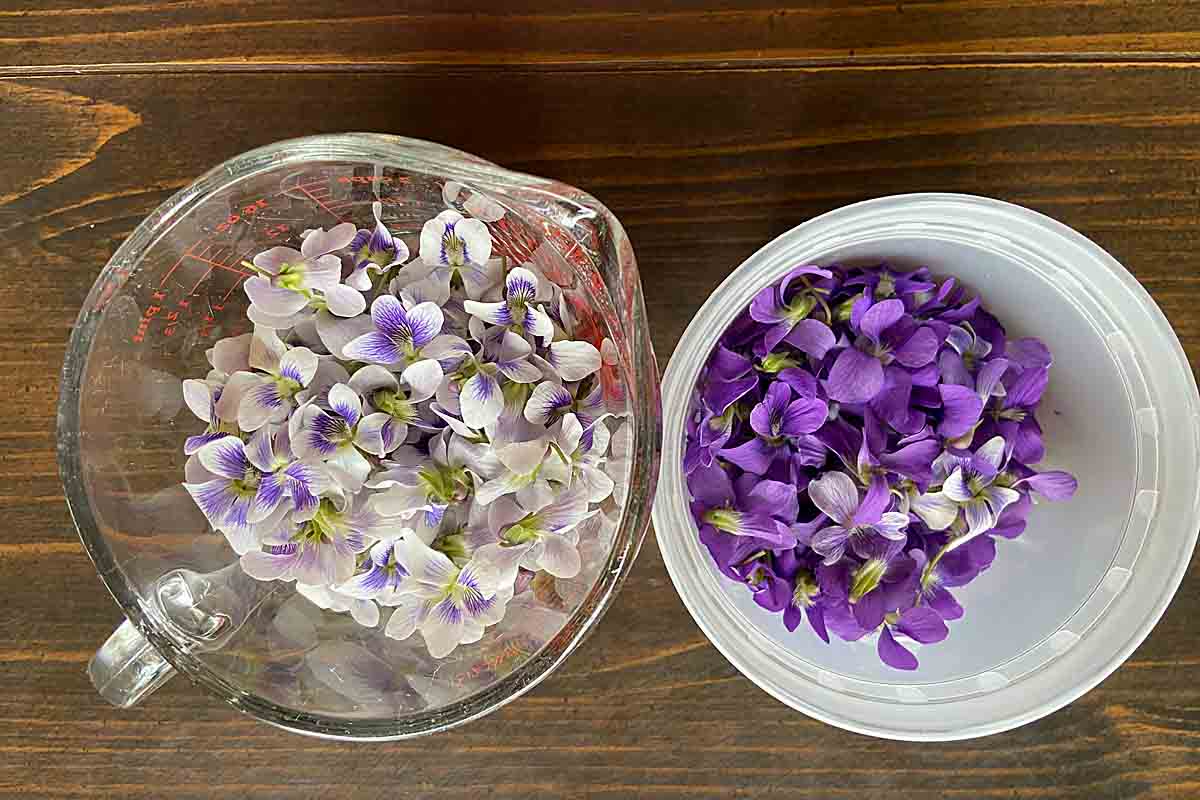 Can I use white violets?
I wondered how the use of white violets (which are tinged with purple) would affect the color, so I tested a batch. The original color was a pale robin's egg blue (see below) that faded to light gray after the sugar was added. So the short answer is "no."
Can I add the sugar to the water before steeping the violets?
No, I experimented and the color was a pale green when I steeped the violets in hot sugar water (aka simple syrup). In the picture below, the bowl on the top left is the normal process using purple violets, the one on the right is purple violets after steeping in simple syrup, The one on the bottom is the color from white violets. Only the purple violets, steeped before the addition of sugar became a good color syrup.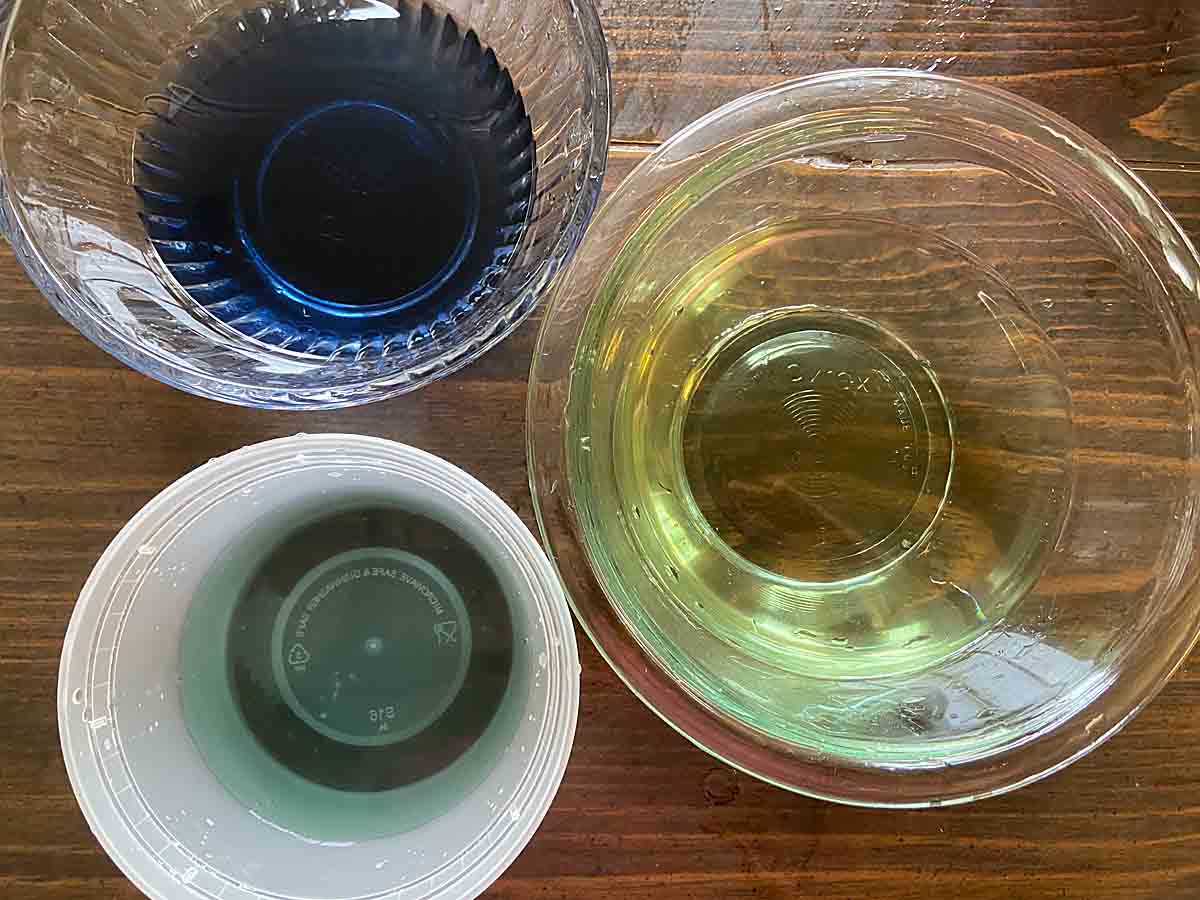 Do I need to steep the violets for 24 hours?
I did one batch of syrup that steeped just until cool (1-2 hours) and another that steeped for 24 hours. There was little to no color difference.
What if the syrup boils after I add the sugar?
You may read online that boiling your violet syrup after the sugar is added is an (unspecified) disaster. Since I had previously made violet jelly, which boils, I was skeptical of this claim and decided to test it.
I boiled a small amount of the syrup for comparison and the only thing that changed was the clarity—the boiled syrup actually looked better! After the unboiled syrup sat overnight in the refrigerator, however, they were virtually indistinguishable.
Happy spring!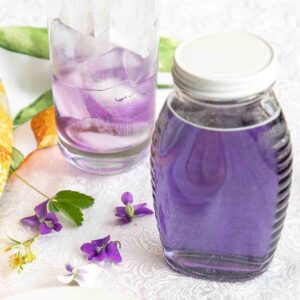 Wild Violet Syrup
A vibrant syrup that is perfect for fun beverages, cocktails and mocktails, Wild Violet Syrup is an enjoyable and economical family project.
Ingredients
2

cups

wild violets

flowers only, stems removeed

1

cup

water

1

cup

sugar

a few drops lemon juice
Instructions
Top violet blossoms, stems removed, with one cup boiling water.  Let steep at room temperature until cool, 1-2 houurs, or up to 24 hours.

Using a mesh strainer, strain and reserve the liquid. Discard the blossoms (composting is great).

In a small saucepan over medium heat, heat the violet water with sugar, stirring until sugar dissolves.  

Add lemon juice a drop at time until the syrup is the color you'd like.  Store in the refrigerator. 
Notes
African violets are poisonous and should not be consumed. See post for advice on foraging for violets.
I am not a health professional and nutrition data is calculated programatically. Accuracy may vary with product selection, calculator accuracy, etc. Consult a professional for the best information.