With a rosy glow, tart flavor and the slightest hint of floral, violet lemonade is a fun and tasty beverage that's perfect for spring!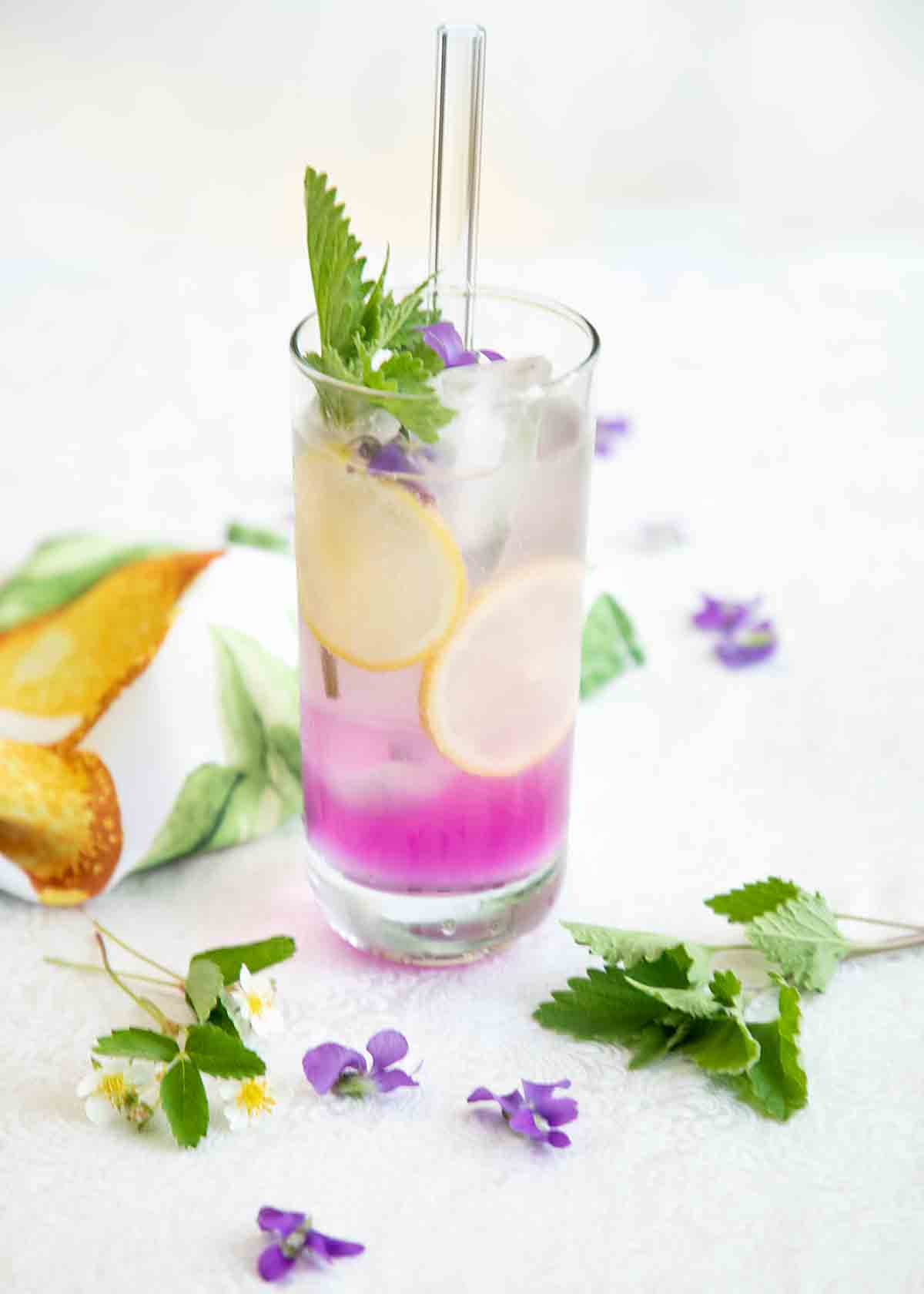 Gotta love the warmer weather! It's perfect for getting back to nature. Long walks in the woods, prepping the garden, foraging for fun spring foods…
And enjoying tall cool drinks like this violet lemonade!
Now you may not realize it, but violet lemonade has a fun trick up it's sleeve–it changes color! When you top the violet syrup with lemon juice, the color transforms from purple to magenta! This happens because the violet syrup is sensitive to changes in acidity (ph) and lemon juice is acidic. The more lemon, the more change.
How fun is that!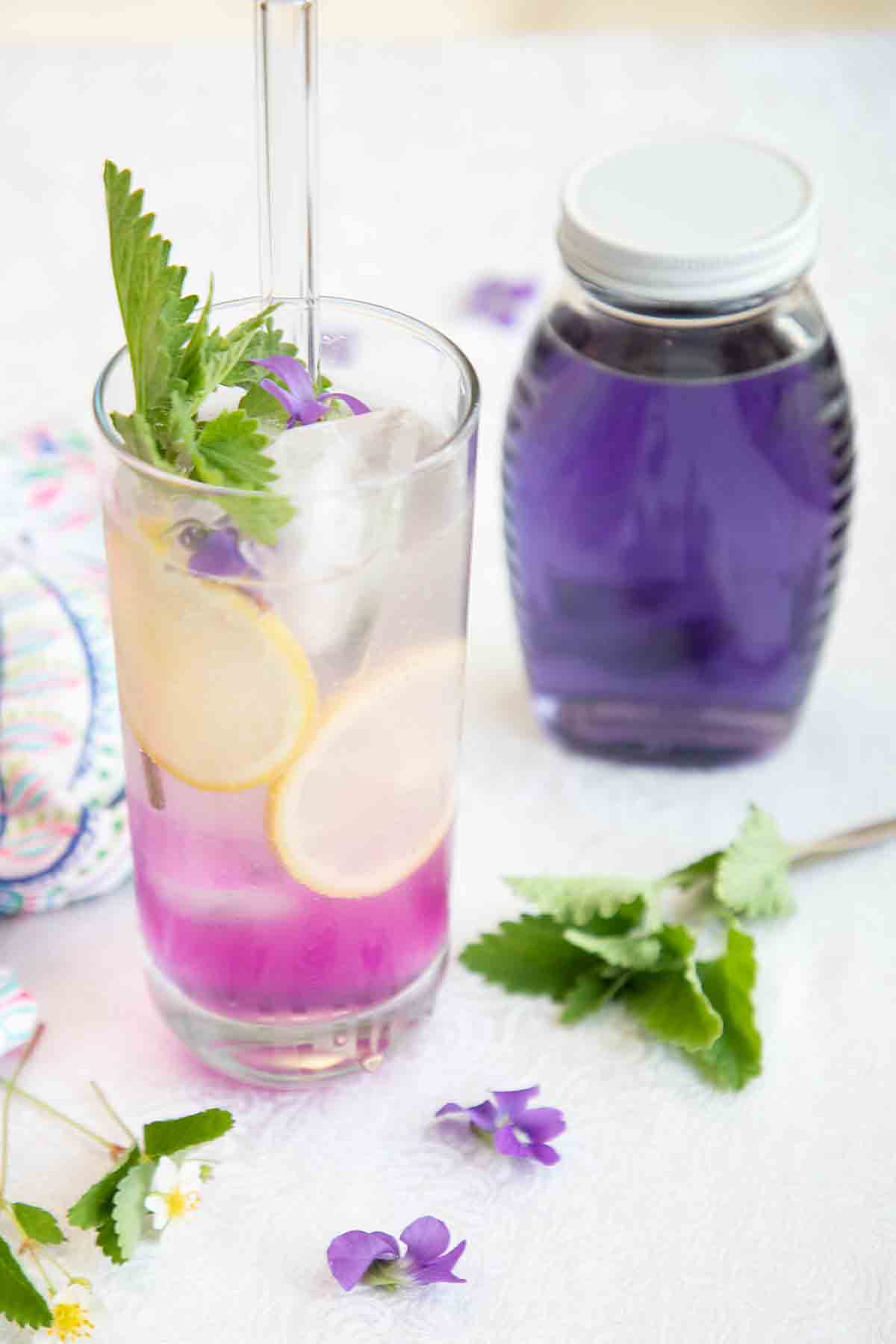 How does violet lemonade taste?
The main flavor of this violet lemonade comes from the lemon juice. Yes, it's unquestionably lemonade!
The homemade violet syrup is subtler in terms of both color and flavor than its (not all natural) commercial counterparts. The color still delivers a wow, but the flavor is very mild–unlike some other floral recipes, like my Lavender Collins which is decidedly floral.
So I would describe the flavor of this syrup as very subtly floral with barely perceptible herbal overtones. In the end the delicacy can be a benefit since the beverage may still work for people (like my youngest, aka my picky daughter) who aren't big on floral flavors!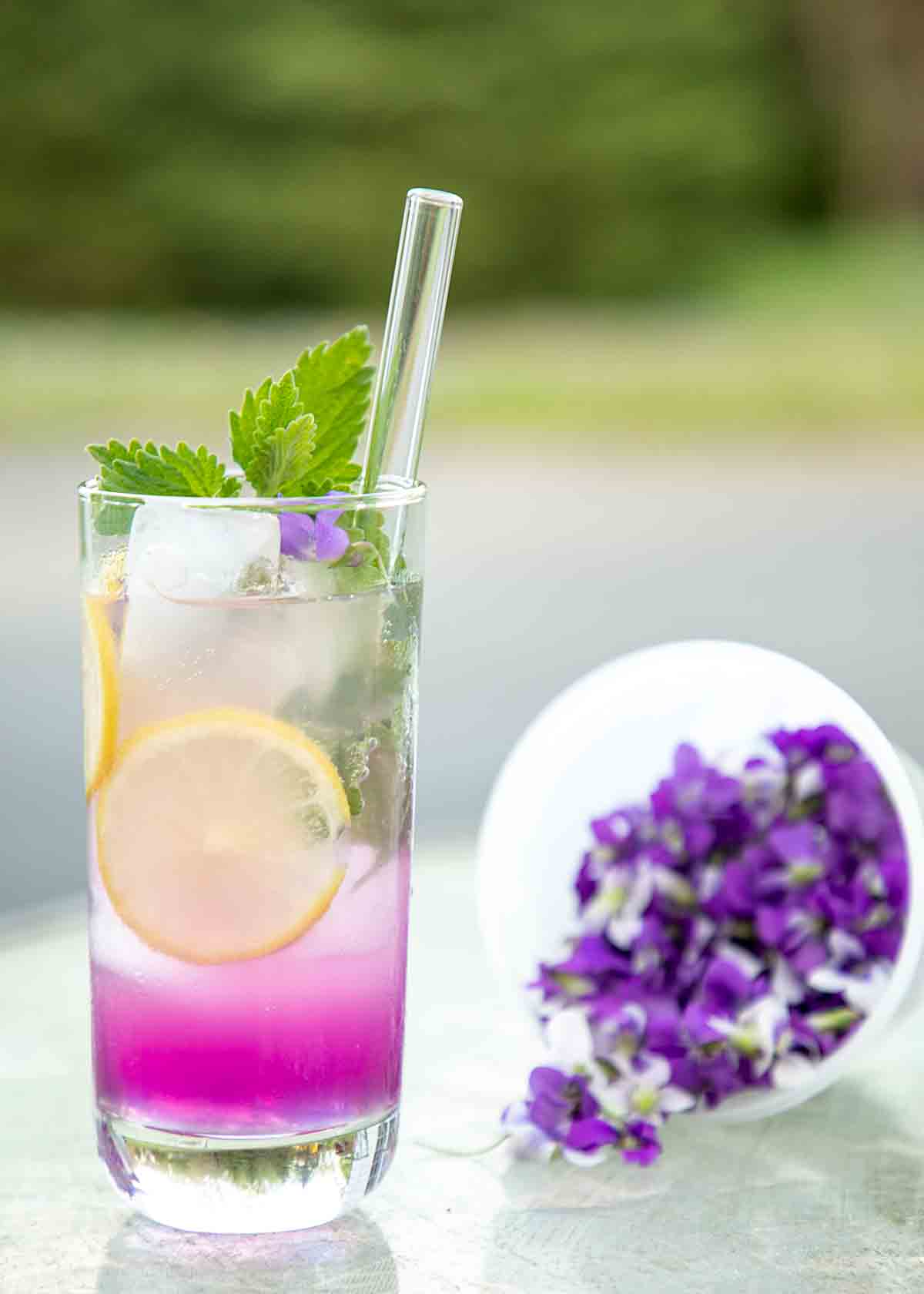 Why You'll Love This!
But truly this beverage is special–it's:
Tasty & Refreshing. Need some restoration on a busy summer day? There's nothing quite like fresh lemonade!
Fun. Making it homemade is so much fun! And what a great way to engage with nature! You can even give kids a science lesson in PH (more detail in the violet syrup recipe).
Pretty. They say you eat with your eyes first. I know I do! And especially in spring! After a long drab winter, I love foods that are as pretty as the emerging blossoms!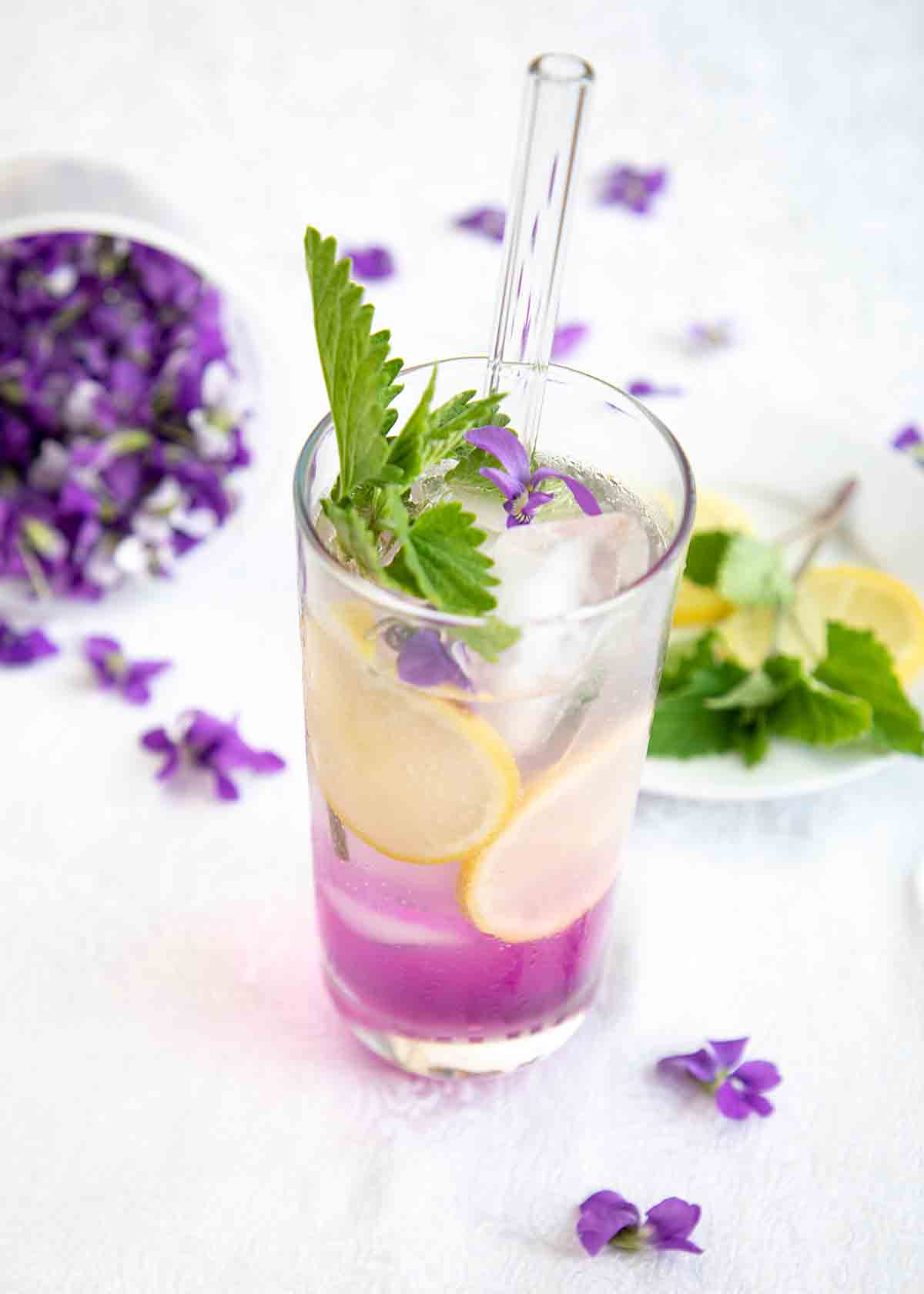 What You'll Need
Ingredients
Violet syrup Premake my violet syrup! Just steep violets in boiling water, add sugar and a few drops of lemon juice.
Lemon juice I recommend fresh. Or freeze some lemons so you always have them around (details in "tips" at bottom).
Fizzy water (or plain) My preference is carbonated water, but either option is good.
Optional Garnish. Lemon slices, violet blossoms, herbs like lemon balm to up the visual appeal!
Special Tools
No special tools are required!
Step by Step Directions
Put ¼ cup violet syrup in a glass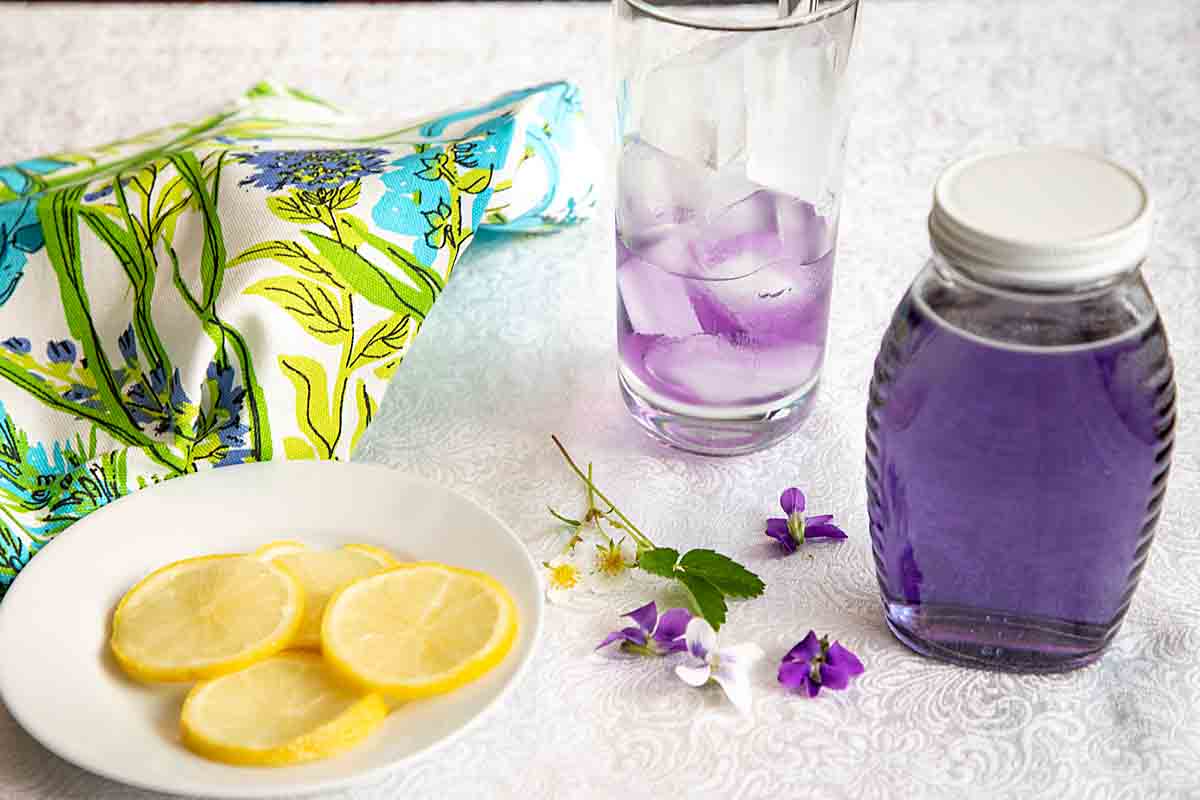 Top with 2 Tablespoons of lemon juice, ideally fresh squeezed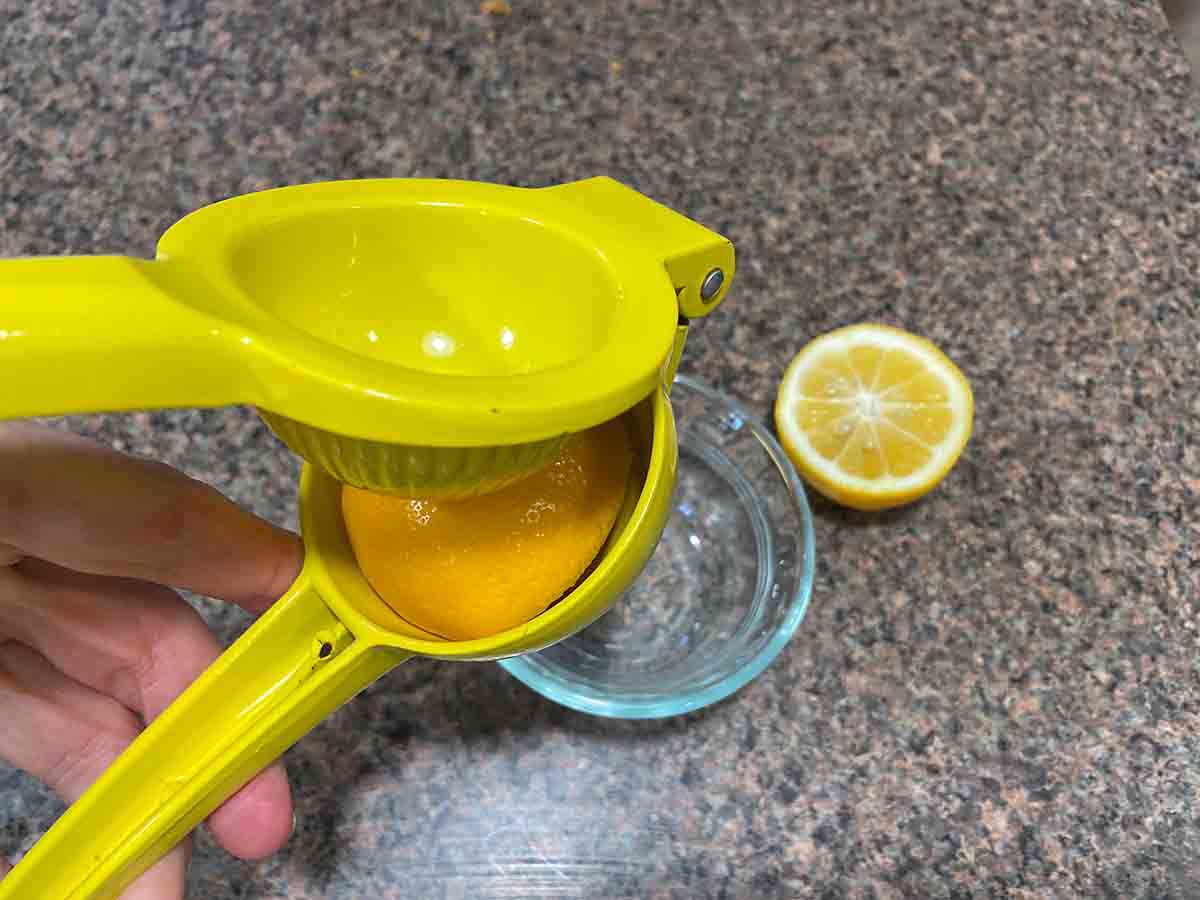 Top with fizzy (or plain) water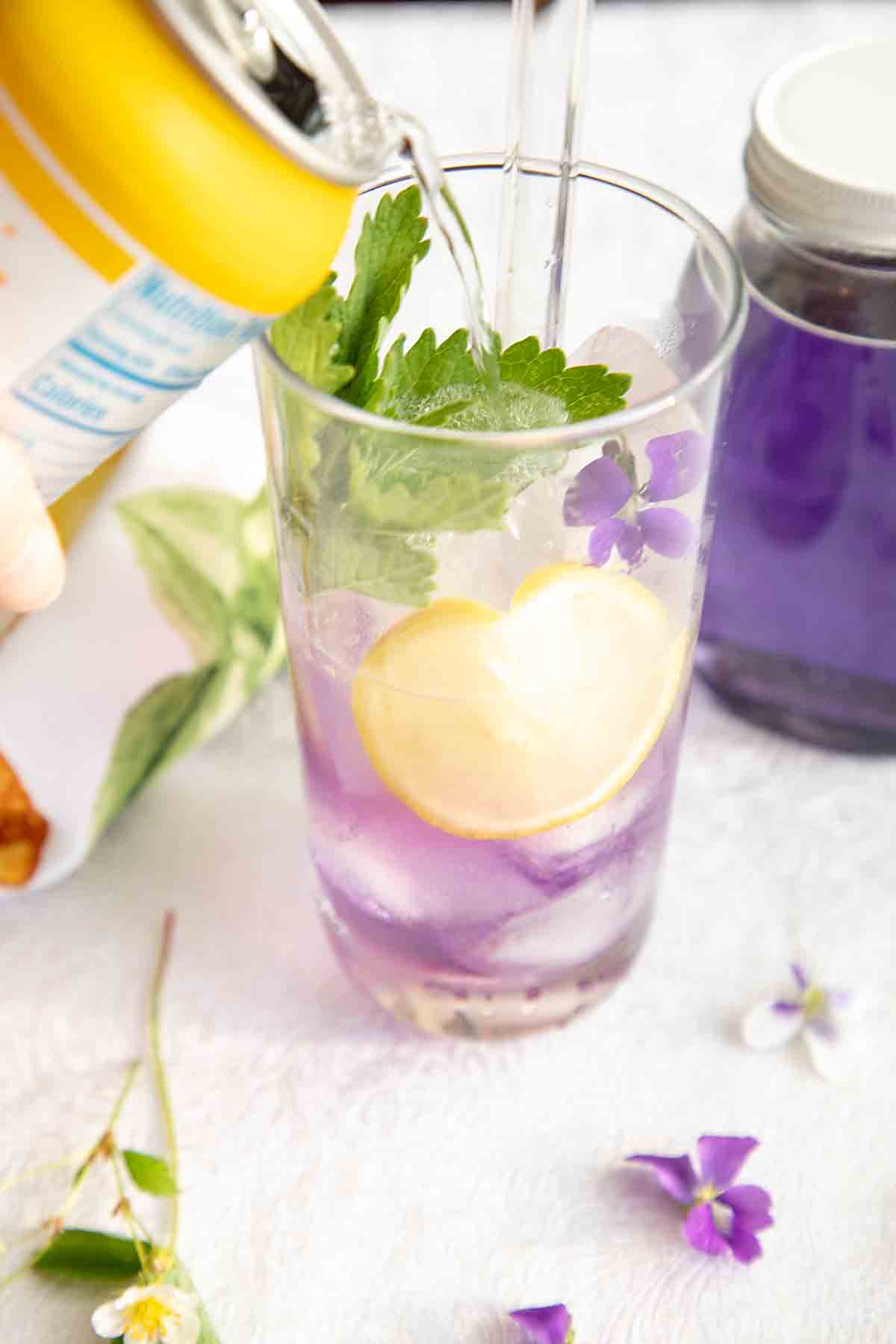 Enjoy!
How to Serve
Make it straight up. If you want, you can just mix the ingredients together and serve. Prepare your violet lemonade in a glass for one or two servings. Or if you're entertaining a bigger group, multiply the amounts by 6, use the full batch of violet syrup, and make it in a pitcher!
Make it fancy. Add any or all of the following: lemon slices, green herbs and violet blossoms. If you have other ideas, let me know in the comments or post yours to my Facebook page.
Make it a wild violet cocktail. Add two ounces of gin for a classic Tom Collins cocktail. Or try two ounces of vodka for a Vodka Collins. Note that gin is acidic so will change the color even pinker (vodka tends to be neutral).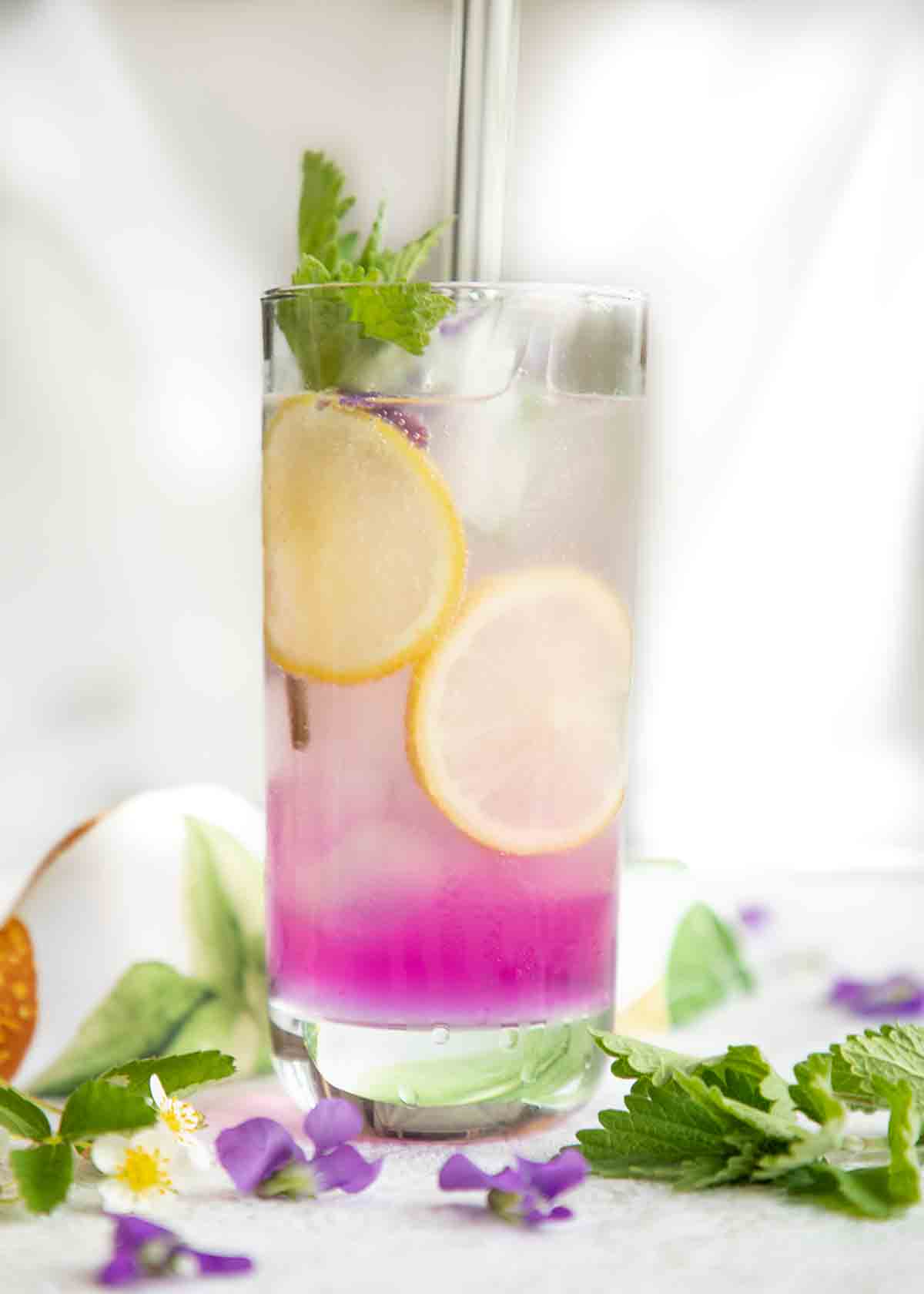 Leftovers and Making Ahead
I posted the violet syrup as a separate recipe since it can be used for more than the violet lemonade (even all by itself with fizzy water). It will keep at least 2 weeks (and probably a month or more), refrigerated in a sealed container, so it's an excellent make it ahead candidate.
You can also squeeze the lemons a day or so ahead of time. For best flavor, I don't recommend bottle lemon juice.
If you are trying to achieve the layered look, I would assemble glasses of lemonade right before serving. But if you want to do a pitcher that's all mixed together, you can make it a day ahead of time with non-carbonated water. Or assemble everything else and add fizzy water right before serving.
If you have leftover prepared lemonade, that will also keep refrigerated for about a week, though if you used fizzy water, the carbonation will be lost.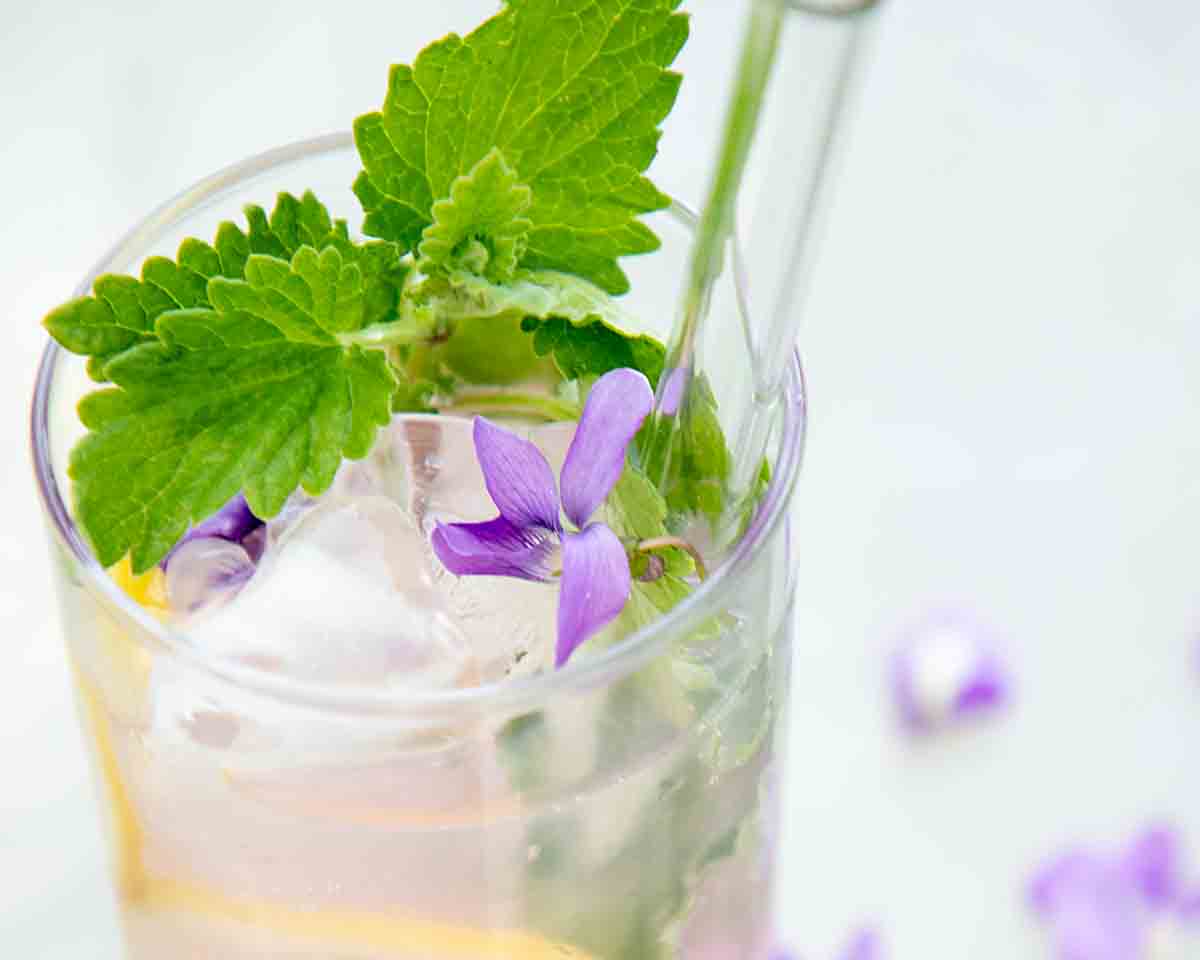 Tips & FAQs
Can I use bottled lemon juice?
The main flavor of this lemonade comes from the lemon juice rather than the violet syrup. So you'll get the best flavor from fresh lemon juice. Frozen lemons is a very close second.
How do I work with frozen lemons?
I keep a tub of frozen lemons and limes in my freezer, so I always have "near fresh" available. Even the lemon slices in the pictures here had been frozen (slice before they are completely thawed for the freshest looking slices).
I freeze my lemons whole and thaw them on the counter or in the microwave as needed. In a full powered microwave heat for 30 seconds whole, cut in half, then heat about 10 seconds more. The timing may vary based on your microwave.
What is lemon balm?
In the photos, I use lemon balm as a garnish. Lemon balm is an herb that is related to mint, but it has a lemony flavor instead of a minty one. It's a great complement to lemonade or any lemon flavored dish. I love it for lemon balm pesto as well.
As a mint relative, lemon balm is an easy to grow perennial and it's one of the first herbs to appear in the spring. It is less invasive than mint, tending to grow in a few big clumps, but you do need to remove interlopers every couple of years.
How to save money on fizzy water
I often use a home soda maker (e.g. soda stream or other brands) to make my own fizzy water. This saves on both the cost and waste of buying bottled!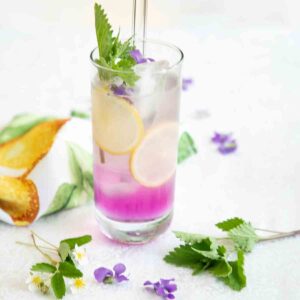 Wild Violet Lemonade
With a rosy glow, tart flavor and the slightest hint offloral, violet lemonade is a fun and tasty beverage that's perfect for spring!
Ingredients
1/4

cup

homemade violet syrup

2

Tablespoon

lemon juice

4-6

ounces

club soda or other fizzy water

or plain

optional garnish lemon slices, violet blossoms, herbs like lemon balm
Instructions
Place 1/4 cup violet syrup in a tall glass.

Top with 2 Tablespoons lemon juice

Fill then glass with ice and add any garnishes you want inside the glass,

Top with fizzy water, or plain water if you prefer.
Notes
African violets are poisonous and should not be used for the garnish or syrup.
Click link for the Homemade Violet Syrup recipe
To make something stronger, add a couple ounces of gin or vodka for a Wild Violet Collins.
Nutrition
I am not a health professional and nutrition data is calculated programatically. Accuracy may vary with product selection, calculator accuracy, etc. Consult a professional for the best information.