Sunny yellow-gold, sweet and tart, this key lemon pie is super easy and tasty. A classic dessert or snack based on key lime pie!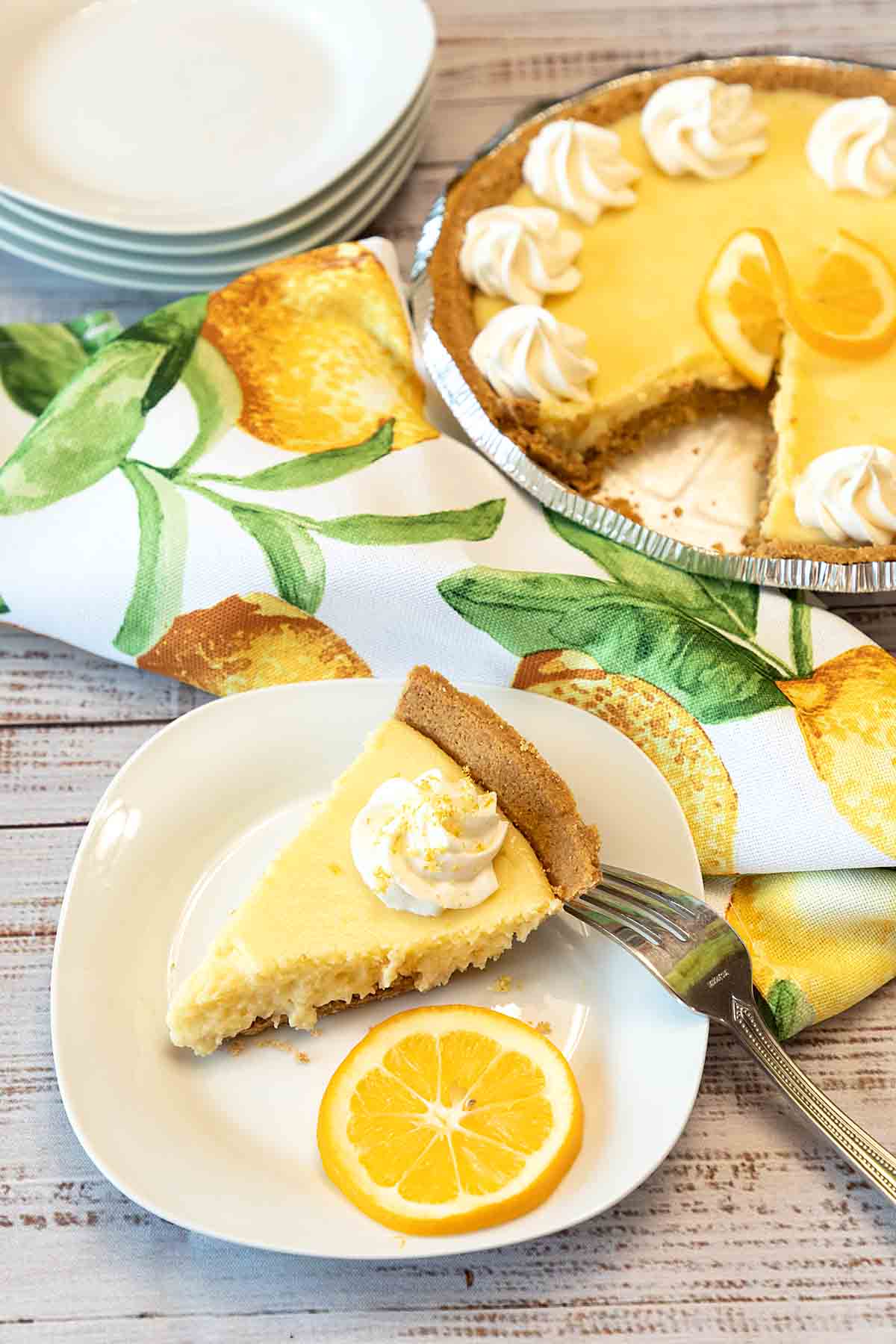 All summer long, I saw the internet filled with lemon pies. They looked so amazing that I meant to check them out. Alas, time got away.
Finally, with fall on our heels, I decided it was time to bake my own lemon pie, basing it on my key lime tartlets recipe and substituting lemons. It's a classically delicious dessert that is also super easy. Yes, it's hard to beat easy and amazing.
When I thought about a name, I decided to keep the put the word key in the title, before lemon pie. For limes, it refers to a specific lime called a key lime–even though people use regular limes all the time. And I wanted a nod to the pie's classic origin.
Baking Tips
As I mentioned the pie is super easy but here are a few insights into what I've done. First, I used Meyer lemons which are more vibrantly colored, a bit sweeter, and slightly herbal-tasting. But I'd use regular lemons in a heartbeat if that's what I had. For regular lemons, add a drop of food coloring if you want a brighter yellow.
When I serve the pie, I like to decorate with whipped cream rosettes topped with lemon zest. If you are short on lemons, reserve some zest and cover to keep it from drying out while the pie sets. Or if you have enough lemons, go with fresh zest at serving.
If you are on a keto or low-carb diet, it is possible to make your own keto sweetened condensed milk using cream and sweetener. See my no churn keto ice cream recipe for instructions. I have actually tested it in this pie, and it worked beautifully, though the crust is not low carb.
When I first made key lime pie, I wanted to skip the sweetened condensed milk entirely since I like to avoid processed (canned) foods. But I learned that the tradition comes from the need to preserve dairy in the hot Florida weather. And it makes it so easy I got over that fast!
The amount of filling is good for a packaged graham crust but will be short for a larger homemade crust. If you are making your own crust, I recommend trying to approximate the packaged size, by using a smallish pan or perhaps going just partway up the sides. Alternatively, you could double the filling and increase the baking time, but your filling/crust ratio might be less optimal.
Can I turn this into a key lime pie?
For variety, or based on the contents of your fridge, you can substitute limes for the lemons and you'll have key lime pie. But it's really easy to keep citrus handy (see below).
So how do I always have lemons and limes around?
Did you know that lemons and limes both freeze beautifully? You can just pop them into a zip loc bag or other freezer container and store them in the freezer. To use, thaw at room temperature or defrost briefly in the microwave.
* * *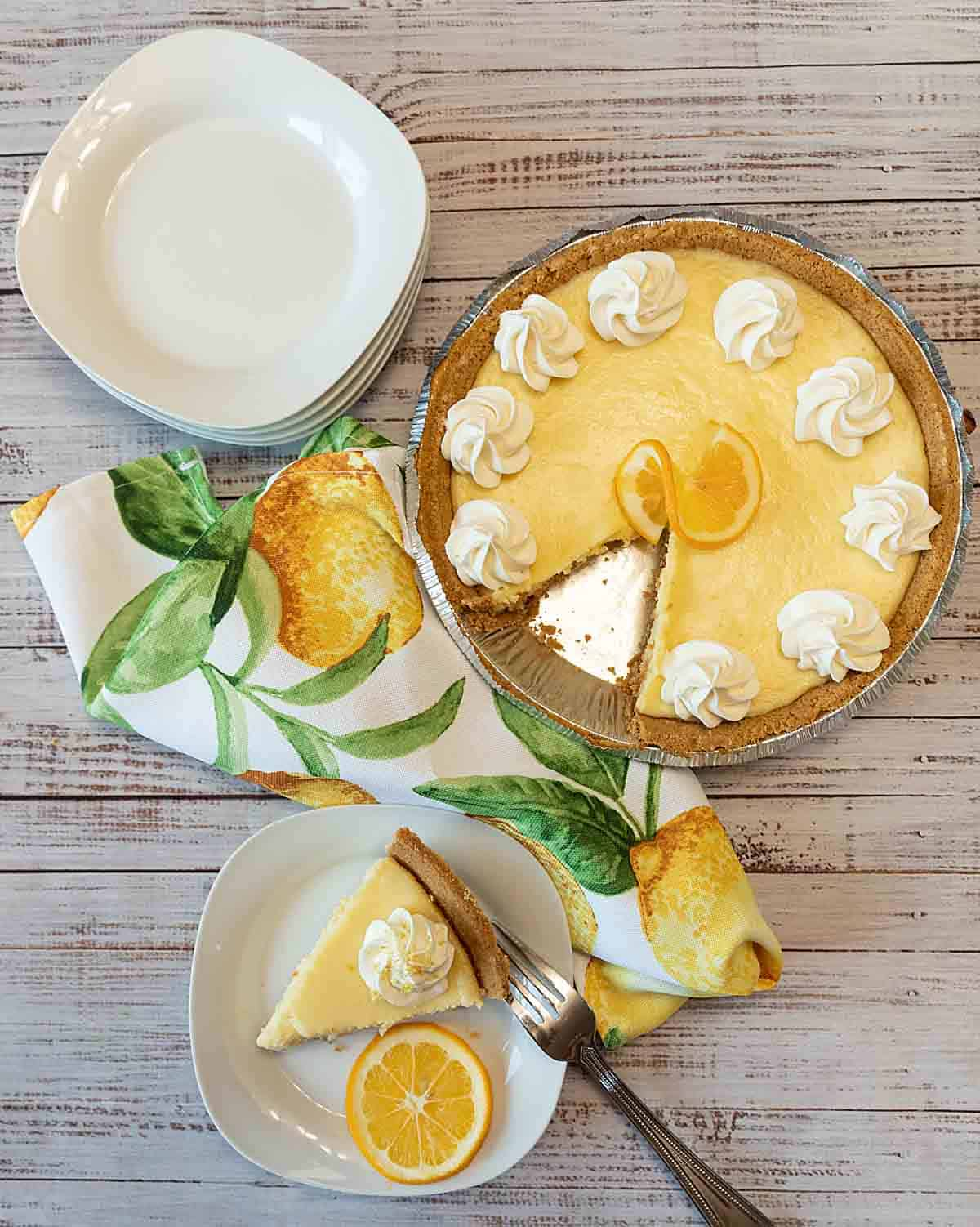 Yes, the signs are here, that summer is drawing to a close. But as we transition to fall, I figure Key Lemon Pie is an almost perfect dessert. The lemon orbs are like summer sun while the yellow-gold color harkens to the changing trees. Perfect for a picnic over the upcoming holiday weekend.
Wishing a safe and happy Labor Day to all.
Key Lemon Pie
Yield: 8

Prep Time: 15 minutes

Cook Time: 15 minutes

Additional Time: 2 hours

Total Time: 2 hours 30 minutes

Sunny yellow-gold, sweet and tart,this key lemon pie is super easy and tasty. A classic dessert or snack based on key lime pie!
Ingredients
1 (14-ounce) can sweetened condensed milk
4 large egg yolks
1/2 c fresh lemon juice
2 t fine lemon zest (no white)
1 graham cracker crust (packaged or homemade)
optional whipped cream, lemon zest and lemon slice(s) for garnish
Instructions
Whisk together condensed milk, egg yolks, lemon juice (add half at a time) and zest until well combined.

Pour filling into prepared crust and bake for 15 minutes at 350 F. Cool pie completely on rack, then chill for a minimum of 1-2 hours (filling will continue to set as it cools). Store covered.

Optionally, before serving, top with whipped cream rosettes, lemon zest and lemon slice(s)

Nutrition Information:
Yield: 8 Serving Size: 1
Amount Per Serving: Calories: 181Total Fat: 9gSaturated Fat: 2gTrans Fat: 0gUnsaturated Fat: 6gCholesterol: 118mgSodium: 151mgCarbohydrates: 20gFiber: 1gSugar: 8gProtein: 5g

Nutrition data accuracy may vary with product selection, calculator accuracy, etc. Consult a professional for the best information.