Easy Queso Dip & Bandera Volcano & Ice Cave
Ready in about 15 minutes, this easy Queso Dip is a delicious appetizer or snack, especially if recent Southwest travel means you're longing for some heat.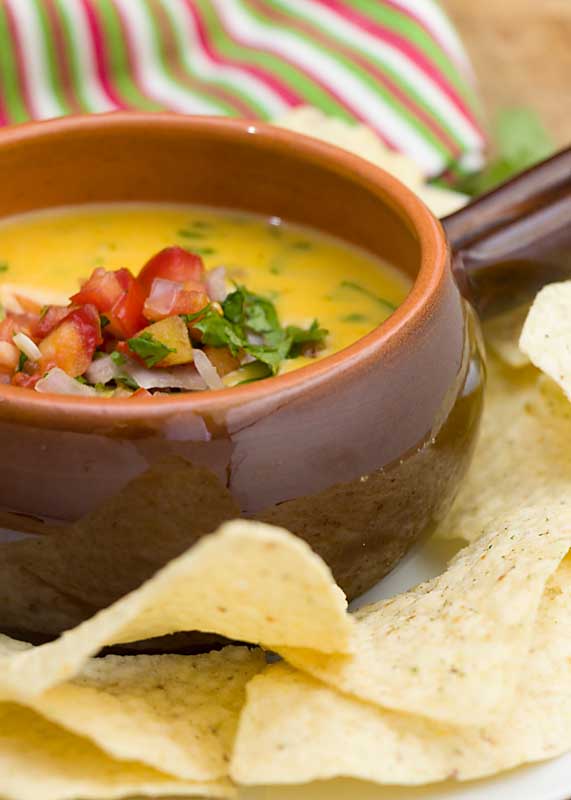 The past two Octobers I have had the opportunity to attend New Mexico's amazing Albuquerque Balloon Fiesta–which I plan to write about soon (you can check out my Instagram for some pics in the meantime).
I follow an atypical path to this event, picking up my college daughter in Phoenix and driving cross-state. This makes for an interesting 6-hour drive which this year included a fun stop at the Bandera Volcano & Ice Cave.
Near the Arizona/New Mexico border, just off of I-40, this site is a quick detour that was absolutely worth it. It boasts an extinct volcano crater, hardened lava flows, and an ice cave with a year-round floor of green ice.
The ice cave is an interesting phenomenon keeping ice year-round in the Southwest, when we don't even do that in Wisconsin. It seems to have something to do with a single entrance that sends cold air down and warm air up and other conditions—you can read more about the science in WIkipedia.
Besides the volcano and ice cave, there are beautiful vistas and a glimpse of the continental divide–which had been on my bucket list for years!
For those on a tight schedule who need to calculate travel times, it's about a half hour off the interstate and we were given an estimate of about 1 hour to do the trail to both the volcano and cave (but probably spent double that since I took so many photos of my daughter for photography class. Yes, that cost me a special lunch as a modeling fee, but well worth it!)
A trip to the Southwest is always fun and the only downside is that once I get home, I miss having a little heat in my food. So when I saw this Queso Dip on Food with Feeling, I had to experiment with it.
I left it mostly as is, adding some extra cheese–Wisconsin girl in the end 🙂 . And happily, with football season, the Queso Dip brings a little nutrition to the game menu. I don't know that the tomatoes and peppers add up to a vegetable, but at least we get some calcium!
My daughter is big into Southwest authenticity and I'm not making any claims here. But I can attest that this Queso Dip is easy and tasty and will add a little spice to your appetizer repertoire! And I think it'll bring back a fun memory or two now!
Easy Queso Dip
2018-11-04 12:10:30
Nutrition Facts
Amount Per Serving
* Percent Daily Values are based on a 2,000 calorie diet. Your Daily Values may be higher or lower depending on your calorie needs.
Ingredients
1 shallot, finely diced and divided
1-2 small roma tomato(es), chopped
3/4 cup of cilantro, chopped and divided
1 Tablespoon of butter
2 small jalapeno peppers, seeds removed and minced
1/2 teaspoon of salt
1 tablespoon of all purpose flour
1 cup of milk (I used 2%)
2 cup of grated cheddar cheese
1 cup of grated Monterey Jack or pepper jack cheese
hot sauce to taste (I used sriracha since I had it)
Instructions
In a small bowl, stir together the chopped tomato, half of the chopped shallot, and half of the cilantro. Set aside.
Melt the butter in a medium saucepan. Once melted, add in the remaining shallot, salt, and chopped jalapeno and saute for 3 minutes until just tender.
Stir in the flour until it is completely absorbed, and cook about a minute.
Gradually whisk in the milk, stirring constantly, then bring to a light simmer. Keep whisking and cook for about 5 minutes until it has thickened.
Stir in the cheeses a handful at a time and continue stirring until all of the cheese is melted. Add the remaining cilantro. Taste and add hot sauce as needed (jalepenos will vary in heat).
Pour into a serving bowl and top with the tomato mixture.
Serve warm with tortilla chips
Adapted from https://foodwithfeeling.com/easy-queso-dip/
Adapted from https://foodwithfeeling.com/easy-queso-dip/
Art of Natural Living https://artofnaturalliving.com/