Chocolate Espresso Custard Pie
With a whipped mascarpone topping and chocolate cookie crust this chocolate espresso custard pie is reminiscent of tiramisu, minus the lady fingers.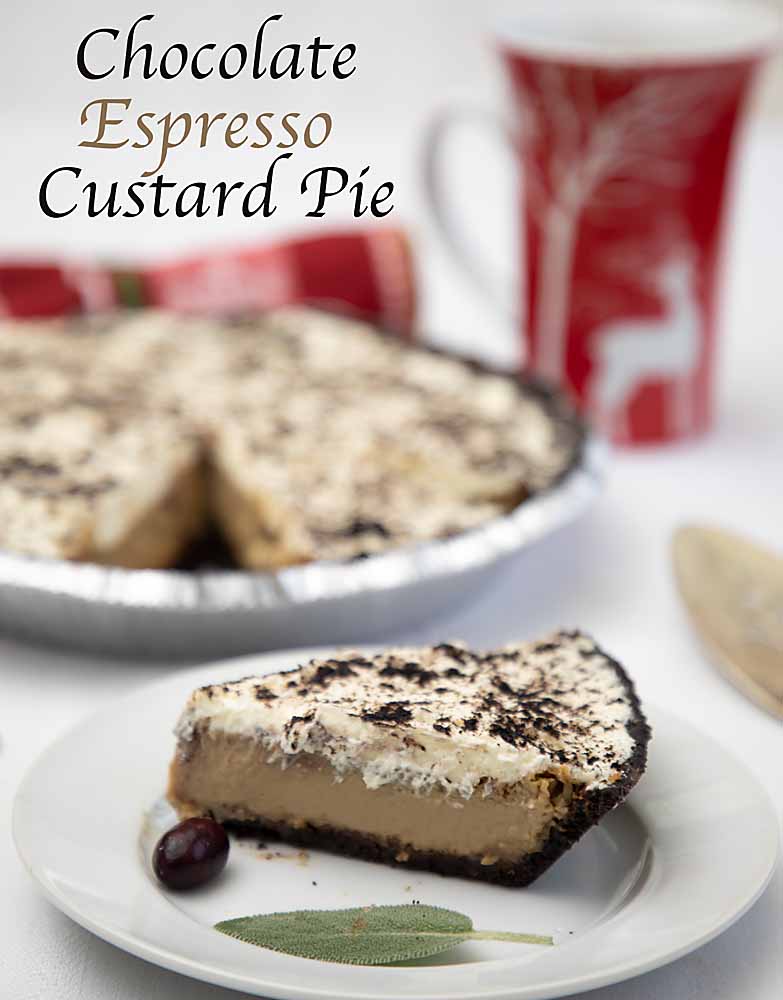 I am catching up on the latest Great British Baking show episodes and just got to watch them do custard pies. Of course, theirs were topped with flowers and meringues and amazingly beautiful. But I'll put the flavor of mine up against anyone's.
And I think mine is cute in an everyday baker kind of way…
The pie has taken a couple tries to get right. My first attempt was delicious, but there were two issues. First, the custard softened the chocolate cookie crust. It was still wildly popular, but this really bothered me. Yes (as viewers know), "no soggy bottoms."
I solved this by melting some chocolate chips and smoothing them over the bottom and sides of the chocolate crust. Then I let that harden before pouring in the custard and baking. That kept the crust crisp—and actually deepened the chocolate flavor to everyone's delight.
My second problem came in sprinkling on the final dusting of cocoa powder. Here I used my usual sifter, which works great for powdered sugar. Turns out cocoa is much finer so comes out thicker, looking kind of like chocolate asphalt. Um, no.
So for pie number two, I used small pinches of cocoa and distributed by hand. Problem solved.
The filling in this recipe is the right amount for a commercial chocolate crust. Yes, I know it's not very Great-British-Baking-Show of me. But the Oreo crusts are just as good as anything I can do and soooo easy. If you make a homemade crust, pay attention to the size–you may need to increase the filling quantity and baking time.
Everyone but my husband, who won't touch a hint of coffee, loved this recipe. Including my oldest who doesn't drink coffee but enjoys the flavor in small doses. She loves Tiramisu and kept calling this "Tiramisu Pie" which I took as a compliment
I do one new pie recipe every Thanksgiving and I think this may be the one. So when I decided I needed to test it again, my kids were in heaven.
My waistline, not so much.
Chocolate Espresso Custard Pie
2019-11-21 15:44:16
Serves 8
With a whipped mascarpone topping and chocolate cookie crust this espresso latte custard pie is reminiscent of tiramisu, minus the lady fingers.
Nutrition Facts
Amount Per Serving
* Percent Daily Values are based on a 2,000 calorie diet. Your Daily Values may be higher or lower depending on your calorie needs.
Chocolate crust
• 9-inch chocolate pie crust (commercial or your favorite recipe)
• ½ cup chocolate chips
Espresso Custard
• 1 tbsp espresso extract or instant espresso powder
• 1 tbsp cornstarch
• 1 cup cream
• ¾ cup reduced fat milk
• 1 tsp vanilla extract
• 1/2 cup brown sugar
• 3 large eggs
Mascarpone topping
• 1/2 cup mascarpone or cream cheese
• ¼ cup cream
• 3 T powdered sugar
• ½ t vanilla
Instructions
Preheat oven to 350 F
Melt chocolate chips over double boiler or in microwave in 20 second intervals, stirring regularly. Place chocolate pie crust on a baking sheet. Dollop melted chocolate onto different areas of crust and spread to cover bottom and sides. Don't worry about neatness but try not to miss any spots. Let cool.
Dissolve cornstarch in about ¼ cup of milk. Whisk with remaining filling ingredients, except cream, stirring until sugar dissolves. Stir in cream gently, to minimize any bubbles/foam. Pour into cooled crust.
Carefully transfer to oven then bake for 30-40 minutes, or until pie filling jiggles slightly in the center when pan is gently shaken. Allow pie to cool briefly at room temperature, then refrigerate until chilled.
Whip mascarpone with powdered sugar and vanilla. Whip whipped cream separately, then fold together.
Top chilled custard with cream topping, then sprinkle (very gently, I did small pinches by hand) with cocoa powder.
Art of Natural Living https://artofnaturalliving.com/