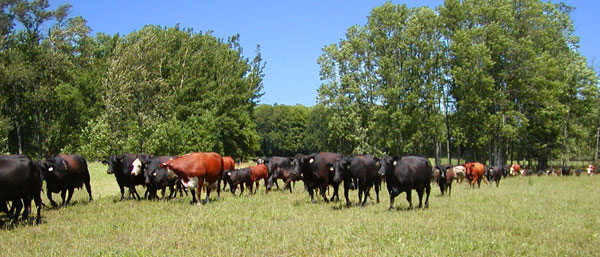 Grass-fed beef is all the rage. The health benefits are promoted by Dr Oz and validated by mainstream websites like Medscape.
I just picked up my annual quarter of grass fed beef from a local farmer and am excited to continue a healthy, delicious tradition. Allowing me to support small farms and providing better fat composition, it's a great path to guilt-free indulgence. Here's why:
Better Fat Composition
Cattle are designed to eat grass. Compared to conventional beef, grass-fed meat is lower in cholesterol and saturated fat, contains less total fat and has fewer calories. Grass fed beef is higher in "good" fats, providing 3 to 5 times more Conjugated Linoleic Acid (linked to lower cancer rates), and 2 to 6 times more omega-3 fatty acids (may help prevent heart disease and cancer).
Animal Treatment
In addition to health benefits, grass-feeding practices may offer greater sustainability and a more humane, healthful lifestyle for the cattle. Dairy cows on grass live 12 or more years versus an industry average of 3 to 4. Baileys Harbor, WI farmer Tom Lutsey decided to take stress seriously and installed a handling system built by Temple Grandin (of HBO film fame) that gently coaxes the cattle through gates and passages for an even lower stress environment—and presumably healthier, tastier beef.
How to Make Grass Fed Beef Work for You
If you are ready to try some grass fed beef, here are some things to consider:
Locating sources. Don't expect to pop into your neighborhood supermarket and find grass fed beef. Good sources include health food stores, farmers markets, and local farms, which may offer the most economical solution. Some farms sell single cut packages or larger convenience packs of varied cuts, as well as the traditional quarter or half of a cow. And since all beef is not created equal, you may wish to try a small amount of beef before making a big purchase like a quarter of beef.
Grass-finishing. Ask if your meat is grass-finished. The health benefits drop off rapidly if cattle are switched to grain before slaughter.
Cooking Instructions. Because the grass fed meat has a lower fat content, it may benefit from slight modifications to cooking style. Tougher cuts like chuck roasts will be tenderized by slow cooking at low temperatures and steaks will be more tender if cooked medium-rare rather than well done. When I switched to grass-fed, I didn't do any new recipe research but simply tried not to overcook. The results were delicious. Note that standard safe cooking and handling practices still apply to grass-fed beef.
It's peak beef sale time at family farms right now as they prepare for winter. If you would like to locate a source near you, check out Local Harvest. Then enjoy!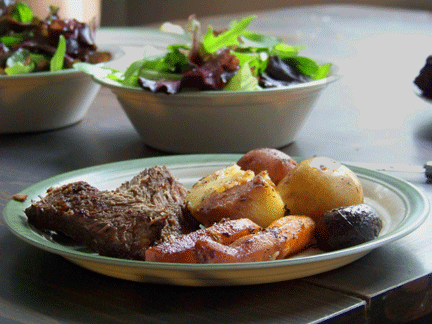 You may also enjoy: Beating the Heat: Pot Roast From an Improvised Summer Kitchen