Old Fashioned Stuffed Peppers (Better Than Mom's)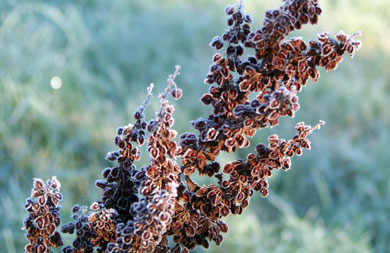 The first frost hit southeastern Wisconsin last week.  I really can't complain.  The rest of the state, unprotected by Lake Michigan, lost tender crops much earlier.  As a last farewell to summer, I decided to stuff the final bell peppers (using some of my grass-fed beef) for a lovely welcome-to-fall dinner.
My mother used to make stuffed peppers—but in my pepper hating youth, I shunned them and never collected the recipe.  So I went out to the internet, did some combining and a little innovating and prepared the recipe below.
When I set out dinner, the kids looked at the peppers skeptically, but came around at the first bite.  Indeed, they were better than I remembered.  I liked the flavor boost from the tomato paste in the filling and thought the dill was a great touch (it is common in stuffed pepper recipes, but I don't think Mom used it).  Next year I think I'll stuff some grape leaves too!
If you are still lucky enough to have bell peppers, why not give this a try.  Then pull up an ottoman, wrap yourself in a quilt and welcome the changing seasons.  Happy November!
Old-Fashioned Stuffed Peppers
Ingredients
8-12 peppers (depending on size), tops, seeds and interior ribs removed
1 T canola oil
4 cloves garlic, minced (or crushed in garlic press)
1 onion, chopped
1.5 lb ground beef
1/2 c fresh parsley, chopped
1 t salt
1 6 oz jar tomato paste
1 T dill
2 c cooked rice
1 jar of cook canned pasta sauce (or homemade) for topping
Directions
Sautee garlic and onion in oil until tender.
Add ground beef and cook until browned.  Drain off excess fat.
Add parsley, dill, tomato paste and salt and blend well.
Combine meat mixture with cooked rice and stuff into peppers
Cover with pasta sauce (I used a good canned organic like Seeds of Change or Muir Glen) and bake at 350 for 45-60 minutes until filling is heated through (an instant-read meat thermometer works great for this) and the pepper is tender.
Tip:  Make more stuffed peppers than you need and freeze the extras individually.  Later, you can take out just the amount you need for a super easy dinner.
Extra tip: If you are feeding a confirmed pepper hater, you can also stuff tomatoes.  Make sure the filling is hot when you insert it, then reduce the cooking time because the tomato will collapse if baked too long.  Add any stuffed tomatoes to your baking pan later–after the peppers are partially cooked.