Asparagus Soup with Chimichurri
If sometimes creamed soups can feel bland, try this Asparagus Soup with Chimichurri Sauce. which adds a big herbal punch to a rich creamy soup!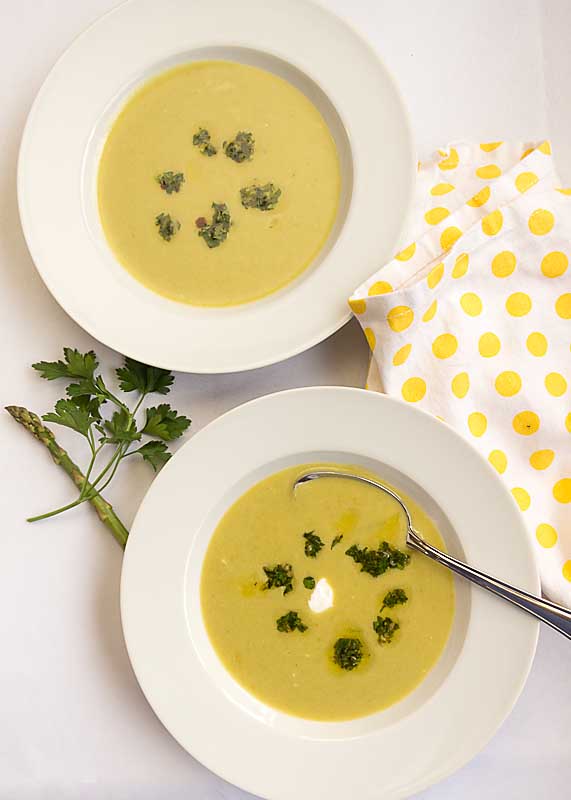 It all started a number of years back. After an evening over a hot stove, I was culinarily traumatized. By my kids.
I had made a lovely Cream of Spinach Soup with Potatoes and Leeks, a recipe I'd gotten from my high school French class. Served many times, it was (pretty much) always a hit. Even the kids had enjoyed it before.
But this time the kids didn't like the (teeny) spinach shreds, so I decided I would puree it. People puree soups all the time, right?
Well, when I served up the "adapted" version, my oldest took one look, grimaced and said, "Eeuuww, cream of pond scum." Pretty much spoiled it for the lot of them.
Since then I've neurotically avoided pureeing anything green. I'll cream winter squash or tomatoes in an instant, but green soups? Nuh-uh.
But this year I decided to get brave and try Cream of Asparagus soup. Asparagus is amazing, right? How could anything using it not work? But the soup was a touch bland (even using yogurt instead of cream, which gave it a nice tartness) and the "pond scrum" phrase reared its ugly head.
Sooo, how could I make this so over the top that not even my kids would complain?
Perhaps a little Chimichurri Sauce?
If you aren't familiar with it, Wikipedia defines Chimichurri as "an uncooked sauce used for grilled meat… It is made of finely chopped parsley, minced garlic, olive oil, oregano and red wine vinegar." It was all the rage on steak a few years back, but I hadn't seen as much of it lately.
I gently dotted the soup with the chimichurri to look good for the blog pictures. But by the end everyone was swirling big spoonfuls through. Even my "I like bland" husband, who first said he preferred the soup straight, converted and was fighting for the chimichurri bowl with everyone else.
Finally, a victory!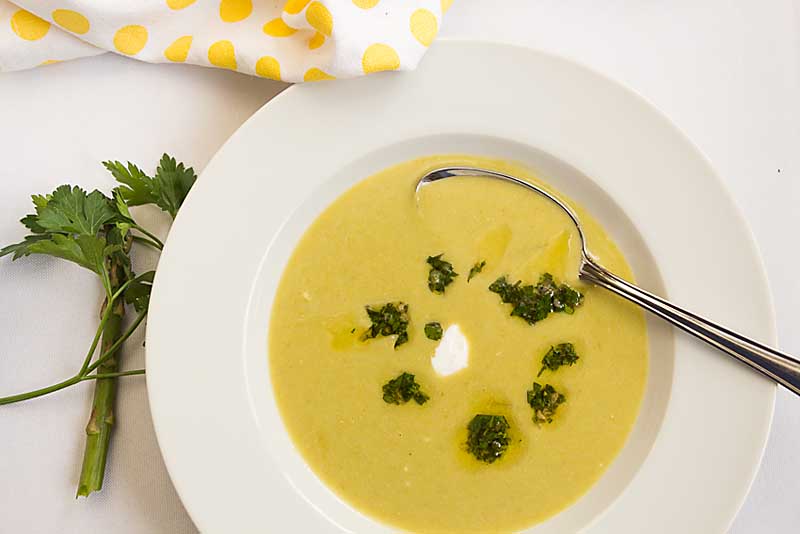 Asparagus Soup with Chimichurri
2019-04-27 21:14:29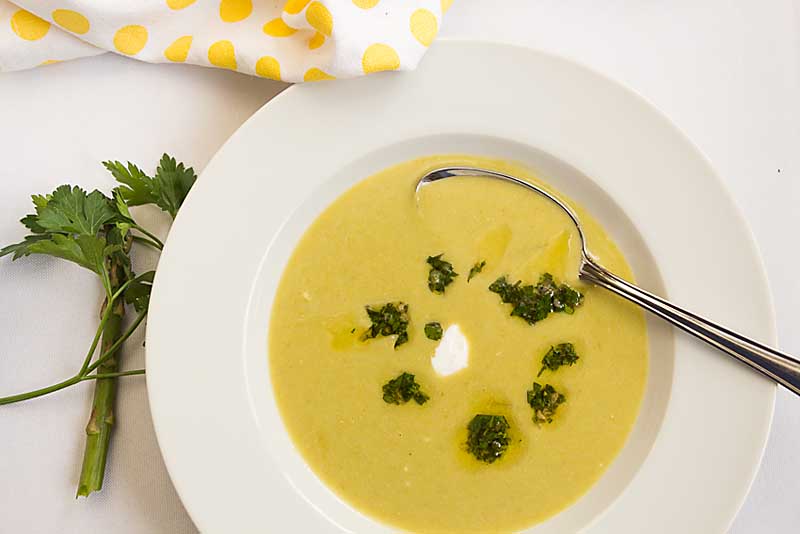 If sometimes creamed soups can feel bland, try this Asparagus Soup with Chimichurri Sauce. which adds a big herbal punch to a rich creamy soup! 
Nutrition Facts
Amount Per Serving
* Percent Daily Values are based on a 2,000 calorie diet. Your Daily Values may be higher or lower depending on your calorie needs.
Asparagus soup
1 shallot or leek or small onion, chopped, about ½ c
½ cup chopped celery or celery root
1 clove garlic, minced
3 cups broth
1 lb asparagus, broken up, tough ends removed
3 T rice (see note)
Salt, pepper to taste
½ cup reduced fat Greek Yogurt (optional)
Chimichurri sauce
¼ cup finely chopped fresh parsley
1 Tablespoon finely chopped fresh oregano
2 cloves garlic, minced
Pinch crushed pepper
¼ cup extra virgin olive oil
1 Tablespoon red wine vinegar
½ t sea salt
Instructions
In a medium saucepan, sautee chopped shallot and celery until just tender. Add minced garlic and cook for another minute.
Add broth, asparagus and rice. Bring to a boil, then simmer for about 15 minutes until everything is tender.
While soup is cooking (or before if you prefer), make the chimichurri sauce. Mix the finely chopped herbs with the oil and vinegar. Salt to taste, then let sit for flavors to blend.
Once the asparagus and rice in the soup are tender, puree soup in a blender or using an immersion blender.
If using yogurt, mix a little warm soup in with the yogurt to temper it until well blended. Add back to the soup and stir or whisk to combine.
Serve warm dribbled with chimichurri sauce.
Notes
I used a natural white rice that was tender in the 15 minute cooking time. If you go with a longer cooking brown rice, adjust the simmer time accordingly.
Art of Natural Living https://artofnaturalliving.com/

Did you know that the first week of May is National Herb Week? For some more herbal inspiration, check out these recipes from some of my blogging friends!
Herbaceous Recipes
We share Recipes From Our Dinner Table! Join our group and share your recipes, too! While you're at it, join our Pinterest board, too!