Fresh Berry Salad with Limoncello
With mixed fresh berries, accented by tart lemon & a hint of boozy limoncello, this Fresh Berry Salad with Limoncello is a perfect dessert or side.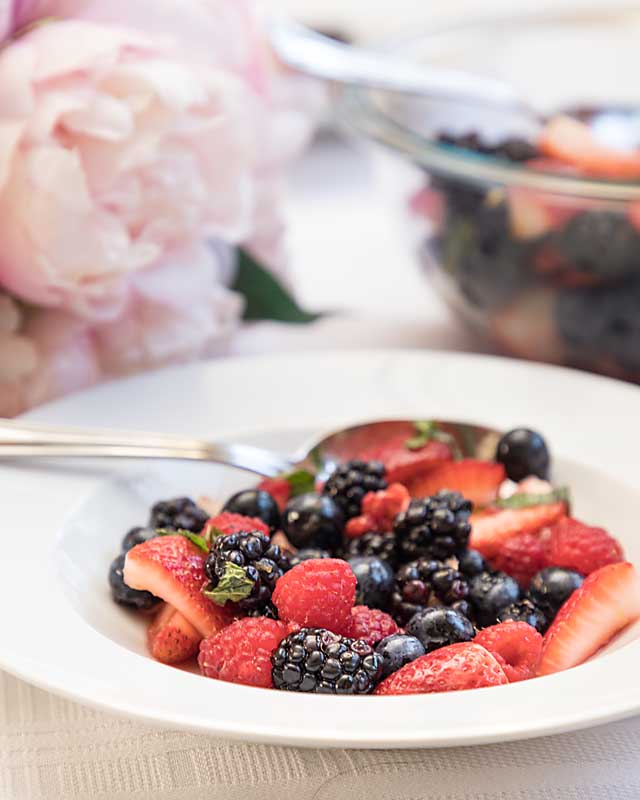 Recently, I was really in need of a light new recipe. And book club came through again. What would I do without these talented ladies!
Fresh Berry Salad with Limoncello is a variation on a simple macerated fruit salad with a focus on berries and lemon. And if that's not enough, how about some boozy limoncello. Brilliant! Our hostess got the recipe from Cooking Light and you'll find variations all over the internet.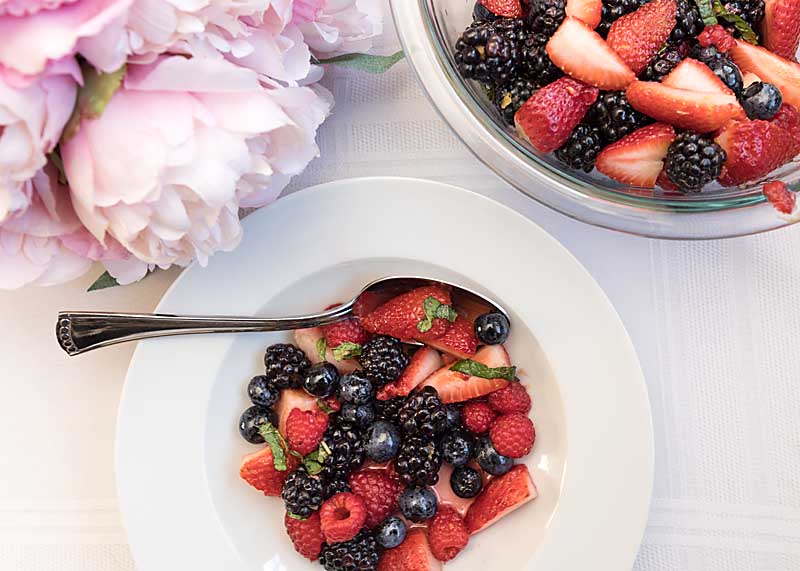 It was hugely popular on book club night (even after all the wine) and an equally big hit for family dinner!
Since I had never worked with limoncello before, I decided to research a few questions. Here is what I learned plus a few other questions you might have about the Berry Salad.
What is Limoncello?
"Limoncello is an Italian lemon liqueur mainly produced in Southern Italy… Lemon zest, or peels without the pith, is steeped in rectified spirit (most commonly grappa, but vodka may also be used) until the oil is released. The resulting yellow liquid is then mixed with simple syrup." (Source: Wikipedia )
Do I need to refrigerate Limoncello?
"Limoncello does not need to be refrigerated because its high alcohol and sugar content safely preserves it even when it is stored at room temperature. However, limoncello is usually served well-chilled and tastes much better if it is stored in the refrigerator for at least an hour before serving it." (Source: Our Everyday Life)
Can I make this without the limoncello?
If you are serving someone who is alcohol free, this should be delicious with 2 Tablespoons of fresh lemon juice instead of the limoncello.
What else can I do with limoncello?
Limoncello can be served, chilled (but not on ice), as an after dinner drink. It can also be mixed into other cocktails, or used in desserts.
Can I make my own limoncello?
I haven't tried it, but many sources say "yes" and here is a recipe from Giada De Laurentiis. Since the peel produces the lemon flavor, I would suggest using organic lemons if you can get them.
In my experience, homemade infusions can have mixed results. I have never produced a vanilla or mint extract that is as good as commercial, even when I tried over-saturating my vodka with extra mint/vanilla beans. But I preserve fruit in brandy every winter and both the fruit and brandy come out delicious! So I'm probably going to give this a try!
Note that if you have a Trader Joe's, they have their own brand of limoncello, which is well-priced and requires no lead time.
Is there an easy way to julienne mint leaves (or basil or…)?
Yes there is. I like to stack about 4 or so similarly sized leaves then roll them up into a "cigar", usually rolling the short direction so I get shorter pieces. Then I cut the "cigar" into thin strips and toss to unfold. Easy peasy!
Can I vary the fruit ratios?
Absolutely. To stay true to the nature of a berry salad, I'd stick with all berries, but feel free to base the ratios on price, preference or whim. My pictures show a salad with fewer blueberries since they were having an expensive week when I shopped.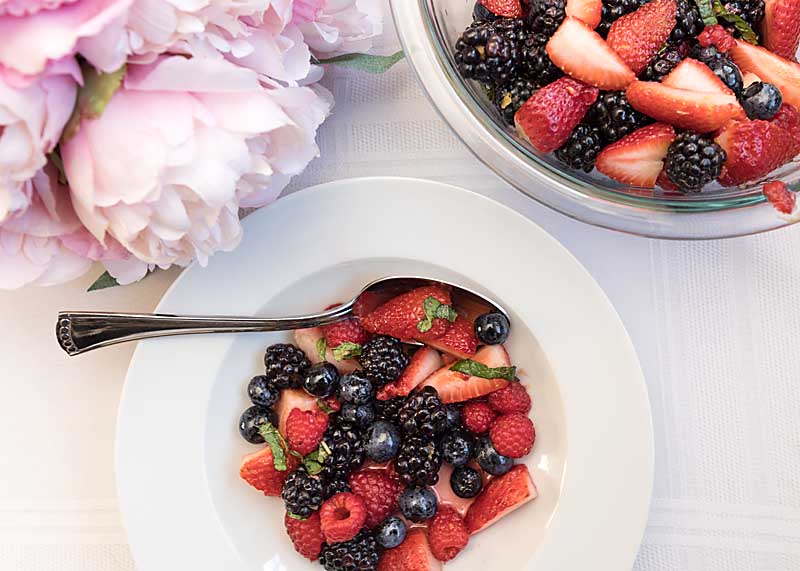 Fresh Berry Salad with Limoncello
2019-05-15 23:52:16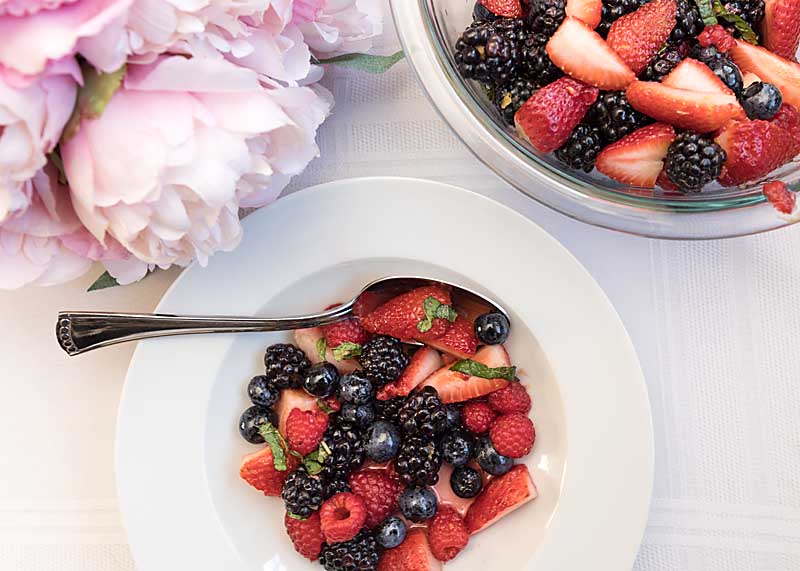 Serves 8
With mixed fresh berries, accented by tart lemon and a hint of boozy limoncello, this Fresh Berry Salad with Limoncello is a perfect dessert or side.
Nutrition Facts
Amount Per Serving
* Percent Daily Values are based on a 2,000 calorie diet. Your Daily Values may be higher or lower depending on your calorie needs.
Ingredients
• 1 cup fresh raspberries
• 2 cups fresh blackberries
• 2 cups hulled fresh strawberries, halved or quartered
• 2 cups fresh blueberries
• 1/4 cup sugar
• 1 tablespoon grated lemon rind
• 2 tablespoons fresh lemon juice
• 2 tablespoons limoncello (or additional lemon juice)
• 1/4 cup julienned mint leaves (or more to taste)
Instructions
Combine all ingredients except mint in a bowl; let stand at least 20 minutes, so sugar pulls out some of the fruit juices.
Gently stir in mint.
Serve cold with spoons for the juices.
Adapted from Cooking Light
Adapted from Cooking Light
Art of Natural Living https://artofnaturalliving.com/