Creamy Gougères Cheese Puffs
Gougères Cheese Puffs are warm, soft and creamy, like a dollop of toasty bread infused with gooey cheese. Warm and tasty–mmm!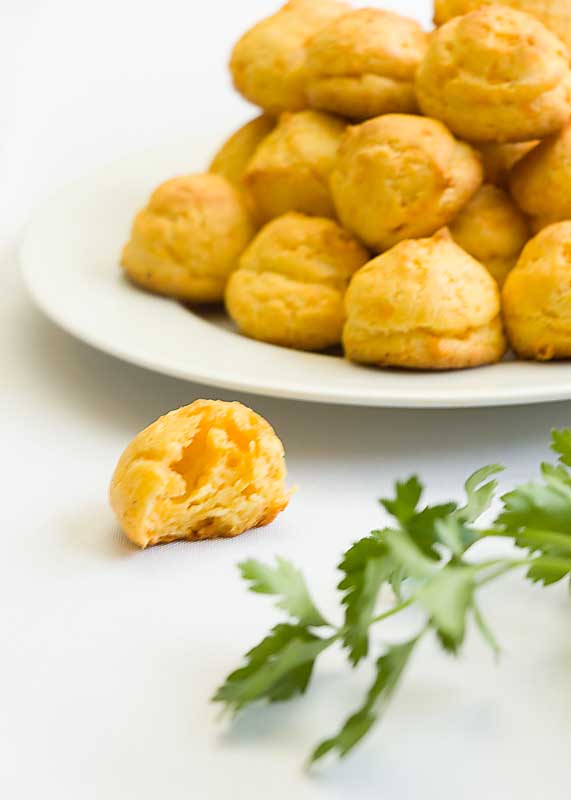 How many times have you tasted a great new food, and then said, "this is really good, but I could never make it…"?
Well, sometimes it pays to think again.
There is a local restaurant near us that serves a wood-fired bread basket with some tasty little "cheese puffs." They are warm, soft and creamy–like a dollop of toasty bread infused with gooey cheese. I didn't know what they were, but I knew they were amazing!
And I always figured they must be hard to make. Until my blogging friend Tandy posted these gougères and I shouted, "that's it, that's it!" And "it" looked like something a non-chef could do!
Based on a choux pastry dough (like a cream puff, another thing I've never done), these come together in a few simple steps. After mixing, you scrape the dough into a piping bag (or into a zip loc & cut off the end) then squish out little dough balls onto parchment. Finally you bake.
Easy peasy!
Gougères Cheese Puffs Tips
I've made the recipe a few times at this point, so now I have some tips to share.
Most importantly, start with a flavorful cheese, since that provides the bulk of the flavor. I have tried both a peppered gruyere and a 4-year aged cheddar, both delicious. Don't skimp on the amount of cheese either. The first batch I made used less cheese and weren't as good.
Second, don't make your puffs too large or flat. While I hear that larger gougères can work, walnut sized spheres are safer. When I got lazy and decided to make larger puffs, they collapsed when they came out of the oven. Still delicious, but not cute, and easy to avoid. And if your piping leaves a little swirl at the top, smooth that out slightly with your finger so that doesn't brown too much.
Finally, most recipes suggest you sprinkle the unbaked gougeres with grated cheese. Yes, that sounds lovely, but I pretty much ended up with cheese all around the puffs, not on them. Since they were golden and delicious in any case, now I skip the sprinkled cheese entirely. Just as dangerous to my diet and keeps me from feeling inadequate in the kitchen.
Word on the street is that these can be frozen baked or unbaked. I haven't tried it yet. Next week!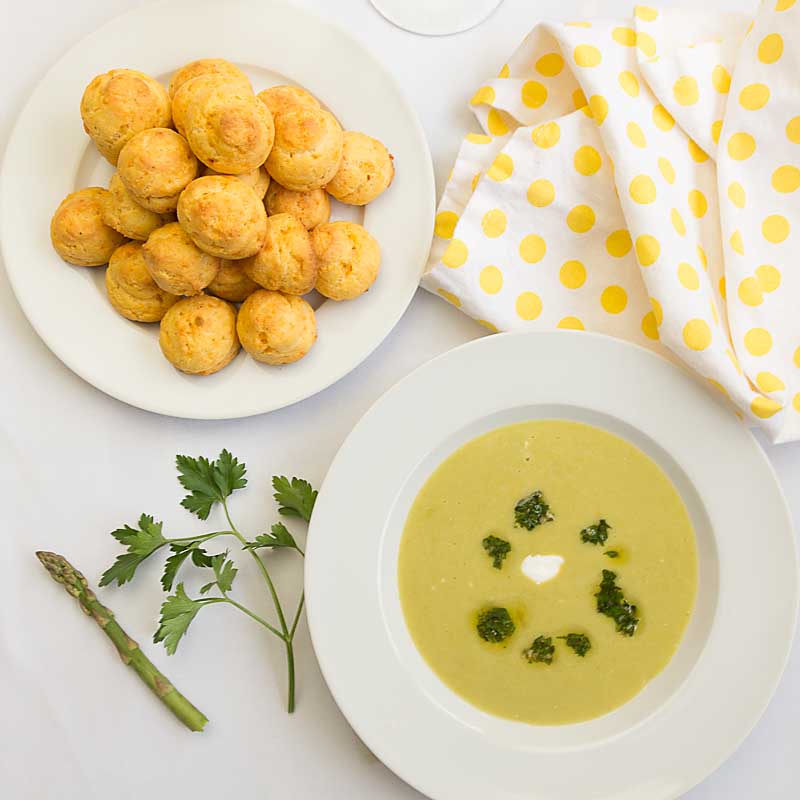 Gougères Cheese Puffs
2019-04-25 14:18:56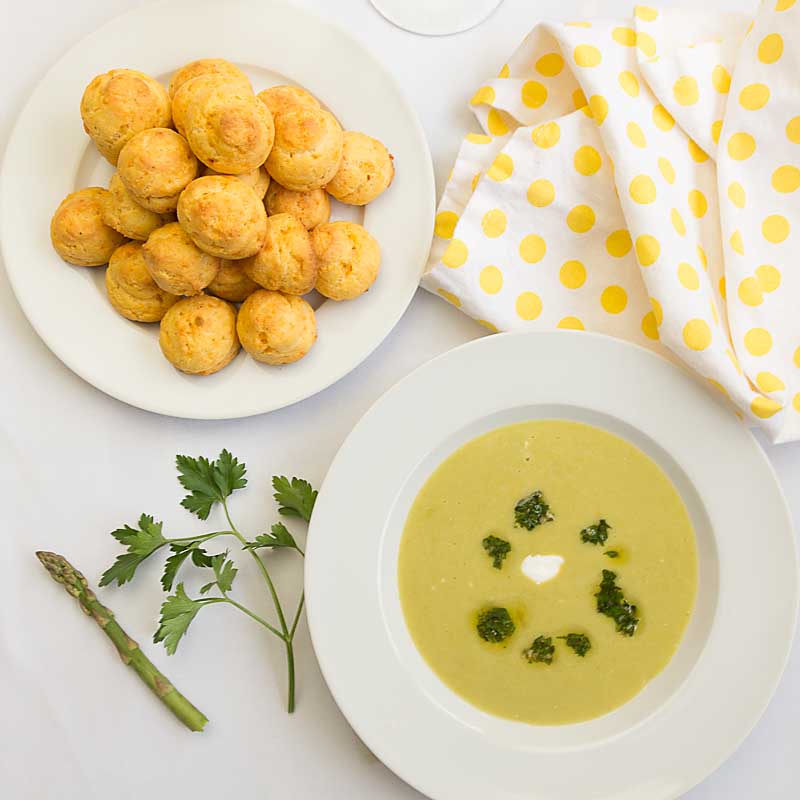 Gougères Cheese Puffs are warm, soft and creamy, like a dollop of toasty bread infused with gooey cheese.  Warm and cheesy--mmm!
Nutrition Facts
Amount Per Serving
* Percent Daily Values are based on a 2,000 calorie diet. Your Daily Values may be higher or lower depending on your calorie needs.
Ingredients
• 4 T butter
• ½ t salt
• 1/2 c water
• 1/2 cup all-purpose flour
• 2 large eggs
• 1 cup grated flavorful hard cheese (3-4 ounces), like gruyere or aged cheddar
• ¼ - ½ t Freshly ground pepper
Instructions
Preheat the oven to 400° F. Line a large jelly roll pan with parchment paper.
In a small saucepan, melt the butter then add water and salt and bring to a boil. Stir in the flour and mix vigorously until a smooth dough forms. Continue stirring over low heat until it dries out slightly, about 2 minutes.
Let cool for a minute then transfer to a mixing bowl. Add one egg to the dough beating thoroughly until fully incorporated, then repeat with the second egg. When smooth, add the cheese and pepper and mix thoroughly.
Transfer the dough to a pastry bag fitted with a ½ inch round tip or leave the tip off entirely. If you don't have a pastry bag, you can place in a zip loc bag and cut off one corner. Pipe walnut-sized mounds onto your parchment, an inch apart. A 5 x 6 arrangement worked well for me.
Bake until puffed and golden, about 20 minutes. Serve hot.
Art of Natural Living https://artofnaturalliving.com/