Baked French Onion Soup and Lessons from Dad, Part II
Last Sunday, in honor of Father's Day, I posted the some lessons I learned from my father. Today's post will complete my list—and provide a recipe for baked French Onion Soup.
Baked French Onion soup and I go way back—and it has a special tie to my father. During my senior year in high school, I had almost daily ballet classes and my father was charged with picking me up on Wednesday nights. At that time he owned a restaurant and the two of us would go out after class for Baked French Onion soup. I remember the time fondly as a perfect hour of rejuvenation and great conversation.
Of course Baked French Onion Soup is so delicious, you don't need great memories to love it!
This recipe is a combination of two I found online. The first came originally from America's Test Kitchen by way of Cookography and was noted for its great flavor. The second was a slow cooker recipe noted for its simplicity. Put them together and you get the best of both worlds. Although the elapsed time is long, there is very little working time in this recipe—perfect for a day you are running around accomplishing a lot. Complete with a reward for dinner!
And the final lessons I learned from my father? Here goes:
Ten Lessons I Learned from my Father, Part II
Always have an answer ready. When we were young children, one of us was having a potty emergency on a road trip without a gas station in sight. In desperation, Dad pulled over to the side of the deserted rural road. As soon as the door opened, a police car pulled up behind and the officer stepped out. "Is there a problem?" the officer asked and Dad replied, "Oh no, we thought we had a little car sickness, but everything's okay now." No one wants to get into a tough spot, but you need to be prepared.
Pick Your Battles. Dad used to say that "a sign of maturity is knowing the world isn't going to change just for you." Initially I thought he meant accept the status quo, but as I got older realized the advice was about strategy As I told a work team years later, "it's important to keep tilting windmills—but if you target them and continue to produce elsewhere, you'll have more license to do so."
Go for the Win/Win. As an inventor Dad believed that with enough creativity you could find a solution that delivers a win/win. Around the time of the 70's oil embargo, he developed the invertor that converted DC wind or solar power to AC and ran it back through the power lines. With enough thinking like this, the Good Life and Mother Nature could live hand-in-hand.
Enjoy Life's Pleasures. Food, nature and the performing arts were all loves that Dad shared. Outings ranged from good restaurant dinners to state park day trips to countless arts events (my shows along with things I wanted to see). Our weekly French Onion Soup outings were part of the support he showed for my interests.
Don't overcook your scrambled eggs. Every vacation Dad took over making the eggs. Dried out eggs are unpleasant and avoidable, he used to explain as he slowly stirred a big pan of eggs. All lessons don't need to be profound!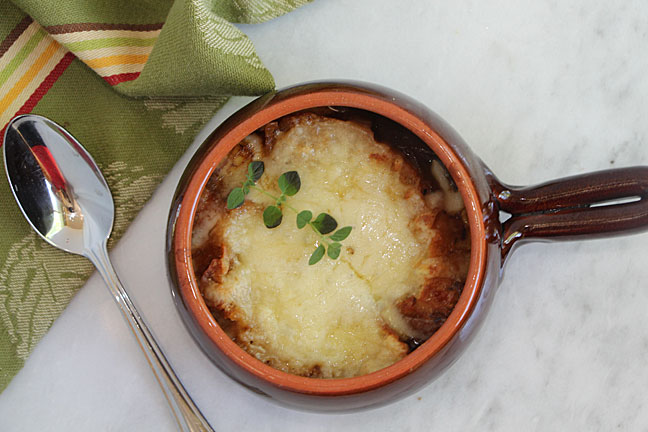 Baked French Onion Soup
Baked French Onion Soup made easy with a winning combination of classic ingredients and slow cooker methods.
Ingredients
3

pounds

yellow onions

peeled, sliced, and cut into quarter-moons

3

tablespoons

butter or olive oil or combination

1

teaspoon

salt

plus more to taste

Freshly ground black pepper

1/3

c

sherry

2

teaspoons

thyme

5

cups

vegetable

chicken or beef broth

2

cups

water

8

thin baguette slices

toasted (2 for each bowl)

2

cups

grated Gruyere or Swiss cheese

1/2 cup per bowl
Instructions
Melt the butter in a 5-quart (or larger) slow cooker. Stir in the sliced onions, salt, and a generous quantity of black pepper.

Cover and cook on low for 8 hours. The onions should be dark golden brown and soft. (I needed to go down to 150F on my roaster to keep the onion edges from burning so be careful with the temperature.)

When onions are a deep golden brown, deglaze the pan with sherry, stirring up any browned bits. Add the thyme, broth and water. Cover and continue cooking on LOW for another hour.

Heat the oven to 400 F. Ladle the soup and onions into oven-safe bowls and place the bowls in a baking pan.

Top each bowl with two toasted baguette slices and a generous quantity of shredded cheese. Bake until the cheese is completely melted, about 15-20 minutes. If your bowls are broiler safe, you can broil for a minute or two until the cheese is bubbly and starting to brown.
I am not a health professional and nutrition data is calculated programatically. Accuracy may vary with product selection, calculator accuracy, etc. Consult a professional for the best information.