Christmas Cookie Snowflakes and Stars
When I made my popular fall leaf cookies last month, I was already thinking ahead. I had just learned how to do a fun icing technique called "cookie flooding" and I wondered… How could I adapt this for Christmas cookie snowflakes and stars?
This year, daughter #3 is appearing in a community theater production of the Christmas classic, Miracle on 34th Street. So why not send cookies to one of the many (many) shows– since everyone involved is truly a star.
This time I used a different recipe for royal icing, made with meringue powder and adapted from Wilton. The original used corn syrup but I was out of my organic and I just couldn't bring myself to head to the grocers for conventional, knowing it would be GMO. But this recipe worked great–so I may have a new favorite.
The technique is very much like the fall cookies and much easier than you'd think. It goes like this:
You start by making sugar cookies, letting them cool, then piping a butter cream outline using a #3 or 4 tip. If the icing is taking too much energy to pipe out, pop the bag in the microwave for a few seconds to warm and soften it. After a while the heat from your hands will work to soften it too. The butter cream acts as a bit of a dam for the softer royal icing that will go in the center.
Using the white royal icing, make a large circle in the center of the cookie. Place a smaller blue icing circle in the center of that and a large dot of purple in the very center.
Using a blunt tool (I used the handle end of a fondue fork), spread the icing. Starting in the center, drag a line of icing out to the first point. Return to the center then go to the second point and so on until done.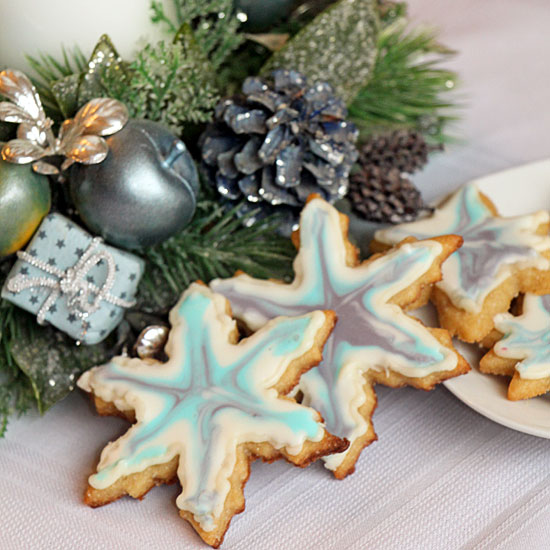 For the stars I got more abstract and made less symmetrical lines and an occasional swirl.
Let the cookies dry, ideally overnight. As you can see below, if you move a cookie before it is fully dry, the frosting may run underneath, cracking the top and creating ripples. So try not to move them too much.
Most of the cookies went out for snacking during one of the shows and my daughter sent back thanks. I was happy to donate–they deserve it after spreading all that Christmas cheer!
Christmas Cookie Snowflakes and Stars
2014-12-17 17:10:30
Pretty and professional looking, this technique for "cookie flooding" makes lovely Christmas cookie snowflakes and stars doable for a novice.
Nutrition Facts
Amount Per Serving
* Percent Daily Values are based on a 2,000 calorie diet. Your Daily Values may be higher or lower depending on your calorie needs.
Cookies
1 cup (2 sticks) unsalted butter, softened
1 1/2 cups granulated sugar
1 egg
2 teaspoons pure vanilla extract
2 3/4 cups all-purpose flour
1/2 teaspoon salt
Buttercream frosting
1/2 cup butter, softened
2 cup powdered sugar
1 teaspoon water
1/2 teaspoon vanilla
Royal icing
3 tablespoons Meringue Powder
4 cups (about 1 lb.) confectioners' sugar
6 tablespoons warm water (or more as needed
1/2 teaspoon vanilla extract
food coloring (I used Wilton sky blue & no-taste red)
For cookies
Preheat oven to 400°F.
In mixing bowl, cream butter with sugar until light and fluffy. Beat in egg and vanilla. Mix flour and salt; add to butter mixture 1 cup at a time, mixing after each addition.
Divide dough into 2 balls. On a floured surface, roll each ball into a circle approximately 12 in. wide and 1/8 in. thick. Dip cookie cutter in flour before each use.
Bake cookies on ungreased cookie sheet 6-7 minutes or until cookies are lightly browned. Let cool before frosting
For buttercream
Combine all ingredients in a small mixing bowl, adjusting water and powdered sugar as needed to achieve desired (thick) consistency. Mix until fluffy.
Fill a piping bag fitted with a small circle tip (e.g. #3 or #4) with buttercream frosting, and set aside. Alternatively, cut a very small hole in the corner of a plastic bag and fill (note: I haven't tried this but people say it works).
Using the buttercream frosting in the bag, pipe an outline around the border of the cookie. Allow to set up for about 10-15 minutes.
For the royal icing
In a medium bowl, combine all ingredients and beat with electric mixer until smooth. Consistency should be that of a thick syrup, similar to molasses. Adjust water as needed.
Put some of the royal icing into two smaller bowls. Mix in food coloring to make blue in one container and purple (red & blue colors) in the other.
When ready to flood, use extra piping bags or a small spoon to drizzle different colors of royal icing onto each cookie starting with a large circle of white. Drizzle a smaller circle of blue in the center of the white and a still smaller circle of purple inside of that (see picture above).
Use a narrow pointed object to drag icing to the edges, without allowing it to spill over.
Swirl if desired.
Allow to dry until firm, ideally overnight.
Notes
The number of cookies will vary based on size and how thick you roll them--the count of 60 is based on making mostly slightly smaller stars.
Art of Natural Living https://artofnaturalliving.com/