Vanilla Cranberry Cream Dessert
Is it wrong to make the same Christmas dessert two years in a row? Does it help if you have a dessert buffet with a variety of options? I served these Vanilla Cranberry Creams last Christmas where they were definitely a hit. Every year I try something new, but this year's new recipes have failed repeatedly (that is two desserts failed a total of three times) so they just may be on the menu again.
Recently I have become fascinated with all the different ways to thicken milk or cream. The recipes combine the best of comfort (warm rich milk) and special (creamy chocolate, pungent vanilla) for a treat that is rich, but light enough to work even after a big meal. When I found some fancy shot glasses for a steal at TJ Maxx, the rest was history.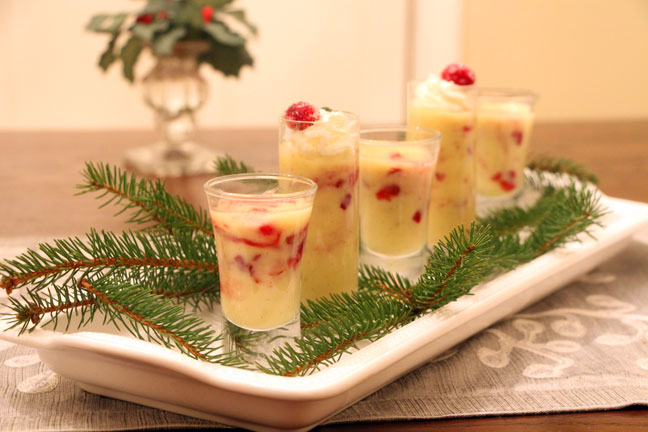 There are actually a number of different ways to create the various types of thickened cream desserts. Use cornstarch and it is a pudding, gelatin makes a panna cotta, and eggs produce a pot de crème. I have found my greatest success mixing eggs and cornstarch but I still call them pot de crème since it sounds so fancy 😉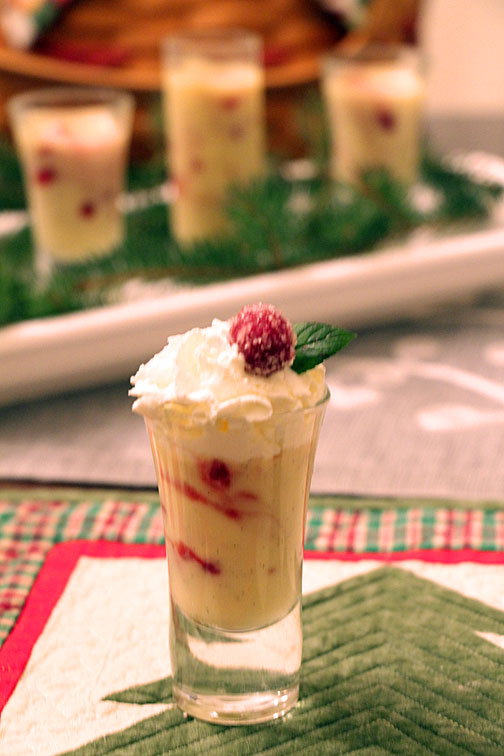 Despite its scary sounding name, the dessert is quite simple–even the sugared cranberries on top are a snap. Would it help to call it pudding?
No time before Christmas? These would be great for an elegant New Year's Eve or a romantic Valentine's Day. Don't you love the holidays!
Vanilla Cranberry Cream Dessert
2014-12-23 15:17:26
Serves 8
This vanilla cranberry cream dessert is served in individual shot glasses and perfect for Christmas, New Year's or valentine's Day.
Nutrition Facts
Amount Per Serving
* Percent Daily Values are based on a 2,000 calorie diet. Your Daily Values may be higher or lower depending on your calorie needs.
Ingredients
• 3 T cornstarch
• 1/2 c sugar
• 2 T butter, cut into pieces
• 1 c skim milk
• 1/2 c cream
• 1 van bean
• 1 cinnamon stick
• 1/2 c cranberry sauce, pureed in blender
• 2 egg yolks
whipped cream, cranberries, mint leaves for garnish (optional)
Instructions
Slice vanilla ban lengthwise and scrape out seeds. Add seeds and pod, along with the milk and cinnamon stick to a medium saucepan.
Over low heat, warm mixture until bubbles start to form on side of pan. Remove from heat and take out vanilla bean and cinnamon stick. (see note below for a simpler alternative)
Beat egg yolks with the cream, sugar and cornstarch. Add in a little of the hot infused milk to temper the egg mixture, then whisk into the saucepan.
Cook whisking constantly until mixture coats the back of a spoon and retains some shape briefly when drizzled back into the pan. Do not let it boil (but it will be just shy of simmering). When done, whisk in the butter.
Fill a shot glass halfway with the mixture, dot with 1/2 - 1 t cranberry sauce, top off with custard, then another dab of cranberry sauce. Stir with fondue fork to break up cranberry layers.
Cool, garnish as desired, then serve.
Notes
For an easier version, instead of infusing the vanilla and cinnamon, just blend all of the ingredients except the cranberry sauce with 1 teaspoon vanilla extract and 1/4 teaspoon cinnamon. Then cook until thickened and fill shot glasses as directed above.
Art of Natural Living https://artofnaturalliving.com/