Did you spend this Christmas season as behind as I did? Between everyone getting sick (some of us twice!), recipe failures, a big pre-Christmas party, and my daughter's long run of Miracle on 34th Street, I'm glad that I had at least one new recipe–Spiced Peach Bread–already ready to debut.
Every year our family Christmas Eve dinner includes a basket of homemade bread. I serve some old favorites but also try to add a new bread or two.
This bread was developed to use up the last of my peach preserves (from 2013) but could be made with commercial canned peaches, fresh peaches or even pears. Since I went kind of nuts canning peaches and hate to see anything to go to waste, peach bread was a great inspiration! These particular peaches had a little bourbon in the canning juice, which gave the bread a unique and exotic flavor (tip on this included). It keeps beautifully for a couple days, so it is also a good "make ahead" item (we leave it unwrapped it is so moist–except for the cut end which we usually put against the plate). How important is that when you are busy!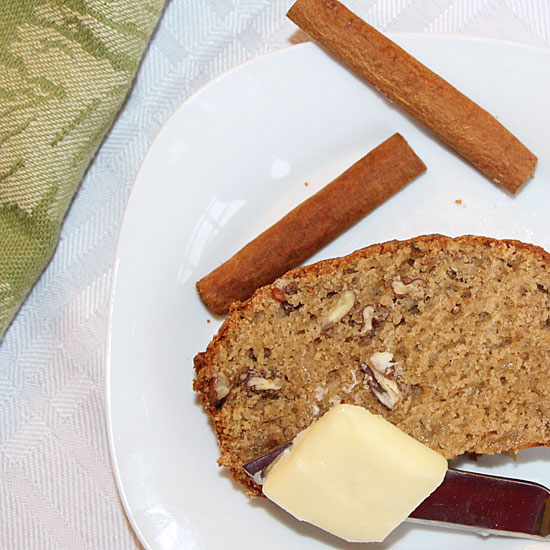 For an early run of the bread I appropriated a bit of the batter for a mini-loaf (made in a cute ceramic mini-loaf pan that Michaels had on sale for under $1) to go into a gift box. Just be sure to cut the baking time a bit if you go smaller.
Spiced Peach Bread
2014-12-24 09:16:48
Serves 12
A festive bread that can be made ahead, spiced peach bread is perfect for the holidays, picnics or any busy time.
Nutrition Facts
Amount Per Serving
* Percent Daily Values are based on a 2,000 calorie diet. Your Daily Values may be higher or lower depending on your calorie needs.
Ingredients
• 1/4 cup coconut oil or other oil of your choice
• 3/4 cups sugar
• 1 teaspoons vanilla
• 2 eggs, beaten (or vegan egg substitute)
• 1/3 c fruit juice (from can), or bourbon/juice mixture (see note below), or milk
• 2 c whole wheat pastry flour
• 1/2 teaspoon baking powder
• 1/2 teaspoon salt
• 1/2 teaspoon ground ginger
• 1/4 teaspoon baking soda
• 1 t cinnamon
• 1 cans (15 ounces) peach halves, drained & chopped, or 1 cup cored and chopped fresh peaches
• 1/2 c pecans (optional)
Instructions
Melt coconut oil and combine well with sugar.
Add vanilla, beaten eggs/egg substitute and fruit juice and combine well.
Mix dry ingredients (except nuts) and combine with wet ingredients.
Fold in chopped peaches and nuts (if using).
Pour into greased and floured (at least the bottom) loaf pan.
Bake at 350F until it tests done with a toothpick--about an hour.
Remove from pan and cool on wire rack.
Notes
For a more festive flavor, substitute a tablespoon or more bourbon for some of the fruit juice.
Art of Natural Living https://artofnaturalliving.com/