Citrus Salad with Blue Cheese
It's okay to fail. Sometimes it's even positive. You see, if every batch of my new marmalade had worked, I wouldn't have created this delicious Citrus Salad with Blue Cheese.
Yes, this month I made my first marmalade—three batches of it. And one of them failed. The flavor was good, but it was syrupy rather than gel-like. What to do with a chunky orange syrup… (Of course a perfect marmalade or jam would work for this too.)
I settled on mixing my failed marmalade into a vinaigrette. A few ingredients later I had a Citrus salad with Blue Cheese (go ahead and use a flavorful non-dairy cheese for a vegan salad) that included both fruit and vegetables.
Winter always makes it just a little harder to get enough daily servings of fruit (2-4) and vegetables (3-5). It's a far cry from summer, with farmers hawking fresh strawberries in the markets or fall with backyard fruit trees heavy with fruit.
The salad is a bit sweet, with a brightness that is so welcome in winter. And it's extra healthy right when it counts (I almost have those holiday lbs off!) Nothing like some orange sunshine on a cold winter day!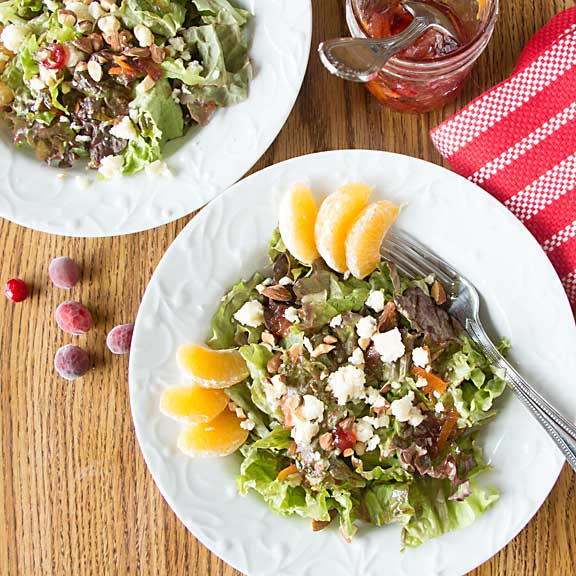 Citrus Salad with Blue Cheese
2017-01-26 14:50:48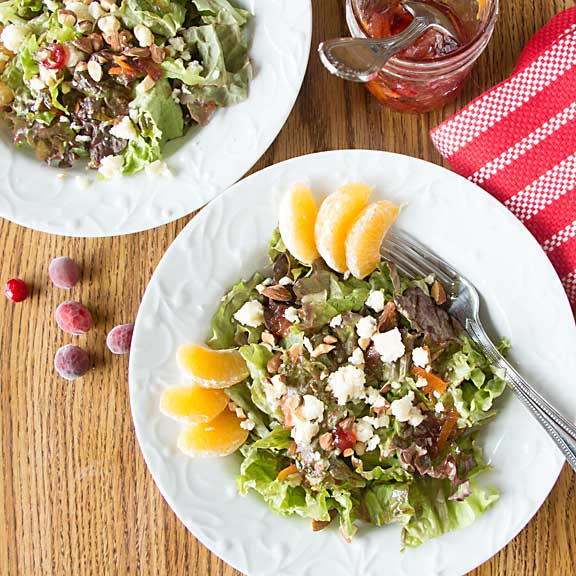 Serves 4
Citrus Salad with Blue Cheese is sweet & bright for winter. And with lettuce, fruit & cheese, it's extra healthy when it counts!
Nutrition Facts
Amount Per Serving
* Percent Daily Values are based on a 2,000 calorie diet. Your Daily Values may be higher or lower depending on your calorie needs.
Dressing
2 Tablespoons marmalade or jam (see note)
3 Tablespoons extra virgin olive oil
2 Tablespoons red wine vinegar
1/2 teaspoon fresh thyme leaves (or 1/4 teaspoon dried thyme)
1/8 teaspoon salt
1/8 teaspoon pepper
Salad
6 cups torn lettuce
1/4 cup crumbled blue cheese (use a flavorful non-dairy cheese for a vegan substitute)
1/4 cup chopped almonds (or other nut)
2 oranges, peeled and sectioned
Instructions
Add dressing ingredients to a bowl and whisk until emulsified.
Divide lettuce among 4 bowls. Drizzle dressing on over lettuce then top with blue cheese & nuts. Arrange orange slices on top.
Serve immediately.
Notes
If your marmalade or jam is too thick to whisk in, heat it briefly until it begins to liquefy, then add.
Art of Natural Living https://artofnaturalliving.com/