I had intended to post a cheesecake recipe today–something all decked out for the 4th of July. Perhaps you will see it next year (sigh). First my pan arrived late, then after two baking trials (which were good but not spectacular), I was out of time. Happily, when I opened up my CSA box this morning, there was a beautiful head of romaine. Time for a Caesar Salad!
This salad has regularly graced our family table for decades. It is based on one from a McCall's cookbook that my mother gave us as kids, hoping to raise at least one cook.
After being raised on this oily, classically flavorful, Caesar salad, I rarely order one in a restaurant. Other than in a fine dining establishment, the lack of richness usually disappoints. Here is a tip for making a decision dining out– ask the waitstaff if it comes with anchovies. You don't actually have to eat the anchovies, but the option can be a tipoff that the restaurant understands the salad.
And speaking of anchovies, there is a sneak I have in my version of the recipe. Anchovies are an enormously flavorful ingredient, which can be good or bad. Served up straight on a pizza (or in a Caesar salad) they can be "in your face" or even off-putting for the faint of heart. But mash them into this dressing and they take the flavor over the top–and no one gets scared. I started using anchovy paste rather than whole crushed anchovies years ago. The paste keeps better and it lessens the risk of an accidental discovery–kids who pick at their food, anyone?
My husband and kids have been eating them for years without a clue (shhh).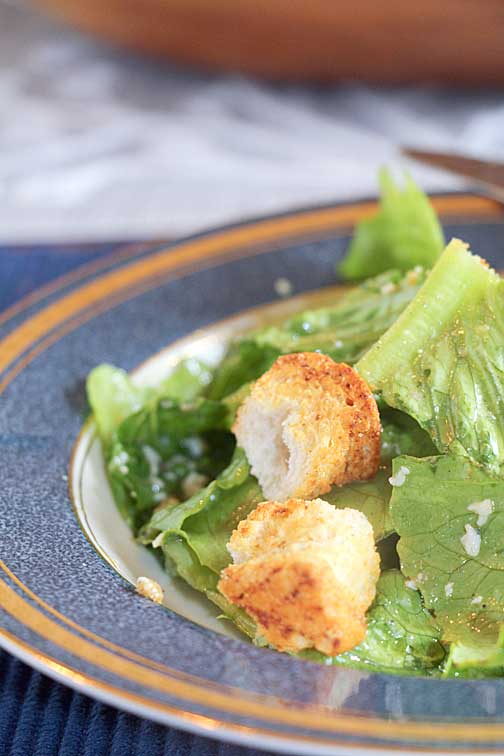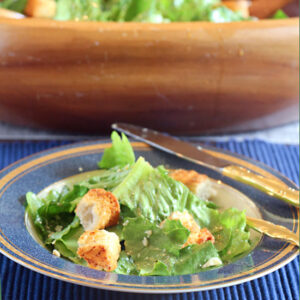 Caesar Salad
Caesar Salad is a classic romaine salad with a cheesy, garlicky richness--better homemade than in most restaurants!
Ingredients
1

large head romaine

1

clove

garlic

1/2

cup

salad oil

I used half extra virgin olive oil

1

cup

bread cubes

crusts removed (or good packaged croutons)

1/2

teaspoon

salt

1/4

teaspoon

dry mustard

1/4

teaspoon

black pepper

1 1/2

teaspoon

Worcestershire sauce

1

teaspoon

anchovy paste

1

egg

pasteurized in the shell per the FDA, because undercooked egg can be hazardous

1/4

cup

blue cheese

1

ounce

Parmesan cheese

shredded (2 tablespoons)

2

tablespoons

lemon juice

about 1/2 large lemon

optional anchovy fillets for garnish
Instructions
Clean Romaine and store in refrigerator.

Crush garlic; combine with oil and refrigerate one hour covered.

Heat 2 tbsp oil-garlic mixture in skillet and brown bread cubes, set aside (or use some good store bought croutons).

To remaining oil-garlic add salt, mustard, pepper, Worcestershire and anchovy paste. Shake vigorously. Refrigerate.

In small saucepan bring 2 inches of water to a boil, remove from heat and lower egg into it; let stand 1 minute; then lift out and set aside.

Tear Romaine into bite-size pieces in bowl. Shake dressing well, and pour over romaine. Break egg over center of salad, then add cheese and lemon juice. Toss well. Sprinkle with croutons. Garnish with the whole anchovies or offer them separately. Serve at once.
Notes
Adapted from McCall's Cooking School
Nutrition
I am not a health professional and nutrition data is calculated programatically. Accuracy may vary with product selection, calculator accuracy, etc. Consult a professional for the best information.