Coffee Fudge Ice Cream Pie
Coffee Fudge Ice Cream Pie, with its cookie crust, velvety ice cream, fudge layer and whipped topping is like a delicious sundae in pie form.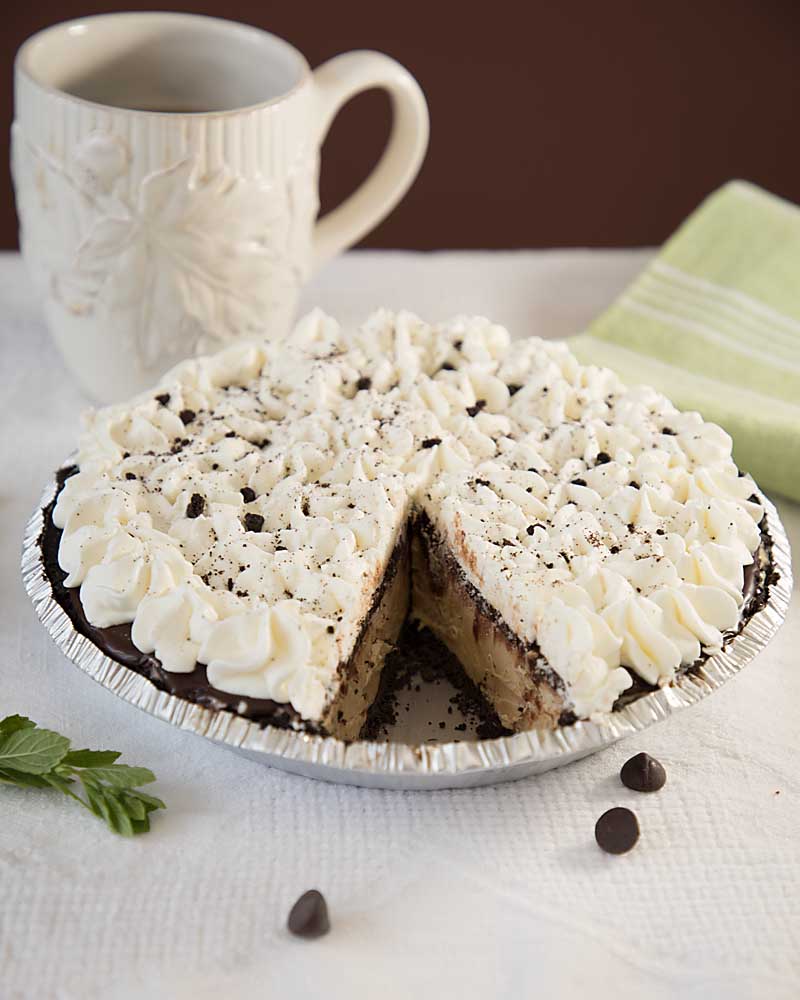 As long as you don't turn it into a research project (more on this below), this pie is a cinch. Super rich and fudgy, think of it as a hot fudge sundae with cookie sprinkles—but in pie form. After making a s'mores pie the other day, I think I'm in love with turning kid treats into grown up pie!
The inspiration for this particular pie comes from dinner parties in my childhood. On special occasions, my mother would go out buy a chocolate crust, a couple pints of coffee ice cream and a great fudge sauce. Putting them all together was a snap—no prep other than softening the ice cream.
Of course, I had to take the whole thing a bit more upscale and add a whipped topping. Since I dislike commercial frozen whipped toppings (and they'd hardly fit into a natural living blog), I experimented with freezing some variations on stabilized whipped cream.
The other research project was a homemade chocolate fudge sauce (click on the link for that story and a super recipe!).
But from now on, this pie is a snap!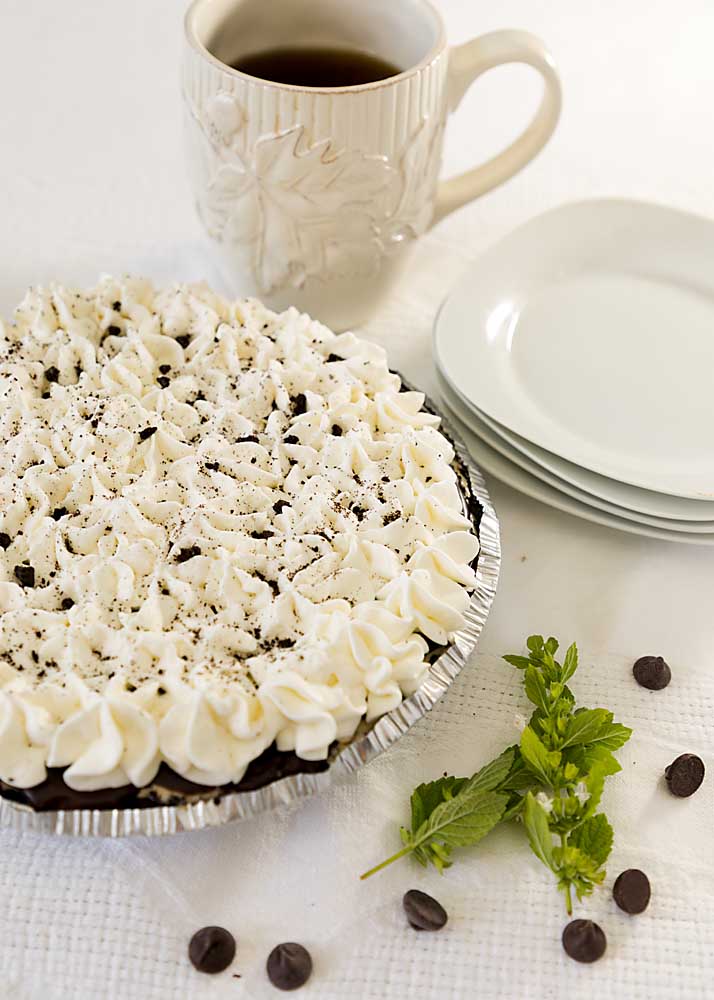 Coffee Fudge Ice Cream Pie Tips
Now that I have this down, I wanted to share a few quick tips. I used Edy's Slow Churned Ice Cream which was lighter than my usual ice cream so created a pie you could pull right out of the freezer and cut. (No, not a sponsored post!) So while a denser ice cream is usually my plain eating preference, something fluffier is best here.
The whipped topping is optional if you are in a hurry!
Chocolate Oreo crumbs give a nice finished look to the whipped topping. But if you (like me) are fearful of have an entire package of Oreos taunting you, they can also be purchased in smaller snack packs.
Feel free to substitute any ice cream flavor that harmonizes well with chocolate. Up next is mint chip for my husband.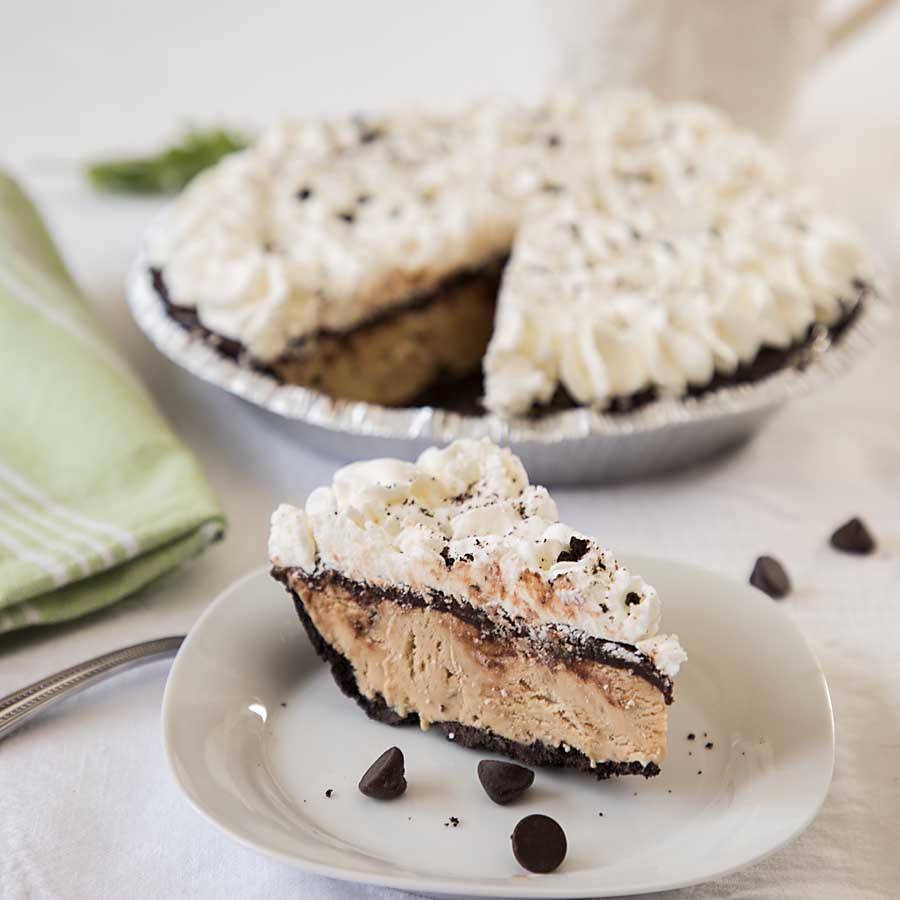 Coffee Fudge Ice Cream Pie
2019-08-17 22:29:03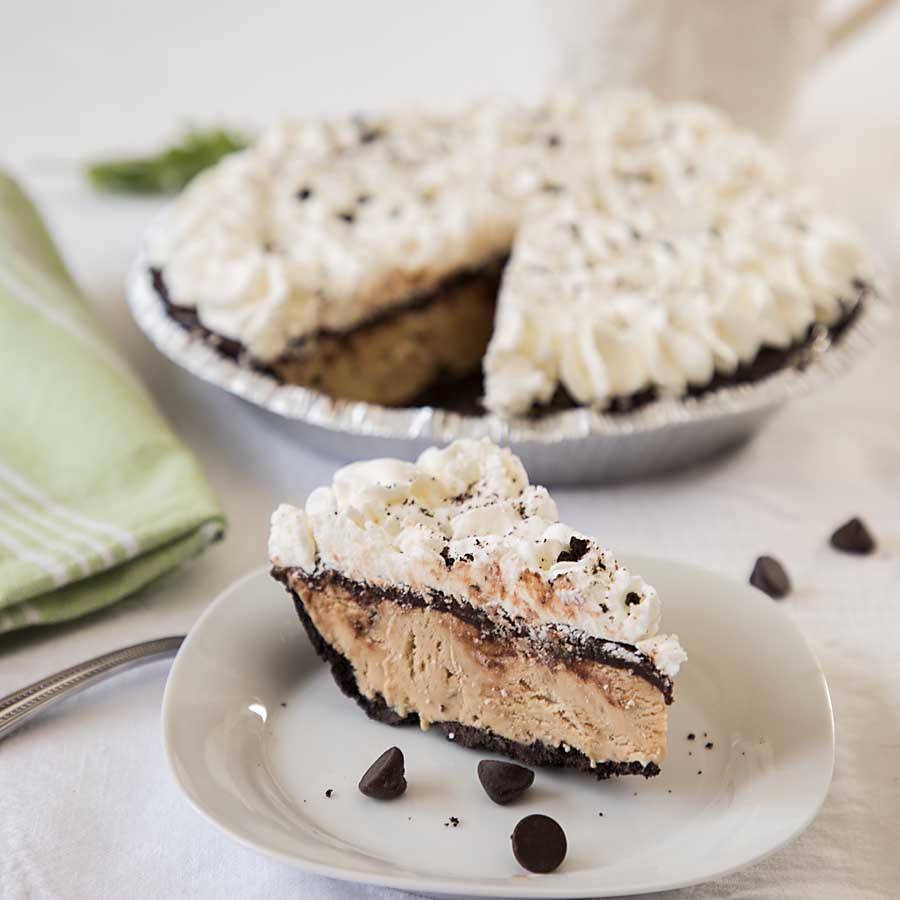 Serves 8
Coffee Fudge Ice Cream Pie, with its cookie crust, velvety ice cream, fudge layer and whipped topping is like a perfect sundae in pie form.
Nutrition Facts
Amount Per Serving
* Percent Daily Values are based on a 2,000 calorie diet. Your Daily Values may be higher or lower depending on your calorie needs.
Coffee Pie
1 chocolate cookie crust (homemade or commercial)
1 quart coffee ice cream
6-8 ounces chocolate (hot) fudge sauce (homemade or better commercial)
Optional Whipped Topping
1 teaspoon gelatin
4 teaspoons water
1 cup whipping cream
1/3 cup powdered sugar
1/2 teaspoon vanilla
1 Oreo cookie
Instructions
Soften ice cream in the refrigerator until it is still frozen but soft enough to smooth into the chocolate pie crust. Fill crust, smooth top, then place back in freezer until hard.
When ice cream is hard again, heat the fudge sauce, stirring regularly, until pourable. Spread over the top of the ice cream, then freeze again until hard.
If using a whipped topping, sprinkle gelatin in cool water and let sit a few minutes to soften. Heat gelatin and water in the microwave until warm but not boiling, then stir to dissolve gelatin (this may take a minute or two). Set aside and start cream
Whip the cream on high until soft peaks form. Add powdered sugar and vanilla and whip until incorporated. With beaters running (if possible), drizzle in liquified gelatin mixture and beat until stiff peaks form.
Spoon mixture into piping bag (or zip loc with a corner cut out) fitted with a star tip. Starting from the outside, pipe stars in a circle around the edge of the pie. When finished, continue piping just inside the finished circle until the pie is covered. Place pie into freezer to freeze.
Crumble chocolate cookie part of one Oreo, then sprinkle on frozen topping. Store in freezer until time to serve. Best if taken out a couple minutes before serving to soften slightly.
Art of Natural Living https://artofnaturalliving.com/
Ice Cream Pie Day
We share Recipes From Our Dinner Table! Join our group and share your recipes, too! While you're at it, join our Pinterest board, too!