Mango Salsa & Pork Chops are a perfect complement, blending tender grilled pork with sweet, sour and spicy fresh salsa.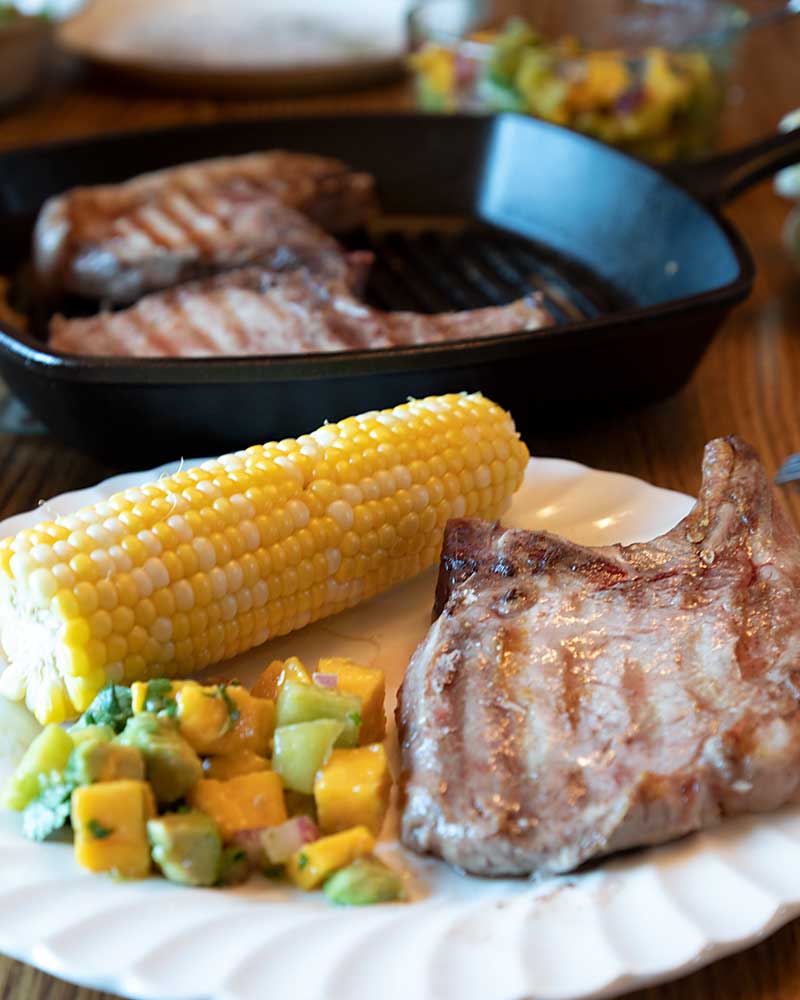 Lately, I feel like life has been one dessert after another. Time to get back to something savory! Well maybe just a little sweet.
Right now, we have a house guest, originally from Venezuela. He's here for a local Music Festival as their emerging conductor. When he mentioned he likes pork, I thought of my half pig, straight from the farm and the tender pork chops.
Hmmm, how to dress that up?
Then I remembered a fruit salsa I do with salmon. What if I switched up the kiwi for mangos? Yes, Mango Salsa & Pork Chops would be perfect!
The sweet, sour, spicy flavor of the salsa is a great compliment to the richness of a grilled meat. In fact, our guest liked the salsa so much he ladled it onto his salad!
I like pork chops a whole lot more now than I used to when everyone cooked the life out of them! Now, with a USDA recommended temperature of 145F (ground pork is higher) and maybe a thicker cut, it's a tender juicy meat! This time I asked for my chops at ¾-1 inch–next year I'm going 1+!
The other technique for my Mango Salsa Pork Chops was to pan sear in a grill pan then place in the oven to finish cooking. I don't know why this seems to work better, but it makes a tastier hamburger too, so there must be something behind it.
Not sure what our house guest said when he phoned his wife last night, but this morning he confided she told him he was getting spoiled. I guess that means he liked it!
Just one final note. If the detail people out there compare the ingredient list to my photo, you'll see I made a substitution for the red bell pepper. We're still waiting for the bell peppers to ripen in Wisconsin, so I used what I had from my CSA box. This still tasted great and I like the resemblance to Packers football colors!
P.S. The extra salsa is also good with chips 🙂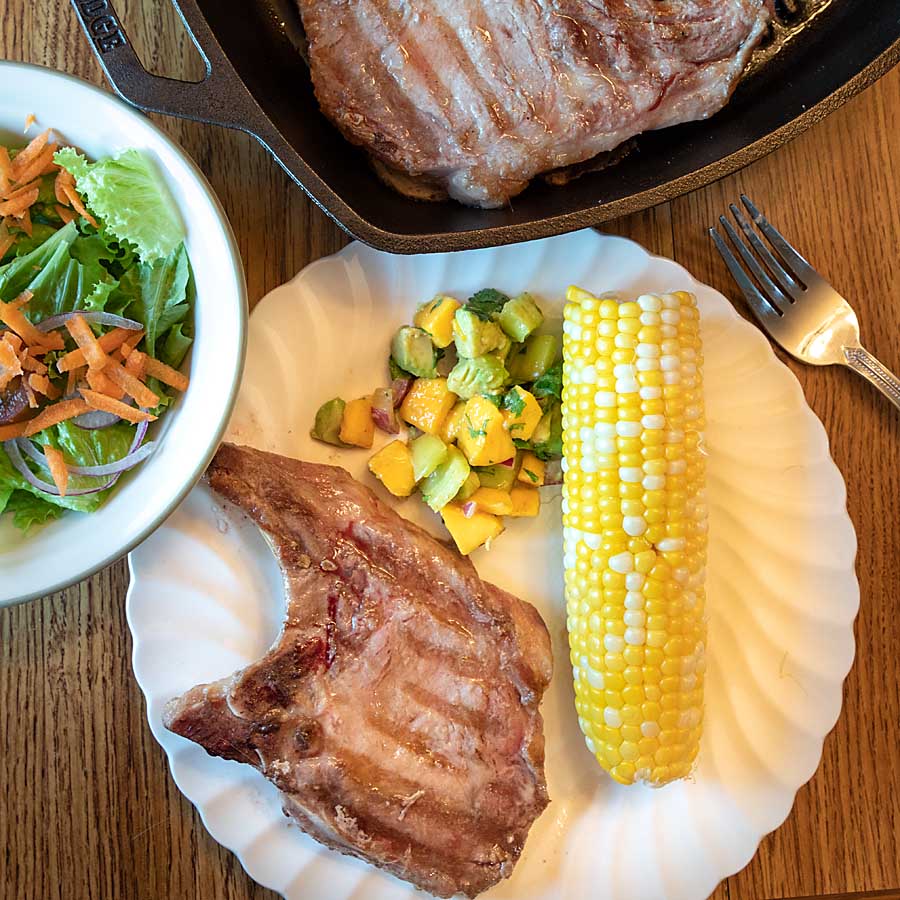 Mango Salsa & Pork Chops
2019-08-22 14:27:25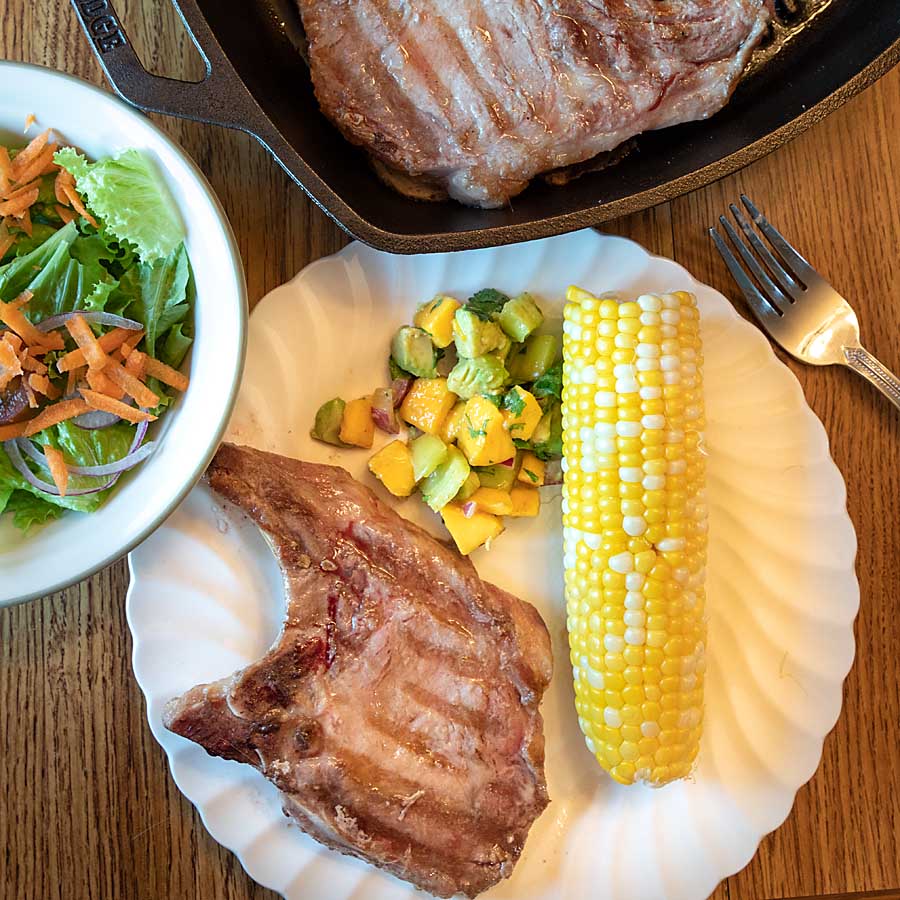 Serves 4
Mango Salsa & Pork Chops are a perfect complement, blending tender grilled pork with sweet, sour and spicy fresh salsa.
Nutrition Facts
Amount Per Serving
* Percent Daily Values are based on a 2,000 calorie diet. Your Daily Values may be higher or lower depending on your calorie needs.
Salsa
• 1 large mango, peeled, seeded and chopped
• 1/4 c chopped red onion (about 1 small red onion)
• 1 red bell pepper, stem and seeds removed, chopped
• 1 avocado, skin and pit removed, chopped
• 1/4 c chopped cilantro (about 1/2 a bunch)
• 1 lime
• 1/2-1 t cayenne, to taste
• Salt to taste
Pork chops
• 4 pork chops
• Salt, pepper
Instructions
Put chopped mango, bell pepper, avocado, red onion and cilantro in a medium bowl. Season with cayenne and salt, then top with juice from one lime. Mix, then sample and adjust seasonings to taste.
Sprinkle pork chops on both sides with salt and pepper.
Spray an oven proof pan (ideally a grill pan) with non-stick cooking spray. Fry pork chops until they are golden (and have char lines if in grill pan), then turn (about 5 minutes). Move pan to 400 F oven and continue cooking until pork chop reaches 145F on an instant read meat thermometer, about 5-10 more minutes depending on thickness.
Cover and let rest a few minutes, then serve with salsa.
Art of Natural Living https://artofnaturalliving.com/