Glazed Apple Pie Bars are like a special slab pie–rich pie crust topped with apples, more crust, then glaze. Cut into bars, they are easy and delicious!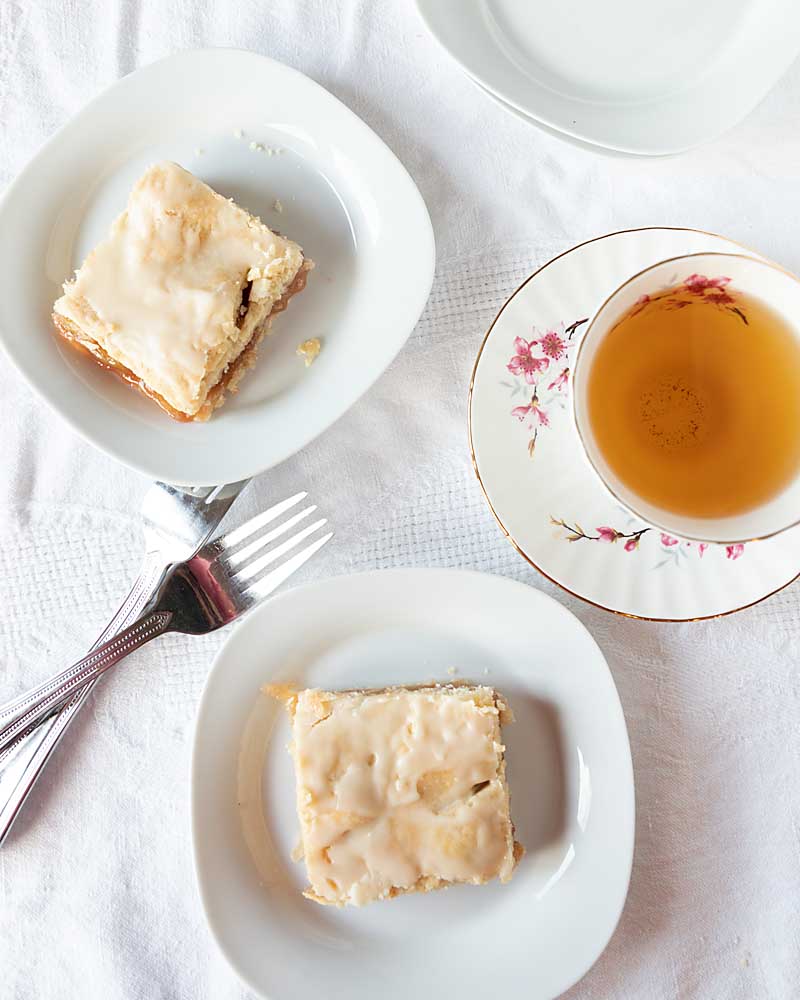 Do you ever think about what you like best about the internet? For me, I like the fact that you can find just about anything online. Including recipes for long lost childhood treats!
Back when I was a kid, the grocery store in the small town where we vacationed had a special bakery item. It was called "Apple Slices" and it consisted of a layer of pie crust, topped with apple pie filling and another layer of pie crust. Then the whole thing was glazed and cut into bars—mmm!
While our parents shopped, they'd give us kids some spending money to keep us busy. We'd head right to the bakery and pick up some Apple Slices to eat while we waited. Such a treat!
Alas, the store closed long ago, but I still think of those days!
Recently my Sunday blogging group decided to do apple recipes and I knew just what I had to do! I found an Apple Slices recipe, on the Chickens on the Road blog, and was excited to share them with my kids. The bars were surprisingly easy, and I kicked myself for putting it off for so long. While the original website mentions the crust being difficult, that wasn't my experience.
I was excited and nervous when I finally cut into the Glazed Apple Pie Bars. "I didn't think something this simple would be so good," my daughter said, quickly on to her second piece. With similar reactions from her sister, cousin, dad and a couple house guests, the pan didn't last the day.
There was one thing I needed to change though. When I referenced "Apples Slices", the kids said "noooo, that's a piece of an apple, you can't call them that!" I had to admit they were right. And so, Glazed Apple Pie Bars were born.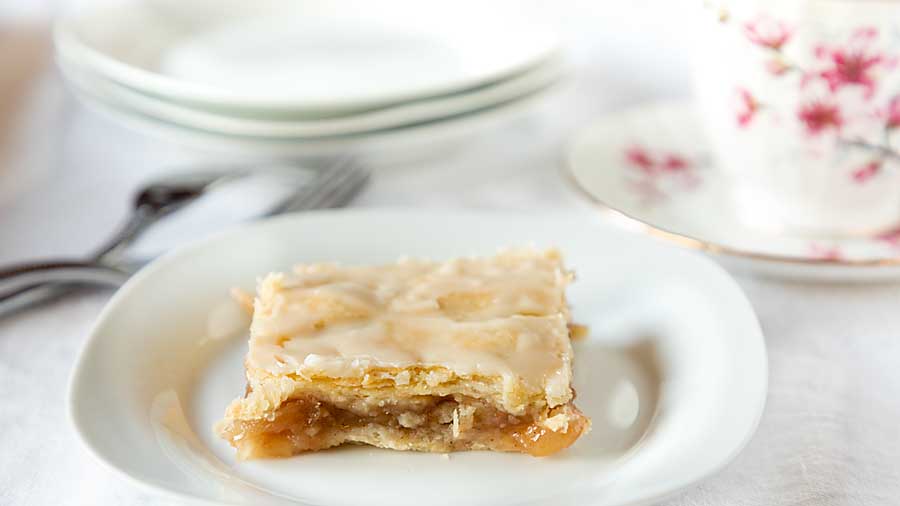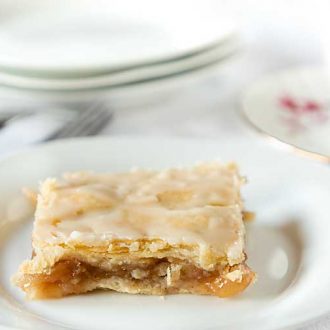 Glazed Apple Pie Bars
Glazed Apple Pie Bars are like a special slab pie--rich pie crust topped with apples, more crust, then glaze. Cut into bars, they are easy and delicious! 
Ingredients
Filling:
5-6

cups

apple slices

(1/4-1/2 inch thick)

1

cup

sugar

2

Tablespoons

flour

½

teaspoon

ground cinnamon
Crust:
2

cups

all-purpose flour

1/2

teaspoon

salt

5

ounces

shortening or lard

(1/2 cup + 2 Tablespoons) I used my farm lard

2

egg yolks

1

tablespoon

lemon juice

1/4

cup

water to start + up to 2 Tablespoons more as needed

I used 1 Tablespoon extra
Glaze:
1

Tablespoons

butter

1

Tablespoons

milk

1/2

cup

powdered sugar

1/2

teaspoon

vanilla
Instructions
Combine sugar, 2 tablespoons flour and cinnamon, then mix with the apples slices to coat them. Set aside.

Combine flour and salt then cut the shortening into the flour mixture until coarse crumbs are formed. Beat together lemon juice, egg yolks and water and pour over flour mixture. Stir to mix, until combined. Add extra water if needed. Divide dough in half and store one half in the refrigerator.

Line a 8 x 13 inch pan with parchment paper. Roll out half of the dough between wax paper to fit the pan. (Or you can pat it into shape in the pan but I found rolling slightly easier).

Spread sliced apples evenly over the dough. Sprinkle with any remaining sugar/cinnamon/flour mixture.

Roll out the other half of the dough, between wax paper, to fit the top. Make slashes in the top with a knife to allow steam to escape.

Bake in 400° oven for 40-50 minutes until crust is slightly golden and apples are bubbling. If the crust is browning too quickly, cover the top loosely with foil and continue baking. Remove and place the pan on a rack to cool completely.

When bars are cool, make the glaze. Melt butter then combine with milk, powdered sugar and vanilla. Spread the glaze over top and allow to harden.

Slice into 15 squares (or whatever size you'd like).

Enjoy!
Nutrition
Calories:
278
kcal
Carbohydrates:
43
g
Protein:
3
g
Fat:
11
g
Saturated Fat:
3
g
Polyunsaturated Fat:
3
g
Monounsaturated Fat:
4
g
Trans Fat:
1
g
Cholesterol:
28
mg
Sodium:
87
mg
Potassium:
123
mg
Fiber:
2
g
Sugar:
29
g
Vitamin A:
99
IU
Vitamin C:
8
mg
Calcium:
21
mg
Iron:
1
mg
I am not a health professional and nutrition data is calculated programatically. Accuracy may vary with product selection, calculator accuracy, etc. Consult a professional for the best information.
Fall Apple Recipess
We share Recipes From Our Dinner Table! Join our group and share your recipes, too! While you're at it, join our Pinterest board, too!