Start a Winter Bulb Garden Now (in Just a Few Minutes!)
Keep your house cozy & beautiful this winter with a winter bulb garden. Easy step by step guide on forcing bulbs for flowers in February.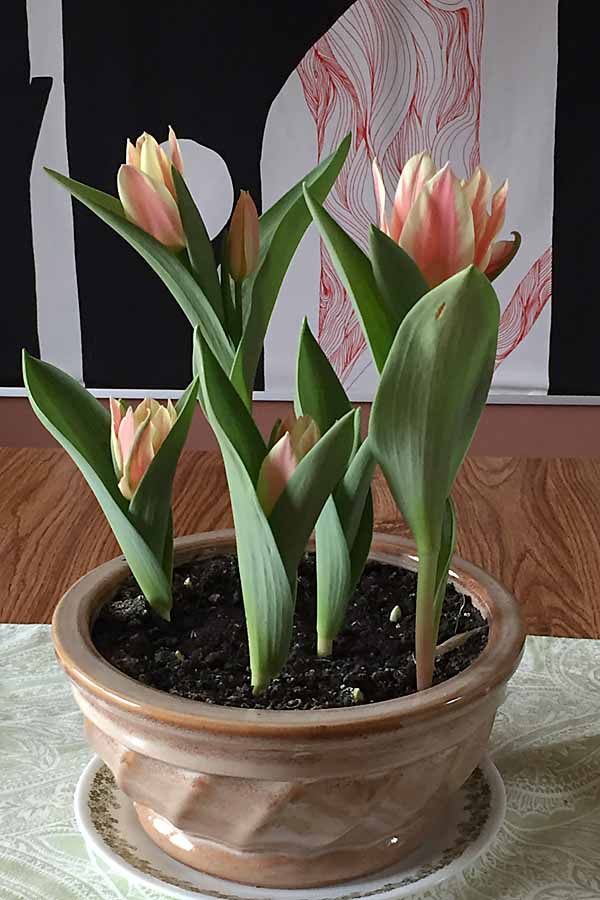 In my "perfect world," I have a house full of have fresh flowers–all year round! I never quite get all the way there but I do have flowers in winter. 'Cause it's truly easy to pot some bulbs now, chill them, then take them out for a beautiful show when the snow flies!
Bargain Time
Most years in late fall, I buy a bunch of discounted flower bulbs, chill them (did you know that most bulbs like tulips and daffodils need to experience weeks of cold in order to bloom?), then take them out to bloom–in the middle of winter. Nothing picks me up like a cheery winter bulb garden!
Yes by now many bulbs are even a screaming deal as garden centers and home centers work to sell them out. Here's how to turn bargain bulbs into a winter bonanza!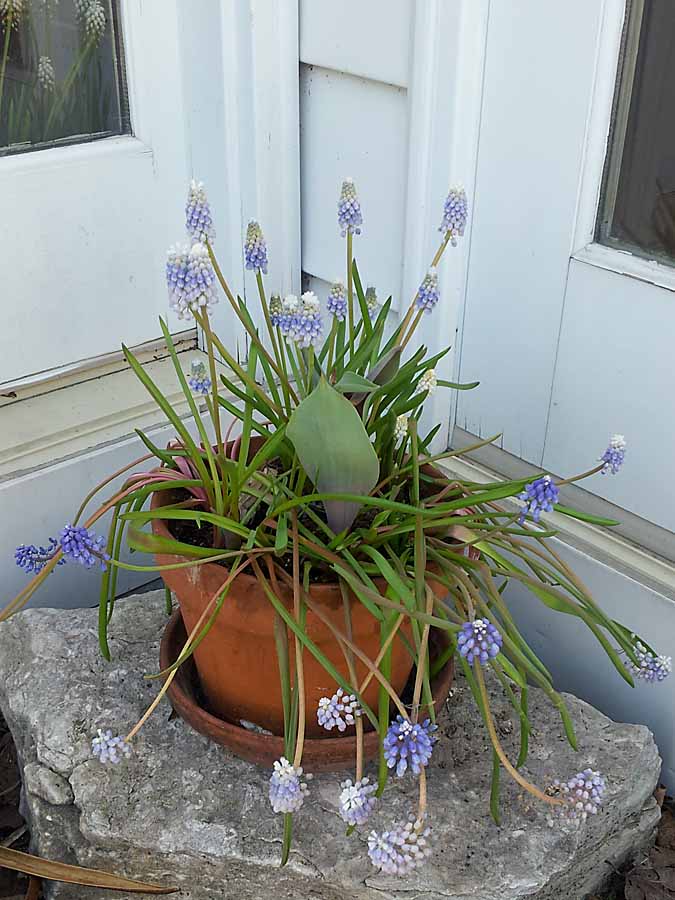 Bulb Forcing Tips
Chill Requirements & Tips
Bulbs have "chill requirements" which means they won't flower unless they have had a number of weeks of cold first, usually from 8-12+ weeks. This is why you need to store your bulbs somewhere cold, like a basement refrigerator or cold garage, then bring them out to flower. It is protective for the plants so they don't pop up during a winter thaw only to be killed by the next big freeze (though "early" bulbs like snowdrops can take a good amount of cold and snow after flowering).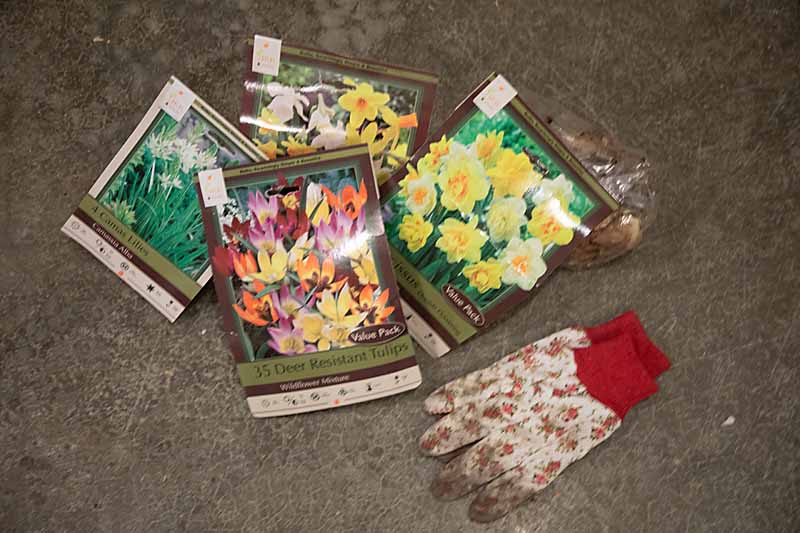 The chill requirements vary by type of bulb, with a rule of thumb being that larger bulbs tend to need longer chill periods. The time period is a minimum so you can go longer if you want to have successive blooming . I like to take out an early pot in January and another in February.
Chilling can be done anywhere the temperature stays around 33-45 F. I have used a crawl space, a cold attached garage or a spare refrigerator. If you use a refrigerator, make sure your bulbs aren't confused with edibles like garlic since many bulbs are poisonous. Fruit should not be stored with them (or with vegetables) since it gives off a gas that can damage them.
If you are tight on space (or time), you can delay the potting and store your bulbs loosely covered in bags to meet their chill requirement. You then plant them when the chill time has been reached. This is slightly trickier because you need to keep them wrapped well enough not to dry out but not so tight they mold. Usually this works for me but one year I had some mold issues (though I suspect those bulbs were poorer quality to start). But my first choice is to store potted.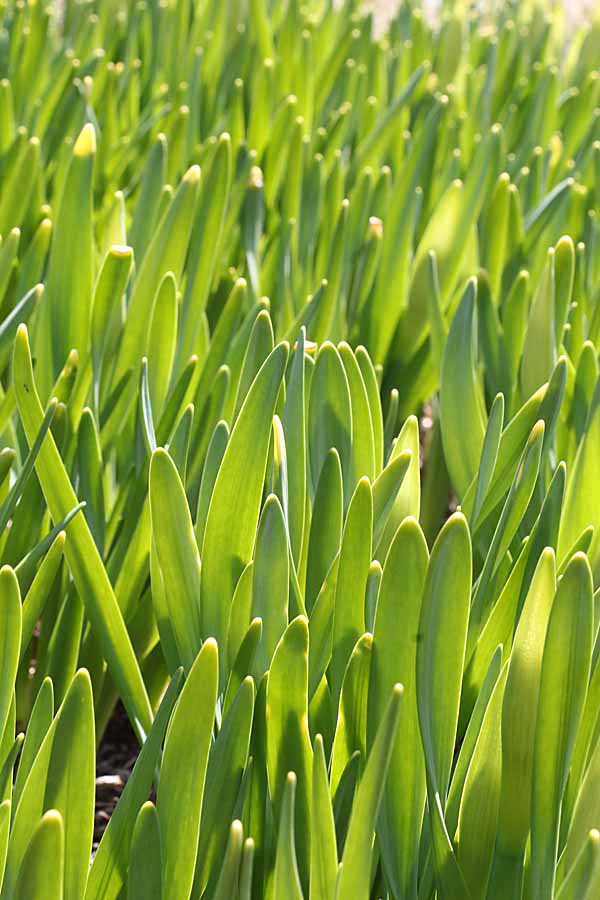 When you take them out, if your bulbs develop only green growth and no flowers, it can mean that they should have been chilled longer. (Or less commonly, it may mean that you picked up some smaller, more immature bulbs, that were not ready to flower.)
Planting Tips
Plant the bulbs for your winter bulb garden with the pointy end up. I plant my bulbs close together but without touching. This reduces issues of rot or mold, but still gives you a big, joyous display.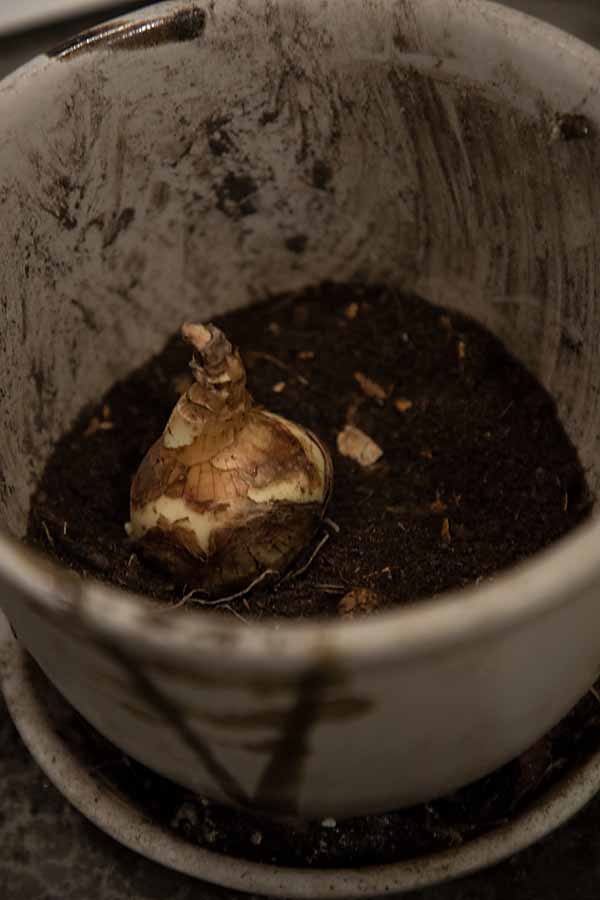 Planting depth varies by bulb (your bulb packaging will advise you) and a rule of thumb is about twice the depth of the bulb. This can be convenient if you want to include different types–by planting at their respective favorite depth, you can plant in layers and get in more bulbs without overcrowding.
Layering
Potting different types of bulbs together can make for a lovely display. Because different bulbs flower at different times, this is likely to give you a longer bloom period with (or sometimes without) some overlap.
Plant the bigger bulbs lower in the pot, then top with soil, then the smaller bulbs and more soil. Just be sure you chill long enough to meet the longest chill requirement.
Soil
Most of the plant's energy is already stored in the bulb so the specific type of soil isn't especially important (hyacinths will even bloom in water). I usually make up some of my own potting soil from compost (see recipe here).
After They Flower
Many people discard the bulbs after they flower. The bulbs will have expended a lot of their energy in their display and probably won't regenerate like bulbs naturalized outdoors. It is pretty easy, however, to just dig a big hole in some unused part of your yard and transplant the contents of the whole pot. While you aren't likely to get flowers immediately the next year, they may regain strength then and flower the following year.
Winter Bulb Forcing, Step by Step
1. Select an appropriate planting container. A clay pot or a decorative pot with drainage holes are good choices. A shallow pot is good for smaller bulbs and a deeper pot will work better for larger bulbs like daffodils–or if you are planting a combination of larger and smaller bulbs.
2. Put a layer of potting soil on the bottom of the pot, then place in the bulbs. Set them in pointed side up and close together but not touching. If you are planting multiple bulbs, top the bottom bulbs with more potting soil, then add a second layer of bulbs. Top these off with more soil.
3. Water the bulbs, then loosely bag the pot. Your goal is to retard evaporation, but not create an environment that is so tight you grow moss or mold.
4. Place in a cold environment to rest. A spare refrigerator (without fruit–fruit gives off a gas that hurts bulbs and even vegetables that are stored long term) or an unheated garage that stays between about 33 and 45 degrees is a good choice. Avoid areas that will experience a series of freeze and thaw cycles over the winter such as a detached garage. Check the pots every few weeks for moisture levels and water or loosen covering as needed.
5. After the appropriate chill time (I have success with 8 weeks for grape hyacinths, botanical tulips & scilla & 12-14 for tulips, daffodils, hyacinths), remove the pots to a room temperature environment a (ideal temperatures are about 65-68 during the day and 60 at night). Water as needed, then watch the show arrive in about three weeks! Remember, chilling time is critical. I used a chilling time of eight weeks in a pot of grape hyacinths and tulips, and just the grape hyacinths bloomed. In the pot I took out at twelve weeks , both bloomed.
It is many years ago now since I started doing my winter bulb garden. It's so much fun, I almost never miss a year.
Especially this year. Nope, I'm not waiting for an April showers for my breath of spring!