Grandma's Sea Foam Candy (Divinity Candy)–No Corn Syrup
An old fashioned treat, sea foam candy is perfect for holidays. Here are Instructions direct from Grandma–with no corn syrup!
This post may contain Amazon or other affiliate links, which can earn me a small commission, please see my

policy

page for details.
With the holidays coming, who's getting nostalgic for vintage food?
If your family's like mine, you probably had some of the same foods every Thanksgiving! And it's hard to believe but this happy (and sentimental) holiday is almost here!
So today I made a dearly loved, old family recipe we called "sea foam." It's a sweet, melt-in-the-mouth candy that my grandmother was famous for (at least to us) and always graced our holiday dessert table!
Plus it's completely fat free and doesn't use any corn syrup (which will likely be GMO if you don't buy organic). Pretty good for a candy!
How is Sea Foam Different from Divinity?
The recipe is similar to Divinity, another traditional holiday treat. Per Wikipedia, "Divinity Candy is a nougat-like confection made with egg white, corn syrup, and sugar… Replacing the sugar with brown sugar results in a related confection called "sea foam". " The other difference is that a divinity dessert is more likely to have add-ins like nuts or raisins though those are always optional.
There is also a strong relationship to Italian meringue.
Of course from my personal perspective, I'd rather have a melt-in-the-mouth candy with the richness of brown sugar. Just sayin' 🙂 !
The Movie
Now, this is probably my most commented post and people often have questions about how to make it. So I've decided to do a quick update, including a video!
And if video's not your thing, here's how to make it…
Step by Step Directions
Mix white sugar, brown sugar and water then boil until 255F on an instant read thermometer.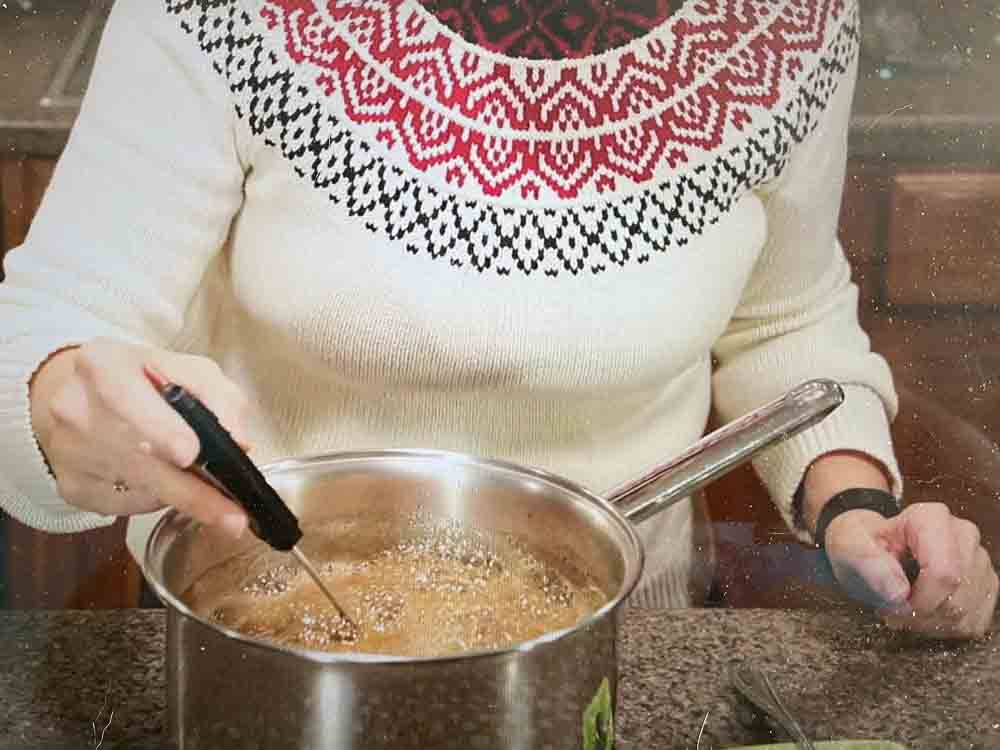 While it cooks, beat two egg whites until stiff. Put a teaspoon of vanilla into egg white bowl so you don't forget it.
When it reaches the proper temperature, pour the hot syrup into the egg white bowl while beating with mixer. Don't worry about getting out all the syrup (later you can soak the pan and the stuck on syrup will dissolve).
Beat syrup and egg mixture until it loses gloss, stiff peaks form and it will hold shape.
Spoon out tablespoons onto wax paper, using a second spoon to push off candy (since it's hot).
Let cool at room temperature, then enjoy!
Tips and Notes
The candy is really pretty basic and I have been making it since I was a teen. The only "trick" is the proper beating time, but it's still good if you don't get it perfect.
The other challenge is working quickly to scoop out the pieces of candy, which is really only a problem if you are trying to take pictures while doing it . I usually like to ask one of my kids to help, and in a pinch my husband will pitch in too.
Yes, usually not hard to get help when making a delicious family treat that everyone counts on for the holidays!
More Classic Candy Recipes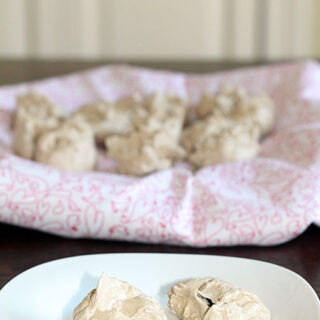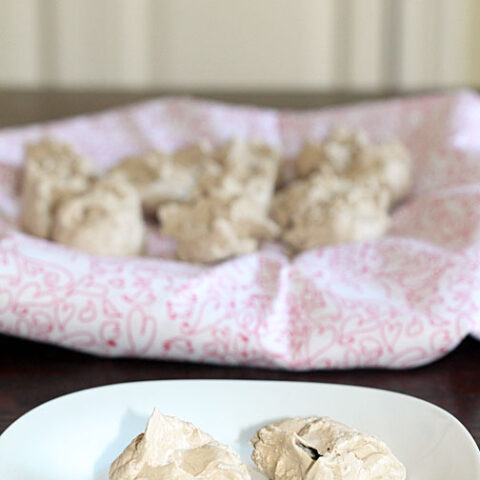 Sea Foam Candy (aka Divinity Candy)
An old fashioned treat, sea foam candy is perfect for holidays and other special occasions.
Ingredients
1 1/2

c

white sugar

1 1/2

c

brown sugar

3/4

c

water

2

egg whites

1

t

vanilla
Instructions
Combine sugar and water. Stir until sugar is dissolved

Cook without stirring to 255 degrees or until mixture will form a hard ball in cold water.

While mixture is cooking, beat egg whites until stiff. Add vanilla to mixing bowl.

When syrup reaches proper temperature, pour into egg white bowl, beating constantly with mixer.

When mixture loses its gloss and will hold a shape, drop from teaspoon onto waxed paper.

Wait for it to cool, then it is ready to eat!
Notes
Don't worry about pouring every bit of syrup out of the saucepan. When it stops flowing out, just set aside and soak later to (easily) dissolve the remaining syrup.
Nutrition
Calories:
74
kcal
Carbohydrates:
19
g
Sodium:
6
mg
Sugar:
19
g
I am not a health professional and nutrition data is calculated programatically. Accuracy may vary with product selection, calculator accuracy, etc. Consult a professional for the best information.
Vintage Recipes
We share Recipes From Our Dinner Table! Join our group and share your recipes, too! While you're at it, join our Pinterest board, too!