Pistachio Brittle without Corn Syrup
What is a tastier snack for the holidays than Pistachio Brittle! Step by step instructions for making this candy favorite with no corn syrup.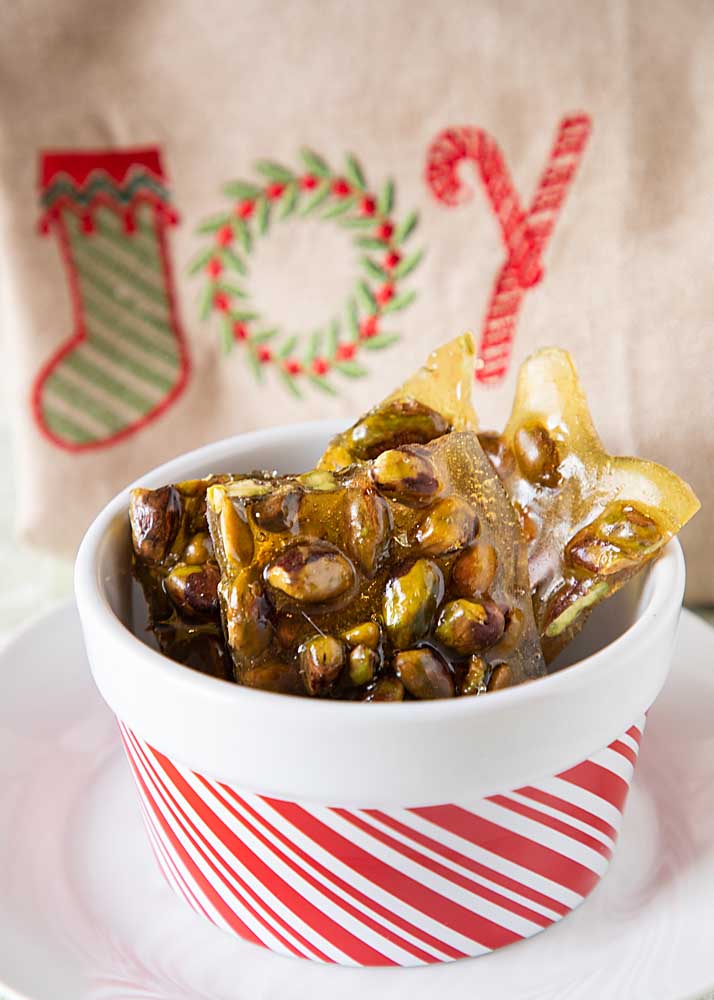 When it comes to holiday candy, I am a huge toffee fan–I've been making it practically forever. But sometimes you gotta shake things up. So, this year I decided to try some Pistachio Brittle.
Now one of the things I learned doing this was that there are two kinds of nut brittle. The most common is made with a little baking soda added at the end. The baking soda infuses air which makes the brittle less dense and lighter in color. The other version skips this step, resulting in a snap-crisp, translucent brittle.
The only difference is one final step, so I'll include instructions for both. I prefer the version without the baking soda, but your favorite will probably be whatever you grew up with.
Of course candy making is something that can intimidate people—especially the first time. So I am going to share some of my thoughts on the subject. If you are a candy pro, feel free to skip to the recipe.
On Corn Syrup & Sugar
Many nut brittle recipes that you see contain corn syrup. Without going into that debate here, organic non-GMO corn syrup can be expensive and hard to find. And for toffee or brittle, it isn't needed (though I do use corn syrup for caramels)
The one other comment I'll make about sweeteners is that while I use organic sugar for cooking and baking, I tend to go with standard white sugar for candy making. Sometimes organic will work and sometimes it won't, but I've had enough failures to be cautious.
Toffee versus Brittle
I hate to admit it, but I didn't know the difference between a toffee and a brittle when I started this post. A few minutes of web-surfing later, I can tell you that toffee contains copious amounts of cream and/or butter, while brittle does not. This gives toffee a glorious richness and a naturally softer crunch (even without baking soda).
The beauty of a nut brittle on the other hand is the nuts. That's why I like to go with a premium nut like a pistachio or cashew. And of course, the green color of pistachios makes it perfect for the holidays.
What Happens When You Boil Sugar
THIS SECTION MAY CONTAIN AMAZON OR OTHER AFFILIATE LINKS, WHICH CAN EARN ME A SMALL COMMISSION, PLEASE SEE MY

POLICY

PAGE FOR DETAILS.
Candy is very dependent on sugar that melts and goes through different stages. As the temperature increases, it brings about two important changes.
First, the amount of water in the syrup changes. Water boils out gradually, so if you stop cooking at a lower temperature your candy will be softer when cooled (like caramel). Stopping at a higher temperature means it will be harder (like brittle).
The second change you get is increasing levels of caramelization, which adds flavor. Some recipes cook brittle to 300 F which I feel provides significantly less flavor than going to 330 F. Burnt is around 350 F, so more is not always better. I recommend using an instant read thermometer to help get the temperature right, though experienced candy makers can sometimes do this by smell. For an excellent detailed discussion take a look at Crafty Baking.
On Crystallization
The other thing you'll read caution about is unwanted crystallization and here is my take on this.
First, I like to start any candy making recipe by dissolving the sugar in water. I stir the mixture on medium high heat before it comes to a boil until the sugar granules disappear and then I stop stirring. You'll be warned that this will cause crystallization, but this really isn't an issue until your mixture starts to boil. And if you don't get the sugar dissolved, you can get pockets that burn.
My other comment is that some crystallization usually occurs on the sides of the pan. Most sources tell you to remove this with a wet brush, but I skip this. I have found that when I pour out the brittle/toffee, those crystals stick to the pan and don't impact the final product.
And a final warning, boiling sugar is a lot hotter than boiling water. Be careful, have ice or very cold water ready just in case, and don't cook with squirmy kids.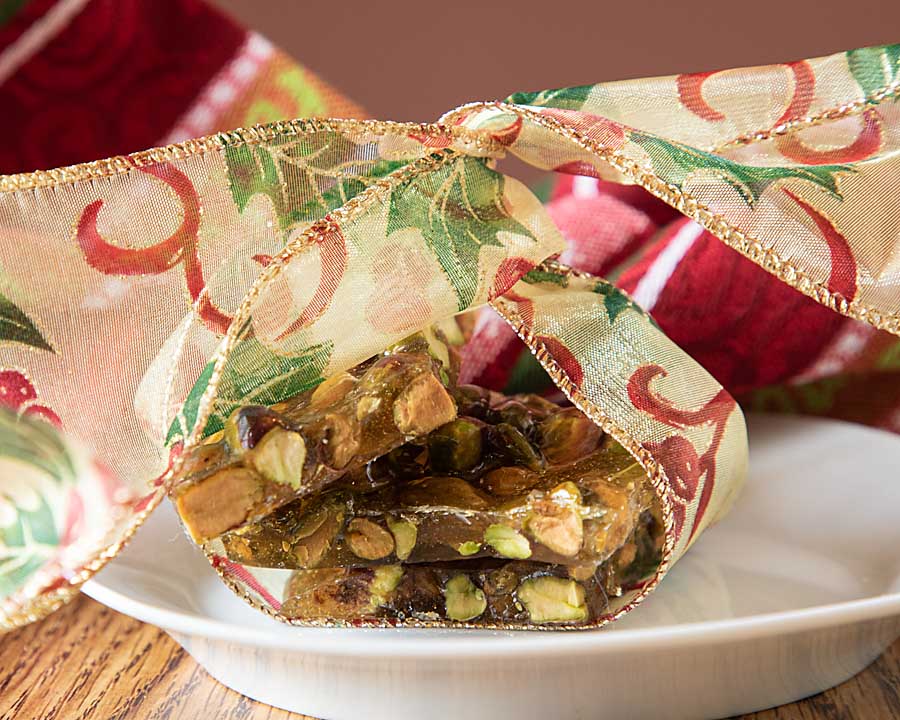 The Pep Talk
Hopefully the technical discussion hasn't deterred anyone! Believe me, it becomes second nature after a couple recipes. I learned to make toffee from a middle school aged friend—and it's still my very favorite holiday treat!
This Pistachio Brittle recipe makes a small batch which is great for practice—not to mention for cooks with no willpower (not naming any names here). And if you're really nervous, just experiment with peanuts to start.
Pistachio Brittle without Corn Syrup
What is a tastier snack for the holidays than Pistachio Brittle! Step by step instructions for making this candy favorite with no corn syrup.
Ingredients
½

Tablespoon

butter

softened, for baking sheet

1

cup

sugar

1/4

cup

water

Pinch

of salt

¾

c

shelled Pistachios
If you decide to try the baking soda version you will also need:
½

teaspoon

baking soda

1

T

butter
Instructions
This is the version without baking soda. For that version substitute step 3 in the notes for the step 3 here.
Butter a rimmed baking sheet; set aside. Stir together sugar, water and salt in a medium saucepan. Cook over medium-high heat, stirring occasionally, until sugar is dissolved.

Continue cooking without stirring until mixture turns golden amber and temperature is approximately 330 F.

Remove pan from heat. Stir in nuts. Immediately pour mixture onto buttered baking sheet.

Let cool completely, about 30 minutes. Break into pieces. Store in airtight container.
Notes
Alternative Step 3--If you prefer the baking soda version, substitute the following for step 3 above:
Remove pan from heat. Stir in nuts. Place back on heat very briefly until mixture is more liquid again (nuts will cool it down). Stir in butter and baking soda (mixture will foam up), then pour out onto buttered baking sheet. Cool as indicated in step 4.
Nutrition
Calories:
144
kcal
Carbohydrates:
22
g
Protein:
2
g
Fat:
6
g
Saturated Fat:
2
g
Polyunsaturated Fat:
1
g
Monounsaturated Fat:
3
g
Trans Fat:
0.1
g
Cholesterol:
5
mg
Sodium:
69
mg
Potassium:
95
mg
Fiber:
1
g
Sugar:
21
g
Vitamin A:
91
IU
Vitamin C:
1
mg
Calcium:
11
mg
Iron:
0.4
mg
I am not a health professional and nutrition data is calculated programatically. Accuracy may vary with product selection, calculator accuracy, etc. Consult a professional for the best information.
More Fun Candy Recipes
We share Recipes From Our Dinner Table! Join our group and share your recipes, too! While you're at it, join our Pinterest board, too!