Pork Loin with Mushroom Sauce
Pork Loin with Mushroom Sauce combines flavorful meat & a rich sauce. It's like an old-fashioned "Sunday dinner" entree with high end flavor.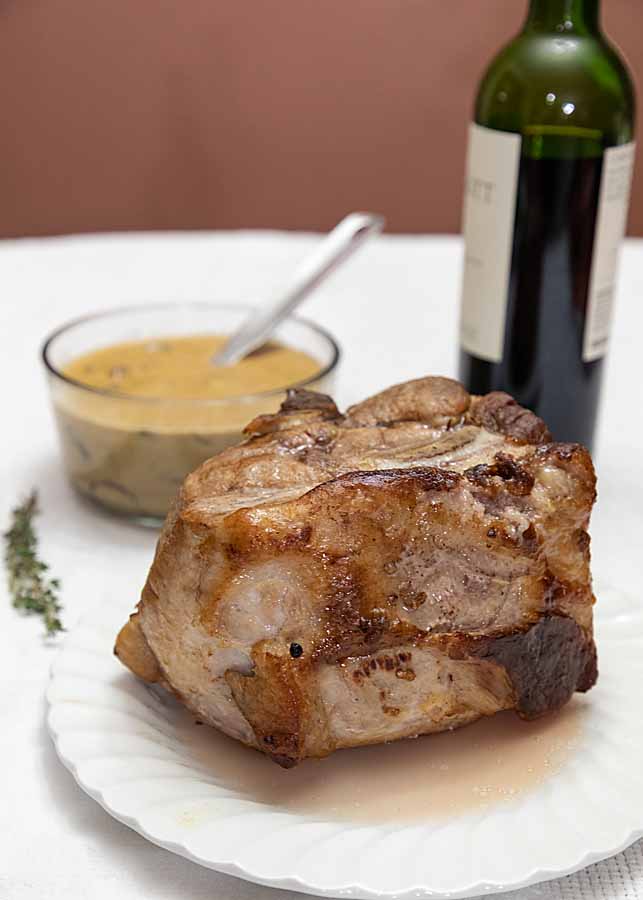 I was just looking to free up some freezer space. Really. But I wound up serving a beautiful pork loin topped with the most amazing mushroom sauce. We were even excited to eat leftovers!
What's in a sauce
Often, when it comes to a great dish, there's a sauce involved. Just think of a fine restaurant meal. Sure, there's good service, quality ingredients and beautiful presentation. But it's not uncommon to find that a special sauce is what puts the dish over the top.
So why don't we do them more at home?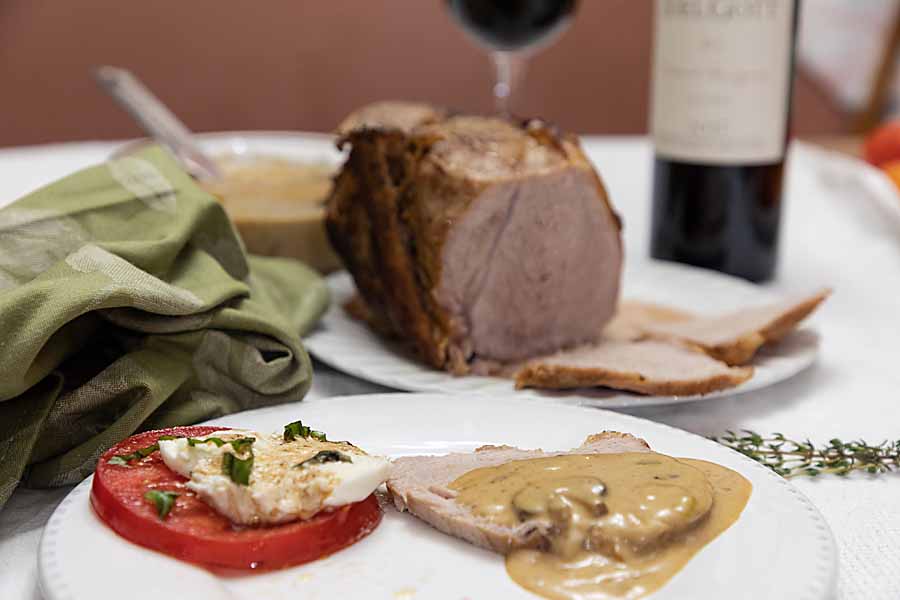 Probably because we're afraid they're hard. Well, let me tell you, not this one.
You simply sautee mushrooms and a few other ingredients, then add cream. Then when the roast is done you add the meat juices to the mushroom pan (I didn't even strain them). Deglaze the roasting pan (to get up all that flavor), thicken and serve.
Easy-peasy!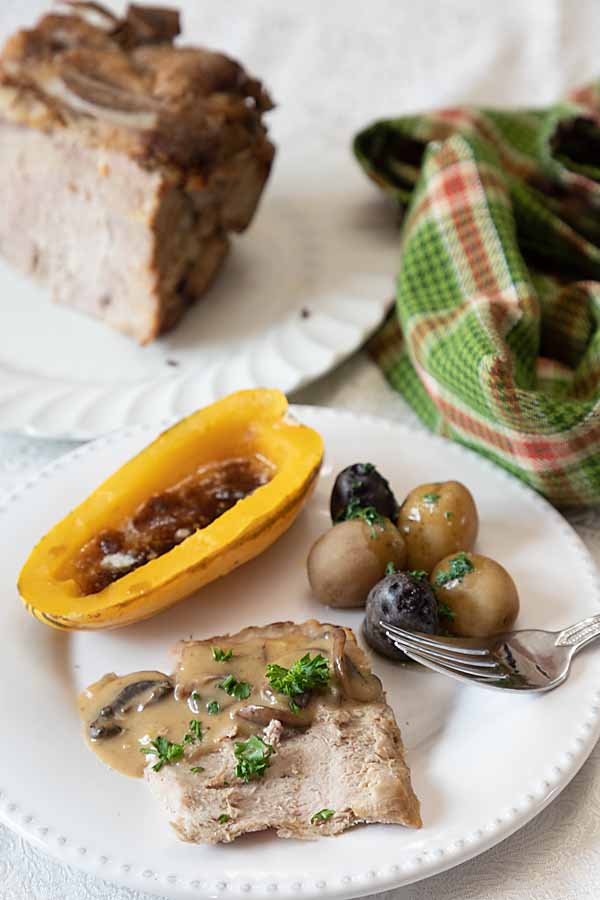 Pork Loin vs Tenderloin
This recipe uses a pork loin which is a tasty and inexpensive cut. But many a cook has brought home a pork tenderloin instead of a pork loin (or vice versa) without realizing they are not the same cut.
Unfortunately, this is a problem because they need to be prepared differently. A pork loin comes from the back of the animal and can be bone-in or not. It is a larger cut (typically around 4 lbs) and actually looks like the kind of roast you'd serve at Sunday dinner. A rich but not fatty cut, it can benefit from some longer (but not too long) cooking.
The tenderloin is a much smaller (about a lb), slim, lean cut. It should be cooked quickly to yield a nice tender meat. My favorite lunch box sandwiches growing up were filled with sliced pork tenderloin.
Both cuts benefit (as in stay moister and more tender) from cooking just to 145 F (with a short rest period after cooking) instead of the prior USDA recommendation of 160 F. Yes, say goodby too the dry pork roasts of your youth! (Note that this reduction does not apply to ground meat.)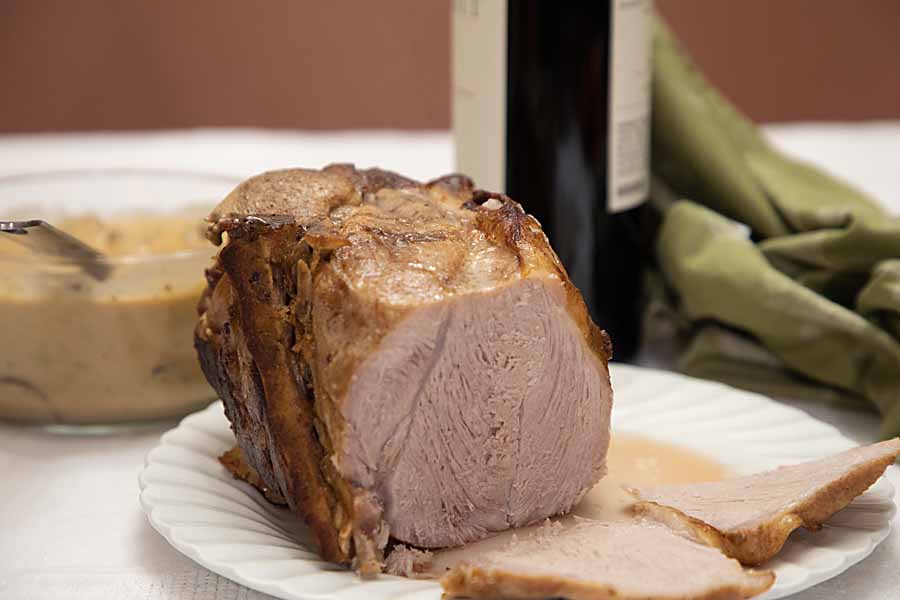 Final Pork Loin Comments
Now in the interest of full disclosure, my one disappointment was that the roast was not meltingly tender, though I'd call it chewy not tough. I'll be trying a lower temperature and basting in the future (brining was not the answer).
But with a mushroom sauce that was so very tasty, this Pork Loin with Mushroom Sauce was still over the top.
I guess it's true when they say the secret's in the sauce!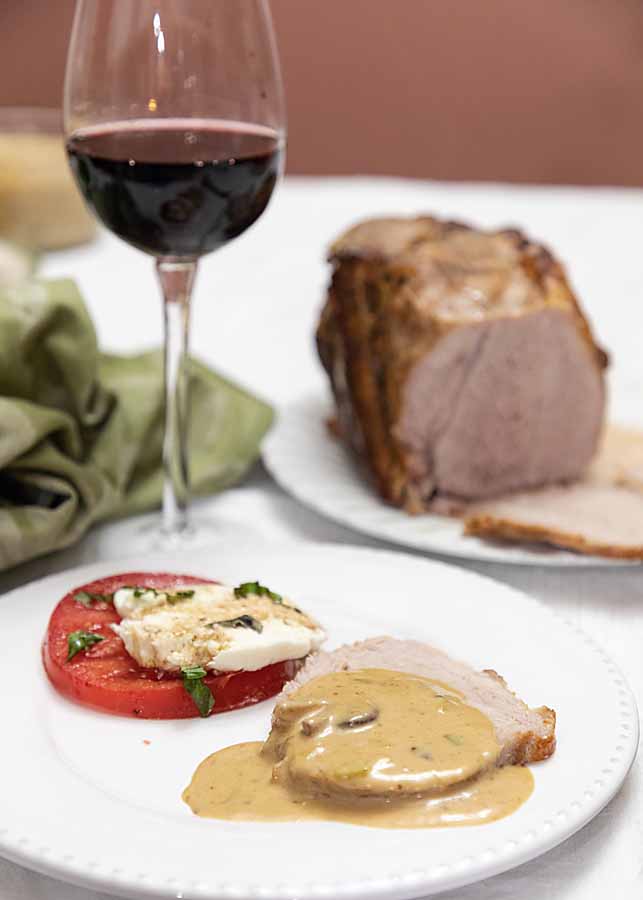 More Tasty Pork Recipes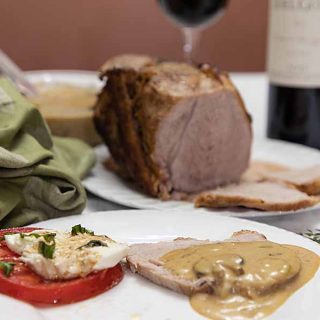 Pork Loin with Mushroom Sauce
Pork Loin with Mushroom Sauce combines flavorful meat & a rich sauce. It's like an old-fashioned "Sunday dinner" entree with high end flavor.  
Ingredients
1

Tablespoon

Oil

3-4

pound

pork loin

Salt

pepper

1

Tablespoon

butter

16

ounces

sliced mushrooms

¼

cup

chopped leek or shallot

3-4

sprigs of thyme

1

garlic clove crushed

1

cup

cream

¼

cup

dry vermouth or sherry

¼

cup

flour
Instructions
Salt & pepper the pork loin. Heat oil in a Dutch oven then brown the loin on all sides.

Set the roast fat side up in the Dutch oven and roast, covered, in 350 oven, approximately 20-25 minutes per lb.

While roast cooks, sauté sliced mushrooms, chopped leek or shallot and 3-4 sprigs of thyme in 1 T butter. When golden add crushed garlic and cook another minutes. Remove thyme stems. Stir in cream.

When the roast reaches 145 F, remove from pan and keep warm. Pour the pan juices into the mushroom pan. Deglaze roasting pan with ¼ cup vermouth.

Make a slurry using the vermouth, ¼ cup flour and just enough water to make a smooth, slightly runny paste. Mix the slurry into the mushroom mixture and bring to a boil. Cook until thickened. Adjust flour as needed (amount of juices will vary)

Slice the roast and serve with the sauce.
Nutrition
Calories:
389
kcal
Carbohydrates:
6
g
Protein:
41
g
Fat:
21
g
Saturated Fat:
10
g
Polyunsaturated Fat:
2
g
Monounsaturated Fat:
7
g
Trans Fat:
0.1
g
Cholesterol:
145
mg
Sodium:
107
mg
Potassium:
863
mg
Fiber:
1
g
Sugar:
2
g
Vitamin A:
545
IU
Vitamin C:
2
mg
Calcium:
35
mg
Iron:
2
mg
I am not a health professional and nutrition data is calculated programatically. Accuracy may vary with product selection, calculator accuracy, etc. Consult a professional for the best information.