A German Pork Hock "Bake-Off"
My "winning" German Pork Hock Recipe delivers a dinner with fork tender meat & juicy crisp skin. A two recipe comparison!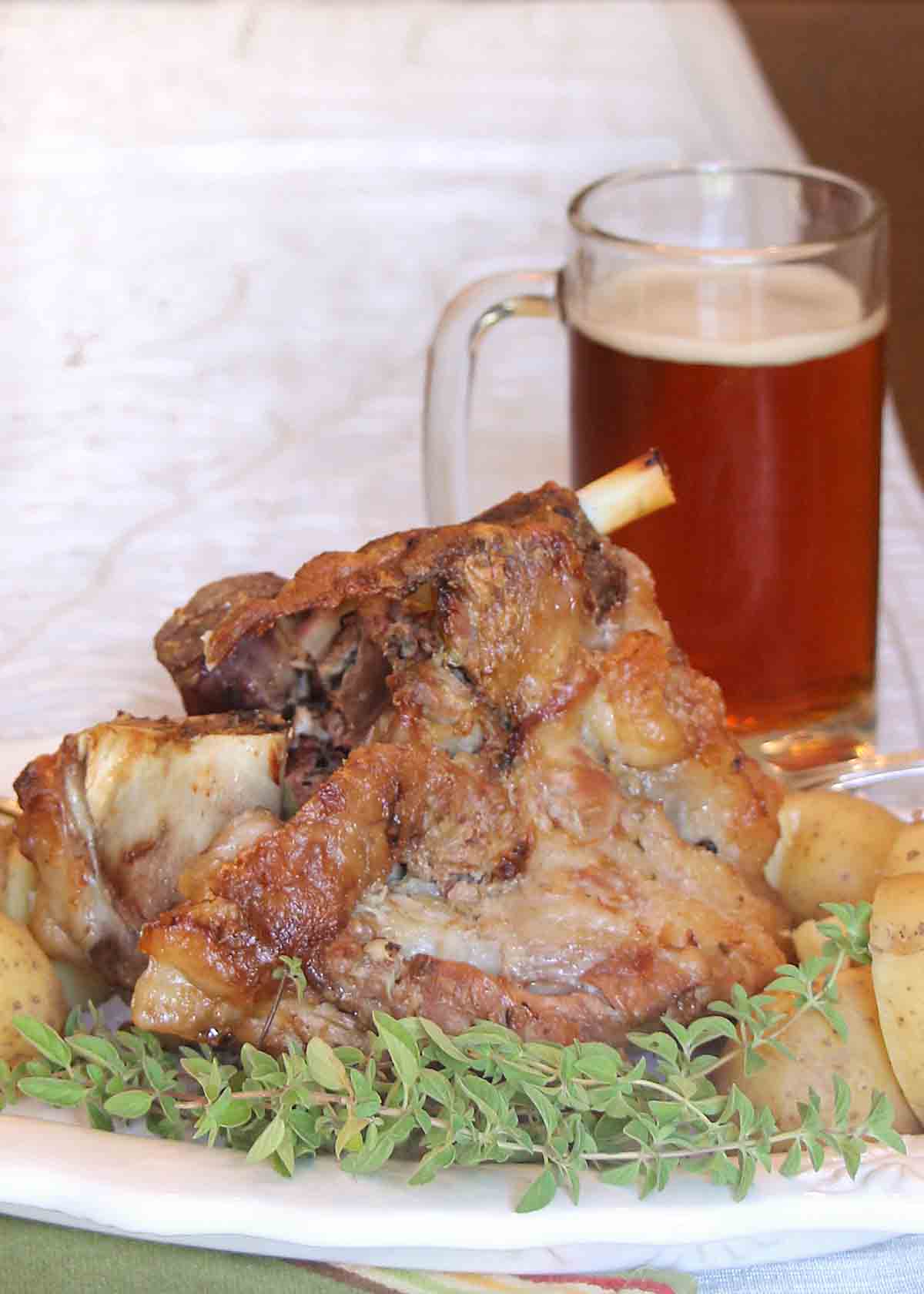 I'd never baked a pork hock myself, but this unusual cut of meat and I go way back. You see Milwaukee has a strong German heritage and in my youth, we celebrated many special events at a German restaurant–Karl Ratzch's for local readers.
One of my favorite dishes was a German Style Pork Hock, sometimes known as Schweinshaxe. With its juicy, fork tender meat and crackly, crispy skin it was a rich and flavorful–a great comfort food.
I had never thought about cooking one until last fall when I ordered local pastured pork for my freezer. As I phoned in my cutting instructions, the butcher asked me, "do you want the hocks?" With good memories and up for a challenge, I answered "YES!" Now to find a recipe!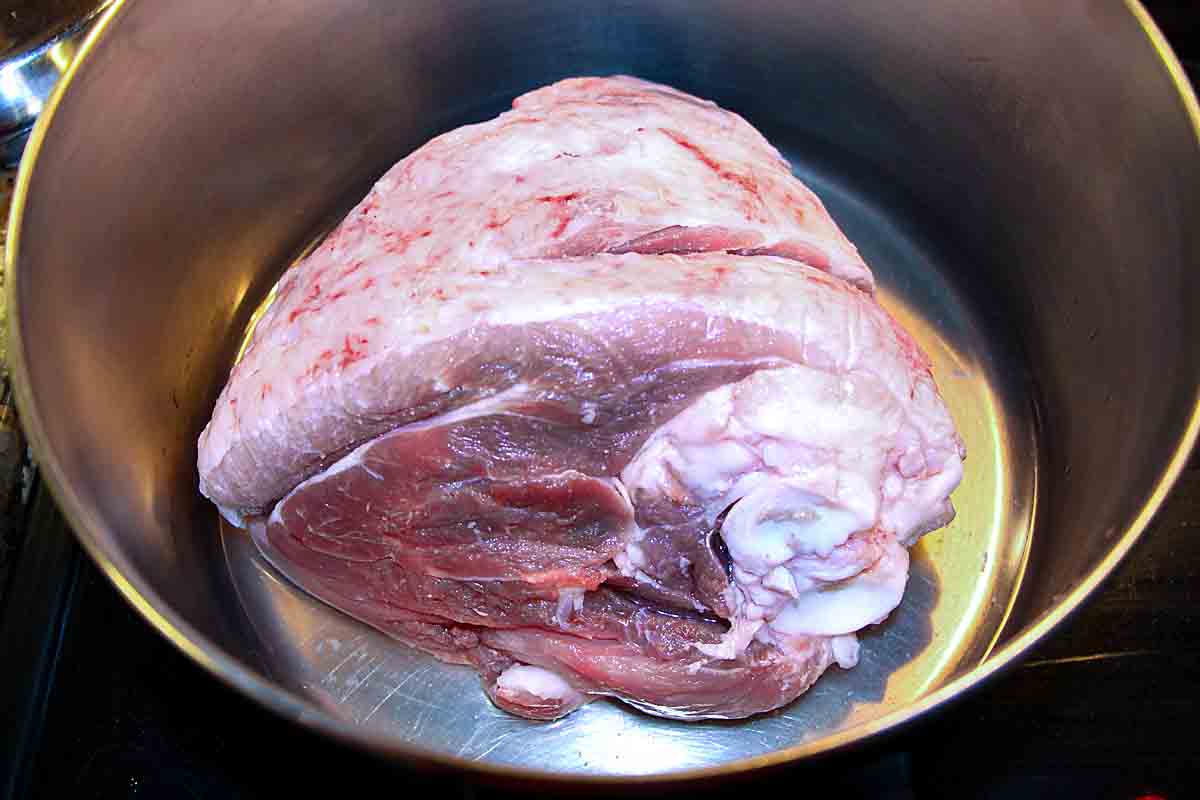 What is a Pork Hock?
If you didn't grow up eating German food (or other international recipes), this may be the first time you've heard of pork hocks. Also known as a pork knuckle or ham hock, it is the part of the pig that falls below the meaty ham and above the foot.
An inexpensive and under-appreciated cut of meat, it will knock your socks off prepared correctly. It's hard to beat juicy fork tender meat and a crispy exterior. With a lot of connective tissue and fat that melts into the meat, it does well slow roasted (or boiled) then crisped up at the end.
Alas, from the butcher's question, I was guessing many people turned it into ground pork or sausage.
Since I was a newbie, off I went to the internet where I found two different recipes. With two pork hocks, I could do a "bake off."
The "Bake-Off"
The First Attempt. I started with the easiest recipe. Simply dry and salt the exterior then bake for a couple of hours at a combination of high and medium heat. It sounded too good to be true. But since this is more or less how I make my easy roast chicken (which works great) I decided to give it a try.
In the end, however, the meat wasn't all that tender and the exterior wasn't as crisp as I like. On to the next recipe.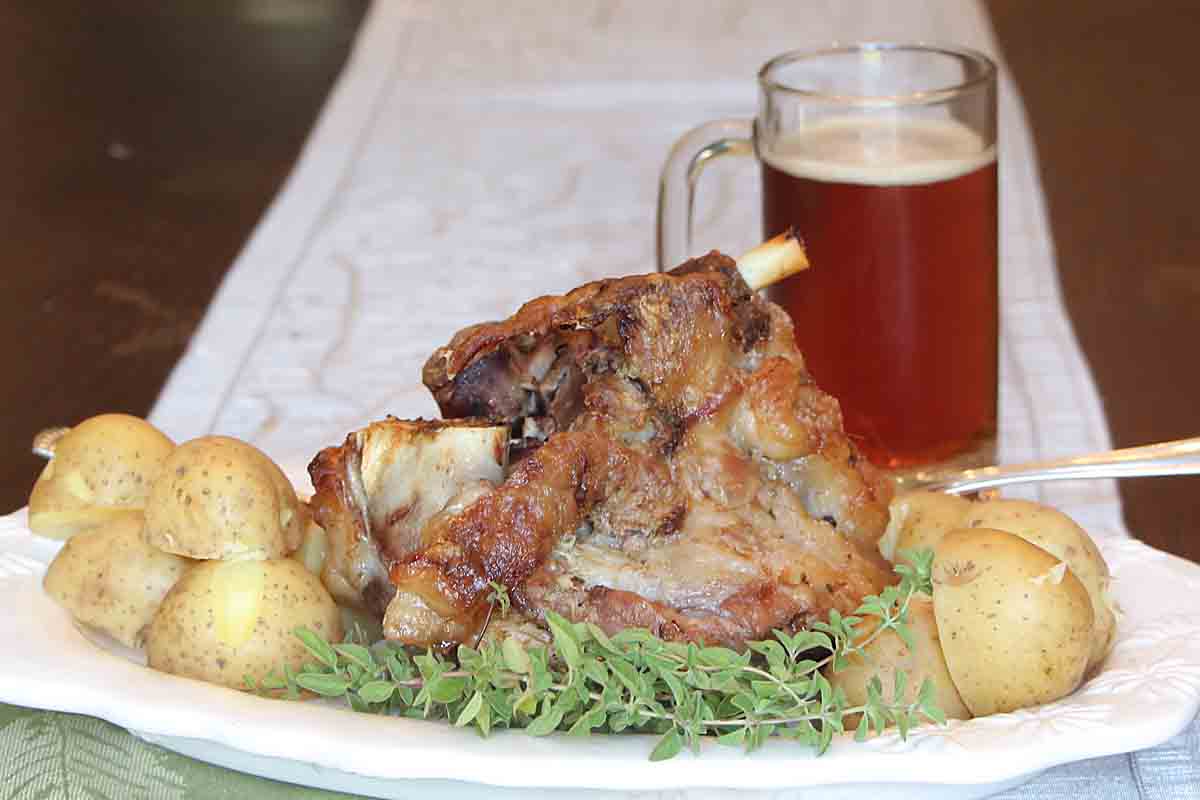 The Winner. My second attempt came from the website Quick German Recipes. It involved pre-boiling with vegetables then baking at a high temperature.
And the result? Ding, ding, ding–a lovely combination of crisp exterior and tender meat, just like I remembered.
Step by Step Directions
Although this recipes involves a lot of cooking time, there is actually very little working time.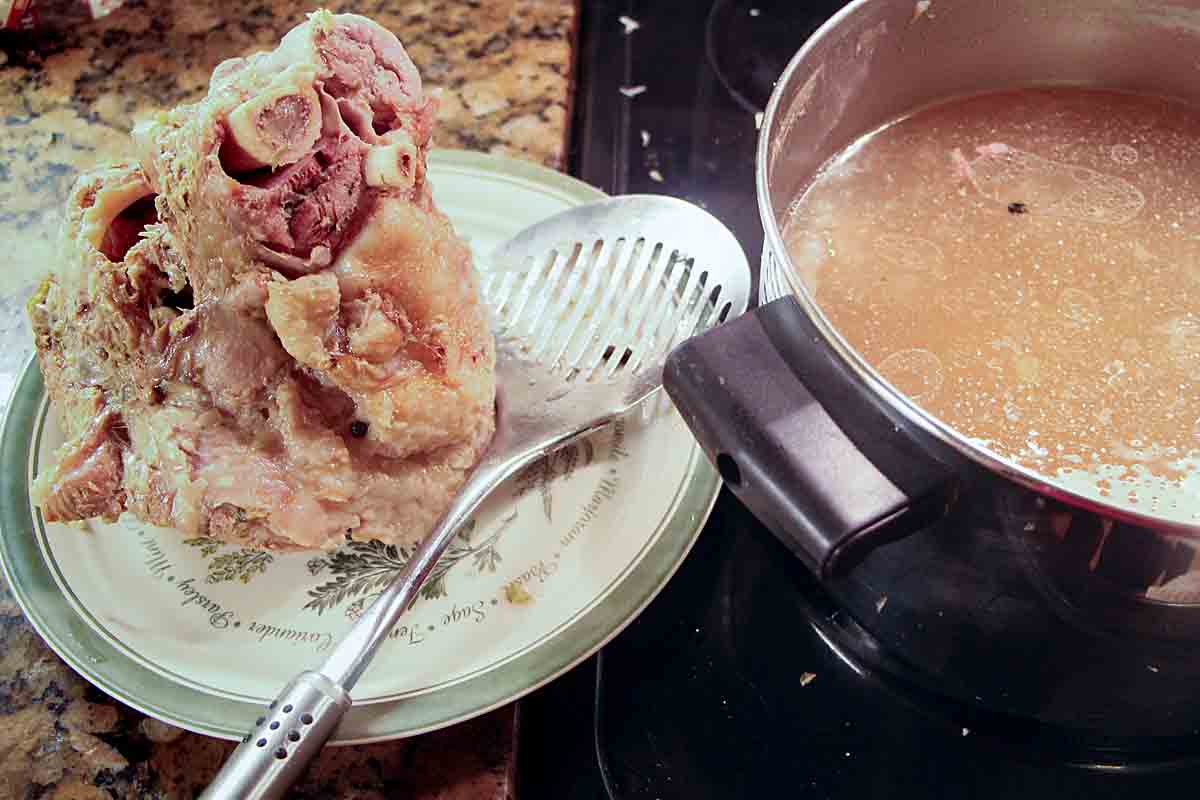 You start by boiling the pork hock in water with a variety of chopped vegetables. Drain when tender and reserve the boiling liquid and vegetables.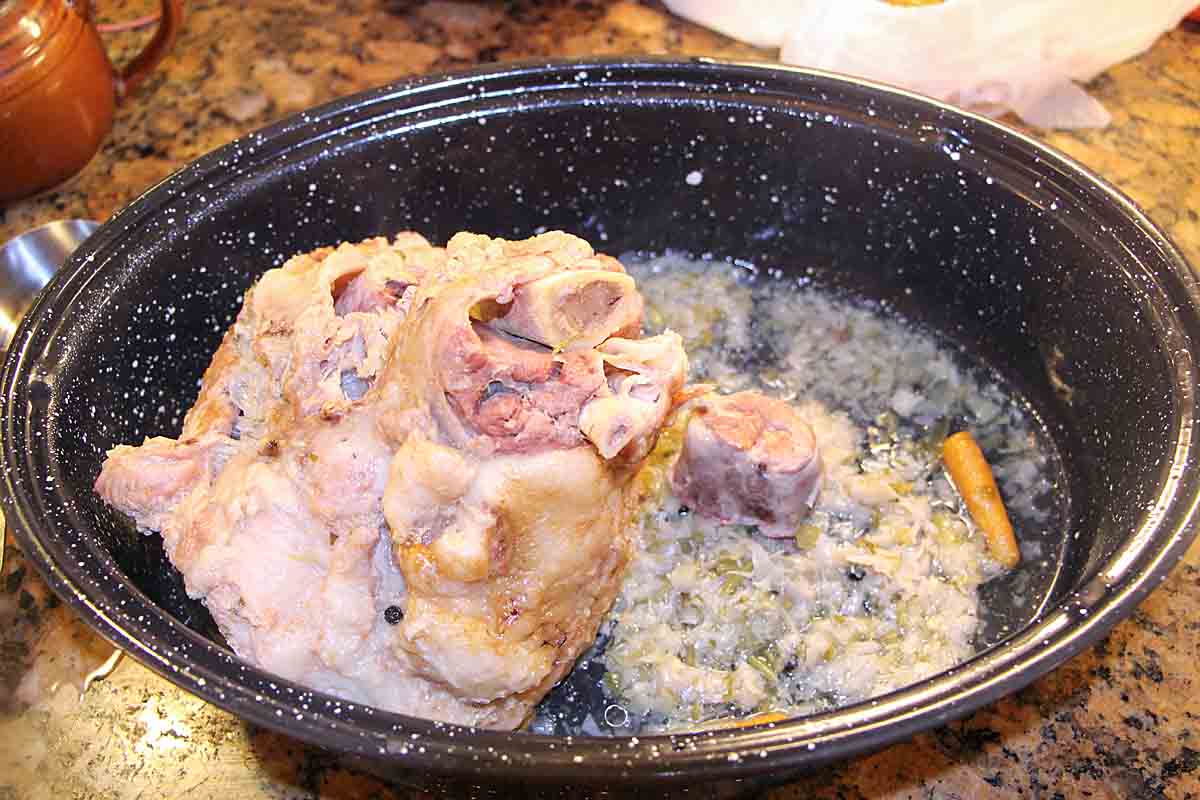 Place the now tender hock on top oof the vegetables and a little cooking liquid and bake until crisp.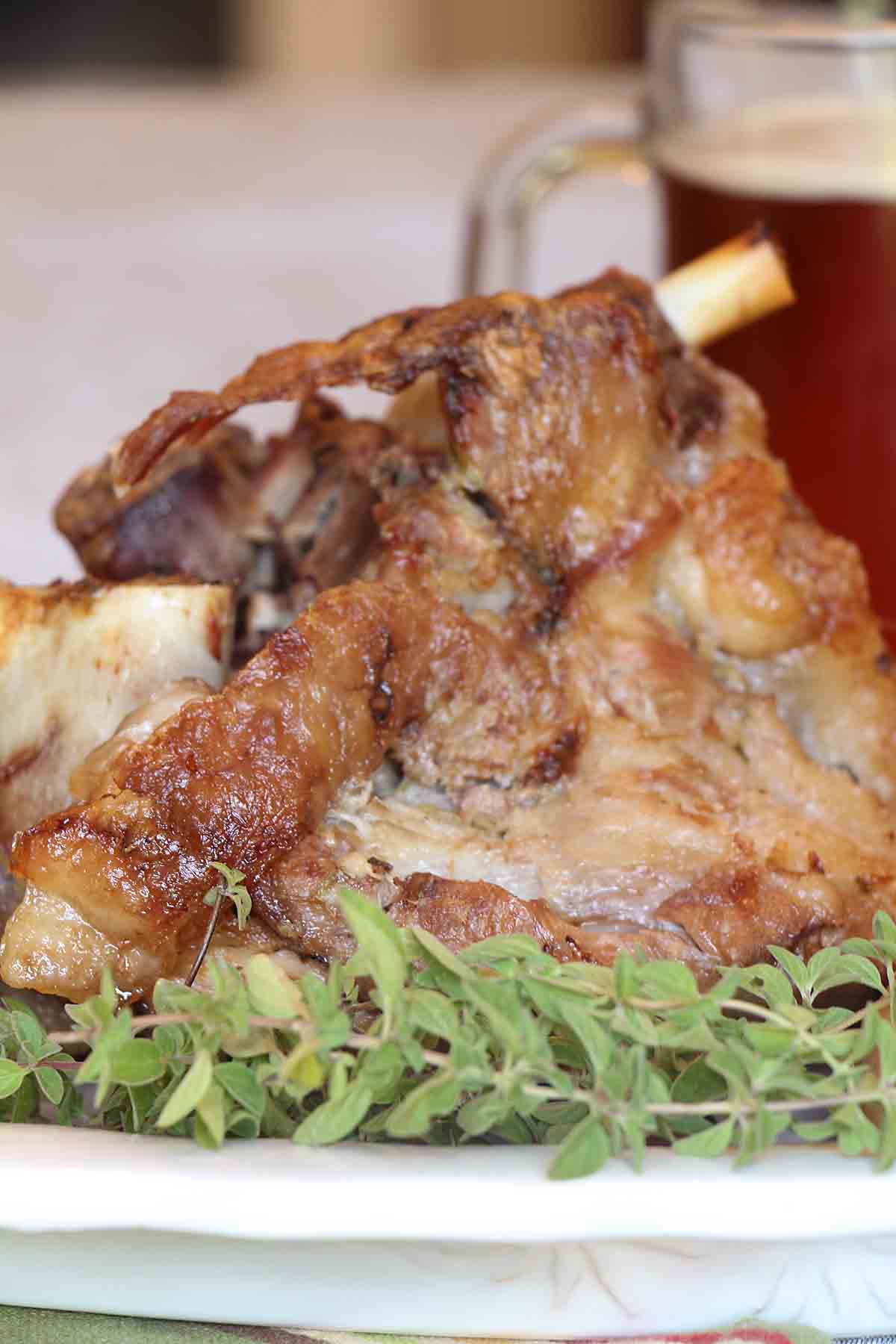 Yup, that's it! Serve!
Notes and Tips
For easier "day of" prep, I sometimes boil it the day before, refrigerate overnight and finish cooking the next day.
Many times a German Style Pork Hock is served with a gravy, though I often skip that. I am after the crispness!
If you would like a gravy you can do the following. Make a roux with 2 Tablespoons butter or pork fat and 2 Tablespoons flour in a small saucepan. Cook for a few minutes, then slowly add 1 cup of the boiling liquid and stir until thickened.
Any leftover cooking liquid can be used as a tasty stock, so I freeze it for future soups and other recipes needing broth.
What Else Should I Serve?
I always love some type of cabbage with a pork dish, especially one with a German flair. Opening a can of sauerkraut is an easy answer or my Scandinavian Red Cabbage is a delicious homemade option! And Parsley Boiled Potatoes or Homemade German Spaetzles can round out the menu!
And of course a cold Bavarian Lager would finish things off perfectly!
Yes, with Oktoberfest coming up, isn't a German Style, Crispy Pork Hock dinner a fine way to celebrate?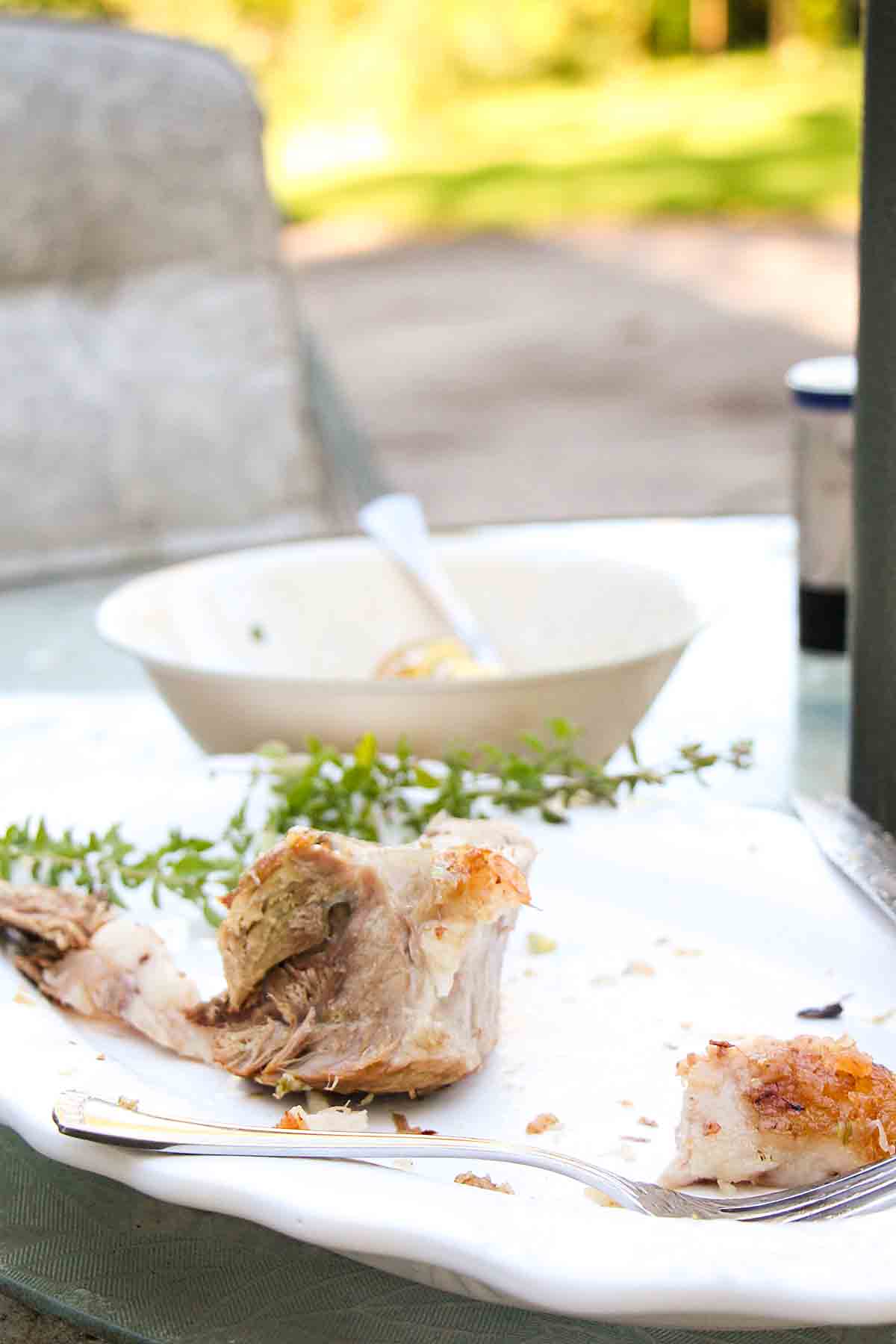 More Tasty Pork Recipes
German Style Pork Hock
Yield: 4

Prep Time: 20 minutes

Cook Time: 2 hours 30 minutes

Total Time: 2 hours 50 minutes

With fork tender meat and juicy crisp skin, this German Pock Hock recipe delivers a tasty dinner entree that's the best of the old country! 
Ingredients
1 leek, diced
1 stalk celery, diced
1 carrot, diced
1 onion, diced
1 teaspoon salt
1 teaspoon peppercorns
1 1/2 pounds meaty pork hock
Instructions
Put ingredients (vegetables, salt, peppercorns, and pork hock) into stock pot or Dutch Oven and add water to cover. Bring to boil, then simmer until meat is just tender - about 2 hours. Do not overcook.
When tender, drain, reserving the vegetables and cooking liquid.
Preheat oven to 425° F.
Place drained vegetables and a small amount of the cooking liquid in a roasting pan and set the pork hock on top. (Remaining cooking liquid can be saved for later use or discarded)
Bake about 30 minutes, occasionally basting meat with cooking liquid, until golden.
Notes
If you would like a gravy you can do the following.  Make a roux with 2 Tablespoons butter or pork fat and 2 Tablespoons flour in a small saucepan. Cook for a few minutes, then slowly add 1 cup of the boiling liquid and stir until thickened.  
Nutrition Information:
Yield: 4
Amount Per Serving: Calories: 432Total Fat: 24gSaturated Fat: 8gTrans Fat: 0gUnsaturated Fat: 13gCholesterol: 150mgSodium: 644mgCarbohydrates: 6gFiber: 1gSugar: 2gProtein: 46g

Nutrition data accuracy may vary with product selection, calculator accuracy, etc. Consult a professional for the best information.

.