A German Style Pork Hock Bake-Off
It may seem surprising to have a German Style Pork Hock recipe in a blog focused on healthy living. But as you may have heard, fat is becoming less worrisome–if it comes from a healthier source, of course.
This whole adventure started out of my mission to eat local. Last fall when I ordered local pastured pork for my freezer, I was asked, "do you want the pork hocks?" Always up for a challenge I answered "yes."
Pork hocks and I go way back. You see, Milwaukee is a town with a strong German Heritage. When I was growing up, German restaurants (usually Karl Ratzch's for local readers) were a frequent spot for family celebrations. I especially enjoyed a good German Style Pork Hock, with its juicy, fork tender meat and crispy, crackly exterior.
I couldn't wait to reprise it.
So off I went to the internet where I found two different recipes. Since I had two pork hocks, I could do a "bake off."
I started with the easiest recipe. Simply dry and salt the exterior then bake for a couple of hours at a combination of high and medium heat. It sounded too good to be true. But since this is more or less how I make my easy roast chicken (which works great) I decided to give it a try. In the end, however, the meat was less tender than I like and the exterior was less crisp. On to the next recipe.
The second attempt (from website Quick German Recipes) involved pre-boiling the hock with chopped vegetables, then baking at a high temperature. Since this felt like a whole lot more work I actually boiled it the first day, refrigerated overnight and finished the cooking the next day. And the result? Ding, ding, ding–a lovely combination of crisp exterior and tender meat, just like I remembered. And there really wasn't a lot of working time when I reflected.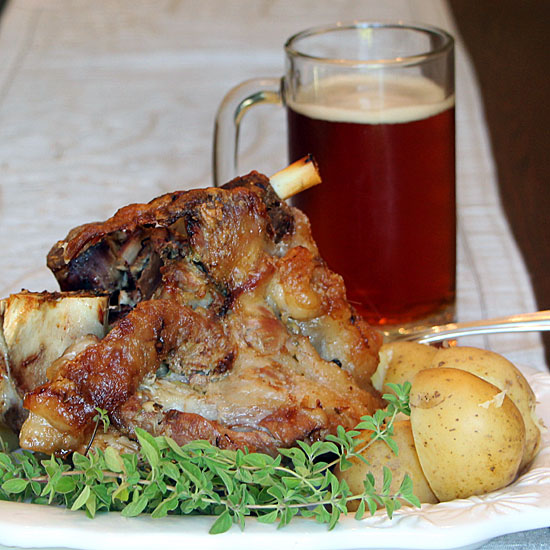 I still felt a little guilty digging into the rich meaty dish– I'm not 117 lbs like I used to be! But a New York Times article reassured me saying that "a large and exhaustive new analysis by a team of international scientists found no evidence that eating saturated fat increased heart attacks and other cardiac events." Of course there are exceptions to any rule, so consult a doctor or dietitian regarding your personal health needs.
And with Oktoberfest coming up, isn't a nice German Style Pork Hock dinner a fine way to celebrate?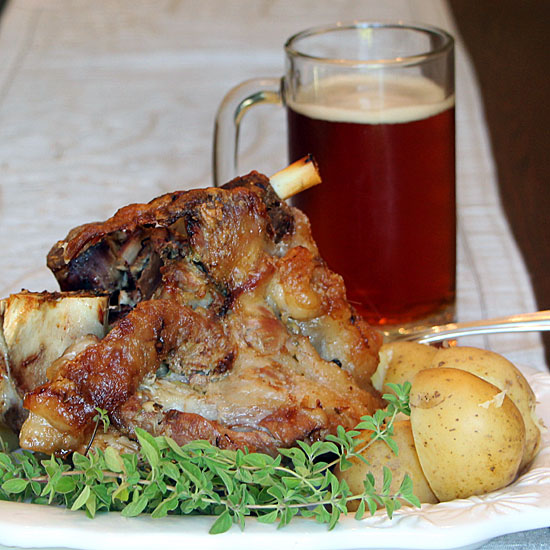 German Style Pork Hock
2014-09-30 08:58:27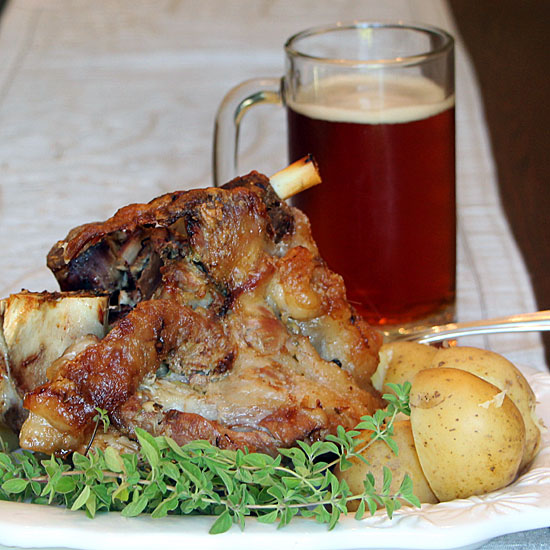 Serves 4
With its juicy fork tender meat and crispy exterior German Style Pork Hock is perfect for Oktoberfest or any other time of the year.
Nutrition Facts
Amount Per Serving
* Percent Daily Values are based on a 2,000 calorie diet. Your Daily Values may be higher or lower depending on your calorie needs.
Ingredients
1 leek, well cleaned, diced
1 stalk celery, diced
1 carrot, diced
1 onion, diced
1 t salt
1 t peppercorns
1 1/2 lb meaty pork hock
Instructions
Put ingredients (vegetables, salt, peppercorns, and pork hock) in pot and add water to cover. Bring to boil, then simmer until meat is just tender - about 2 hours. Do not overcook.
When tender, drain, reserving the vegetables and cooking liquid.
Preheat oven to 425° F.
Place drained vegetables and a small amount of the cooking liquid in a baking dish and top with the pork hock. (Remaining cooking liquid can be saved for later use or discarded)
Bake about 30 minutes, occasionally basting meat with cooking liquid, until golden.
Art of Natural Living https://artofnaturalliving.com/

.