The Lazy Person's Potato Garden
What's an easy and fun activity for your backyard (potato) garden? Growing potatoes in potato cages or towers!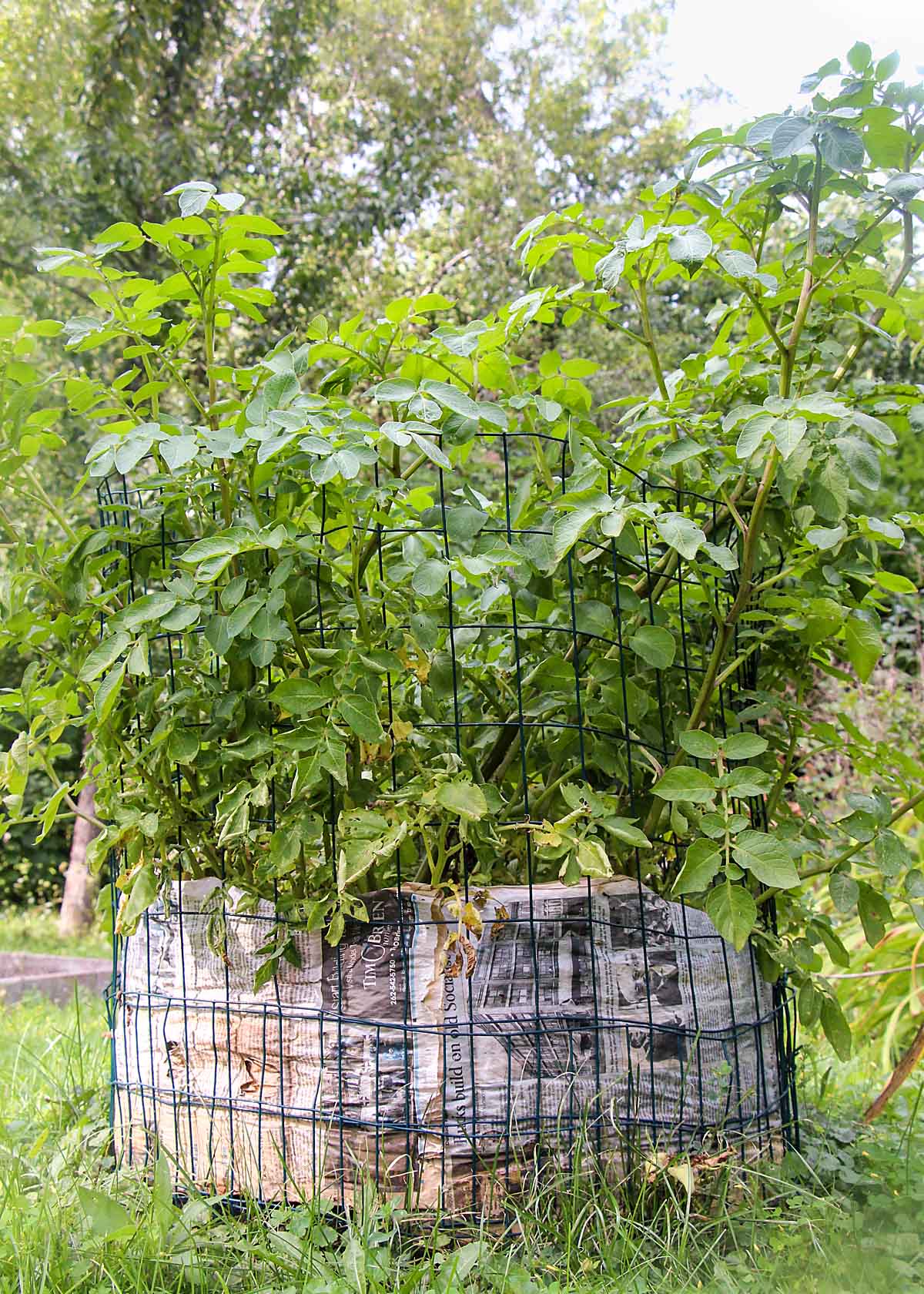 Growing potatoes always sounded hard. Dig a deep bed, "fluff up" the soil (especially painful with clay), then go back with the shovel for harvest.
I am a lazy gardener. I started my gardening career at roughly the same time as my corporate career, so if it wasn't easy, it wasn't going to happen. This spoiled me for life.
Why Grow Potatoes in Cages
This is why, many years ago, I decided to make a potato garden, in cages. It requires (almost) no digging—to prep or to harvest—and as an added bonus, they are ready weeks before most local potatoes. With membership in two CSAs, I am buried in food by fall but let me harvest something weeks earlier and I am so there. It's tough to be a fresh food junkie.
Growing potatoes in cages is easy and space efficient. A little known fact about potatoes is that if you mound additional soil around the plants as they grow, they will continue to add spuds upwards in the new dirt. By growing vertically in cages, you can get a nice crop in less space and it is easier to harvest. Just remove the cage, loosen the soil, and pick out potatoes.
As a laziness bonus, I don't buy seed potatoes. By late April, the few remnants of last year's harvest have sprouted and are starting to shrivel. Anything moldy get tossed into the compost bin (which has been known to grow an occasional potato crop itself), but those that still look reasonable go into my cages as the foundation for the new crop.
How to build the cages
If you've ever built tomato cages the process is pretty similar, just a slightly different scale. We reuse the same cage for a number of years (yup, another lazy bonus) and construction is simple.
We reuse the same cage for a number of years, and construction is simple. My husband cuts a 7 1/2 ft length of wire mesh and folds the top over to shorten it without leaving sharp ends. Then he circles the sides together and secures them with wire (or sometimes he just twists the cut ends together).
The final model is about 2 ft in diameter and about 2 feet tall.
Step by Step Instructions for Planting
Here is how the planting goes:
1. Remove the sod (this is optional but makes for better anchoring of the cage) and set the cage about 2 inches into the soil. Line the cage sides with newspaper to keep the soil inside (some people use straw, but then I'd need to go out and buy some—remember this is easy).
2. Fill in a layer of compost or garden soil, then add sprouting potatoes. If you are short on potatoes, you can cut them in pieces, leaving a couple eyes on each, but then you risk problems with rot. If you decide to do this, let the cuts dry for a day before planting to reduce the risk. (I always have plenty of sprouted potatoes or friends with same).
3. Add another layer of compost and more potatoes, then top off.
4. As the potatoes sprout, continue layering with more dirt for about a month as the plants get taller. Then neglect them for awhile.
How and When to Harvest
The potatoes are ready to harvest when the plants begin to die back. If some are dying off too slowly (a risk from planning miscellaneous varieties with different maturity times) and your patience is failing, you can snap off the late stems and the potatoes will begin to "ripen" underground.
Some experts recommend letting the potatoes rest in the soil for 2-3 weeks before harvesting, to let the skins toughen. If you are trying to keep your potatoes over the winter this is probably a good idea. If you plan to eat them quickly (and save your CSA potatoes for winter), the waiting time can be shortened.
When you are ready, you can pull off the wire cage, loosen up the soil and go on a treasure hunt!
Tips and FAQs
Are potato cages the most productive way to do a potato garden? Well there are two ways to look at this. There probably are ways to get more potatoes, but they're going to be harder . If you're like me, too hard means you're going to skip it and put something on the grill instead. If you don't do it, you won't get any potatoes. And that makes this more productive!
How often do I need to water the potatoes? This will depend on the heat and rainfall in your area. In Wisconsin, I don't generally water them. The cages are big enough and retain enough water to last between showers. In drier areas, it will likely be a different story.
When I need to water my garden, I like use a sprinkler on a timer (they usually have overrides that you can use as needed) for the easiest and most foolproof method. Not that I'd ever forget (ahem).
Why don't you line with plastic? Sometimes plastic is a necessary evil, but not in this case! Newspaper (or straw) is convenient and even breaks down to feed the soil.
More Gardening DIY
Updated from a 5/2011 post.