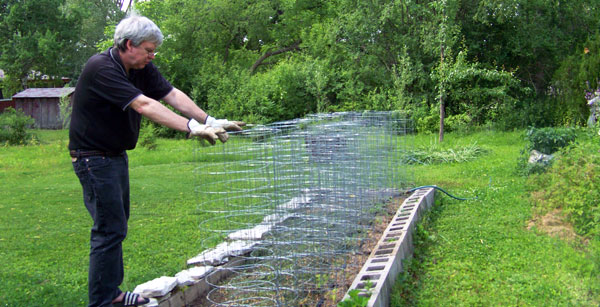 I just had another one of those "why didn't I think of this before" moments.
Its origins go all the way back to February when I ran out of home canned tomatoes–and months of winter remained. Organic commercially canned tomatoes just don't taste the same to me, and of course they aren't local. So this year I resolved to grow more tomatoes. By Memorial Day my plants were ready and all was well.
Until I went out to price tomato cages. Ranging from $2.99 for short flimsy cages to $9.99 (gulp) for pick-your-favorite-color large cages, I was daunted. I had 22 seedlings! Time for homemade tomato cages!
Now cages aren't a requirement for growing tomatoes, but I am convinced they work better than letting your tomatoes sprawl, then fighting the slugs for them. And come fall, if we get an early frost (which is often followed by a couple weeks of nice weather), a cage makes a great base for plastic row covering and a serious season extension.
So we resolved to make our own homemade tomato cages. With potato cages under our belt, how hard could this be?
What we did…
John started with a large roll of 4 ft by 50 ft galvanized wire. Because our raised beds are four feet wide, we decided to go with cages that are about 15 inches in diameter to have room for three rows. The mesh sections were two inches wide by four high which should work for our Roma tomatoes. Beefsteak and other large slicers would need larger openings.
Directions
1. For the easiest mass production, count off mesh sections to equal 52 inches (counting is easier than measuring–in our case this was 26 sections, but this may be different if your mesh size is larger–see tip below) and cut in the middle of the following section. The cut pieces on each side will be folded back to secure the cage.
"Pre-bend" the cut pieces (one side toward you, one side away) to make securing them easier. Form the wire into a tube, overlapping by two sections for strength, then secure the cut pieces.
Snip off the bottom ring of the cage to create anchor wires, so you can push the cage into the ground.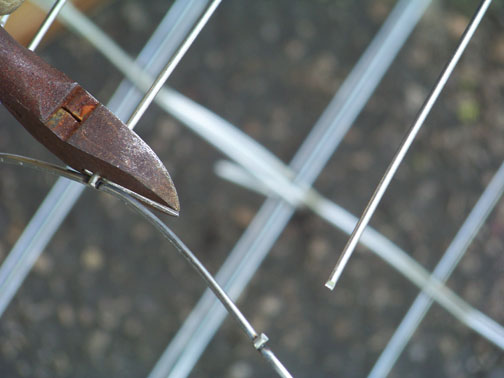 Where the sections overlap, twist the dual anchor wires together to further bind the cage together.
Insert cages around tomatoes and feel proud. Harvest will be here before you know it!
Accounting
The wire was on sale and came to approximately $28/roll including tax. It made 11 4-foot tomato cages which comes to about $2.50 apiece for a high-end tomato cage, a significant savings over the commercial (and these were better quality than most). At two rolls, this was still an investment, but they will last for years.
This took John about an afternoon to complete—about the time I would have spend debating and researching the best prices for store-bought cages. When I worked in corporate America, we had a saying, "Better, Faster, Cheaper: You can have any two." In this case, I think we got all three!
Tip: As of the end of the tomato season, these have worked well. The one thing I might do differently is use a larger mesh. If you do two across, you need to reach in elbow deep to get the far tomatoes. I can manage with this size mesh but my husband could get stuck 😉
Save