With summer in full swing and the days hitting 90s or more, it's time for a picnic!  Louise at Months of Edible Celebrations is hosting a virtual picnic and I've been invited! And to balance out all of the lovely food, I am bringing Iced Coffee with two options, straight for daytime and an iced coffee martini–in case the picnic lasts into the evening!
To play, participating bloggers choose a letter of the alphabet, make something to bring to a picnic starting with that letter, and list all the letters/foods that come before, like this…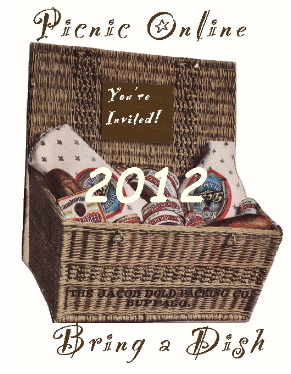 "I'm going on a picnic, and I'm bringing:
A-Artichokes, steamed and dressed with mayonnaise
B-Baked beans
C-Cauliflower Tabbouleh
D-Dunkin' Donuts with maple syrup and honey frosting
E-Eggplant Casserole
F-Frosty Summer Salad with Cranberry, Pineapple & Beets
G-Goat Cheese Mixed Green Salad with Cocoa Nibs
H-Halibut and Salsa Verde
I-Iced Coffee  (See Below!!)
Iced Coffee
Ingredients
1 quart cold water (cold water is supposed to produce a mellower, less bitter coffee)
1 cup finely ground coffee
sweetened condensed milk (optional for serving)
maple syrup or liquid stevia (optional for serving)
Directions
1.  Combine ground coffee and cold water in half gallon container (ideally glass).
2.  Let sit between 5 and 8 hours (the Good Housekeeping Research Institute reports that coffee may become bitter if left too long).
3.  After steeping, strain through coffee filters or cheesecloth.  Store in refrigerator.
4.  To serve, pour strained coffee over ice.  Add up to a tablespoon (I used 1/2 T) of sweetened condensed milk and added sweetener to taste.  Stir to combine.
And if that isn't enough, you can take the iced coffee into the evening as a martini.  Hmmm, perhaps I should have made a double batch!
Iced Coffee Martini
Ingredients
1 1/2 ounce vanilla vodka
1 1/2 ounce kahlua
1 1/2 ounce iced coffee
Directions
1. Fill shaker with ice
2. Add vodka, kahlua and iced coffee
3.  Shake well to combine
4.  Strain ice and serve in chilled glass