Growing Pachysandra from Cuttings
I am growing pachysandra from cuttings. That doesn't sound too hard, does it?
Pachysandra is an easy to grow, lush, shade-tolerant ground cover that many people use to reduce lawn or to fill in places where grass won't grow. My weed-filled lawn is driving me crazy—I'd work harder at it but there simply is too much of it. And since I refuse to use pesticides, some of the grass has got to go.
This project actually started two years ago (see pictures here). I mail-ordered some pachysandra and when the bare-rooted plants arrived, we planted, mulched, then waited for them to overtake the north side of the house. They didn't die but two years later, we are still waiting for that lush profusion part.
Clearly this isn't working.
So I went back to the internet for advice and learned that if I rooted cuttings, I could create more plants—for free! I read everywhere that you needed to dip the cuttings in rooting hormone so I went out and bought some rooting hormone. And then I read the label…
Label (paraphrased): Keep away from pets and children. Use gloves when handling. Dispose of as hazardous waste?!
Now I don't know if they were just being alarmist but these warnings made me think twice. But I'd already spent the money and I was not going to throw it out. So (under the circumstances) I decided to do a (loosely) controlled experiment. I would root some cuttings using the rooting hormone and some in plain water. I didn't get science training for nothing!
Growing Pachysandra Instructions (Methodology)
I took cuttings that were about 5-6 inches in length, then removed the lower 2-3 inches of leaves. Divided them into two groups to be tested with either rooting hormone or plain water.
Rooting Hormone: Wearing gloves, dipped the cut end in rooting hormone, then inserted in seed starting mix. Watered and encased in plastic tent, then waited for 6?? weeks (oops, incomplete notes, but pachysandra are notoriously slow to root). Planted outdoors (wearing gloves). Plants all survived.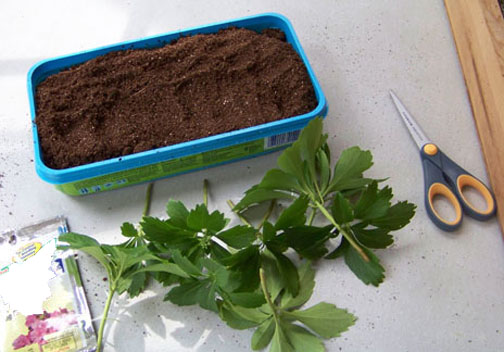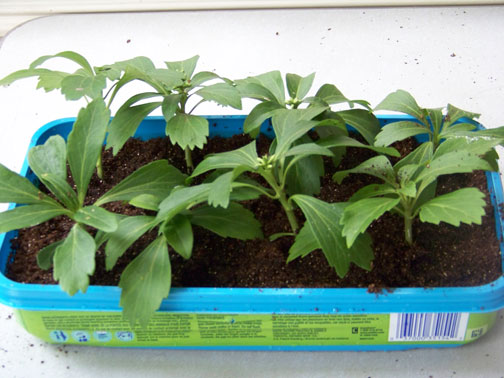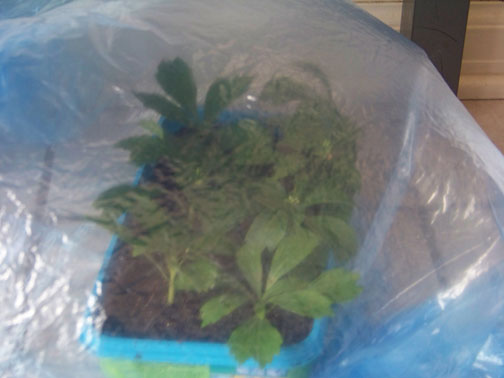 Plain water: Slipped cuttings into empty 1 quart yogurt container with water covering bottom couple inches. Checked water regularly and refilled as needed, while waiting 6?? weeks (oops again) for root development. Planted outdoors. Plants all survived.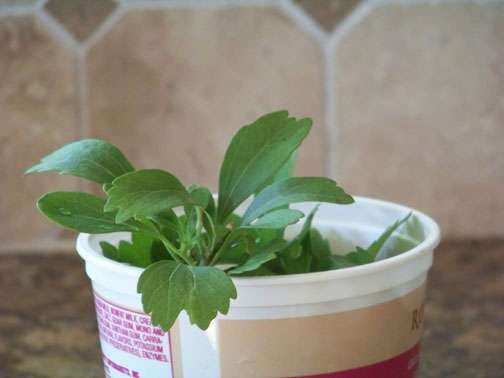 With my Growing Pachysandra from Cuttings experiment completed, it was time to summarize the results:
Rooting Hormone: Worked well, more expensive (though less than buying new plants), per the warning, one would conclude it is potentially harmful for the environment–and me
Plain Water: Worked well, free, safe.
Now clearly, I think we have a winner! Isn't science fun!
Ooooo, I feel just like the gardening version of America's Test Kitchen!