One of my CSAs has a fun option this year–a breadshare, which provides a loaf of artisan bread every week along with the veggie box. When we discovered that last week's selection was a cinnamon currant bread, I thought my kids had gone to heaven.
Of course this had implications for me. It meant that I would need to bake again–in the summer heat. Luckily I had a planned trip "up north" where my oldest is working–and where the temperatures are holding slightly below this year's "don't turn on the oven" levels.
Temperature solved, the next concern was technique. Can you believe that a baking addict like me has never rolled up a loaf? Well, no worry, it wasn't hard! Even in a vacation home kitchen with no real mixer, no Tupperware pie sheet (my first choice for "rolling" it out),and a missing rolling pin (if I were a rolling pin, where would I be…). I quickly learned that patting works as well as rolling (at least for bread), wax paper is a fine rolling patting surface and I was excited to discover that I had (and could actually locate) a fancy brush for the egg wash!
The basis of the loaf came from James Beard's Beard on Bread, made slightly easier and healthier. The swirl part came from a King Arthur recipe. Here's what I did:
Cinnamon Currant Bread
Bread Ingredients (Makes 2 loaves)
1/2 c butter
1 cups milk
1 cup water
1/2 c plus 1 T sugar
2 pkgs yeast (or equivalent)
3 c wheat flour
3 c all purpose flour (approximate)
1 1/2 c currants soaked for 1 hour in rum (substitute raisins if currants are not available, water if you must)
Filling
1 egg, beaten with 1 T water
1/2 c sugar mixed with 1 T cinnamon
Directions
1. Melt butter. Add milk & water to pan and heat to approximately 110 degrees. Add 1 T sugar and yeast and stir to dissolve. Let rest until bubbly, about 5-10 minutes. (Note: there is controversy about whether you really need to "proof" yeast anymore. Having had only a couple failures ever (despite hundreds of loaves baked), the rational answer is probably "no" but I continue to do so given the ease of proofing, the suggestion it may produce a lighter loaf and the terrible sadness of a loaf that never comes to life)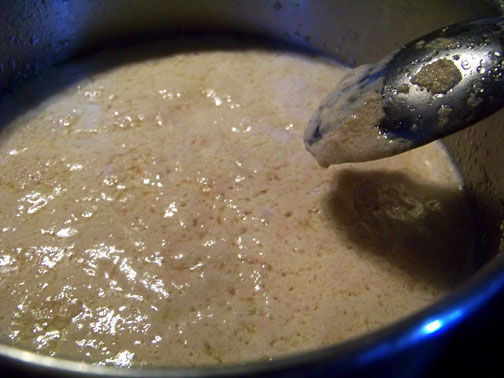 2. Blend liquid with whole wheat flour and 1/2 cup sugar until well mixed.
3. Stir in currants, then add the all purpose flour a little at a time until the dough is soft and just a little sticky. Knead on floured surface, adding flour as needed, until dough "pushes back."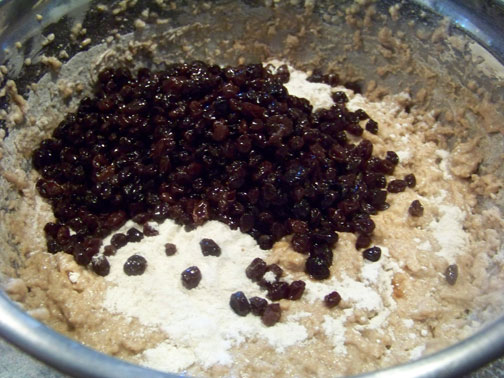 4. Place dough in large bowl, spray dough with oil, and cover with a damp towel. Let rise in a warm place until doubled, about an hour (time will vary with temperature).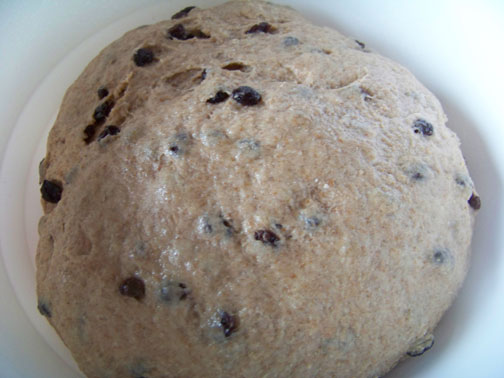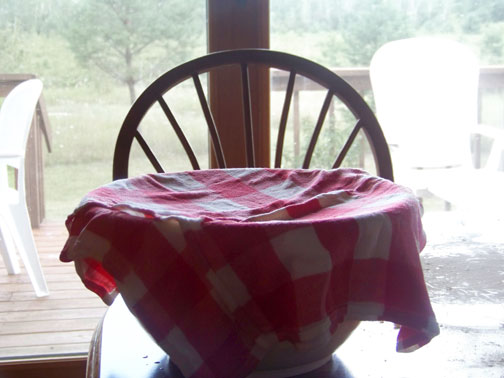 5. Punch down dough and divide into two pieces.
6. Roll (or pat) out half of the dough into a 6 x 20 inch rectangle. Brush with egg wash and sprinkle with half of the sugar cinnamon mixture.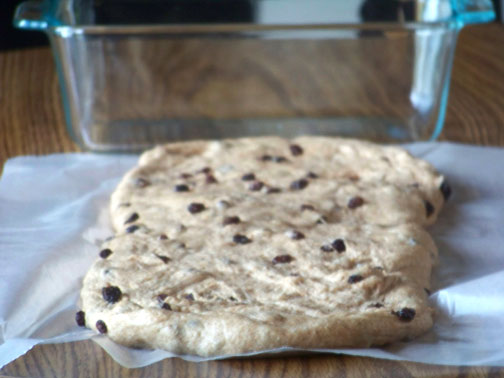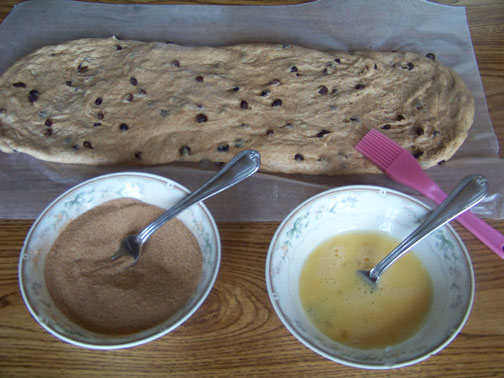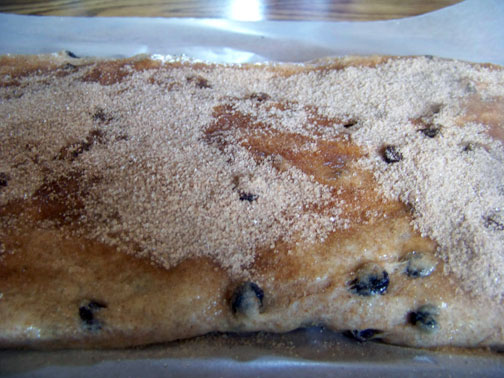 7. Roll up loaf and pinch sides and seam together to close. Place in greased loaf pan with seam side down.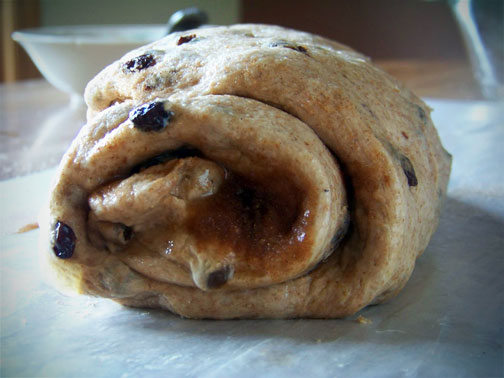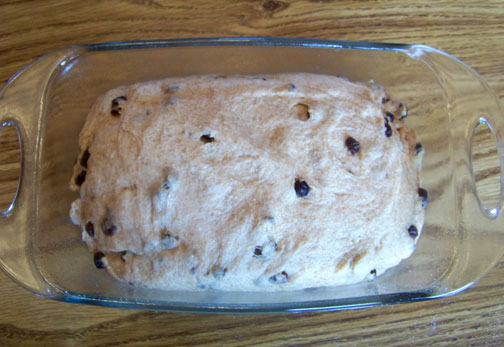 8. Repeat with the remaining the dough for 2nd loaf.
9. Let rise in pans until a bit less than doubled (should be rounding above the top of the pans).
10. Bake at 350 about 40-45 minutes. Check periodically and tent with aluminum foil if loaves are browning too much. Fully cooked loaves will sound hollow when tapped, or you can test for an internal temperature of 190 using an instant read thermometer.
11. Remove from pan and cool on wire rack.
These sweet, fragrant loaves filled the house with a warm, cinnamon-y smell throughout the baking process. Afterwards I was delighted to discover that this could be recreated by simply popping a slice into the toaster. Enjoy!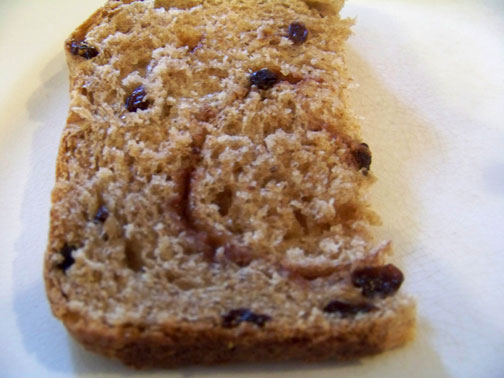 Yeast baking newbie? Check out King Arthur Flour for a really nice set of instructions!