Fingerling Potatoes with Parsley Butter or Oil
Using just four ingredients and one pot, Fingerling Potatoes with Parsley Butter is an easy, tasty and healthy side dish.
Local potatoes are back! It's a moment that every potato-loving locavore waits for. Herbs are also gracing my CSA boxes, so I decided to indulge in fingerling potatoes with parsley butter. And for any vegan readers, I can attest that this is delicious with olive oil as well!
The weather here has been cool and wet this summer and even my early homegrown "lazy person's" potatoes (which I raise in potato cages) are late this year. But after enjoying this treat today, I figure I can survive until more arrive!
Step by Step Instructions
Variations
For a vegan or heart healthier, use a good extra virgin olive oil in place of the butter. And even though I freely eat butter, I'd eat this version just for variety!
You can make this with other types of potatoes as well. Just cut them into smaller pieces so they boil faster and are not overdone on the outside. For this dish, I prefer a non-starchy potato like a yukon gold to the starchier russet potato.
Summary
This is super easy to make, with just four ingredients and one pan–a godsend with busy back to school activities taking over. And the fingerlings were so tasty they didn't need a lot of butter. If you end up trying this in February with the last of the shriveled fall potatoes, go ahead and add extra butter or oil.
Speaking of back to school, last Thursday night I got to see the girl's swim team do the ALS ice bucket challenge. Picture an entire girls team jumping into the pool with a thousand ice cubes chasing them.
Though spaghetti is the standard pre-meet meal, it struck me that I may need to serve these potatoes again soon for a new way to do carb loading.
Happy harvest!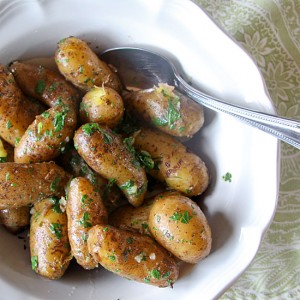 Potatoes with Parsley Butter
Using just four ingredients and one pot, Fingerling Potatoes with Parsley Butter is an easy, tasty and healthy side dish.
Ingredients
1

quart

fingerling potatoes

or other boiling potato

2

Tablespoons

butter or olive oil

1

Tablespoon

chopped parsley

1/2

teaspoon

salt or to taste
Instructions
Placed cleaned potatoes in saucepan and cover with water. Simmer about 15-20 minutes until tender, then drain and return to pot.

Add butter to pot and allow to melt. Add parsley and salt, then stir gently to coat potatoes. Taste and adjust salt as needed.
Nutrition
I am not a health professional and nutrition data is calculated programatically. Accuracy may vary with product selection, calculator accuracy, etc. Consult a professional for the best information.