Homemade German Spaetzles
Like a cross between an egg noodle and a dumpling, homemade German Spaetzles are a tasty, easy and versatile side dish.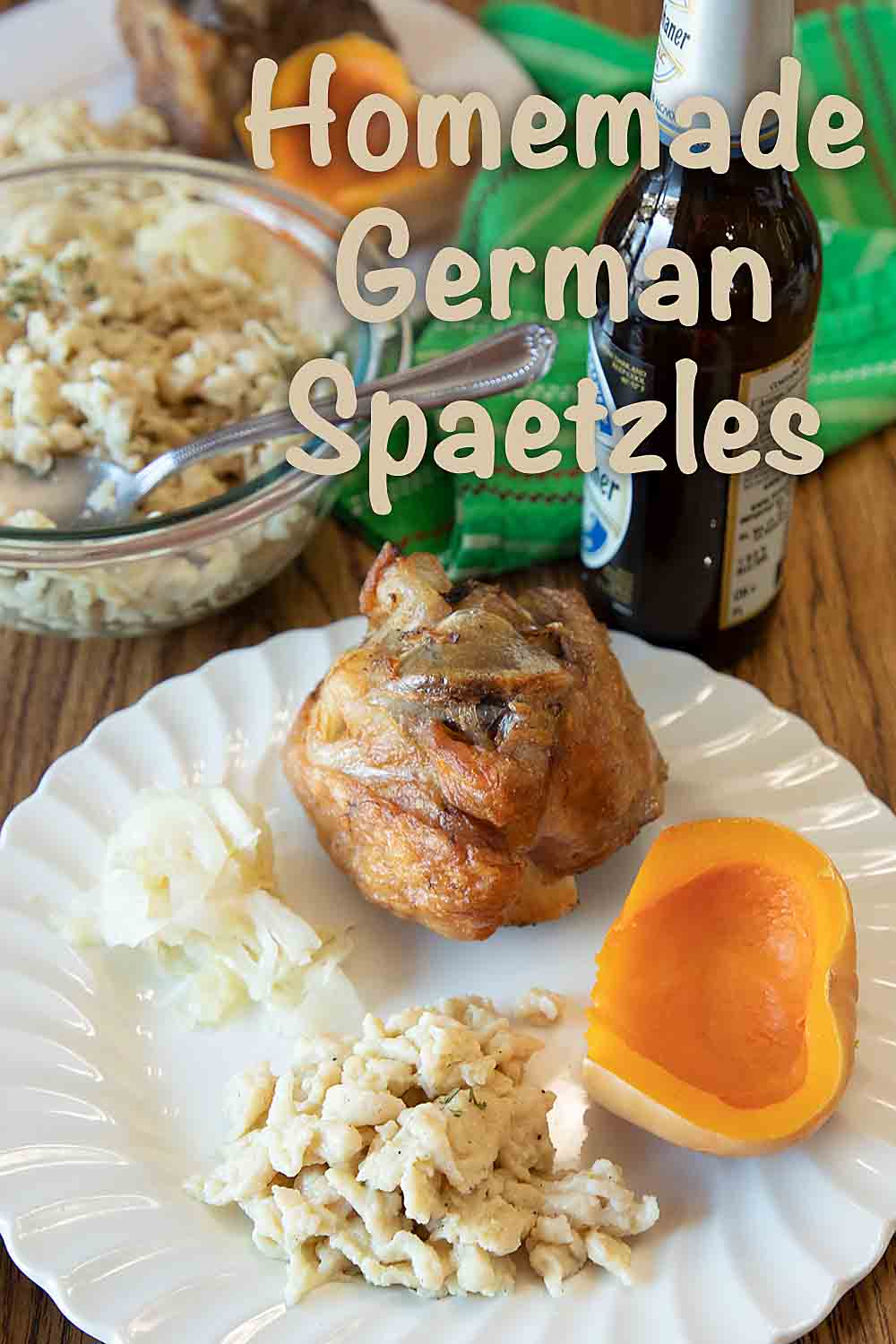 My blogging friends are making spring sides today. And this made me wonder–are spaetzles a spring dish? I decided that, since they are often served with pork and ham, which are Easter favorites, that should count as spring. Though, truthfully, I think this is an "any season" recipe!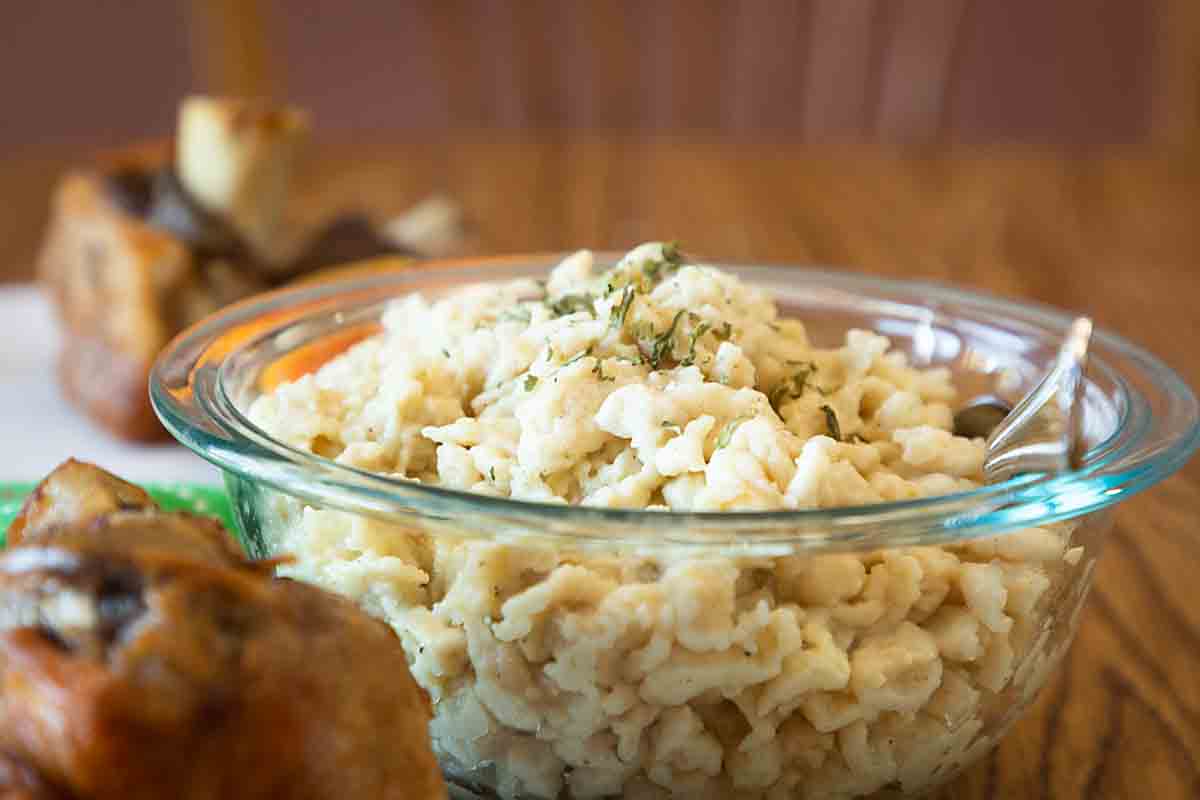 My daughter was the first to make Homemade German Spaetzles and I'm not sure why she started. Perhaps it was poverty since she's a poor college student and these are very economical. She'll even top them with cheese and caramelized onions for "Austrian Mac n Cheese."
Though today I'm serving them simply.
How to Make Homemade German Spaetzles
To make spaetzles, you start by mixing egg and milk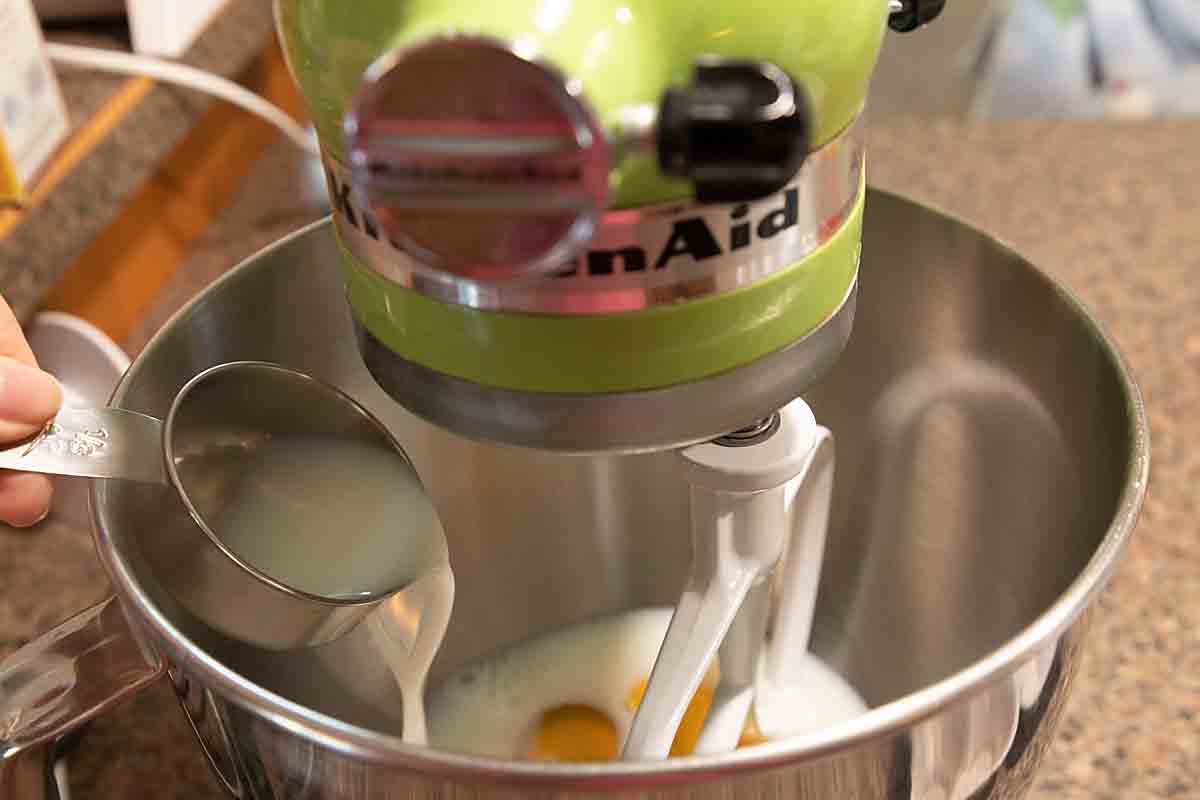 Then you add in flour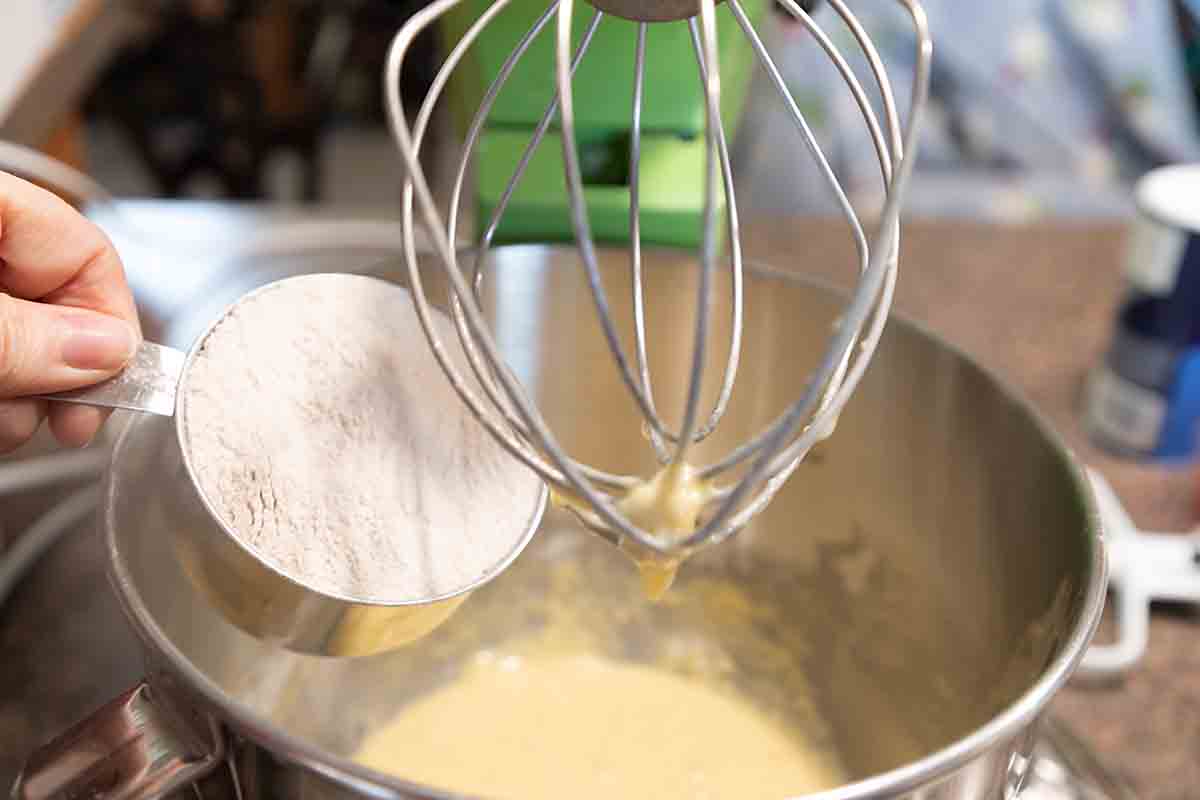 Until this consistency is like a thick batter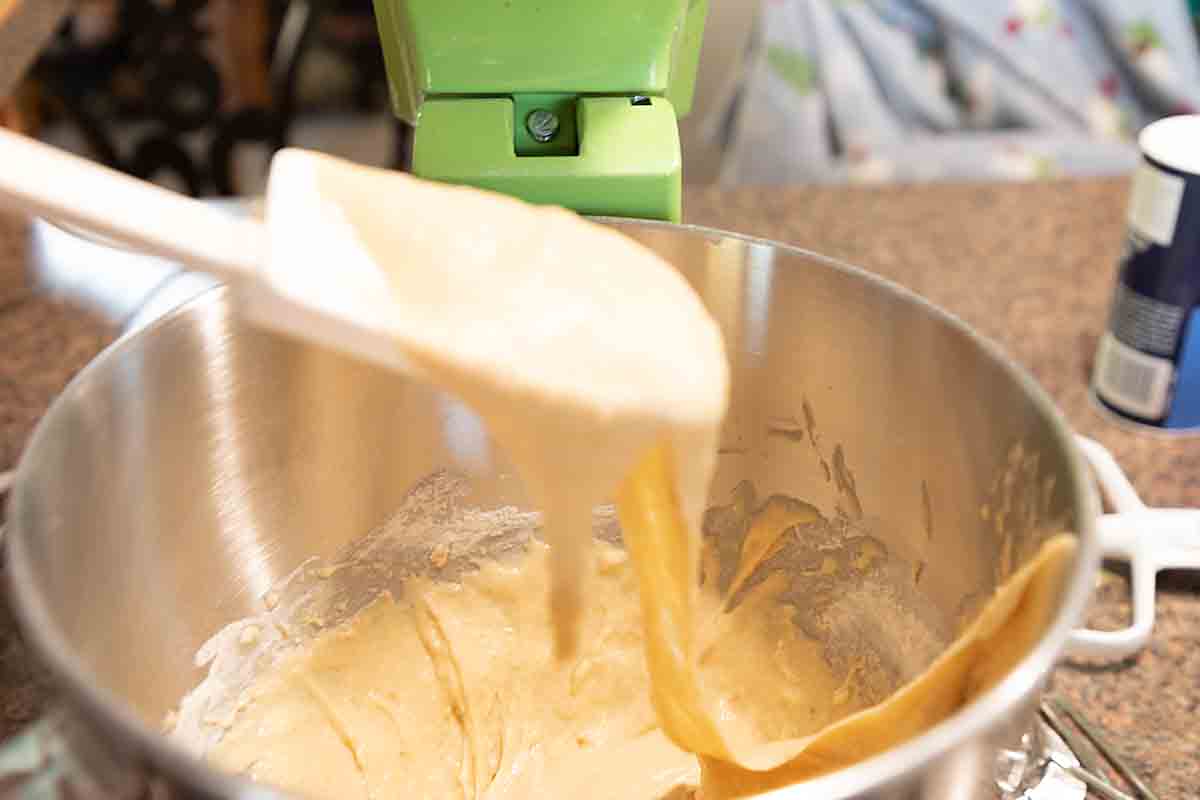 You push the mixture into boiling water through a device with large holes like a grater, colander or spaetzle maker
Cook until they are tender and float, then drain. Mix with butter and flavorings before serving.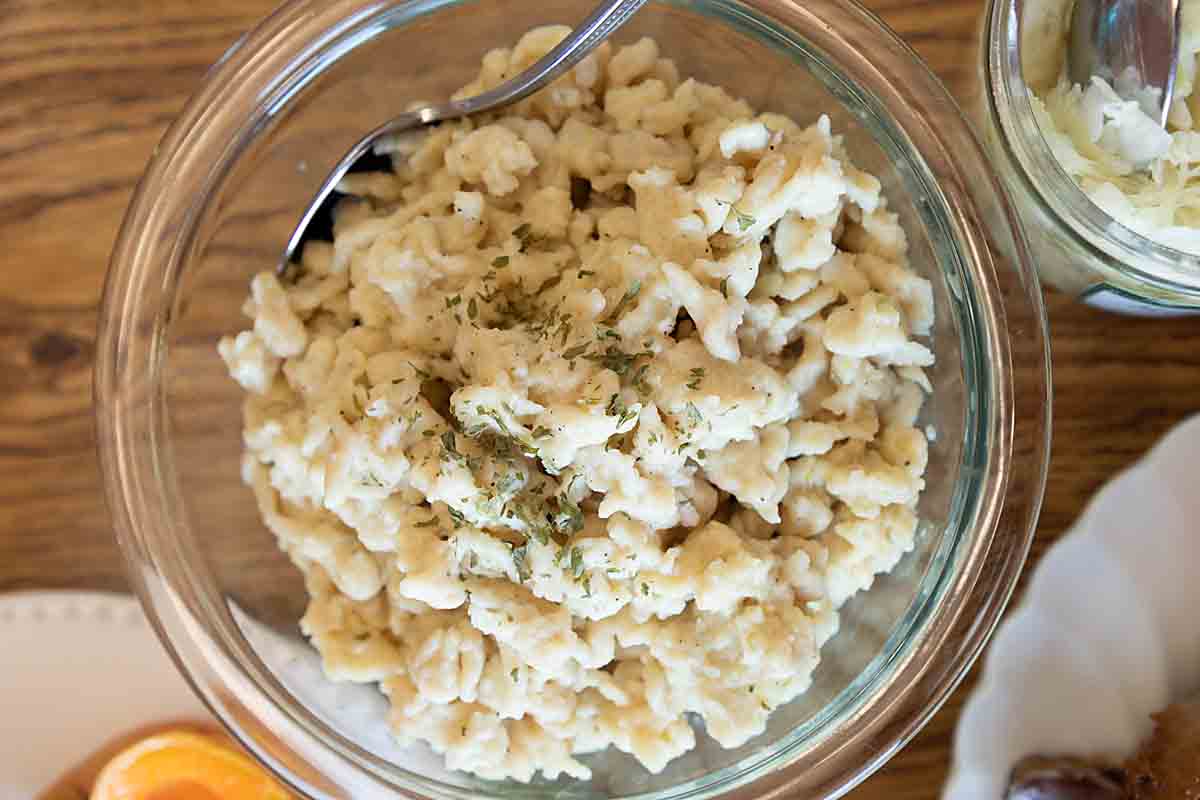 Tips & Notes
I've always enjoyed spaetzles in German restaurants, but never realized how easy they are!
There are special spaetzle-making devices that look like cheese graters with a batter holder. If I end up making these enough, I'll probably buy one. But in the meantime, a large-holed cheese grater is working fine (though I wish mine had slightly bigger holes). I've heard of people using a large-holed colander too.
When I made my first batch of spaetzles, I decided they were a little bland and I wondered why they weren't as good as Grandma's Egg Noodles, which have similar ingredients. Since Grandma cooked her noodles in chicken broth, I mixed in a little Better Than Boullion paste. This provided a nice flavor boost, so I included it in the final recipe. They have a vegetable stock product too for vegetarians.
I used half all-purpose and half a flour called "Gold n White" which has the wheat bran removed but keeps the germ. This made it a bit healthier but didn't feel heavier or wheat-y. I am guessing you'd have good results using some white whole wheat as well.
Many of the recipes I saw online included nutmeg. But I've never had spaetzles made with nutmeg in at least a dozen local German restaurants—and fewer of the recipes direct from Germany or Austria seemed to contain it. I'm not personally a nutmeg fan but if you feel you must you can add ¼ teaspoon or so.
Homemade German Spaetzles
Like a cross between an egg noodle and a dumpling, homemade German Spaetzles are a tasty, easy and versatile side dish. 
Ingredients
4

eggs

2/3

cup

milk

2

teaspoons

salt

2

cups

all-purpose flour

¼

cup

butter

1-2

teaspoon

Chicken

or Vegetable Better than Boullion mixed with 1-2 teaspoons water

1-2

Tablespoons

Chopped parsley
Instructions
In a large mixing bowl, mix the eggs, milk, and salt. Gradually add the flour, beating until the mixture has a thick, batter-like consistency. You may not use all the flour, or it may take a little more.

Bring a large pot of salted water to a boil over medium-high heat. Set your, grater or colander (or spaetzle machine) on top. Spoon some of the batter onto the device, then slide a spatula or wooden spoon along holes to push the batter through. Repeat until batter is used up.

Cook about 2 to 5 minutes or until spaetzle float and are tender. Strain the spaetzles and place in a large bowl. Toss with butter, better than bullion and parsley. Serve warm.
Nutrition
Calories:
283
kcal
Carbohydrates:
33
g
Protein:
10
g
Fat:
12
g
Saturated Fat:
6
g
Polyunsaturated Fat:
5
g
Cholesterol:
147
mg
Sodium:
829
mg
Fiber:
1
g
I am not a health professional and nutrition data is calculated programatically. Accuracy may vary with product selection, calculator accuracy, etc. Consult a professional for the best information.
Celebrate Spring Sides
We share Recipes From Our Dinner Table! Join our group and share your recipes, too! While you're at it, join our Pinterest board, too!