Light, airy, tart and bright, this Key Lime Soufflé is a fun and special dessert that is perfect for spring. Or any time of the year.
This post is sponsored in conjunction with #SpringSweetsWeek. I received product samples from sponsor companies to help in the creation of the #SpringSweetsWeek recipes. All opinions are mine alone. Be sure to check the bottom of this post for more spring recipes!
I hadn't made a soufflé in ages when I decided to make a key lime soufflé. And my one prior recipe, a crab soufflé made for an elegant Christmas Brunch, was delicious and beautiful.
So I had little fear going in.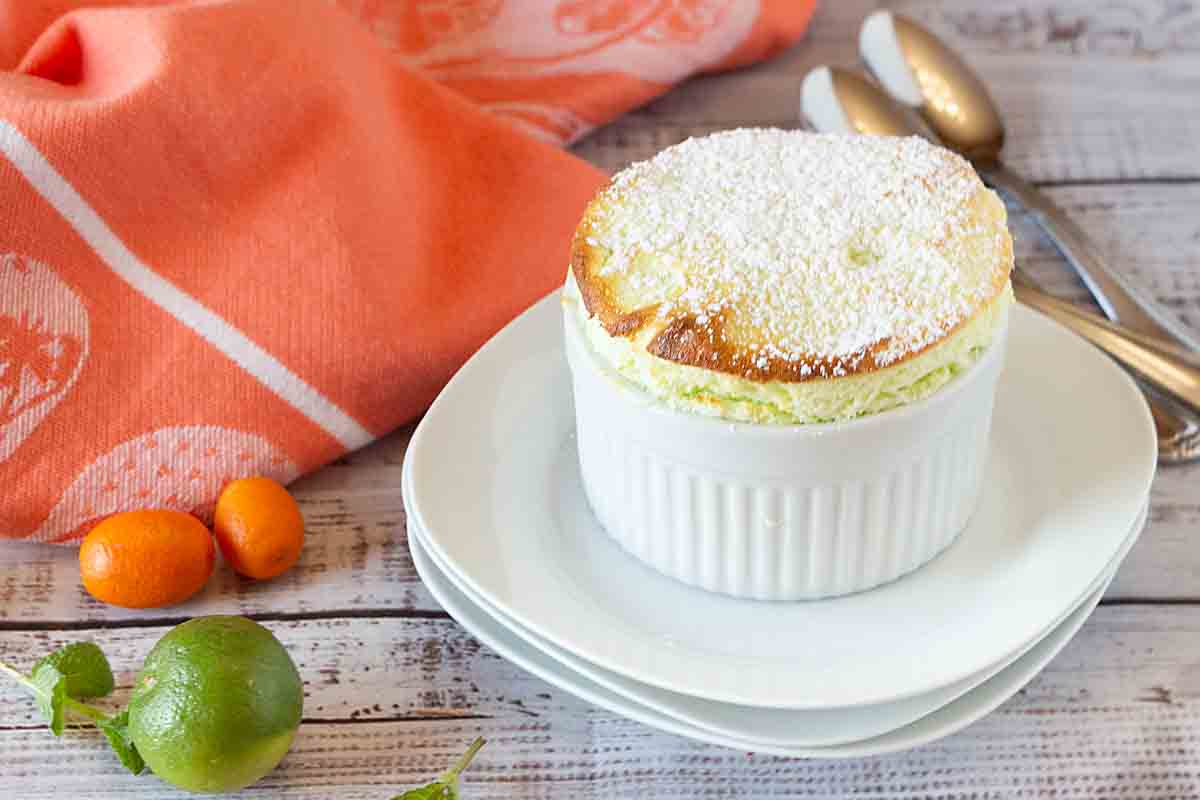 My first key lime soufflé was beautiful too–but for mere minutes. Then it collapsed into a sunken green pool. At least it tasted good.
It was then that I read that some soufflés have a preparation method that may make them more stable. They start with a base that is cooked before being mixed with beaten egg whites. So on to soufflé #2.
My second try at key lime soufflé was again tall and lovely. Luckily, this time they stayed in full glory long enough for me to get pictures. And even when they began to deflate, it was just a bit and they still looked good enough for me to feel proud serving.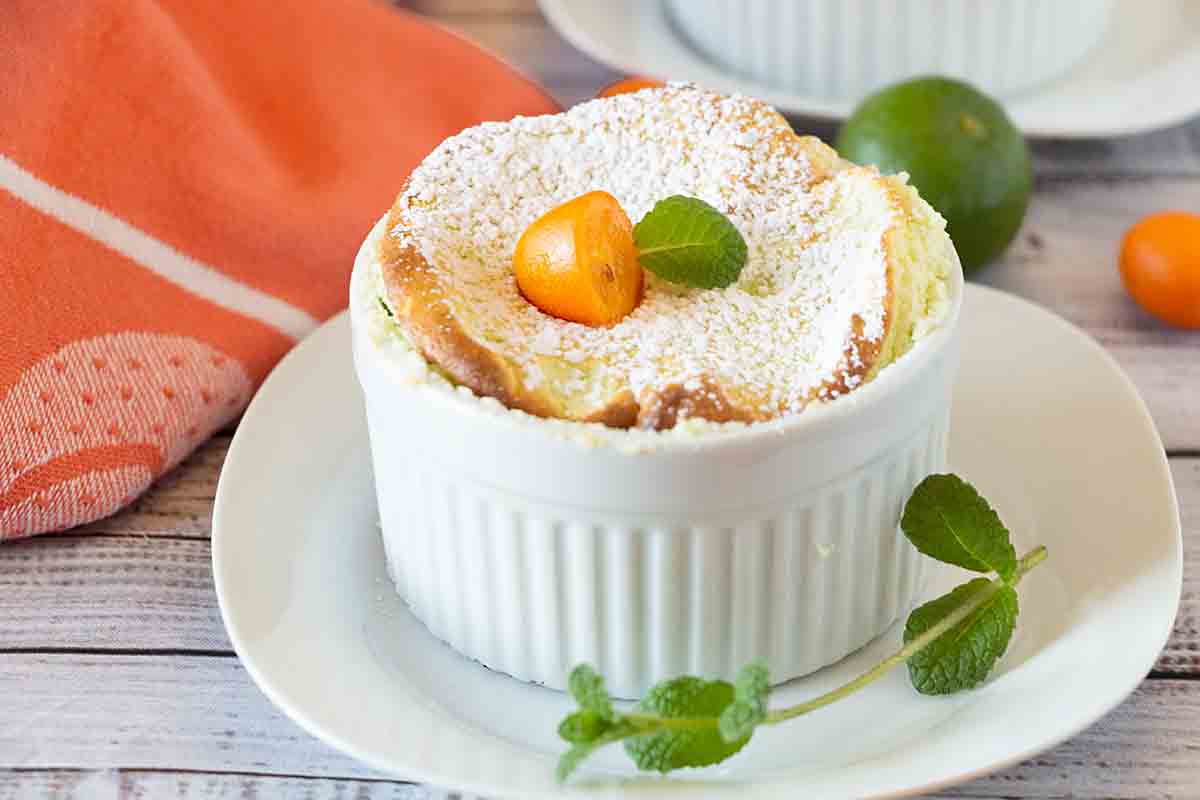 In the end, I decided that key lime soufflé was a perfect seasonal dish. Bright and tart, tasty and pretty, verdant like the coming spring.
And the real test? Even my picky daughter ate every bite.
How to Make Key Lime Soufflé
You start by making a custard batter using milk, egg yolks and lime. Cook until thickened, then strain.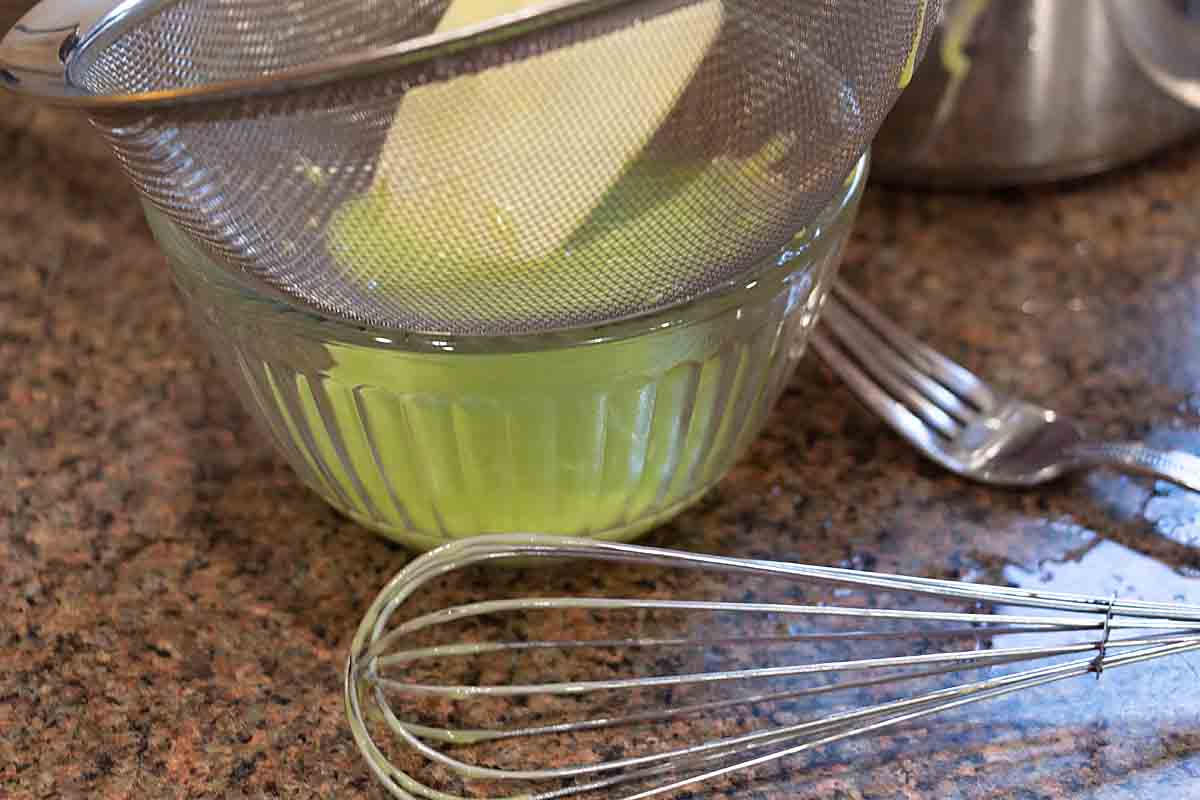 Whip the egg whites.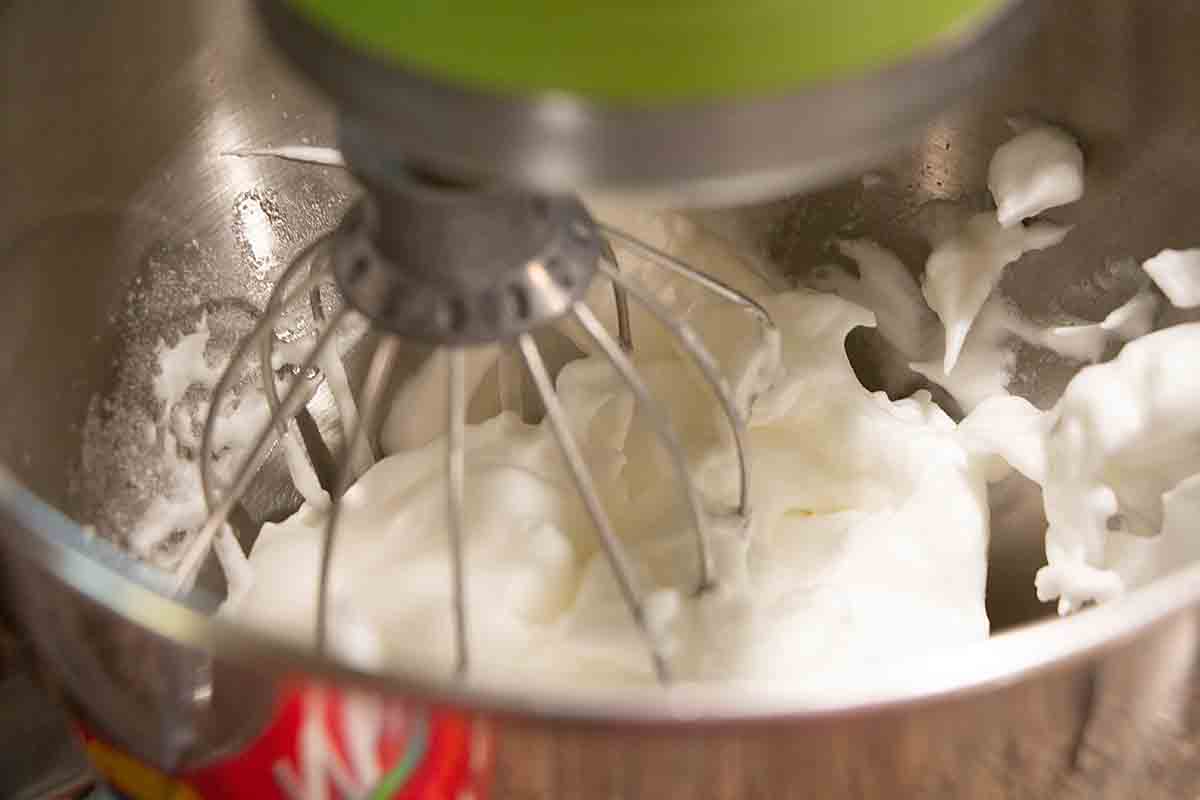 Fold together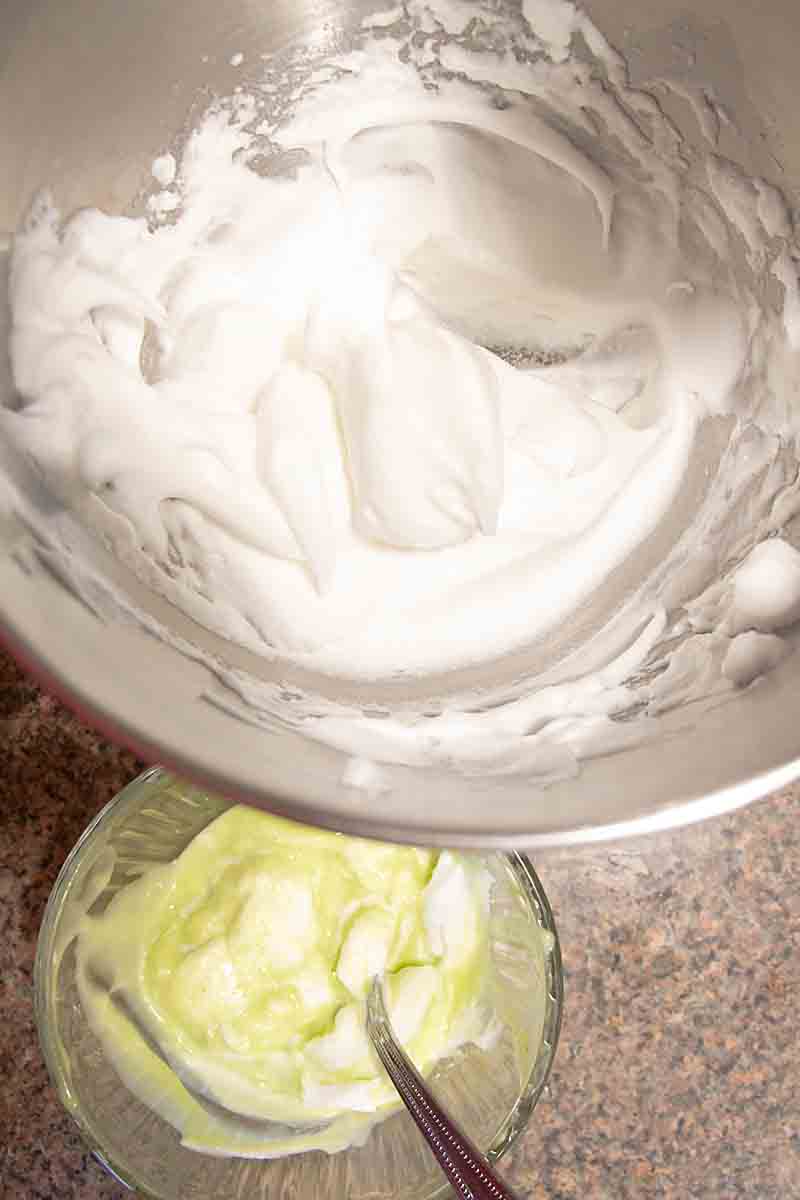 Fill soufflé dishes and bake
Dust with powdered sugar
Serve Immediately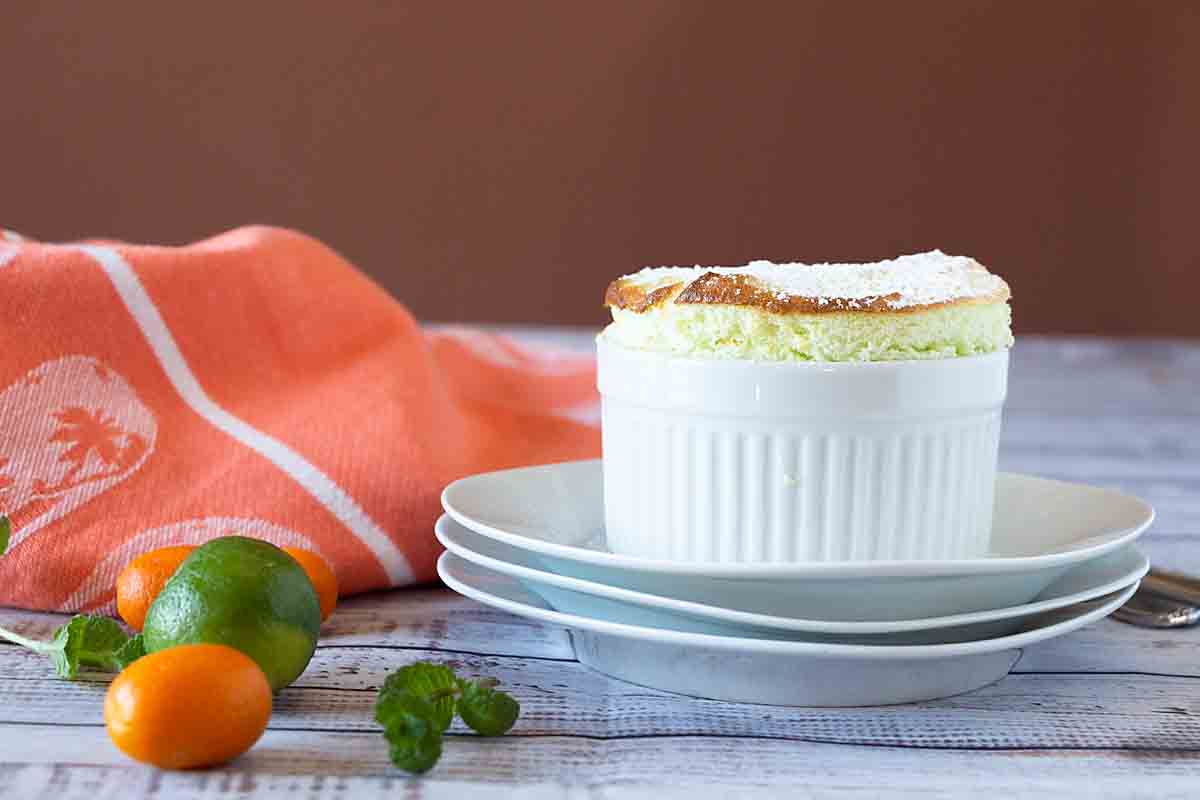 Tips and Notes
A soufflé can be a temperamental dish and everything I read said to remember that even if it falls, it generally tastes good and can still be served if you do it light heartedly. So maybe be ready with a soufflé joke, just in case?
Organic sugar is fashionable now. But for candies or more delicate baked goods (like a soufflé) I usually use a white sugar. I don't know why, but I have had results ranging from less-good to complete failure with organic. After enough issues, I started using only white sugar in anything sensitive. So I used sugar from Dixie Crystals here which was perfect and performed beautifully!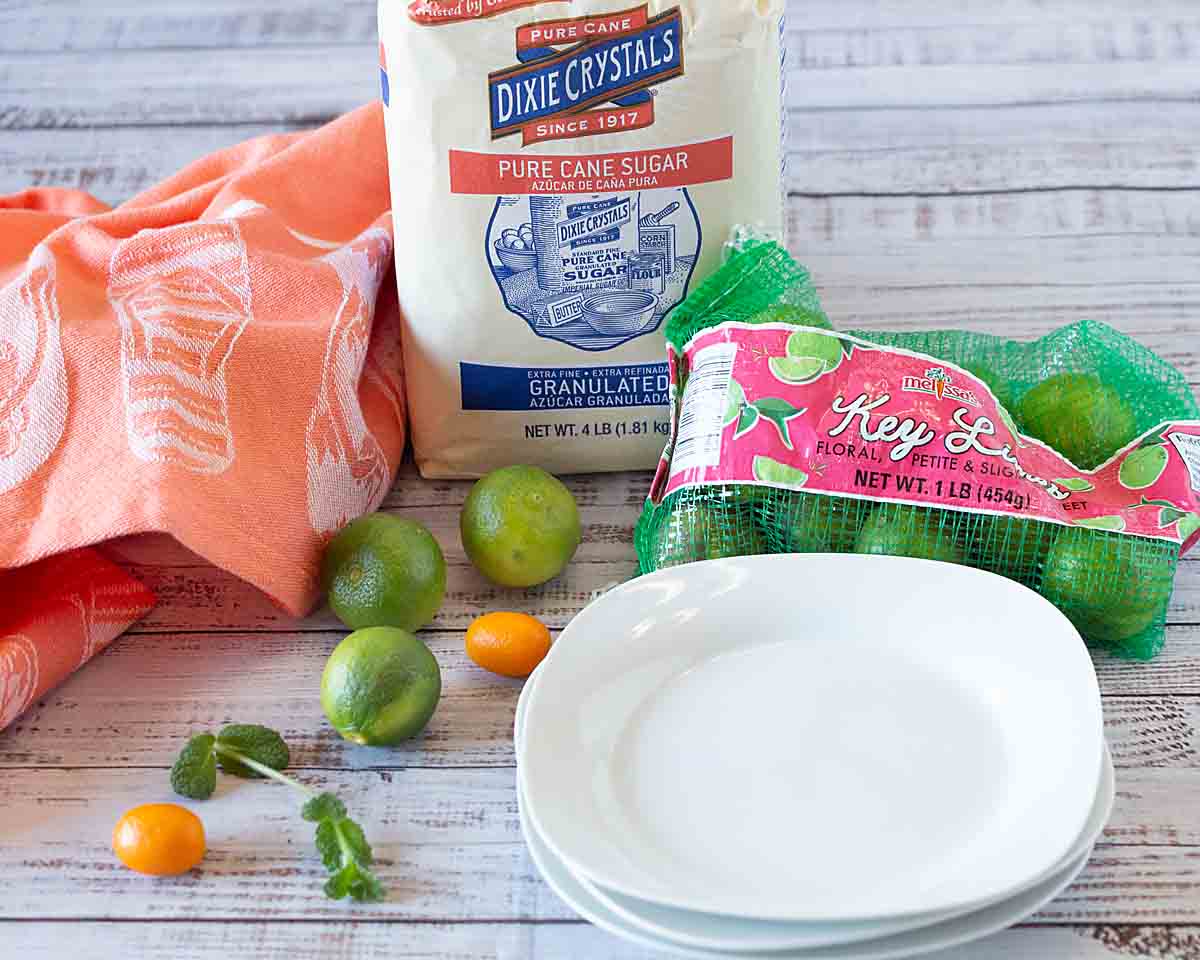 Egg size matters in this recipe. If you use eggs smaller than large or extra large, you may not fill four small souffle dishes.
The limes and kumquat garnish are from a lovely box of produce from Melissa's Produce, which brought a welcome ray of sunshine to my Wisconsin winter! If you don't have access to key limes, Persian (that is, ordinary) limes will work fine (Melissa's has these too!). Small berries would be another garnish option.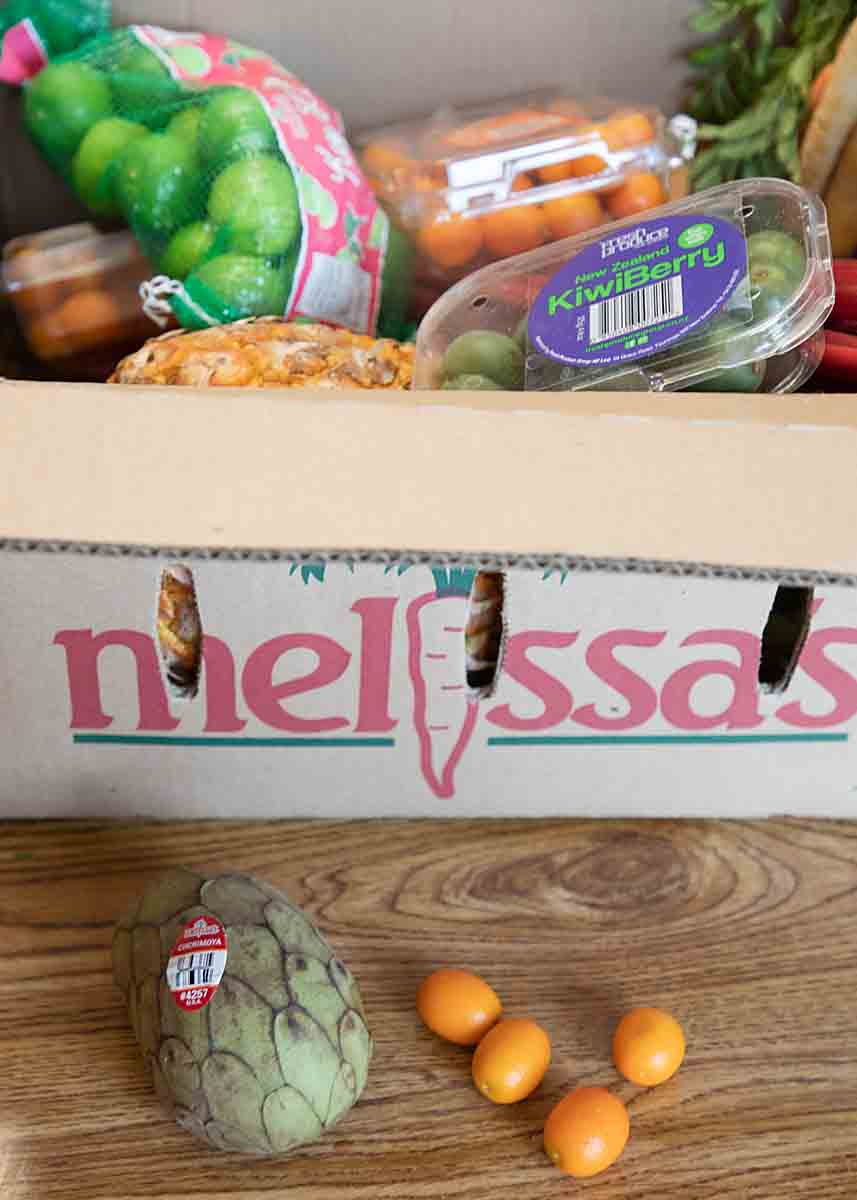 Word on the street is that you can leave a soufflé unbaked in the refrigerator for anywhere from 30 minutes to a few hours before baking. I haven't tried this but if you do I'd love to hear how it goes (and I'll update this if I try it).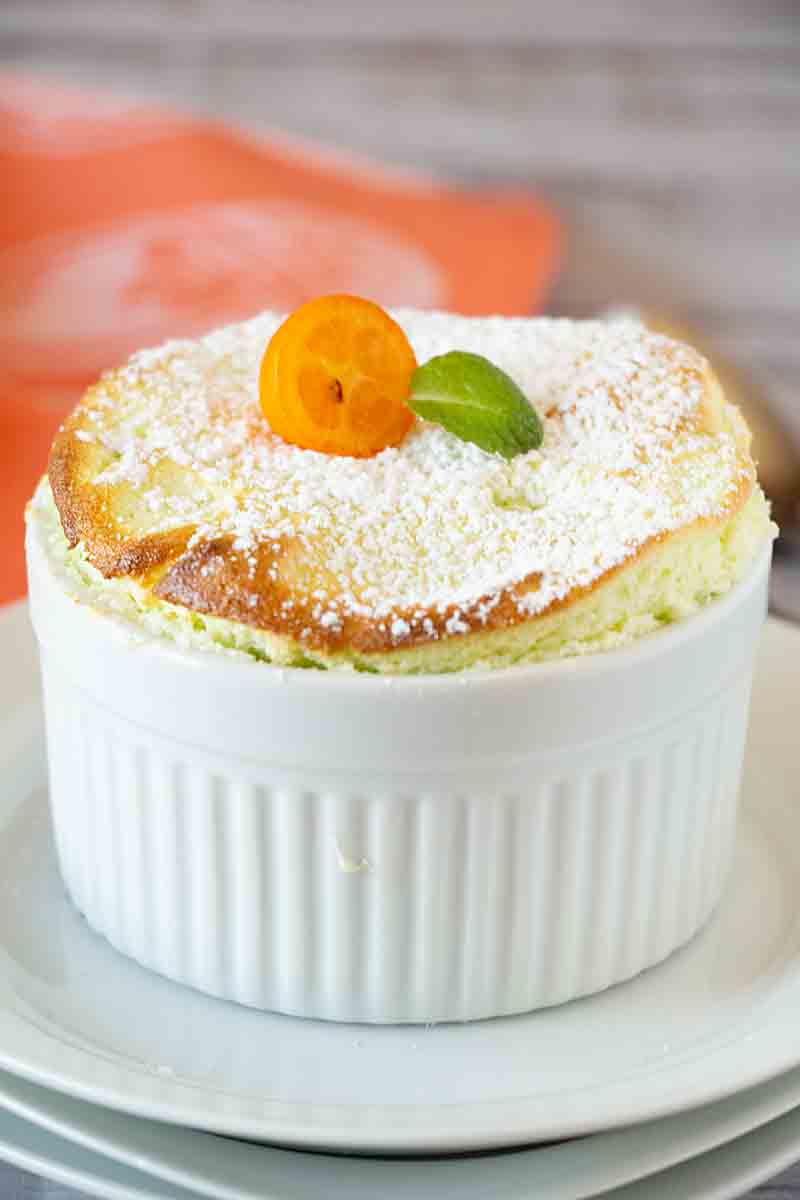 The slight green color is due to the yellow egg yolks plus a little blue food coloring. If you want it to look truly lime-y remember that the color of the egg yolk & lime batter will lighten when you fold in the beaten egg white.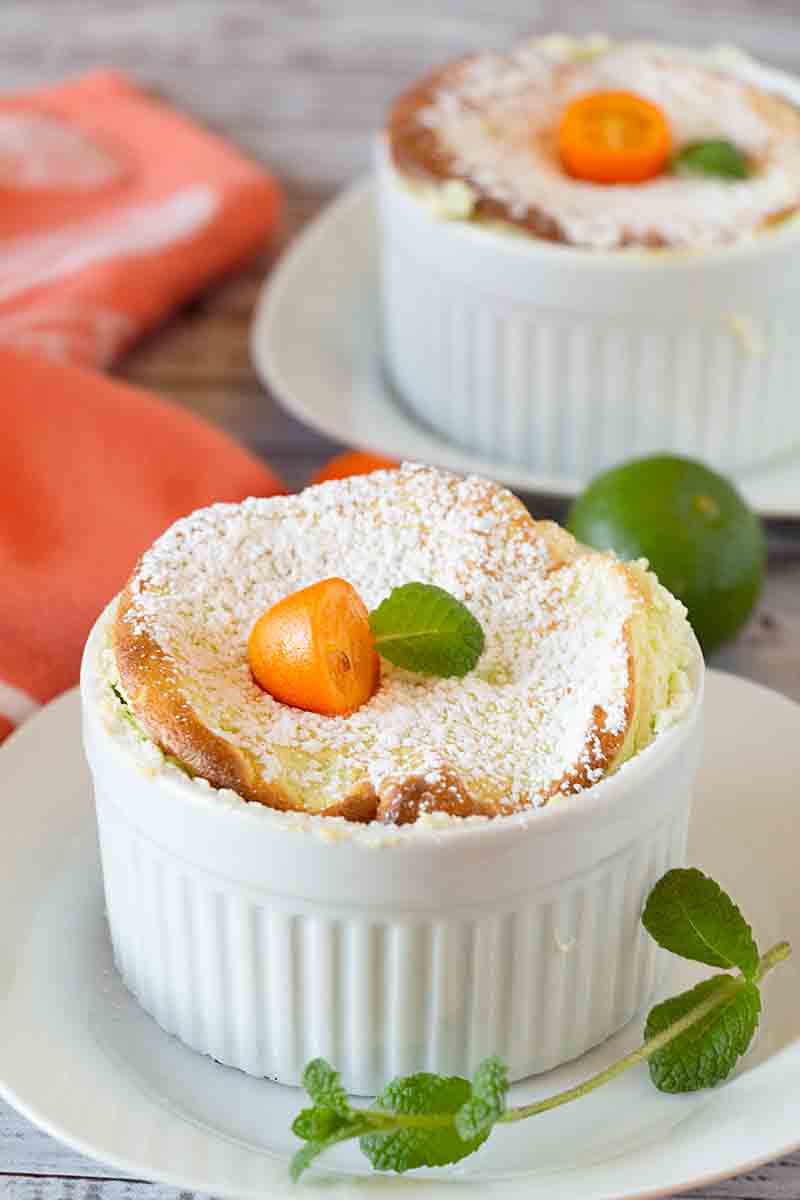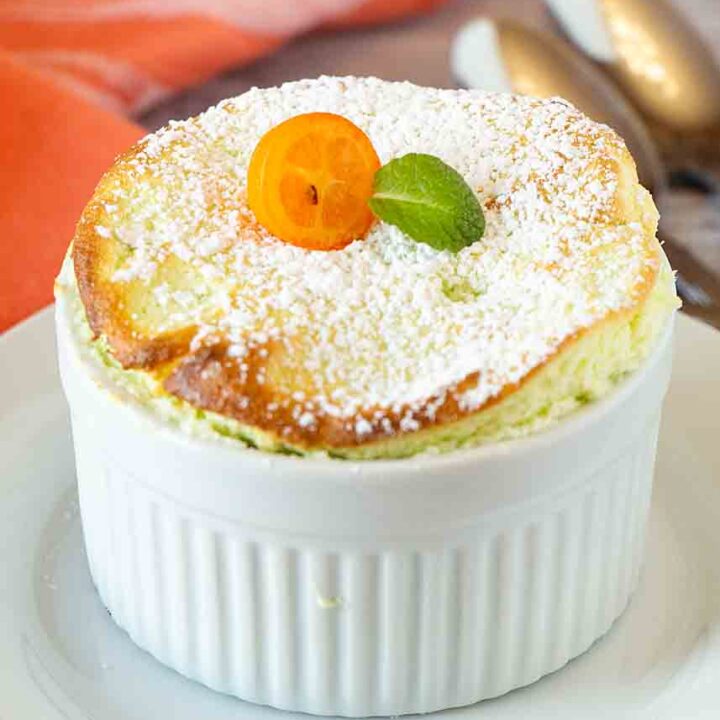 Key Lime Soufflé
Light, airy, tart and bright, this Key Lime Soufflé is a fun and special dessert that is perfect for spring.  Or any time of the year.
Ingredients
Dish prep:
1-2 teaspoons butter
About 1 Tablespoon sugar for dusting the dishes
Souffle:
2 large or extra-large eggs, separated
3 Tablespoons granulated sugar, divided
1/2 Tablespoon all-purpose flour
1 ½ Tablespoons fresh lime juice
½ Tablespoon lime zest
1/4 cup whole milk
Pinch of cream of tartar
Garnish:
1 Tablespoon powdered sugar
2 kumquats
4 small mint leaves
Instructions
Preheat oven to 350 degrees. Butter 4 6-ounce souffle dishes, and then dust with granulated sugar.

In a small saucepan whisk together yolks, flour, juice, zest, milk and 1 tablespoon granulated sugar. Continue whisking on medium-low heat until mixture thickens, 3-4 minutes. Strain through a sieve and refrigerate to let cool.
Beat whites and cream of tartar until foamy. Gradually add remaining 2 tablespoons sugar, and beat until stiff peaks form.
Stir ¼ of the whites into the yolk mixture to lighten it. Gently fold in the remaining whites using a rubber spatula taking care not to deflate
Fill each souffle dish to the top and level. Wipe any excess batter from the rims
Bake until souffles rise and are golden and set, about 15-20 minutes. Remove from oven, dust with powdered sugar, garnish if desired, and serve immediately.
Nutrition Information:
Yield:

4
Serving Size:

1
Amount Per Serving:
Calories:

229
Total Fat:

5g
Saturated Fat:

2g
Trans Fat:

0g
Unsaturated Fat:

2g
Cholesterol:

100mg
Sodium:

60mg
Carbohydrates:

43g
Fiber:

1g
Sugar:

40g
Protein:

4g
Nutrition data accuracy may vary with product selection, calculator accuracy, etc. Consult a professional for the best information.
More Spring Recipes
Friday #SpringSweetsWeek Recipes
We share recipes from #SpringSweetsWeek on Pinterest! Make sure you follow the board to see all the delicious recipes shared this week.
Thank you #SpringSweetsWeek Sponsors: Dixie Crystals, Door County Coffee & Tea Co., Circulon, Melissa's Produce, Taylor and Colledge, and Nairn's for providing the prizes free of charge. These companies also provided the bloggers with samples and product to use for #SpringSweetsWeek recipes. All opinions are my own.