No Churn Lavender Ice Cream
With a creamy, sweet, slightly floral flavor, no churn lavender ice cream is both easy and delicious. Perfect for a spring dessert or snack!
This post is sponsored in conjunction with #SpringSweetsWeek and may contain Amazon or other affiliate links. I received product samples from sponsor companies to help in the creation of the #SpringSweetsWeek recipes. All opinions are mine alone.
If you've never made no churn ice cream before, you've got to give it a try. It's revolutionized making ice cream at home–and for good reason. No cook, no churn, no special equipment! And did I mention it's delicious?
Ever since eating my first lemon lavender cupcake more than a decade ago, I've been a lavender fanatic. It took me years to recreate that cupcake, but since then I've gone wild. Things like No-Torch Lavender Creme Brulee, Lavender Vanilla Madeleines and Honey Lavender Scones,
I even attended a Lavender festival where I had my first lavender ice cream. And (drumroll). It. Was. Amazing.
How to Make No Churn Lavender Ice Cream
I wasn't kidding when I said no churn ice creams have revolutionized the homemade market. They truly are super easy and delicious. You start by mixing all the ingredients except the cream: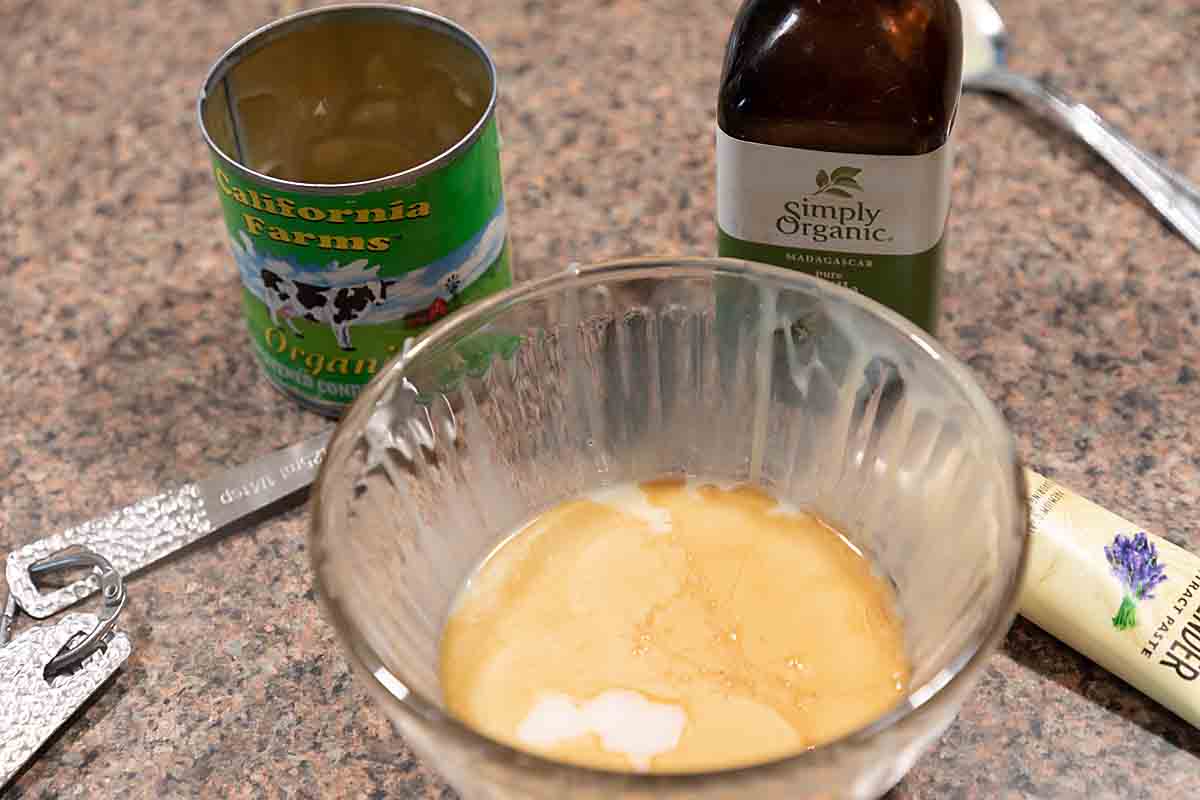 Fold the two together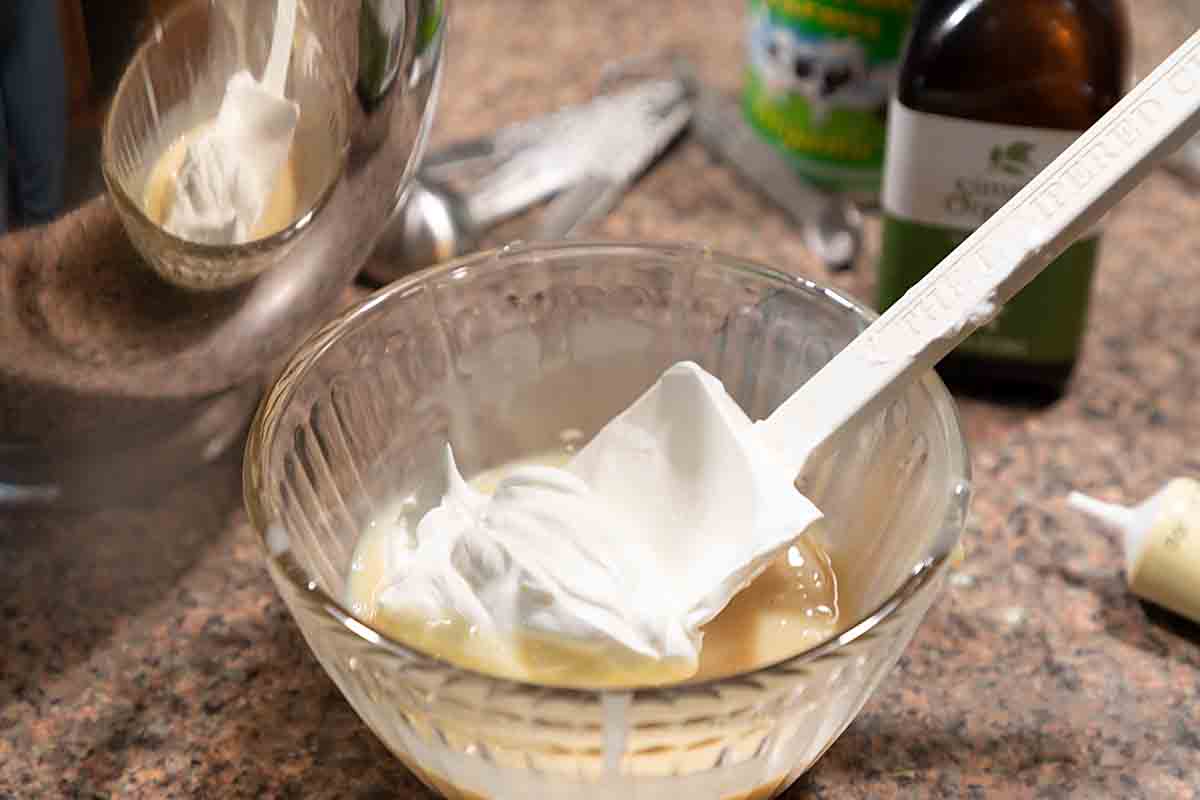 Pour into a shallow freezer container
Freeze until firm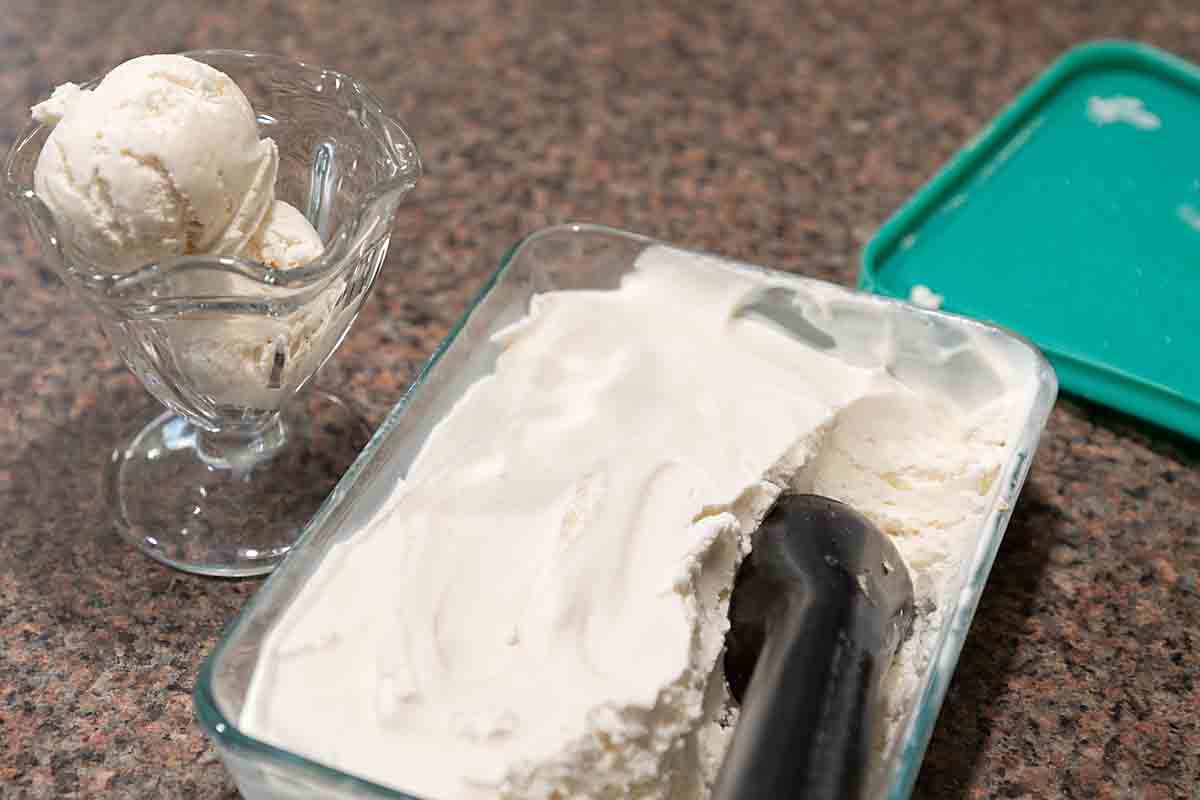 Then serve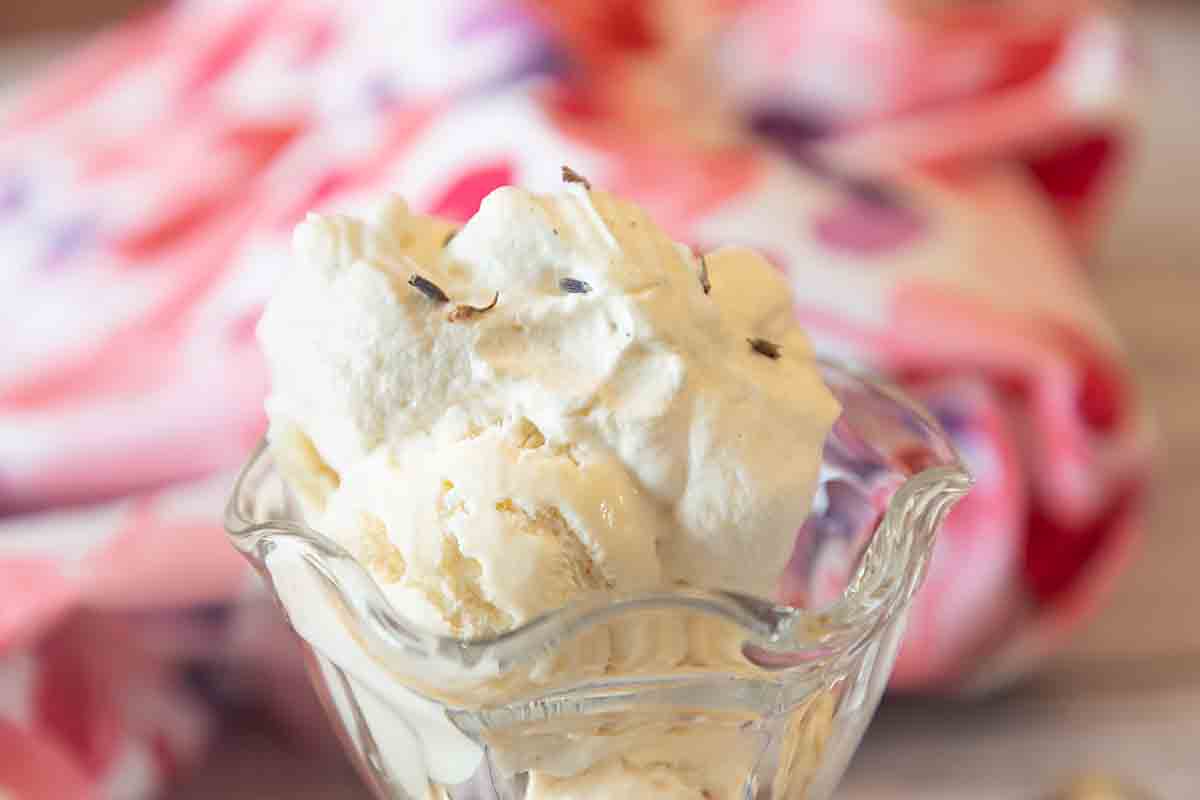 Yum!
Cooking with Lavender
As I mentioned, I've done a lot of cooking with lavender. I always worked with dried culinary lavender but there are some real challenges to this.
First dried lavender has a pretty significant bitterness and a mild floral flavor. If you go too easy on the lavender, the flavor doesn't spread through the whole dish—and too much makes it bitter. Putting it through a blender didn't really help either. I finally solved the problem by adding the dried lavender buds to the sugar the night before and sealing them up. This infused the flavor through the sugar and therefore through the whole dish. Problem #1 was solved, though it did mean I needed to start the dish a day ahead of time for best results.
The second problem was the bits of lavender. These can be attractive and are not offensive to munch on in a cupcake. But I think It's downright nasty to get a mouthful of dried flowers in a spoonful of ice cream. Ditto for a smooth buttercream. I even tried pulverizing it in the blender but it wouldn't grind fine enough.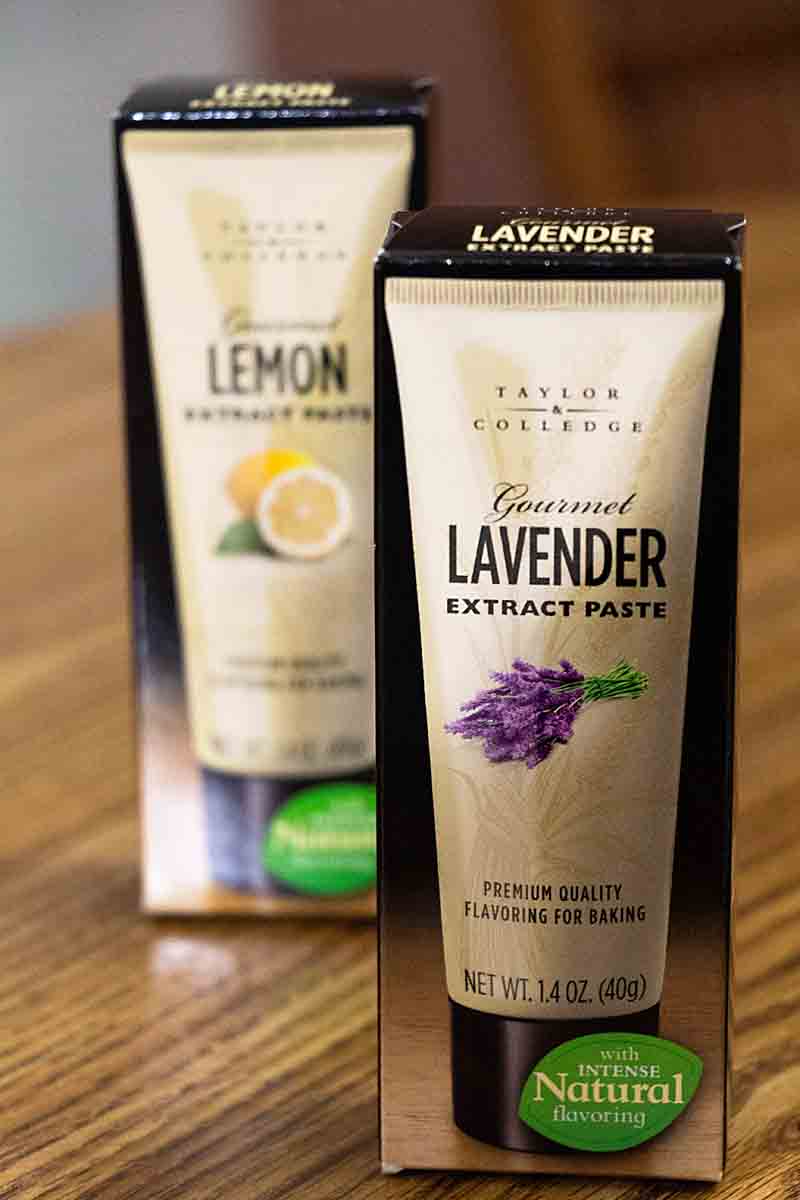 So, for my no churn lavender ice cream, I used Taylor and Colledge Lavender Extract Paste (which you can buy here). The texture was smooth, and the flavor was identical to natural dried lavender at its best. Problem solved AND now I don't have to start the night before!
Tips and Notes
I was happy to see that Taylor and Colledge didn't artificially color their lavender paste. I usually try to go the more natural route. If you want the (admittedly lovely) lavender color, feel free to enhance yours with your favorite food safe color. I did sprinkle on (sparingly) a few buds of lavender for garnish.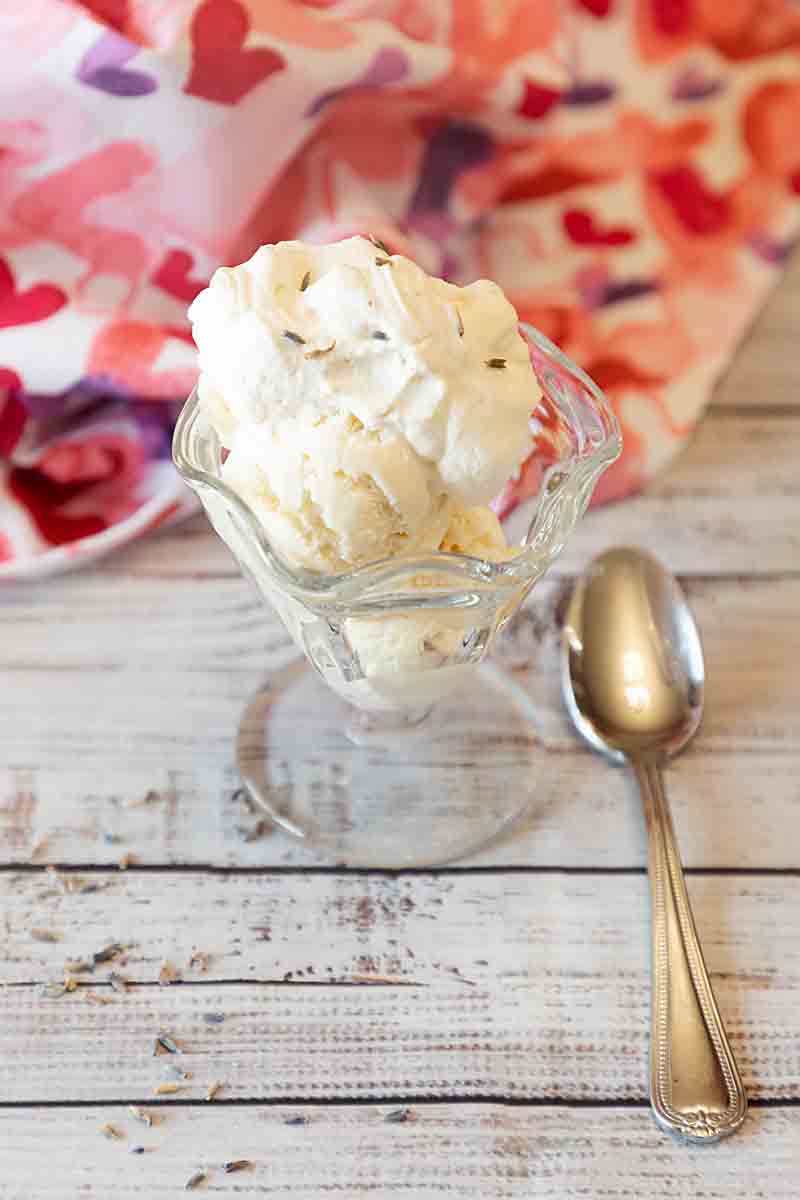 I often mix vanilla with other flavors (Taylor and Colledge has vanilla too) when I create a recipe. It seems to mellow them out and help remove any harsh or strident notes. This recipe still has a mere 4 ingredients!
After I made my first batch of this no churn lavender ice cream my oldest decided to one up me and made a trio of lavender, lemon and rose ice creams. Yes, yum, yum and yum. She did color these to set them apart.
Yes, if a recipe can get one of my kids to cook, you better believe it's good!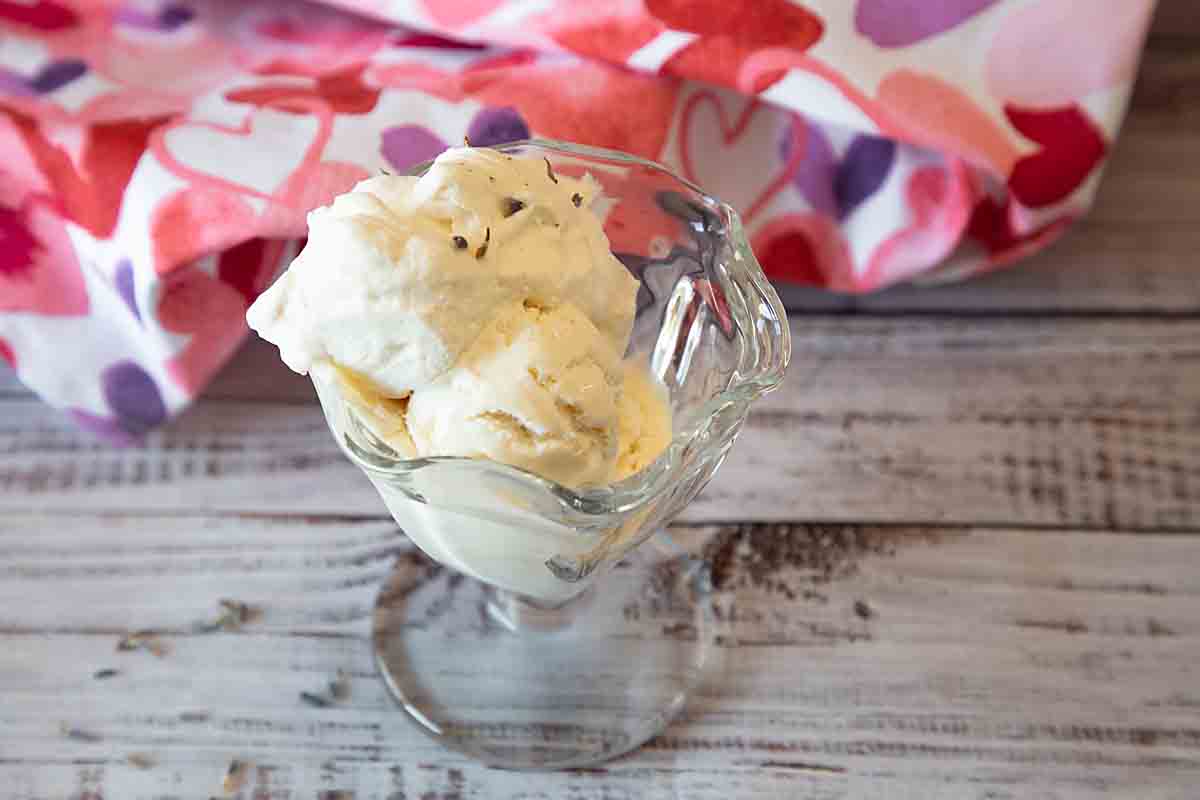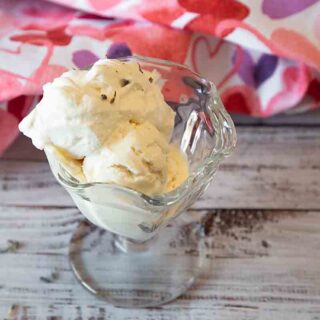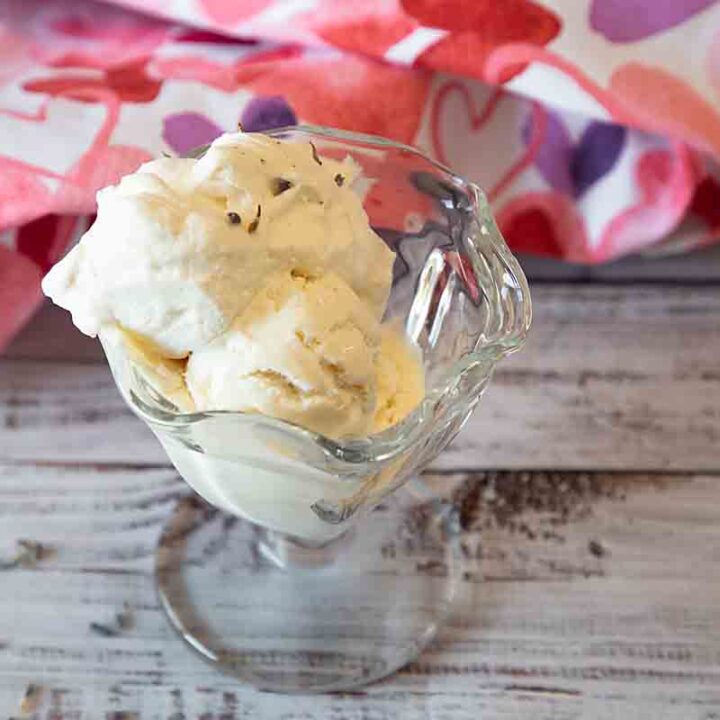 No Churn Lavender Ice Cream
With a creamy, sweet, slightly floral flavor, no churn lavender ice cream is both easy and delicious.  Perfect for a spring dessert or snack!
Ingredients
1

can

14 ounces sweetened condensed milk

1

teaspoon

pure vanilla extract or paste

1

teaspoon

lavender paste

2

cups

cold heavy cream
Instructions
Combine sweetened condensed milk, vanilla and lavender.

Beat cream on high speed until stiff peaks form.

Fold 1/4 of whipped cream into lavender mixture to lighten, then fold in remaining whipped cream taking care not to deflate too much.

Pour into freezer container (something low and wide is ideal) and frreeze until firm, about 2-3 hours.

Scoop out and serve immediately. Sore unused portion in freezer.
Nutrition
Calories:
219
kcal
Carbohydrates:
4
g
Protein:
2
g
Fat:
22
g
Saturated Fat:
14
g
Polyunsaturated Fat:
6
g
Trans Fat:
1
g
Cholesterol:
69
mg
Sodium:
22
mg
Sugar:
4
g
I am not a health professional and nutrition data is calculated programatically. Accuracy may vary with product selection, calculator accuracy, etc. Consult a professional for the best information.
More Spring Recipes
Wednesday #SpringSweetsWeek Recipes
We share recipes from #SpringSweetsWeek on Pinterest! Make sure you follow the board to see all the delicious recipes shared this week.