Fiskefrikadeller (Danish Fish Cakes)
Smooth, crisp and delicately flavored, Fiskefrikadeller (Danish Fish Cakes) make a delicious entrée or unique appetizer.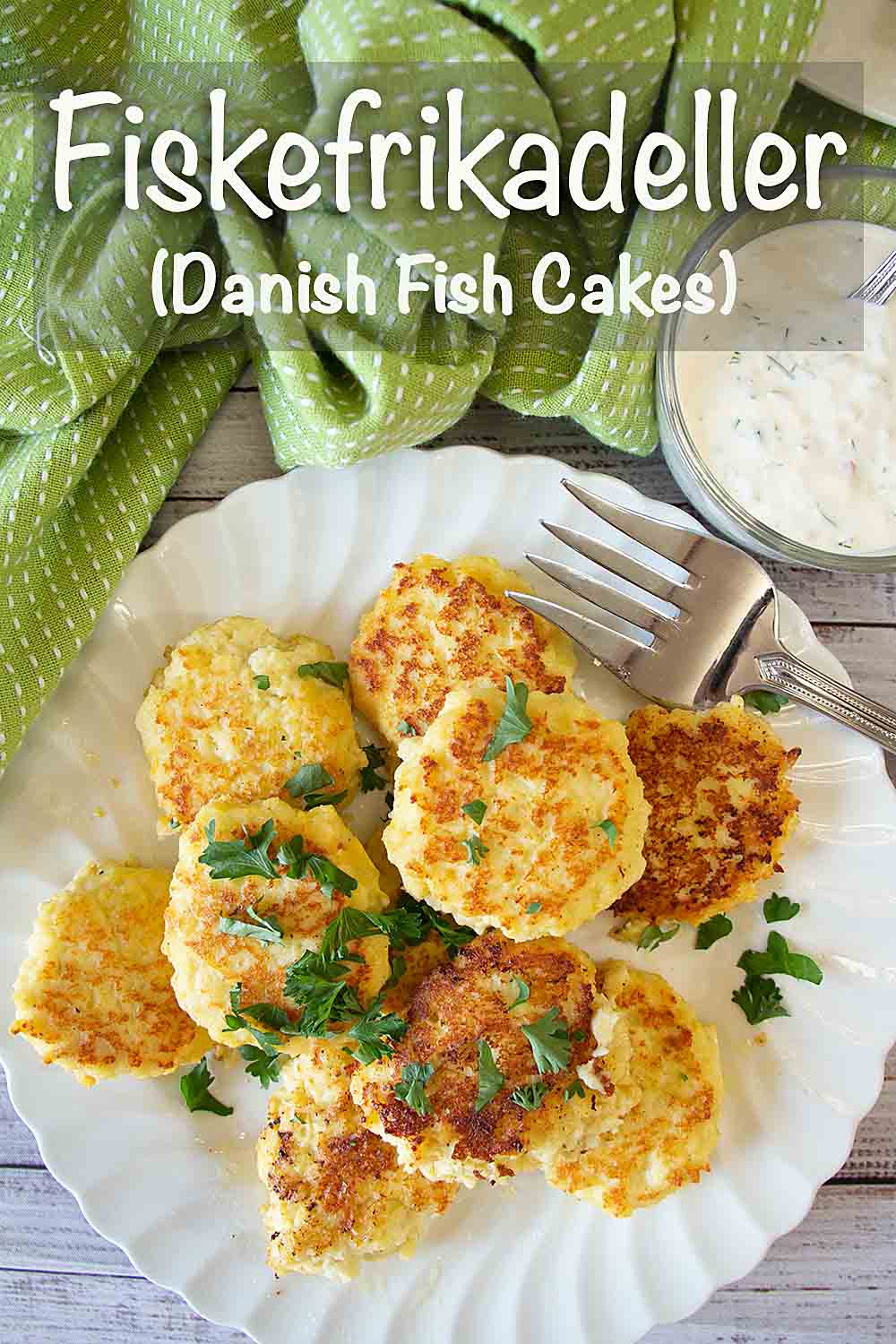 I was given seafood for purposes of this review but all opinions are my own.
Growing up, my mother used to rave about the Danish Fish Cakes or Fiskefrikadeller her mother made. Sadly, I never got to try them, just the meat Frikadeller that were standard at our family gatherings. It seems that by the time I was old enough to appreciate food, the fish version had disappeared from the menu.
Though I got a few lessons at Grandma's side, like cookies or aebleskivers, my mother never learned to make the tasty Danish dishes her mother served, so this recipe was lost. Happily, the internet came through and I found a recipe at Marinas Mad (a lovely blog in Danish but easy to read with the Chrome translator).
I was happy to finally taste the dish I'd heard so much about! Basically high end fish cakes, I'd describe them as an elegant-casual entrée. You know the type of dish that feels casual–but has enough flavor and good looks to rival fine dining. Delicately flavored, moist, almost creamy—yum!
And while I don't believe these were traditionally used as an appetizer, they'd be beautiful this way. I'd serve them up individually, each topped with a dollop of aioli and a tiny dill sprig.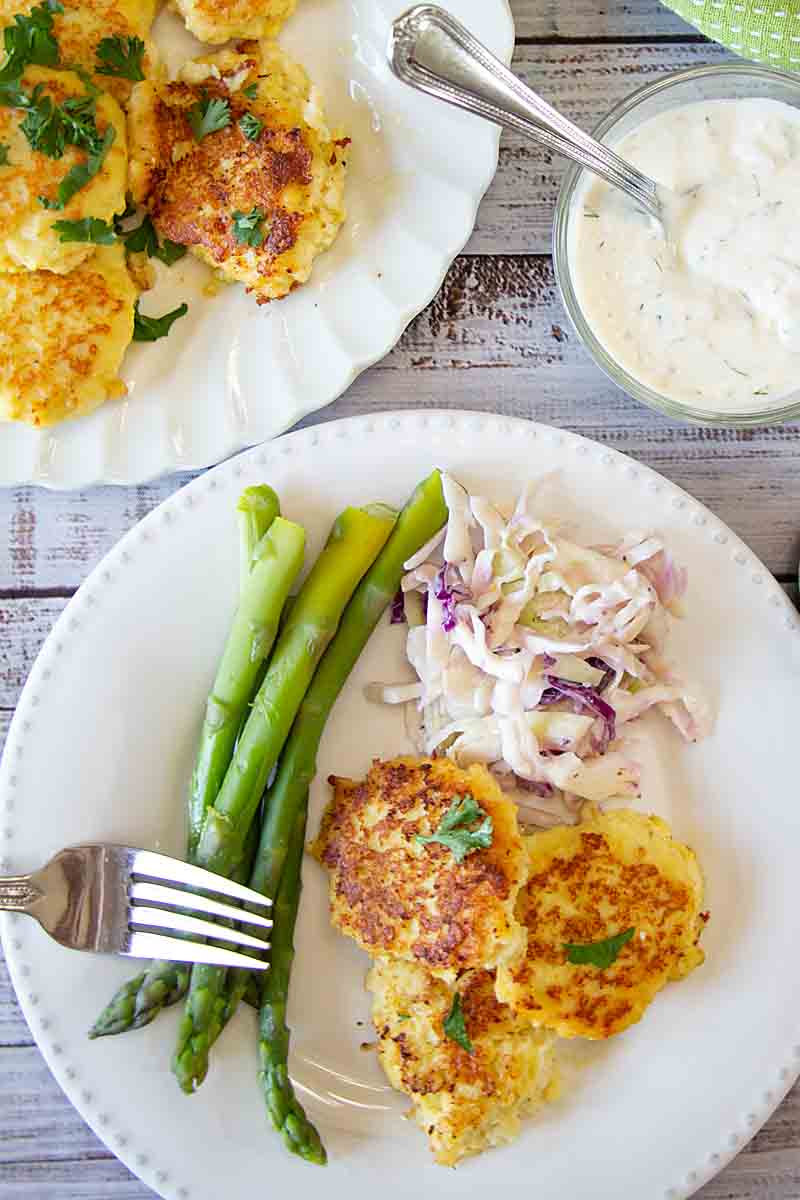 Preparation
I quickly learned that "hard" was not the reason these dropped out of sight.
You typically start with cod fillets–though I used some chopped halibut I had from my Community Supported Fishery Sitka Salmon Shares. Sitka is how I source quality, environmentally responsible seafood (see here for more detail).
You start by chopping the fish roughly in a food processor. Next you add salt, then grated onion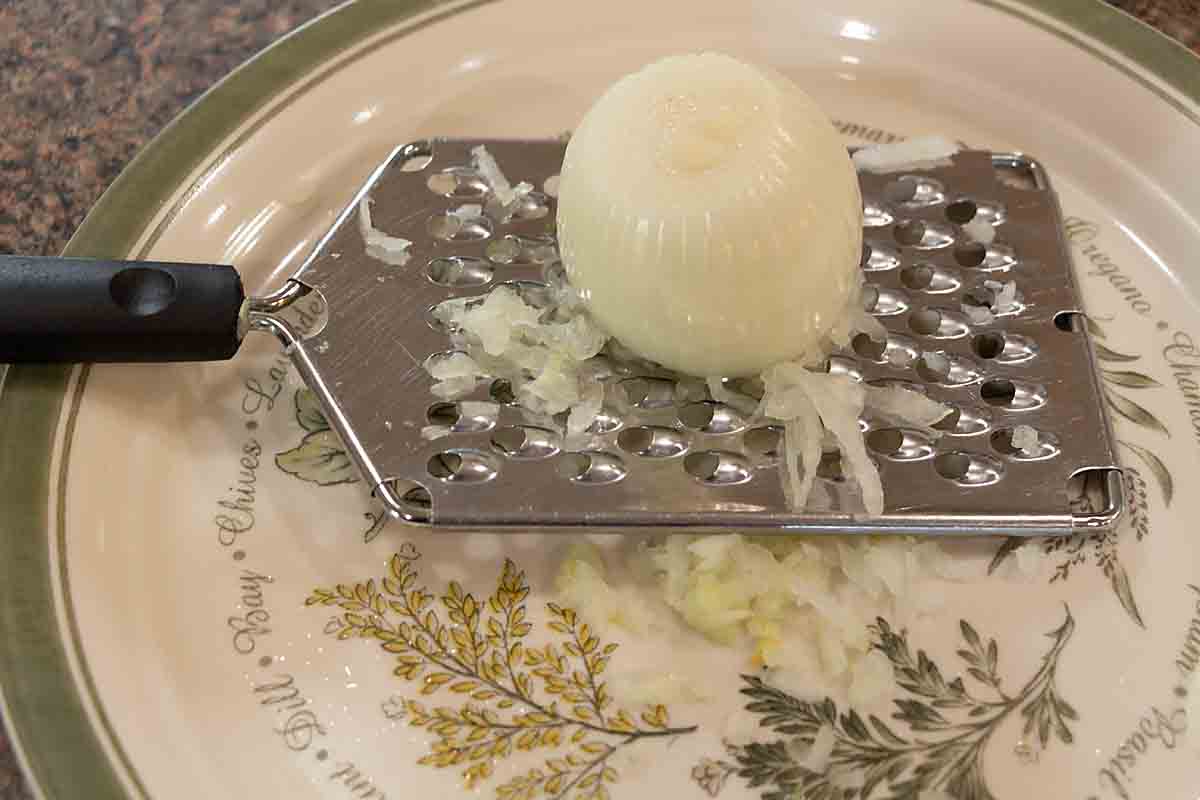 Add eggs one at a time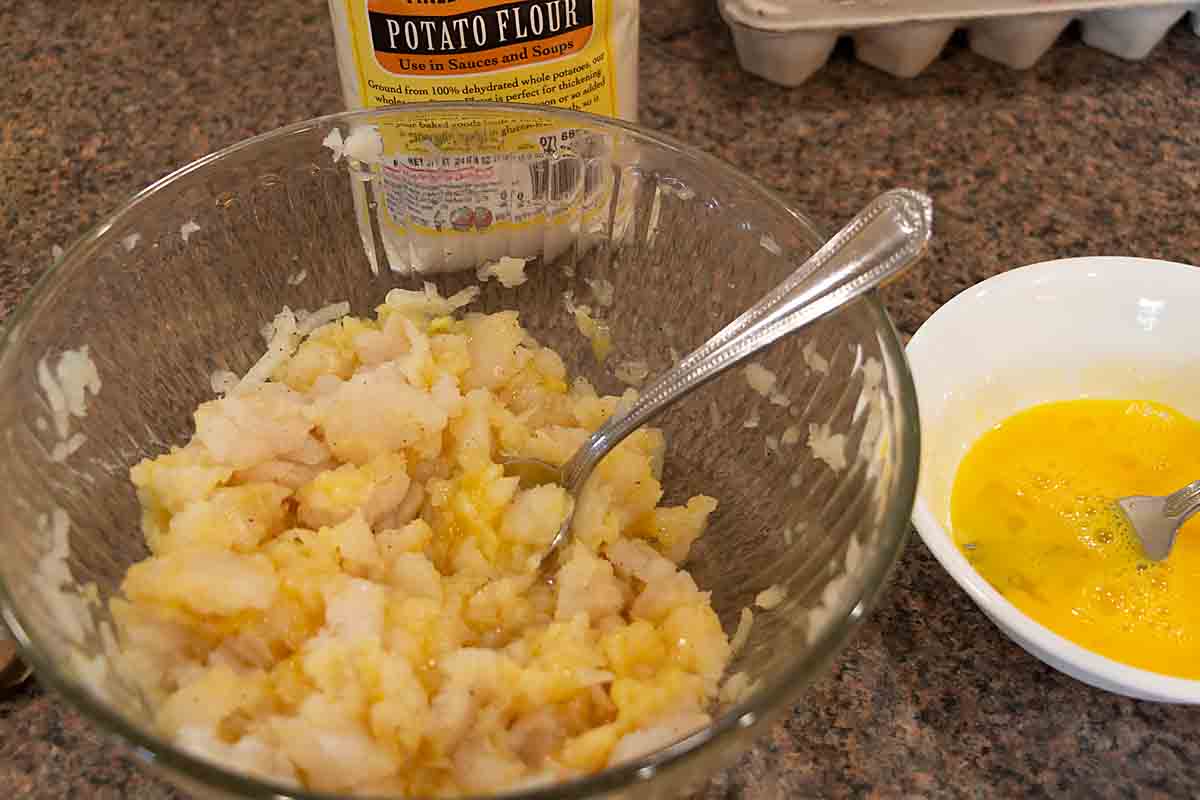 Add potato flour, pulse again, then gradually add milk
Form into small patties and fry in a hot oil/butter combo until cooked through and golden on both sides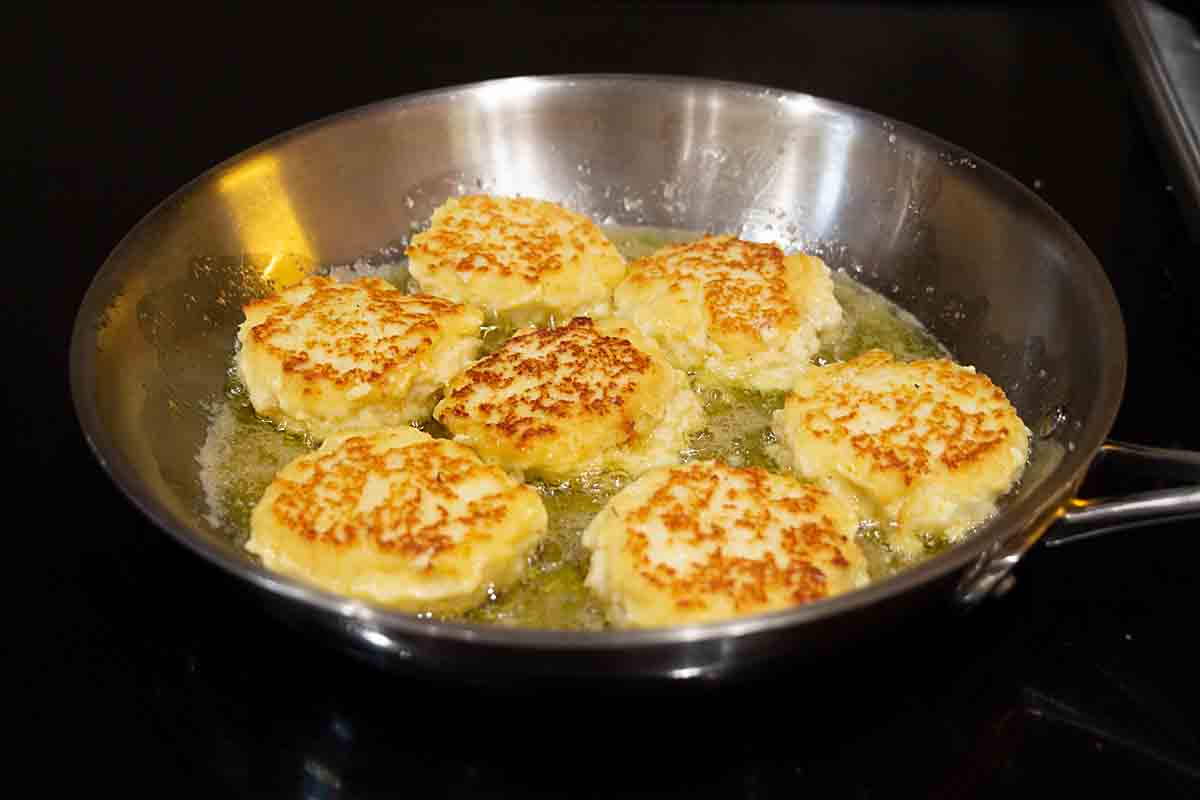 Enjoy.
Tips and Notes
THIS SECTION CONTAINS AFFILIATE LINKS. THAT MEANS THAT IF YOU MAKE A PURCHASE AFTER CLICKING ON A LINK AND ENTERING MY CODE, I MAY EARN A SMALL COMMISSION AT NO EXTRA COST TO YOU–SO THANKS!
This recipe calls for potato flour which I bought specifically for it. Since the goal is a creamy moist fish cake and I was working with a pound of quality fish, I didn't want to do trial and error with a substitute. If you are braver than I am, here is King Arthur's take on the subject (hint, it's cornstarch with reservations–let me know if you try it).
For seafood lovers, be sure to check out my Seafood Pasta Puttanseca post which explains how the Community Supported Fishery we belong to works, along with some considerations in selecting seafood and a small discount offer. Truly, it's both practical and indulgent to always have good, environmentally responsible seafood in your freezer!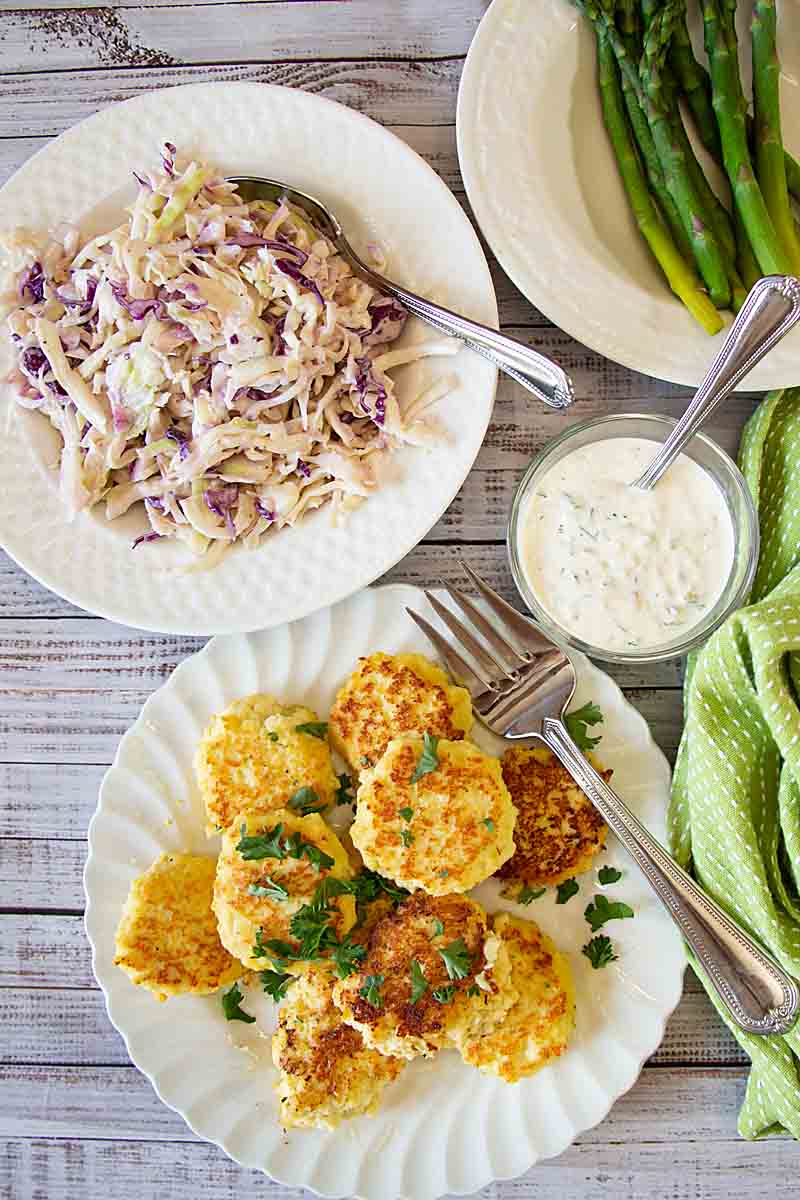 Finally, I will absolutely make this again. We ate our Fiskefrikadeller right away, but the original author said they can be kept warm in the oven briefly or the batter can keep for up to an hour before frying.
She also said any leftovers are good cold. Which could mean a future Fiskefrikadeller Salad!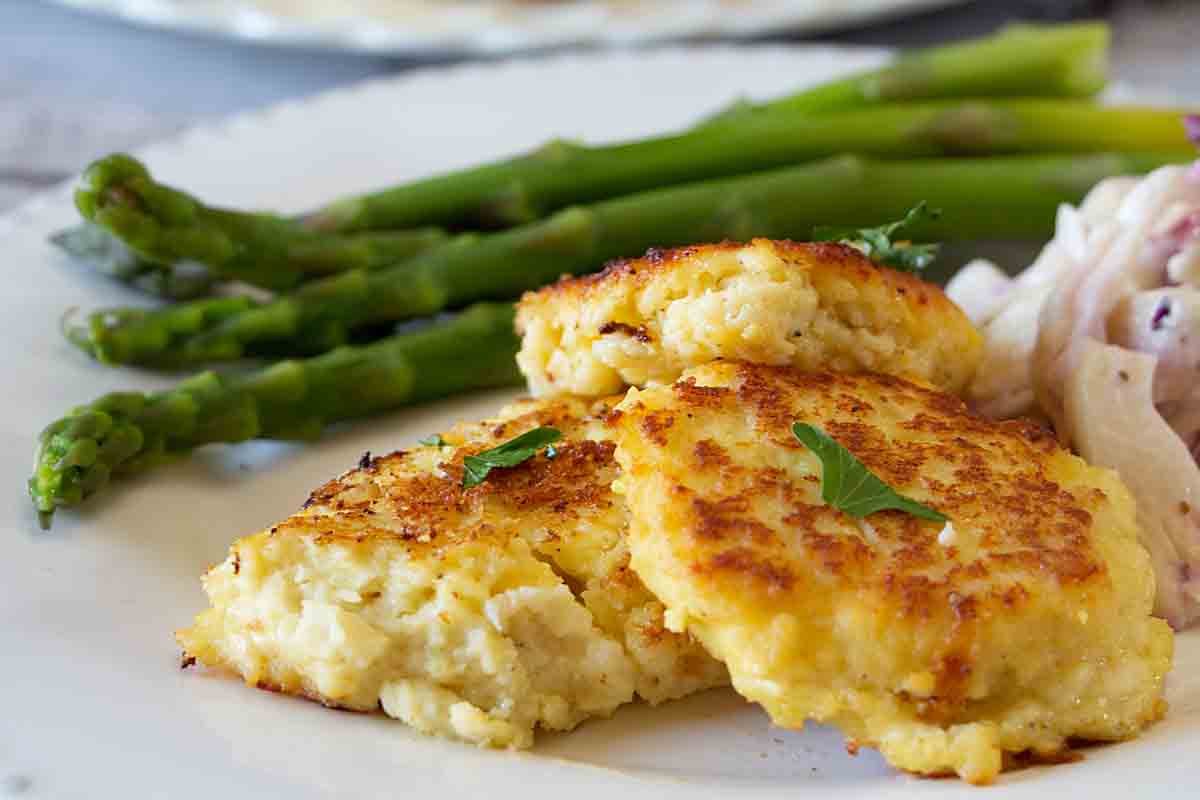 Fiskefrikadeller (Danish Fish Cakes)
Smooth, crisp and delicately flavored, Fiskefrikadeller (Danish Fish Cakes) make a delicious entrée or unique appetizer. 
Ingredients
Fiskefrikadeller:
1

pound

cod fillet

1

teaspoon

salt

1/8 - ¼

teaspoon

freshly ground pepper

1

medium onion

2

eggs

3

tbsp.

potato flour

1/2

cup

milk

Butter

neutral oil for frying
Dill Sauce:
¼

cup

Greek yogurt

¼

cup

mayonnaise

2

Tablespoons

dill pickle relish or chopped pickles

1

Tablespoon

chopped fresh dill

1

teaspoon

Dijon mustard
Instructions
Prepare dill sauce by mixing all the dill sauce ingredients. Cover and store in the refrigerator.

Double check that your fish is free of bones and skins. Put the fish in a food processor and chop it roughly (it will be chopped more later), 1-2 minutes

Transfer the chopped fish to a bowl. Add salt and stir the fish meat gently 1-2 minutes. The salt helps bind the liquid to create a juicier fish cake.

Peel and grate the onion, then add to the fish. It is important to grate, not chop so it is thoroughly incorporated into the patty.

Stir in ground pepper, then the eggs, one at a time. Stir the potato flour into the fish mixture

Place the mixture back in the food processor and pulse for a minute.

Add the milk a little at a time and pulse briefly each time. Process until the mixture is firm but smooth. You may not need all the milk (I didn't) or you may need slightly more.

Cover and chill in the refrigerator for 30 minutes.

Using half butter and half mild oil (I used mild olive oil), fill a frying pan with ¼ - ½ inch of oil. Heat on medium heat. Using a large tablespoon, scoop out some fish mixture and form into a flattened circle or oval in your palm. (Tip: dip the spoon into a large glass of cold water between each scoop)

Fry the fiskefrikadeller and flip when the bottom is golden and crusty, about 4-5 minutes. Continue frying until the second side is also golden and crusty and the center is done (you can use an instant read thermometer if you wish)

Serve warm with dill sauce.
Nutrition
Calories:
369
kcal
Carbohydrates:
11
g
Protein:
33
g
Fat:
21
g
Saturated Fat:
5
g
Polyunsaturated Fat:
15
g
Cholesterol:
172
mg
Sodium:
954
mg
Fiber:
1
g
Sugar:
2
g
I am not a health professional and nutrition data is calculated programatically. Accuracy may vary with product selection, calculator accuracy, etc. Consult a professional for the best information.