Sweet-sour and savory, Scandinavian Red Cabbage is a traditional holiday dish that pairs well with pork or poultry. Healthy and tasty!
I made Scandinavian Red Cabbage for Christmas Eve this year. And I did it knowing it was one of those recipes… an old family dish that your grandmother has made for decades. No recipe. Not even a measuring cup. And if you aren't careful, it will disappear forever.
No pressure.
It was a fine success that night but, alas, Christmas meant I was too busy to write anything down. So with a new case of red cabbage in my refrigerator, it was time to try again. This time I'd get it on the blog.
Now there is one big problem I always have in recreating a recipe… nutrition. Yes, typically when I find out how much butter or sugar or salt is in the original, I just can't do it—at least not as written (or in this case, as described). Fortunately, this recipe wasn't bad and with all the phytochemicals in red cabbage, I guess it can handle a little butter and sugar!
My mother's instructions were basically "cook finely cut red cabbage in butter and keep adding vinegar and sugar until it tastes like you remember." Um, yah… So I started with online recipes for German and Danish red cabbage . These contained apples and cranberry juice, respectively, (which I'm sure is delicious) but I wanted to stick with my family's simpler version—just red cabbage, butter, vinegar, salt and sugar.
And I'm trying to focus more on recipes that don't require a trip to the grocery store–do you end up with, oh, 63 additional items when you step into the store?
When I was done, it was slightly less sweet/sour than my mothers, but was very good. Interestingly, the cabbage cooked down to about half of the original which didn't leave as much as I wanted to freeze, so next time I am starting with two cabbages!
There is one final difference between these and my mother's version, which I consider optional depending on how closely you are willing to watch the pot. She lets it cook to the point where the bottom layer is caramelizing—turning brown and sweet on the bottom of the pot. Then she deglazes the pan with water, scrapping up all the brown bits, and repeats until it has a deep, rich flavor. I have done it this way—and it's amazing. But if I am pinched for time, or multitasking and not paying attention, it is still delicious if you skip the final step.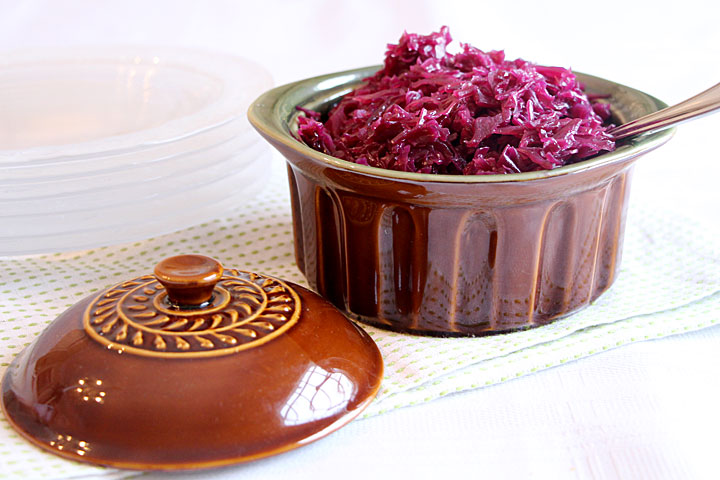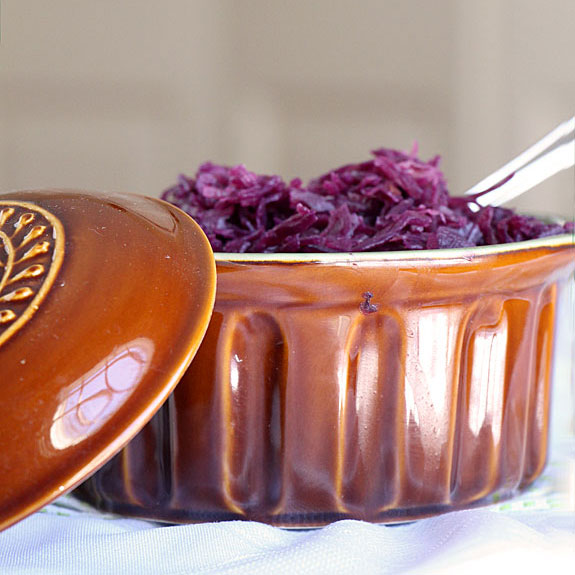 Scandinavian Red Cabbage
2016-02-02 15:10:07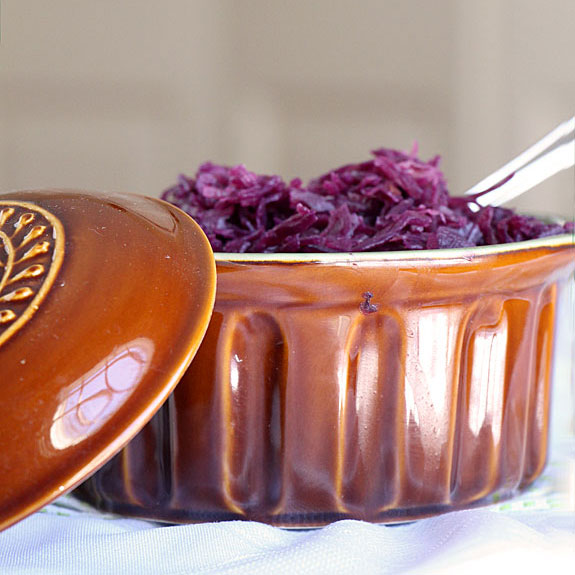 Serves 10
Sweet-sour and savory, Scandinavian Red Cabbage is a traditional holiday dish that pairs well with pork or poultry. Healthy and tasty!
Nutrition Facts
Amount Per Serving
* Percent Daily Values are based on a 2,000 calorie diet. Your Daily Values may be higher or lower depending on your calorie needs.
Ingredients
• 2 tablespoons butter (or vegetable oil for a vegan version)
• 1 medium to large red cabbage, cut finely (about 12 cups shredded)
• 1/2 cup apple cider vinegar
• 1/3 cup white sugar
• 1 Tablespoon salt
Instructions
Heat butter (or oil) in a large dutch oven or stock pot.
Add cabbage, salt, vinegar and sugar and stir well to make sure salt is well distributed.
Cover pan and let cook on medium low for about 10 minutes, checking periodically to make sure that cabbage is releasing its juices and that liquid isn't cooking out.
Reduce heat to low and continue cooking until cabbage is very tender, about 1 1/2 hours. Cabbage can be served at this point or can be caramelized (see below).
Optional final step. Increase heat to medium or medium high and cook until bottom layer of cabbage starts to brown. Deglaze the pan with a little water, stir cabbage, and repeat until desired level of caramelization is reached.
Notes
This freezes very well.
Art of Natural Living https://artofnaturalliving.com/