Eating local is in. At least during the summer.
Winter can be another story… it probably calls for a lot more root vegetables than most people are comfortable with. But if you think foods like beets can be scary, a breakfast of Red Flannel Hash might just change your mind.
Hash is probably best known as potatoes fried up with corned beef, but there is another mix that packs a healthier punch. Red Flannel Hash adds beets to the blend giving it a fun red color, a cute folksy name–and loads of healthy phytochemicals.
This version of Red Flannel Hash is vegetarian (vegan even), since my goal is to get in the beets for their health value (and to reduce the stores in this locavore's spare refrigerator)! But in the end leaving out the meat is easier and doesn't hurt the taste at all! To add some protein I'll top it with an egg, while adding cheese or tempeh would be other tasty options.
I start with pre-cooked potatoes and beets, so this Red Flannel Hash is super quick. As in faster than a long drive though line.
I will admit that there is one part of this recipe that might deter some people–it calls for pre-cooking the beets and potatoes. But I have an answer for that. This winter I am trying to roast vegetables any time the oven is in use. Baking bread? Add some beets and squash. Brownies? Add a few carrots and parsnips. Cooking potatoes for dinner? Make a few extra. Store the cooked vegetables in the refrigerator for healthy eating on a moment's notice. It's both time saving AND energy saving!
Green, tasty and EASY–how fun is that!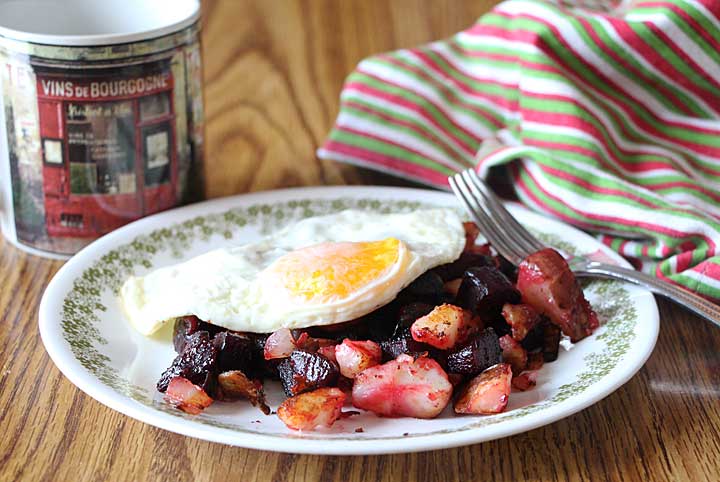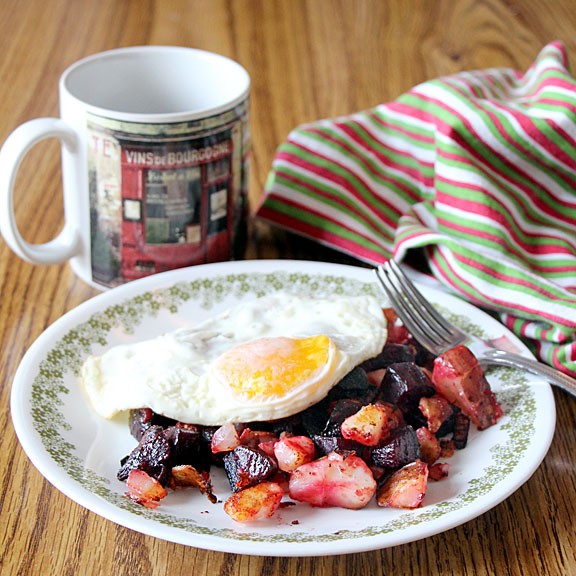 Red Flannel Hash
2016-02-08 14:20:00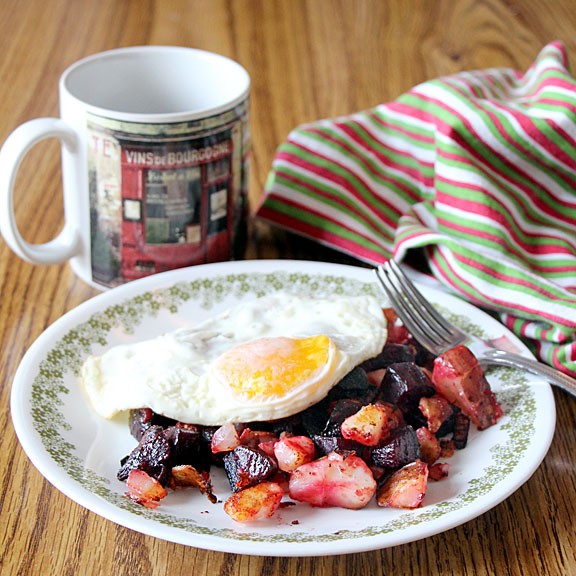 Serves 2
Red Flannel Hash adds beets to traditional hash for a fun red color and loads of healthy phytochemicals. With pre-cooked veggies, it's ready in 10 minutes!
Nutrition Facts
Amount Per Serving
* Percent Daily Values are based on a 2,000 calorie diet. Your Daily Values may be higher or lower depending on your calorie needs.
Ingredients
1 cup cubed beets, precooked (about 2 small to medium beets)
2 cups chopped potatoes, precooked (about 3 small red potatoes)
2 Tablespoons oil, divided
salt to taste
pepper to taste
1/4 c chopped onions
Instructions
Pat dry cut beet and potato cubes (for better browning)
Place a large frying pan on medium high heat. When hot enough so water droplets instantly sizzle, place one tablespoon of oil in pan. Melt if needed, then swirl oil around so whole pan bottom is covered.
Add cubed beets and potatoes to the pan in as close to a single layer as possible. Sprinkle with salt and pepper. Let sit over heat about 5 minutes until starting to brown.
Add onions and remaining tablespoon of oil to the pan. Flip vegetables so (mostly) browned side is up.
Continue cooking until second side (more or less) is browned. Remove from heat, stir and serve with egg, cheese or plain.
Notes
I do this successfully in a stainless steel pan, though a non-stick or well-seasoned cast iron pan might be easier.
Art of Natural Living https://artofnaturalliving.com/