Lavender Pear Mascarpone Tart
Winter has its beauty—snow draped boughs, crisp landscapes. But over time even the loveliest winter can challenge a positive attitude. As winter drags on, doesn't life call for a touch of spring? Perhaps in the form of a Lavender Pear Mascarpone Tart?
This winter-into-spring dessert is really a light pear cheesecake, adorned with a touch of lavender and resting on a shortbread crust. With its sweet flavor and sprinkles of purple blossoms, it gently whispers that spring is on the way. While I am still on a post-holiday diet, the white whole wheat crust plus fruit makes a dessert that's at least somewhat healthier.
This winter I have been trying to cook more out of my freezer and pantry and that is how this dessert came to be. The original, from blog Wilde Flavors, came baked in a standard pie crust and topped with candied ginger. It looked delicious but I was too lazy to roll out a crust—and out of candied ginger. So I looked for alternatives and the rest, as they say, is history.
Made in three steps (crust, poached pears, filling), the tart looks fussy to prepare, but each step is simple so it comes together easily. Mix a few crust ingredients with your fingers, pat into a tart pan and bake briefly. Done.
Heat sugar in water and simmer pears for 15 minutes. Done. Use a handheld mixer to blend up the filling, then assemble.
Ready to bake.
Just one final piece of advice from the original baker—if you have enough pears, poach some extra for snacking; they are delicious!
With it's floral overtones, I decided that this Lavender Pear Mascarpone Tart would be perfect for a spring celebration like Easter or Mother's Day (where I debuted my wildly popular Lemon Lavender cupcakes a couple years ago).
Of course, I can't complain too much about winter with some of the fun we've been having. We got away for a Winterfest weekend in beautiful Fish Creek, WI and it reminded me that I love all the seasons.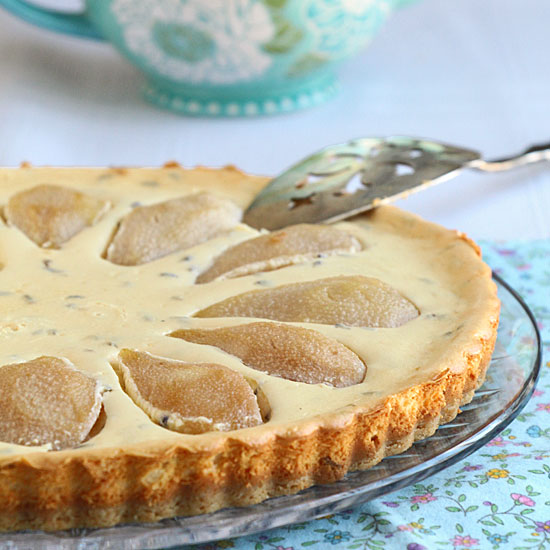 Lavender Pear Mascarpone Tart
2016-02-17 07:33:48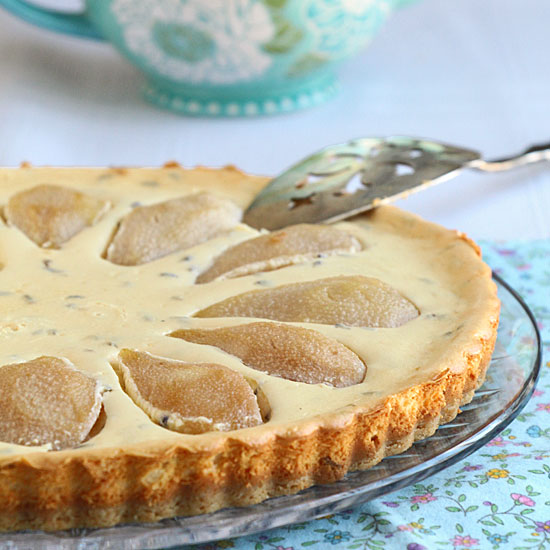 Serves 12
A light pear cheesecake, adorned with a hint of lavender & resting on a shortbread crust, this Lavender Pear Mascarpone Tart is a perfect spring dessert.
Nutrition Facts
Amount Per Serving
* Percent Daily Values are based on a 2,000 calorie diet. Your Daily Values may be higher or lower depending on your calorie needs.
Shortbread crust
• ¼ cup granulated sugar
• ¼ cup corn starch
• 1 cup white whole wheat flour
• 4 ounces butter (one stick) at room temperature
Poached Pears
• 2/3 cup granulated sugar
• 2 cups water
• 3 pears, peeled, cored and quartered
Filling
• 8 oz cream cheese
• 8 oz mascarpone cheese
• 1/3 c sugar
• 1 T dried lavender (see note)
• 1 egg
• 2 teaspoons vanilla
Instructions
To make crust, mix ingredients together with fingers. Pat into 11 inch tart pan on the bottom only. Bake at 325F until just turning color on edges, about 10 minutes. Remove to cool.
To poach pears, dissolve sugar in water in a small saucepan on medium heat. When mixture has come to a boil, add quartered cored pears and simmer for 15 minutes until tender. Remove pears from liquid. Liquid may be reserved for other uses.
In a medium bowl, mix filling ingredients using a handheld mixer. Spoon onto crust, then arrange poached pears in a circle on top of filling.
Bake at 325F until fulling is set, about 55-60 minutes.
Cool then serve.
Notes
(Optional) To best infuse the lavender flavor in the filling, mix the tablespoon of lavender with the 1/3 cup of sugar a few hours or a day ahead of time and store in an airtight container. The lavender will flavor the sugar and spread more evenly through the filling.
Calorie count is too high since most of the poaching sugar isn't absorbed. The poaching liquid absorbs pear flavor and is delicious mixed with fizzy water.
Art of Natural Living https://artofnaturalliving.com/