One Pan Roasted Roots & Sausage
This recipe, for One Pan Roasted Roots & Sausage, is based on one from a recent Better Homes and Gardens magazine. I like the fact that they get it. It's winter so we need comfort food… and it needs to be easy and (don't forget) nutritious.
If it also uses up leftover CSA veggies, I am so in.
You can't get much easier than two servings of veggies (one starchy) popped into the oven with a healthier sausage (you could even do a vegan sausage if you wanted). There's even a tasty sauce with only four ingredients, though I admit to forgetting it once or twice when I was seriously hungry. Yes, also delicious plain.
The original recipe had twelve ounces each of beets and sweet potatoes. I switched this out to eight ounces each of beets, carrots and parsnips to match what I had on hand. So go ahead and use whatever roots move you.
I also added 24 ounces of chunked up red potatoes. This meant that I didn't need an additional starchy side to keep my husband from passing out. (Yes, it's a bit daunting to feed someone who eats, um, 4 times what I do.) One-pan really means one-pan now!
The dinner felt all warm and cozy. And despite eating a decadent food like sausage, I did it without guilt! This winter I have been big on peasant style, comfort food—alternated with fancy desserts. Does winter make you food-crazy?
Yup, bring on the comfort food. As long as it's (reasonably) healthy!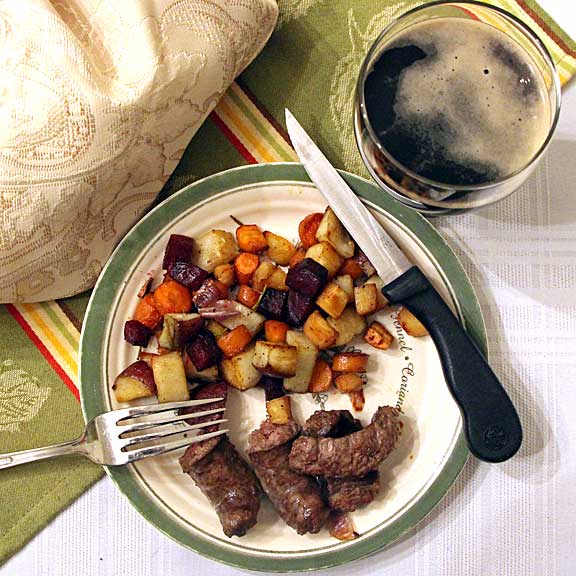 One Pan Roasted Roots & Sausage
2016-02-21 08:40:54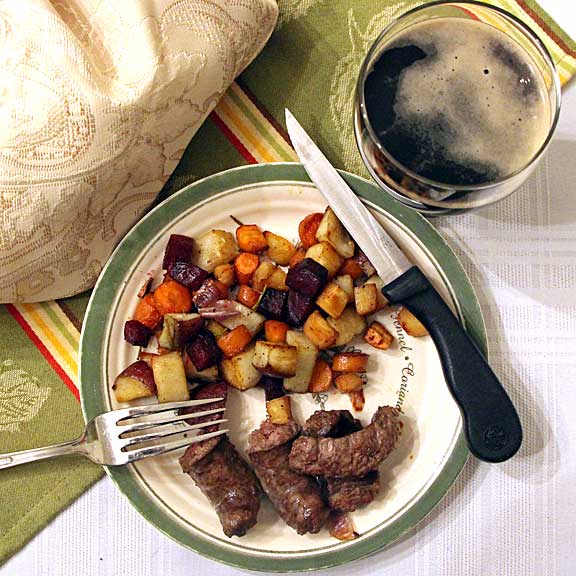 Serves 4
Two servings of veggies (one starchy) popped into the oven with a healthier sausage makes One Pan Roasted Roots & Sausage a perfect winter comfort food.
Nutrition Facts
Amount Per Serving
* Percent Daily Values are based on a 2,000 calorie diet. Your Daily Values may be higher or lower depending on your calorie needs.
Ingredients
• 8 ounces carrots (3-4 medium carrots) or other root vegetable
• 8 ounces parsnips (2-3 medium parsnips) or other root vegetable
• 8 ounces beets (about 1 large beet) or other root vegetable
• 24 ounces potatoes (4-5 medium red potatoes)
• 4 shallots, peeled and quartered or 1 small onion chopped large
• 2 tablespoons olive oil
• 1 teaspoon Chopped fresh rosemary
• Salt and ground black pepper
• 4 chicken sausage links (or other sausage of your choice), halved lengthwise
Instructions
Preheat oven to 425 degrees F Place the vegetables, potatoes, and shallots in a large bowl that allows room for stirring. Drizzle with oil, sprinkle with salt, pepper and rosemary, and toss to coat. Spray a large pan with non-tick spray, then arrange vegetables in a single layer. Roast about 20 minutes until vegetables are almost tender.
Stir vegetables and push to one side of the pan. Place sausage, cut side down, on other side of the pan. Roast for an additional 10 minutes or until vegetables are tender and sausage is cooked through (test sausage for doneness with an instant read meat thermometer if there is any question). Taste and adjust seasoning.
Serve hot, with or without sauce (see notes).
Notes
To include the sauce, mix together 1/2 cup non-fat plain Greek yogurt, 1 tablespoon reduced calorie mayonnaise, 1 tablespoon prepared horseradish, 1/2 teaspoon Worcestershire sauce. Serve with veggies and sausage.
Art of Natural Living https://artofnaturalliving.com/