Get the fun and flavor of s'mores in a s'mores pie. With a graham crust, chocolate filling and marshmallowy meringue topping, who needs a campfire?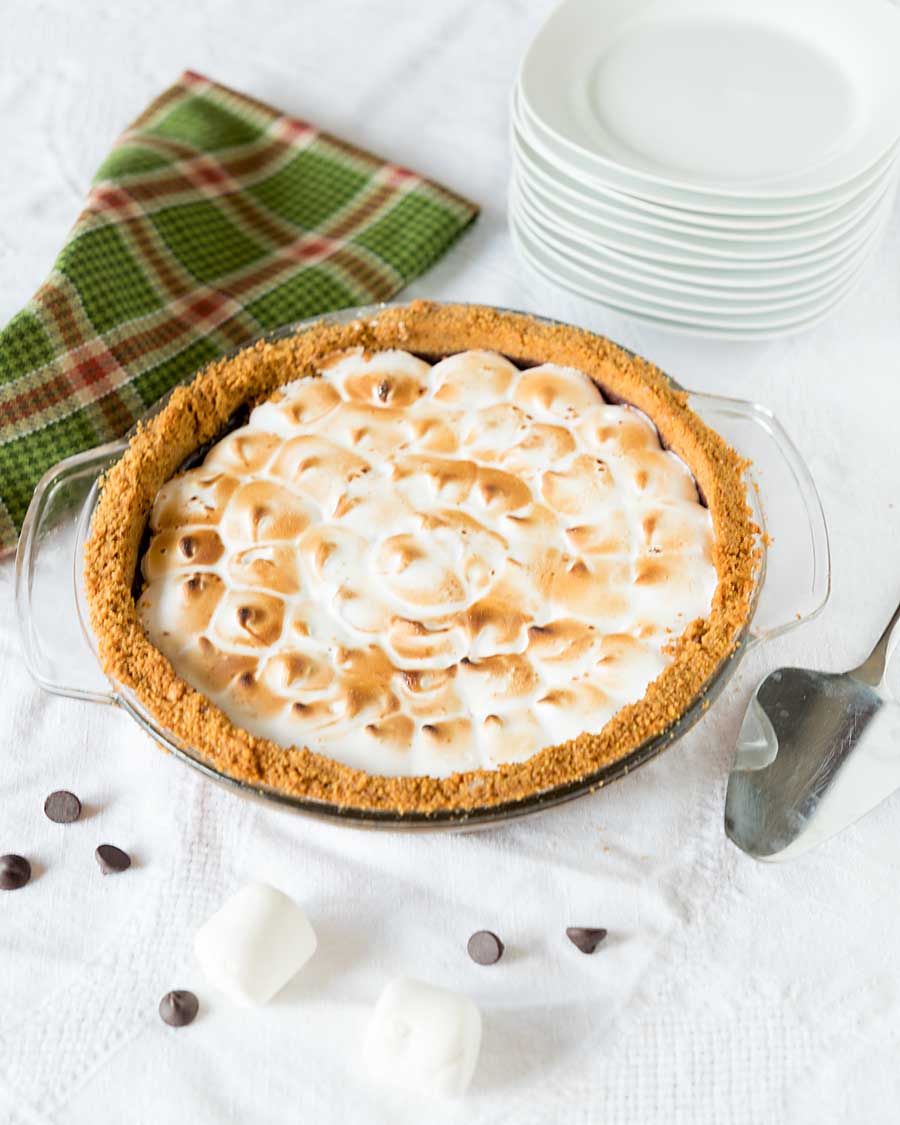 If you were to think about the union of summer and chocolate, what would that be? And what if you added in favorite childhood memories? That's right… it's s'mores!
Of course, the grown up version would be s'mores in a pie. Then you'd be able to eat it every day–even if you don't have a campfire! You could even take it to a party!
Now one nice thing about playing around with a recipe yourself is you can do it any way you want, including a little more natural. Yes, while I enjoy a nice s'more once in a while, those marshmallows always struck me as kind of artificial.
When I googled the ingredients, I got: "corn syrup, sugar, dextrose, water, modified cornstarch, gelatin, contains less than 2% of natural and artificial flavor, tetrasodium pyrophosphate (whipping aid), artificial color (includes blue 1)." Hmmm.
But what if I topped my s'mores pie with a homemade Swiss meringue. That would taste marshmallow-y, be vegetarian (no gelatin)–and isn't hard (shhh)! (Actually easier than homemade marshmallows.) The egg whites are even pasteurized in the preparation process!
So that's what I did! I baked a mixture of chocolate chips, egg yolks and half & half into a graham cracker crust.
Next, I made my Swiss Meringue by heating sugar and egg whites to 160F, then beating the mixture with vanilla and cream of tartar until stiff. I piped the meringue in small rounds on top of the cooled pie and torched it (some people put it under the broiler) for golden highlights.
Now technically my meringue did not get properly stiff (even though I've done it many times before). But the pie was still attractive and tasty–and reminiscent of melted marshmallows! Perfection is over-rated!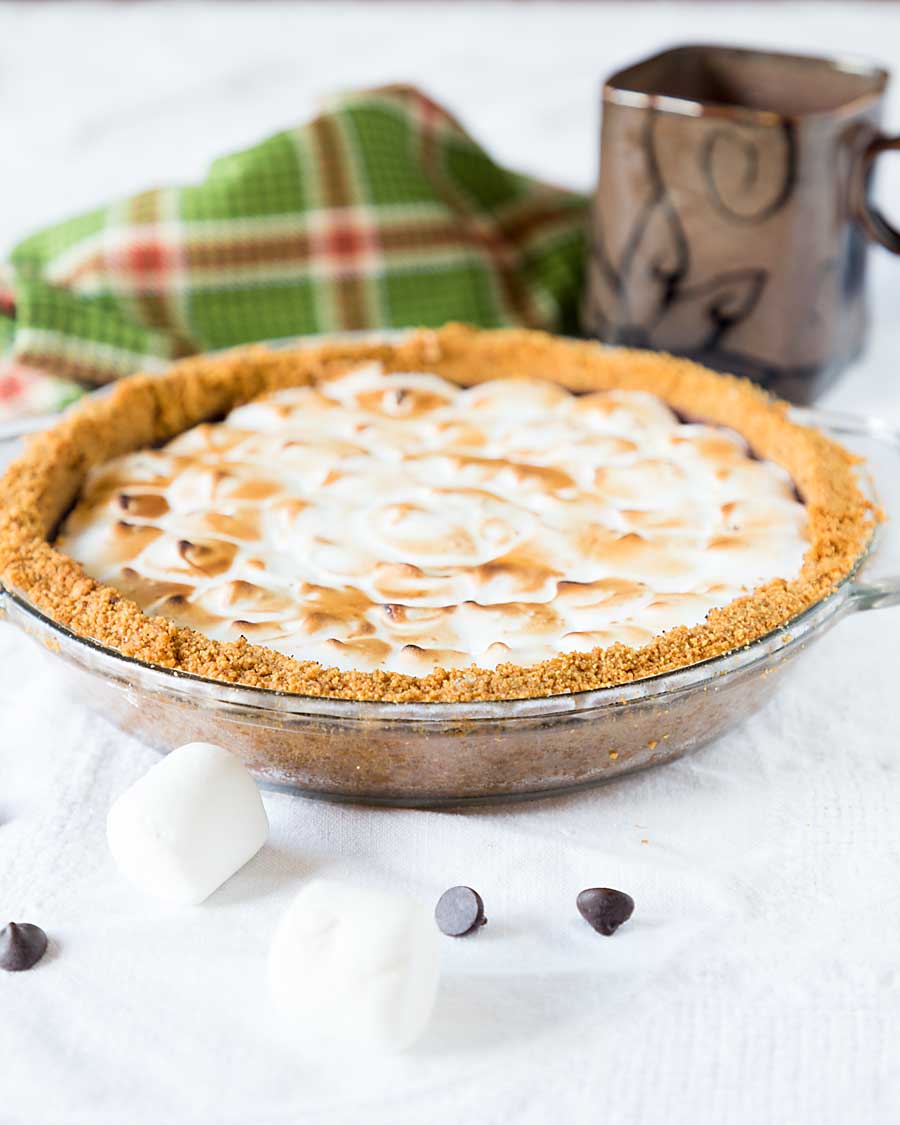 When I cut into the pie, everyone dug in. It got great reviews, especially from my daughter and niece, who were each on their second piece before I even finished cutting.
Sometimes it's all about the kids. Even grown-up kids.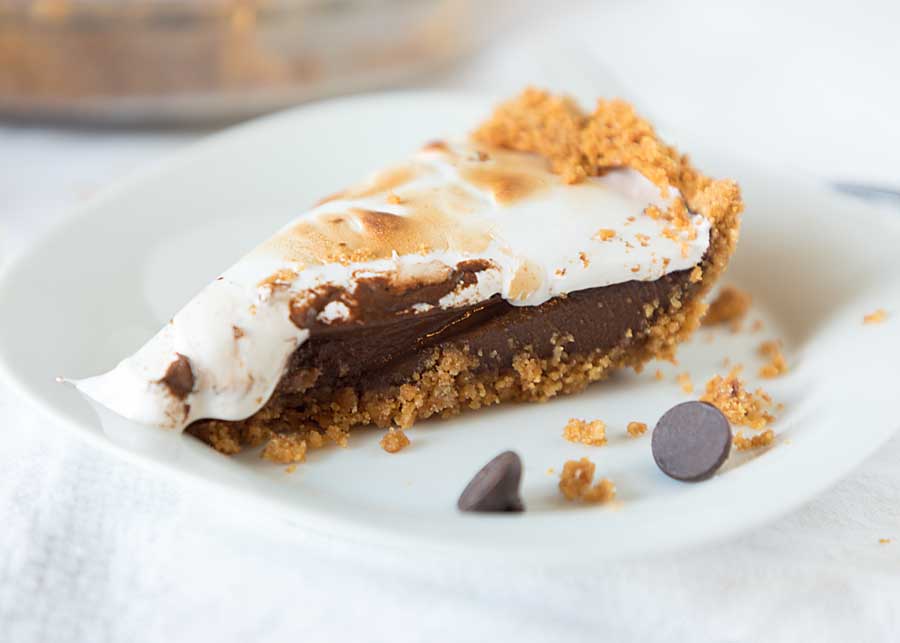 S'mores Pie
2019-07-27 22:52:29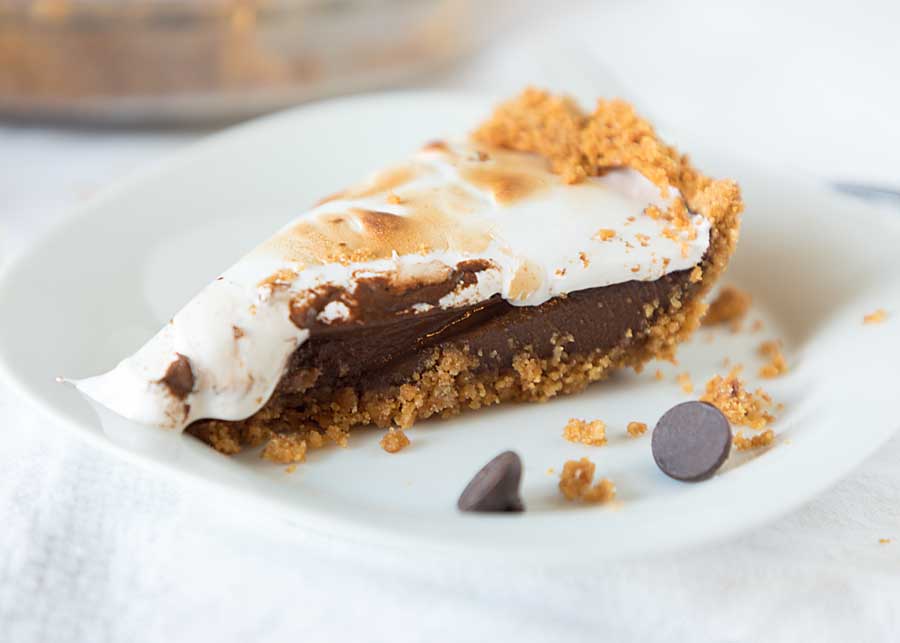 Serves 8
Get the fun and flavor of s'mores in a s'mores pie. With a graham crust, chocolate filling and marshmallowy meringue topping, who needs a campfire? 
Nutrition Facts
Amount Per Serving
* Percent Daily Values are based on a 2,000 calorie diet. Your Daily Values may be higher or lower depending on your calorie needs.
Crust (or your favorite crust)
• 1 3/4 cups graham cracker crumbs (I bought mine pre-crumbled)
• 8 tablespoons melted butter
• 2 Tablespoons sugar (this is supposed to help set the crust)
Filling
• 6 ounces bittersweet or milk chocolate chips
• 1 cup half and half
• 3 egg yolks (reserve whites for meringue)
• Pinch of salt
Topping (or substitute large marshmallows, cut in half)
• 3 egg whites
• 2/3 cup sugar
• ½ teaspoon cream of tartar (optional)
• 1/2 teaspoon vanilla extract
Instructions
Prepare crust. Mix crust ingredients until the texture is that of wet sand. Press the mixture against the sides and bottom of the pan using the underside of a measuring cup to press in firmly. Place in freezer to firm up.
Prepare chocolate filling. Preheat the oven to 350 degrees. Heat the cream and chocolate chips in microwave or saucepan stirring regularly until chocolate is melted. Beat in egg yolks and salt, then pour into chilled crust. Bake until the filling is set but still slightly wobbly in the center, about 20 minutes. Cool completely.
Prepare meringue topping. Place about an inch of water in a medium saucepan and bring to a boil. Whisk egg whites and sugar in your mixer bowl or another medium metal bowl. Place bowl on saucepan like a double boiler and continue to whisk until mixture reaches 160 F.
Remove from the heat and add the vanilla and cream of tartar. Using whisk attachment beat with stand mixer (or hand mixer) until the meringue is fluffy and cool and holds its shape, about 10 minutes. Transfer to piping bag and pipe round dollops in concentric circles onto cooled pie.
Using a culinary torch, flame the meringue until golden (some people place under broiler, shielding the crust with aluminum foil, but I haven't tried this. If you do, watch very carefully).
Art of Natural Living https://artofnaturalliving.com/
Chocolate Recipes
We share Recipes From Our Dinner Table! Join our group and share your recipes, too! While you're at it, join our Pinterest board, too!