Richly fruity with a slightly sweetened crunchy crust, a sweet cherry galette may be the hit of the summer picnic season. Or breakfast. Or dessert.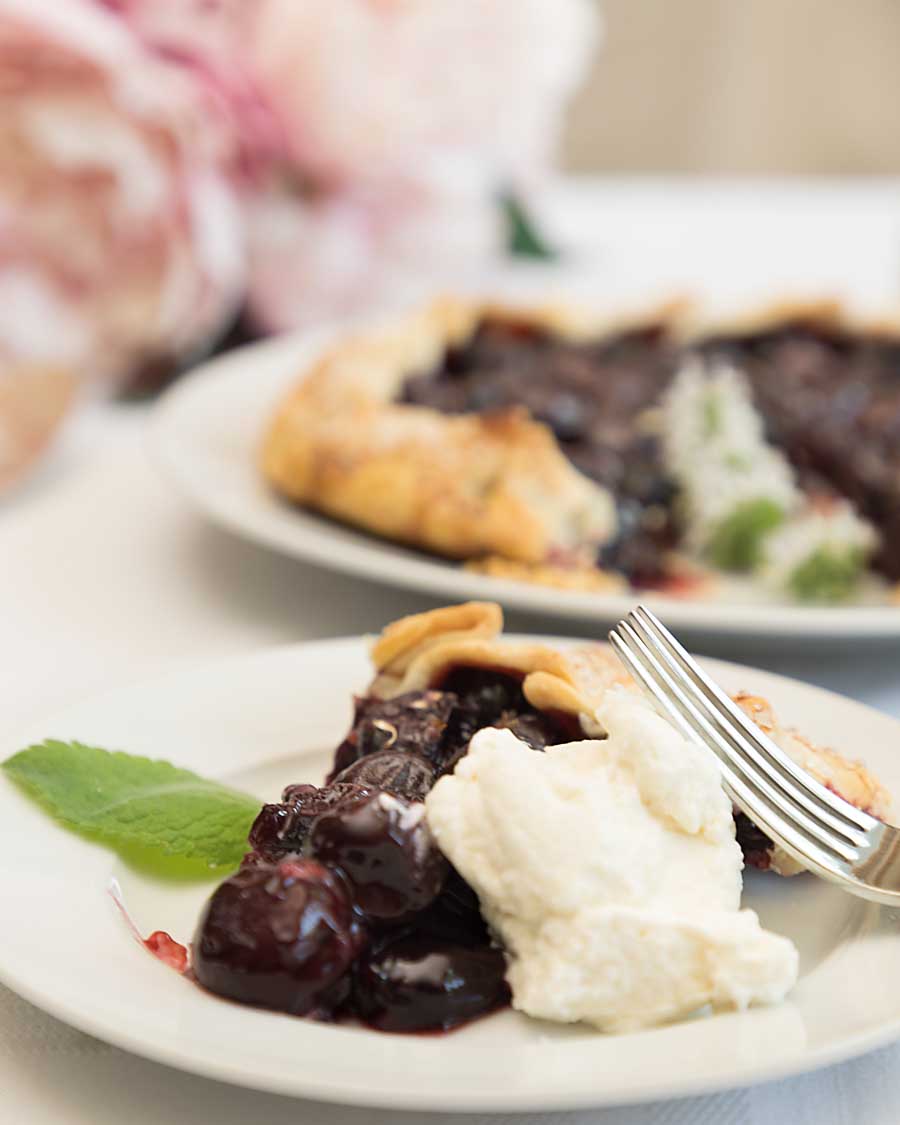 Today I made… probably my 8th galette of the summer. Can't get too much of a good thing!
After I developed my blueberry galette for the blog, I couldn't stop making it. I made it for photo students shooting the milky way. For 4th of July parties. For book club. And just for funsies!
I think it's time to switch things up! How about a sweet cherry galette!
I was pretty nervous trying a new fruit galette, since I'd recently had a "failure" with raspberries. While my raspberry galette was nice enough, and not a scrap was left, it just lacked the punch of the blueberry version. How would the cherries fare?
I have some very specific feelings about what fruits to use in galettes versus pies. It's all based on fruit to crust ratios. If a fruit isn't pretty intense (like blueberries), I feel it's overpowered by the abundant crust in a galette. But that same intense fruit can be almost cloying with the lower crust ratio of a pie. So, my blueberries go into galettes and my peaches into pie.
I though cherries would do well in galettes. But then I had thought that about raspberries…
Along the way, I did end up changing the original recipe slightly to better match the cherries. I swapped out the cinnamon accent for vanilla. And since I used sweet cherries, I reduced the sugar. Then I did a little research on the butter that traditionally dots fruit in pies. I'd like to say it was in the interest of science, but really I kept forgetting it and didn't know if that was serious.
Well, it turns out, the reason for using butter in pies was because it was supposed to keep any foaming down. For any canners out there, that's a bit like the dot of butter on the top of a fruit jam. But when Cooks Illustrated actually ran a test, dotting with butter made no difference for either foaming or flavor. So out it came!
In the end, my new Sweet Cherry Galette was a big hit! There were three of us home–and while we really did feel we should save some, no one could resist seconds. In minutes, the pie was gone.
Done with galette #8, I did feel a bit like the old 60s pop song—something tells me I'm into something good!
Sweet Cherry Galette
2019-07-25 14:24:05
Serves 6
Richly fruity with a slightly sweetened crunchy crust, a sweet cherry galette may be the hit of the summer picnic season. Or breakfast. Or dessert. 
Nutrition Facts
Amount Per Serving
* Percent Daily Values are based on a 2,000 calorie diet. Your Daily Values may be higher or lower depending on your calorie needs.
Ingredients
• 3 cups fresh or frozen sweet cherries (see note for sour cherries)
• 1/3 cup granulated sugar
• 1 T lime zest
• 1 T lime juice
• 3 tablespoons tapioca or 2 T cornstarch
• 1 teaspoon vanilla extract
• 1 pie crust (your favorite homemade or commercial)
• 1 egg
• 1 T water
• 1 teaspoon coarse sugar
Instructions
Preheat oven to 425 degrees.
In a medium sized bowl, combine the cherries, tapioca or cornstarch, vanilla, sugar, lime juice and lime zest.
Place the round of crust on a rimmed baking sheet (in case any juices run off). You can line with a Silpat or parchment paper if you like.
Spoon mixture into the middle of the crust leaving about 2" around the edge.
Fold the edges over and pinch to close.
Whisk the egg and water in a small bowl. Brush onto the crust then sprinkle with coarse sugar.
Bake about 30 minutes until the crust is golden brown and the fruit is bubbling along the edges.
Cool, then serve with whipped cream or ice cream.
Notes
This should work with sour cherries too, if you increase the sugar.
For detailed preparation pictures, see: http://artofnaturalliving.com/2019/06/30/easy-peasy-blueberry-galette/
Art of Natural Living https://artofnaturalliving.com/