New Year's/ Christmas Crack Toffee
One. Last. Party. A small one too. But even for immediate family (and a few guests), the food has to be good. So, I am making some New Year's/Christmas Crack Toffee (the toffee that goes crunchy/salty over crackers) to snack on. And decorating it with gold sprinkles for New Year's!
Toffee is something I normally do straight—butter, sugar, vanilla, no crackers. Just seems more natural (though, I admit the irony in calling commercial butter and sugar "more natural" 😉 ) But this year there were Ritz crackers left after a party I hosted in early December. Opportunity!
In searching out a recipe, I started at Amanda's Cookin'. We had a class together this fall and she brought her version to the last day Christmas Party. Mmm! Never too many holiday parties or treats!
New Year's/ Christmas Crack Toffee is a little more forgiving than regular toffee, which needs to cook to just the right temperature. (Though toffee is one of the easiest candies to make.)
To make New Year's/ Christmas Crack, you boil butter and sugar briefly:
Pour over a prepared tray of crackers (saltines are most popular, but people use Ritz or graham too):
Bake briefly.
Top with melted chocolate, nuts and gold sprinkles (optional):
The treat is simple and delicious–no wonder it is all over the internet!
Alas, the festive season will soon come to an end.
Are you as sad about that as I am?
But winter's beauty certainly has more to share.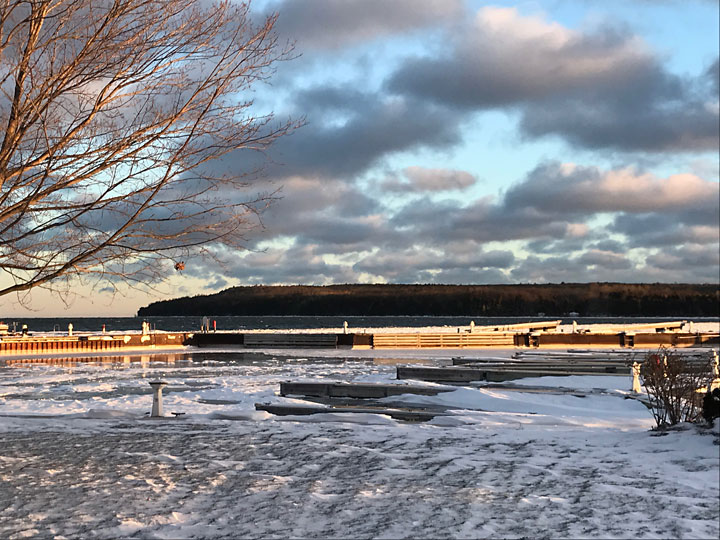 Happy New Year and best wishes for a wonderful 2017!
More Classic Candy Recipes
New Year's/ Christmas Crack Toffee
2016-12-30 14:07:57
Serves 30
Nutrition Facts
Amount Per Serving
* Percent Daily Values are based on a 2,000 calorie diet. Your Daily Values may be higher or lower depending on your calorie needs.
Ingredients
35-40 saltines (or equivalent in Ritz or Graham crackers)
1 cup butter
1 cup brown sugar
1 10-12 ounce package of chocolate chips
chopped nuts or other decoration (optional)
Instructions
Preheat oven to 375 F.
Cover a rimmed cookie pan with aluminum foil and spray with non-stick spray. Line the bottom of the pan with a single layer of crackers, usually 35-40 saltines (or equivalent in ritz or graham crackers).
Melt butter in a large saucepan on medium heat. Add sugar and stir to dissolve.
Once mixture has liquefied, do not stir. Bring to a boil and cook for 4 - 5 minutes (until a temperature of 270-290 if you are using a thermometer)
Pour over crackers and spread to cover if needed. Bake for 5 minutes until bubbly, then remove from oven.
Melt chocolate chips in the microwave in 20 second bursts, stirring between. Spread over toffee (it is okay if the toffee is still warm), then sprinkle with decorations, if using.
Chill in refrigerator until cool and the chocolate is hard, about an hour.
Remove from pan and crack into bite-sized pieces.
Notes
This was less than a half box of Ritz for my pan size.
Art of Natural Living https://artofnaturalliving.com/
Save
Save
Save