(Easy and Economical) Winter Pine Branch Arrangement
Do you have some last minute holiday decorating to do? If the answer is "yes," how about a homemade winter pine branch arrangement? It's can be an easy and inexpensive way to bring some "fresh" indoors for the season.
I got the idea many years ago when my stepfather had a knee replacement right before Christmas. One of his "get well" gifts was a beautiful arrangement of pines and holly that looked like it cost a fortune. As I looked at the contents, I realized that this was something that even I could do.
Here's the "recipe"
Winter Pine Branch Arrangement
Ingredients
Large vase
Floral foam
4-5 evergreen branches of a soft texture
4-5 evergreen branches in a contrasting texture
4-5 red twig dogwood branches
Fresh holly or a holly berry floral pick
Colorful bow
Directions
1) Arrange soft textured greens in a layer. ( I usually use white pine trimmings from the bottom of the Christmas tree. This year there weren't any so we cut some off the back–shhhh)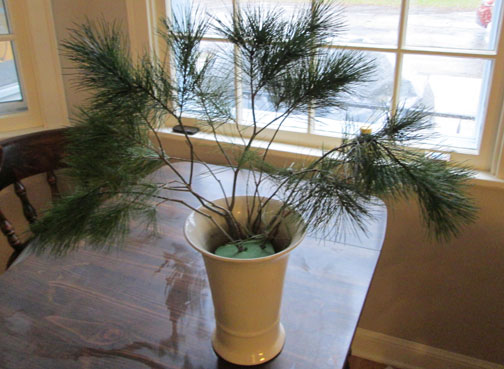 2) Insert contrasting textured branches in front (we used blue spruce from an overgrown tree in our yard).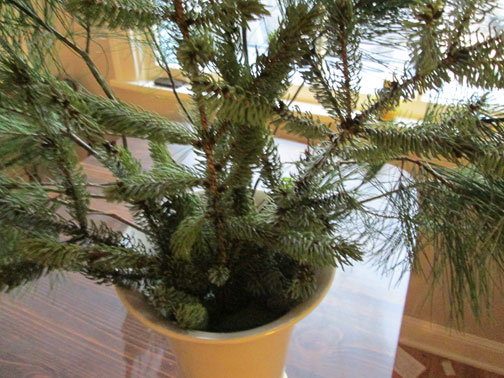 3) Add red twig dogwood branches throughout the green layers.
4) Insert holly in front, then add bow.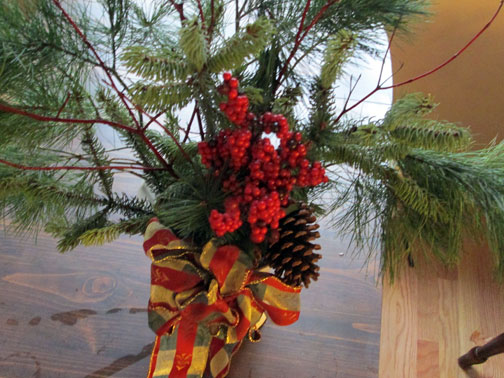 Best part–it's easy. If are a regular reader, you know you don't see beautifully decorated cookies or cute fondant penguins here. I drool over these in other people's blogs, but I know my limits. So believe me… anyone can do this!
Next best part–it's inexpensive the first year and free after that. If you have a vase and the fresh foliage, the first year purchases will include floral foam (about $2, with leftovers for later years), wired ribbon (around $4, also with leftovers, slightly more for a pre-made bow) and a holly pick (approximately $3). Michael's and Joann's have abundant coupons and sales (price estimates are based on sale prices) and you can reuse your purchases for free decor in future years!
If you don't have a yard with pines, the greens can be purchased at garden centers or you can go local for your area. My daughter in Phoenix briefly considered decorating a cactus though in the end couldn't do it. You can take the girl out of the Midwest, but she'll always love her pines…