A healthier twist on a favorite appetizer, baked crab rangoon is baked instead of fried, for a guilt free treat.
Sometimes you try a new recipe as part of a plan–like, I need a fresh appetizer. And other times, not. This version of Easy Baked Crab Rangoon arose differently, because… necessity is the mother of invention.
Earlier this year, I made hot pepper jelly, and my first batch didn't jell. I was ready to toss it but my daughter suggested Crab Rangoon to use up the (still delicious) syrup. Ding, ding, ding.
Now you probably know that most Crab Rangoon is fried. Delicious, but not exactly health food. Baked Crab Rangoon seemed like a good compromise–if I could get it to work.
After a couple tries, I ended up forming the standard shapes and setting them on top of the cups in a greased (I used Pam) mini muffin pan. That seemed to give them a little time to dry out before they dropped into the cup.
When they are done, I flip the pan upside down and knock them out onto a wire rack to cool slightly and dry out more. This way most of them (and in a couple lucky batches, all of them) seemed to come out intact.
My other "innovation" was to rely on spices from my cupboard rather than cutting garlic and onion. Still flavorful and super easy!
In the end, we enjoyed this so much, we used up the hot pepper syrup and started diluting the jelly that had set. So I guess that old cliche about problems being opportunity really can hold true!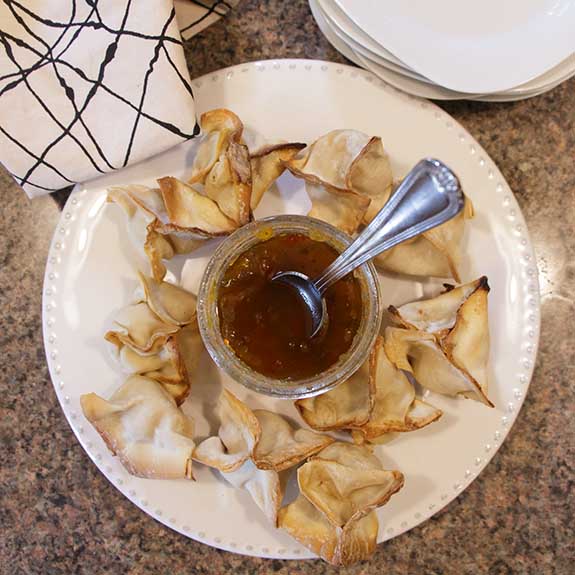 Baked Crab Rangoon
2017-07-30 08:12:14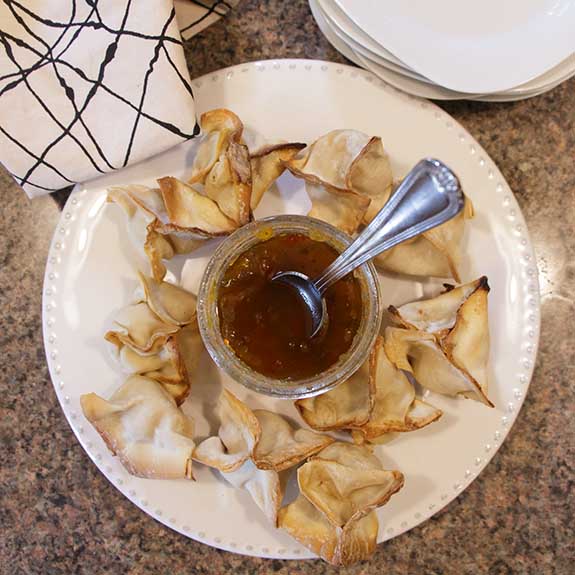 Serves 6
Nutrition Facts
Amount Per Serving
* Percent Daily Values are based on a 2,000 calorie diet. Your Daily Values may be higher or lower depending on your calorie needs.
Ingredients
• 1 teaspoon garlic pepper (or ½ - 3/4 teaspoon garlic powder and ¼ teaspoon pepper)
• 8 oz light cream cheese
• 1 can crab, well drained (I let it sit in a strainer)
• 1 teaspoon Worcestershire sauce
• 2 teaspoons lemon juice
• 1 Tablespoons soy sauce
• ½ teaspoon toasted sesame oil
• 24 wonton wrappers
Pam to spraying pan and wonton tops
Instructions
Preheat oven to 400 degrees, and lightly spray a mini muffin pan with cooking spray.
Combine filling ingredients (everything but the wonton wrappers) in a bowl and mix well.
Place 1 heaping tablespoon of filling onto the center of each wonton skin. Brush the edges with water and form into classic shape.
Set the rangoons OVER the cup depressions in a mini muffin pan and lightly spray tops with cooking spray. Do not push them in (they will fall later).
Bake until golden and bottom is drying out, about 18-20 minutes. Cover tops loosely with a tent of aluminum foil if getting too brown.
Flip over the pan onto a wire rack and let cool slightly to dry out bottoms (and to keep from burning mouth).
Serve with sweet sour sauce (or diluted pepper jelly)
Notes
Forming the Crab Rangoon shape gets easier and faster with practice! Fresh wonton skins are much easier to work with than those that were previously frozen or drying out.
Art of Natural Living https://artofnaturalliving.com/