Finnish Bread Cheese with Strawberry Salsa
Finnish Bread Cheese with Strawberry Salsa serves up warm, soft slices of cheese topped with fruit salsa and a honey balsamic vinaigrette.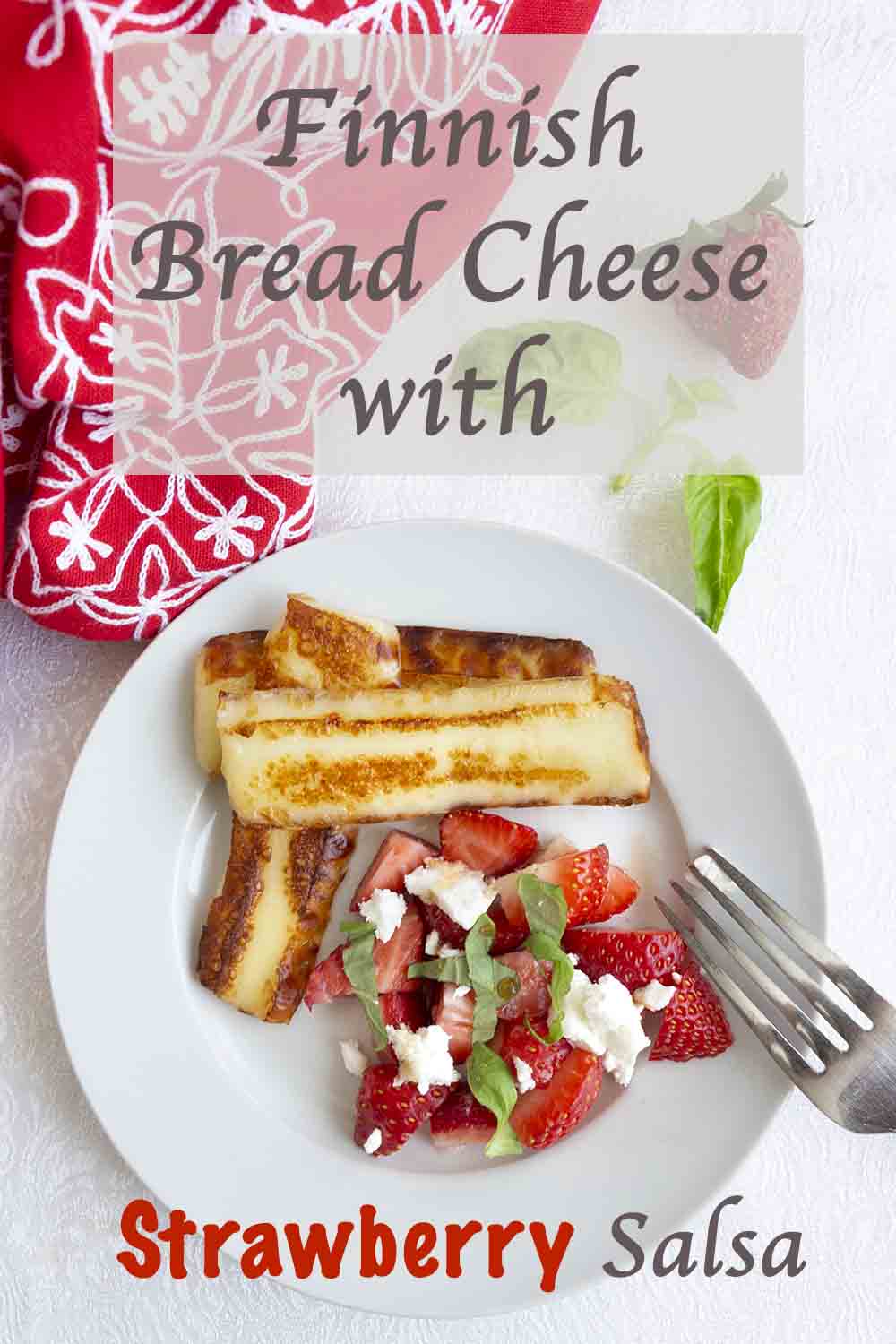 I first had Bread Cheese at an American Cheese Society annual meeting. At the closing event, in an enormous hall filled with towers of cheese and tables of specialty foods, they were grilling slices of the unique product and serving them up to a long line of patrons.
You see, if cheese is good… and fried food is good… Well you can probably guess the rest!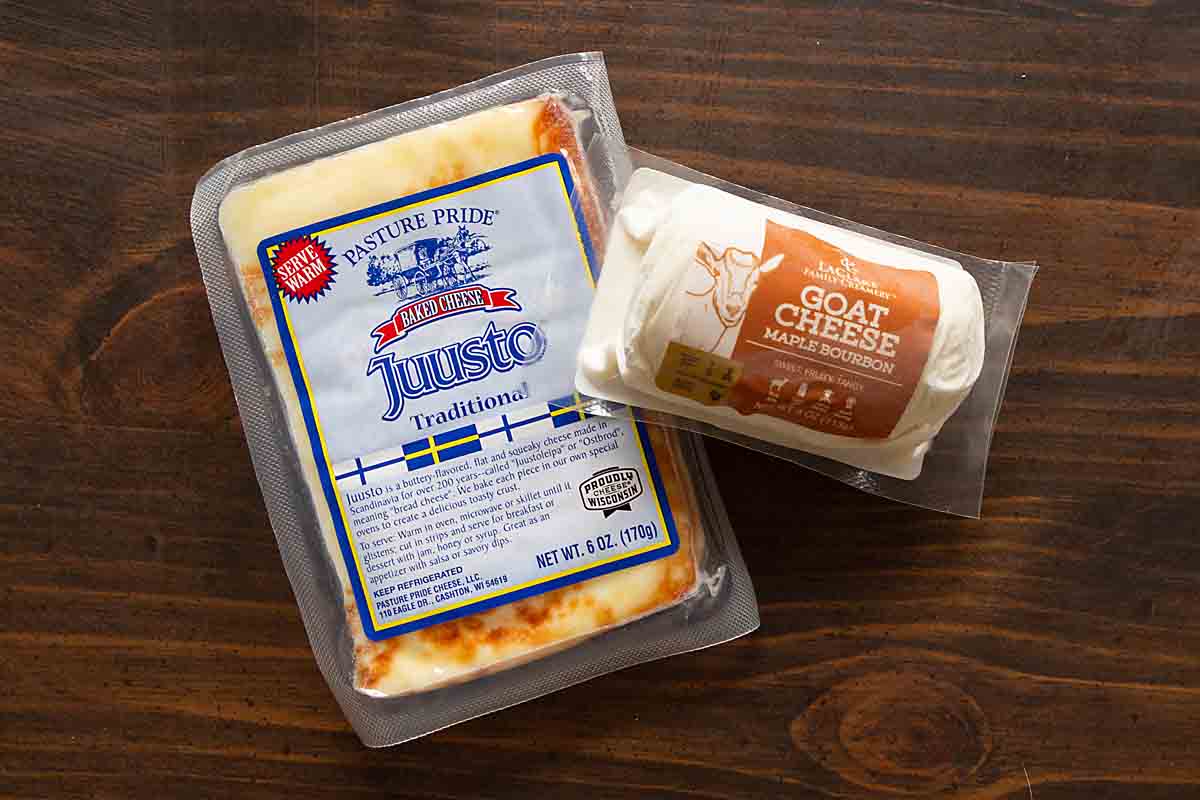 Bread cheese, also known as Juustoleipä or Juusto, is Finnish in origin. Per Wikipedia, the cheese is baked after it's formed to yield a tasty grill-marked exterior and slightly drier consistency–a bit bread-like. What this means for you is that it can be grilled and softened, without melting into a shapeless mass, to deliver a special eating experience.
Think creamy soft goodness with none of the mess.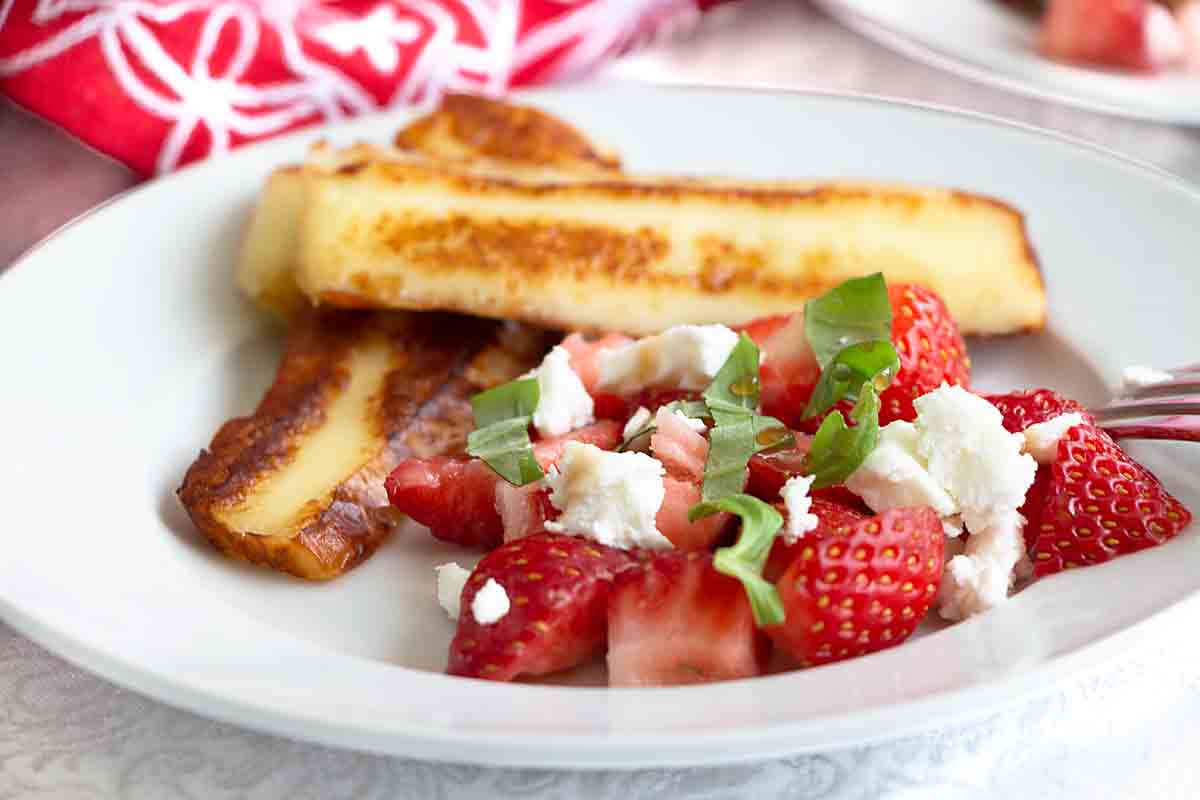 I've bought bread cheese on a whim over the years, often for occasions like the kids coming home from college. Gotta keep your get-togethers fun!
And when my Sunday blogging group decided to write about "dessert grilled cheese"(see below for other tasty ideas), I had my own take on this!
Step by Step Directions
This dessert is quick and easy to prepare. You start by mixing the dressing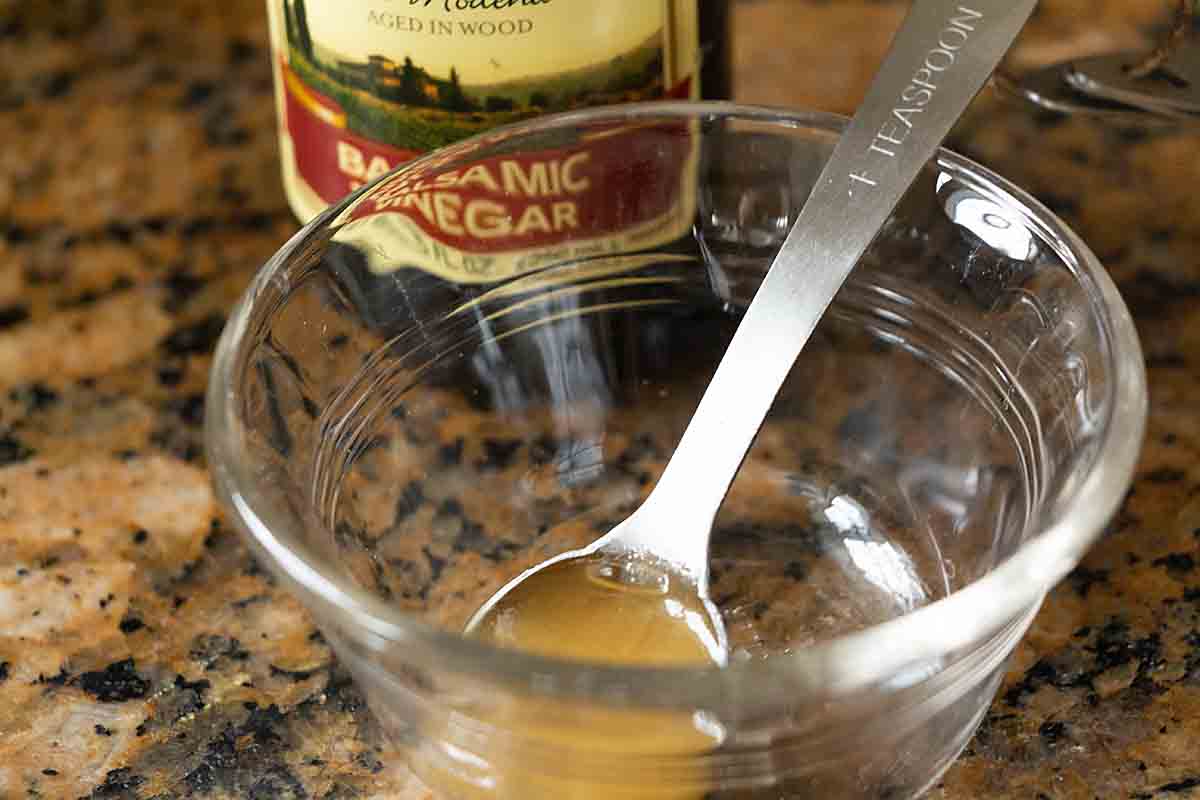 Julienne the basil leaves and chop the berries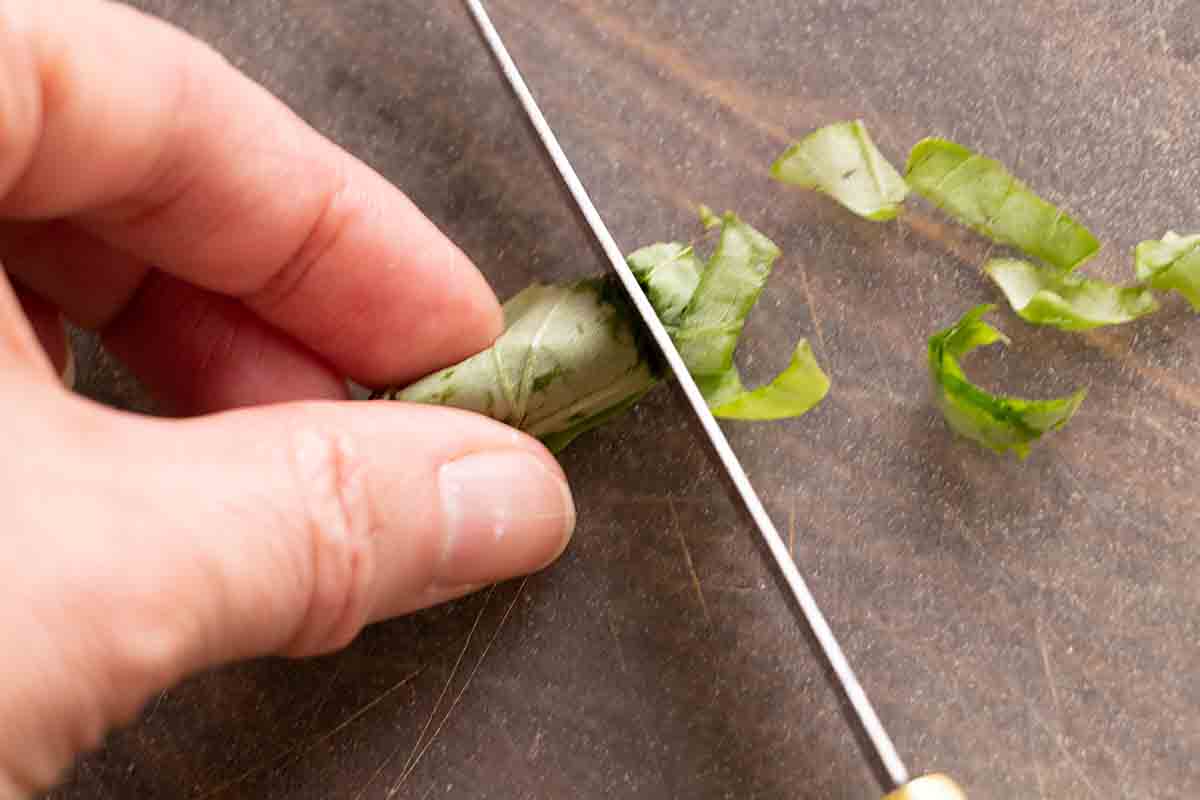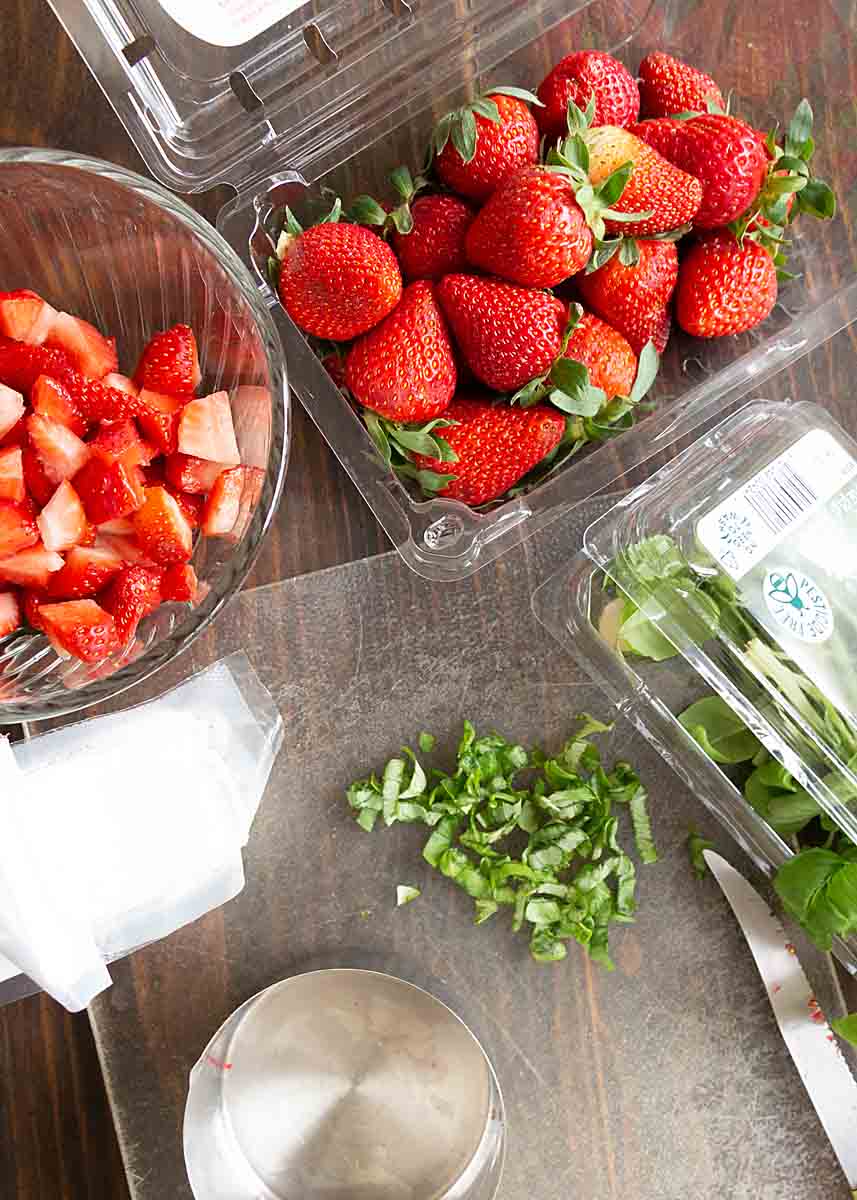 Slice and grill the cheese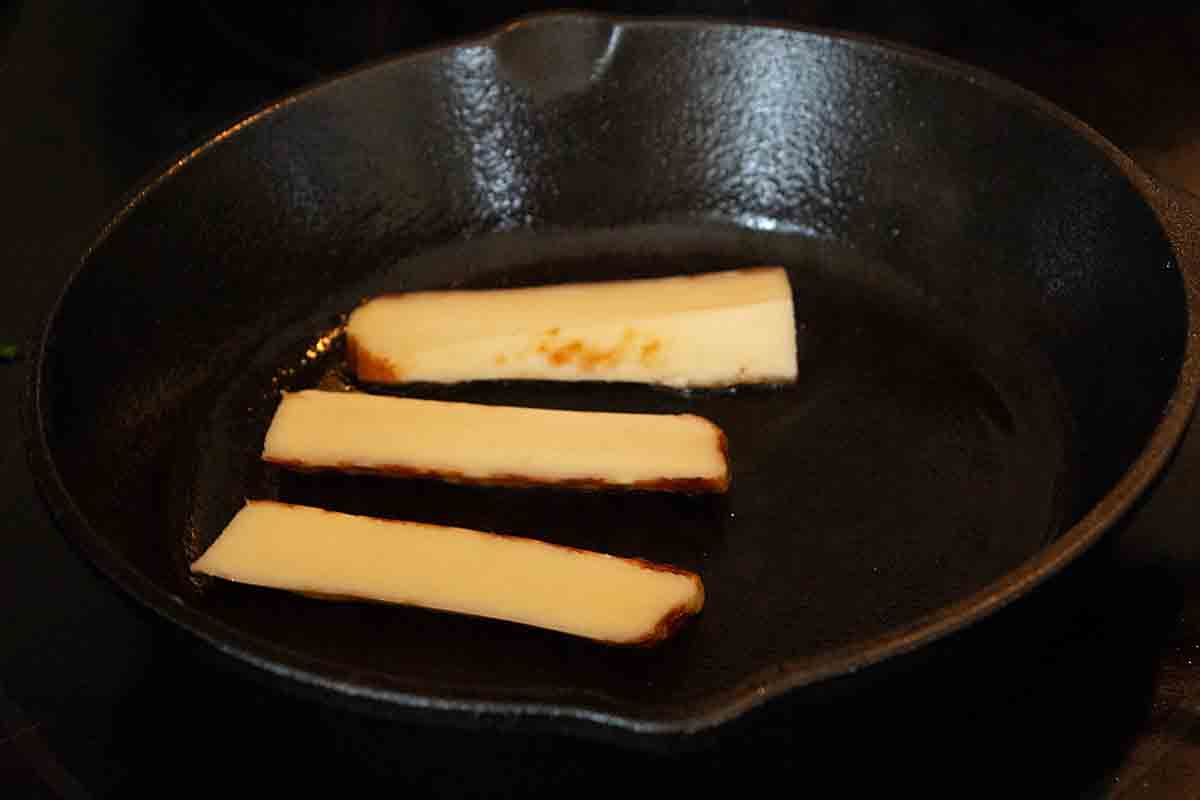 Set some cheese slices on a plate and top iith strawberries, basil, goat cheese and dressing
Serve immediately while still at its molten best!
Notes and Tips
All of the blocks of cheese that I've seen have been fairly flat. So I like to slice the cheese on a diagonal to create more substantial looking slices.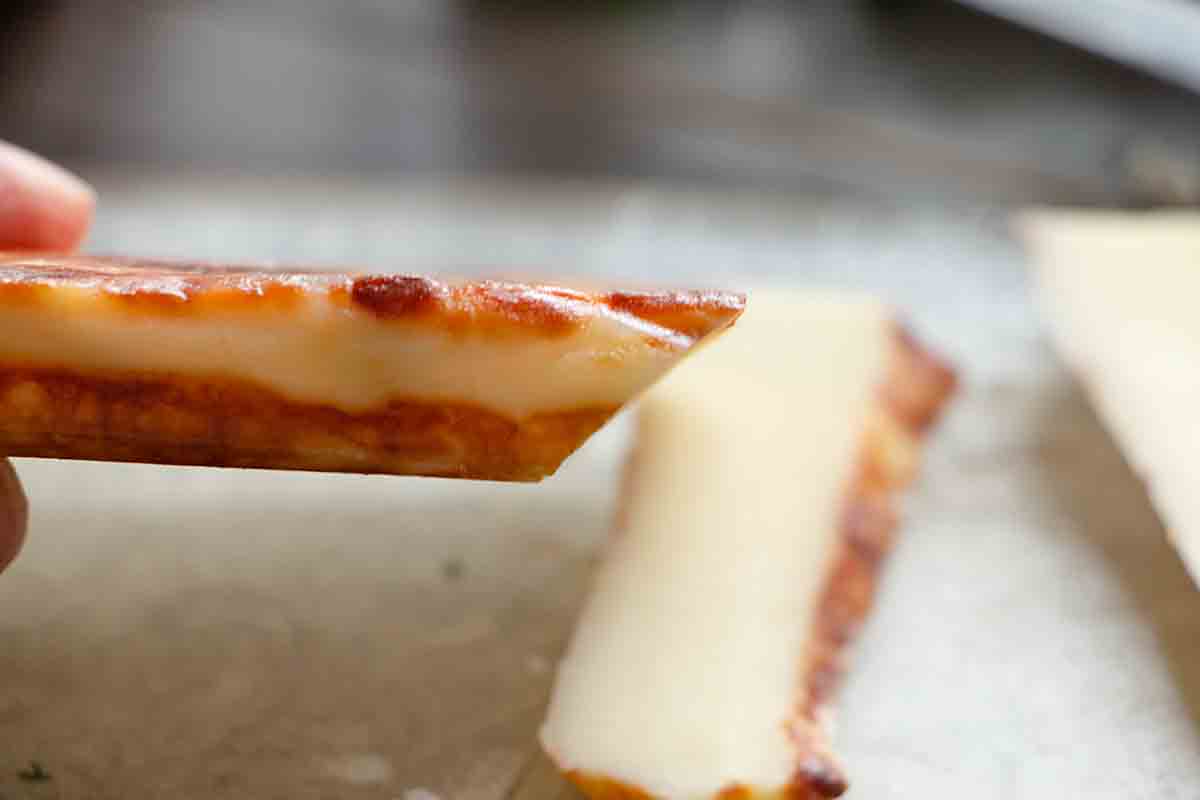 I do not own any non-stick pans and this has always fried well in stainless steel or cast iron, heated first and sprayed with Pam. I've heard bread cheese can be heated in the microwave as well, which I will probably try next time (since you can't beat that for ease)!
I recommend that you do NOT pre-mix the salsa. When I tried this, the goat cheese partially dissolve and coated the berries in white. Not pretty!
The glory of bread cheese is in its melty goodness. So move quickly when assembling and serving the dish.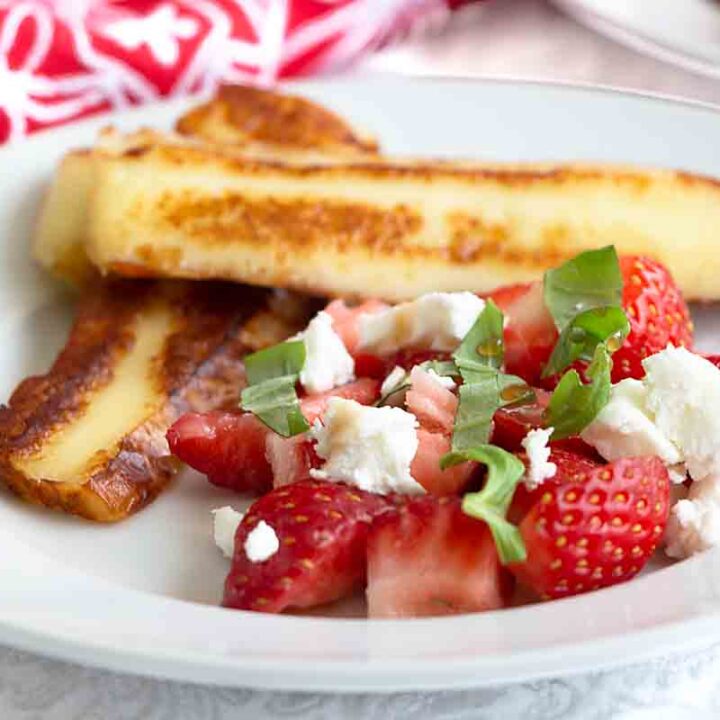 Finnish Bread Cheese with Strawberry Salsa
Yield: 4

Prep Time: 15 minutes

Cook Time: 5 minutes

Total Time: 20 minutes

Finnish Bread Cheese with Strawberry Salsa has warm, soft slices of cheese topped with fruit salsa and a honey balsamic vinaigrette.
Ingredients
Dressing:
2 teaspoons honey
1 teaspoon balsamic vinaigrette
Salsa:
1 pint strawberries (to yield about 1 cup chopped berries)
About 12 basil leaves (to yield about 2 Tablespoons julienned basil)
1 ounce crumbled goat cheese
Grilled Bread Cheese:
1 6-ounce package bread cheese
non-stick spray
Instructions
Mix dressing ingredients. Set aside.

Prep the salaa ingredients. Roll up 6 basil leaves, then slice into julienned strips. Repeat with the remaining 6 leaves. Chop the strawberries. Set aside.

Slice the bread cheese on a diagonal. Spray a hot frying pan with non-stick spray, then heat the cheese slices briefly on each side until warm and softened.

To assemble, divide the cheese slices between four small plates. Spoon out about 1/4 cup of strawberries, then top with crumbled goat cheese and julienned basil. Drizzle with a little dressing. Work quickly so cheese stays soft and warm.

Serve immediately.
Nutrition Information:
Yield: 4 Serving Size: 1
Amount Per Serving: Calories: 188Total Fat: 12gSaturated Fat: 7gTrans Fat: 0gUnsaturated Fat: 4gCholesterol: 33mgSodium: 365mgCarbohydrates: 11gFiber: 2gSugar: 8gProtein: 10g

Nutrition data accuracy may vary with product selection, calculator accuracy, etc. Consult a professional for the best information.



Try all the Delicious Dessert Grilled Cheese Recipes:
We share Recipes From Our Dinner Table! Join our group and share your recipes, too! While you're at it, join our Pinterest board, too!