My First Trip to New York City
It's been a while since I last posted, but I think I have a good excuse. I just took my first trip to New York City!
My husband had a conference there so one of our daughters and I decided to tag along. How much fun can you cram into 3 1/2 days?
Standard Tourist Sites
Since we didn't have a lot of sightseeing time, we decided to try a hop-on, hop-off bus tour which did allow us to tick off multiple sites in an efficient manner. Pros: you see a lot, hear some educated commentary, and learn what's where. Cons: by mid-day it was uncomfortably hot, buses were sometimes full, and there were some long boring stops ("why are we sitting here?"). Advice: compare vendors, and think twice before buying a bigger package (we did only one tour out of the five in our 48 hour package).
Theater
The great theater options turned out to be one of the high points for both of us. We took in two Broadway shows (Newsies, Pippin) and one off-Broadway (The Fantasticks) and felt that this (esp. Newsies and Pippin) would have been a completely different experience done by a touring company (ask me about my "Billy Elliot" experience sometime…). Since we were flexible, we were able to score "day of" tickets at 20-50% off from the tkts booth on Time Square. The line isn't as bad as it looks–really!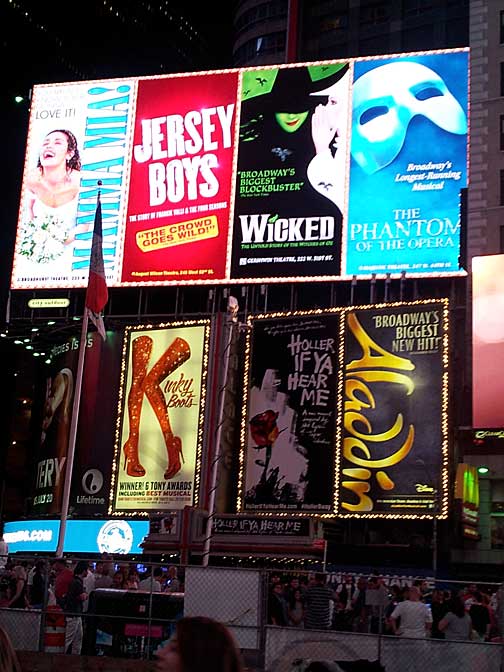 Central Park
After pushing through larger crowds than I've ever seen (I've been joking that Time Square makes downtown Chicago look rural), Central Park is a lovely break. Bikes are available to rent or wear good shoes and take bandaids! And the photo opps are many!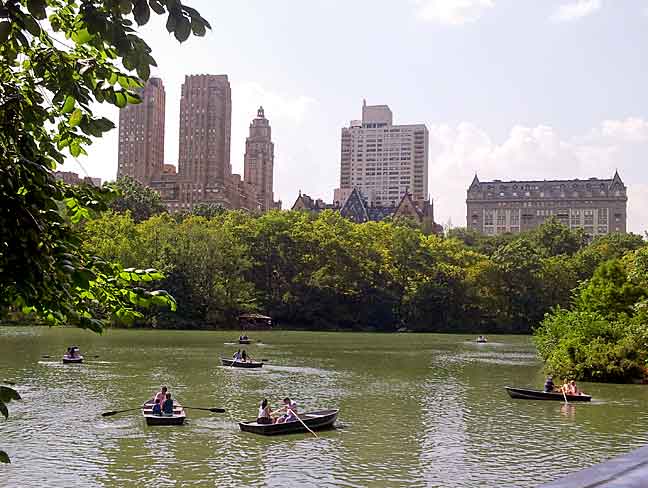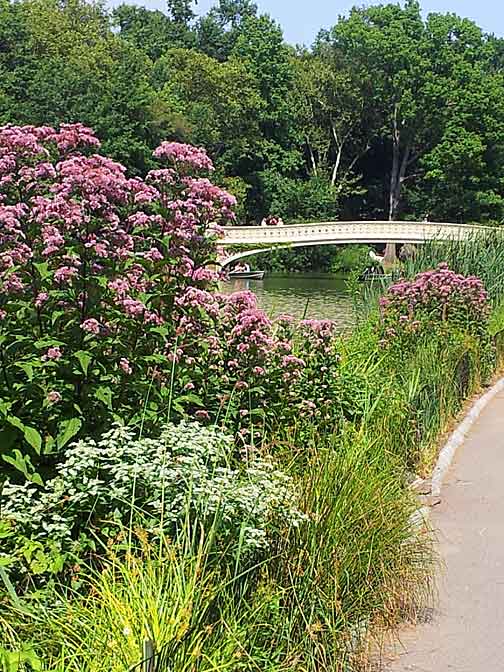 Food
The great food was the other big highlight for me (surprised?). Some of the "famous" food, however, turned out to be rather ordinary, after which I decided it was probably not worth trucking to Brooklyn for various extra-special-recommended pizza.
We did participate in some truly amazing fine dining which, alas, was mostly too dark for non-flash pictures on my phone's camera. You'll just have to imagine gossamer-thin sheets of pasta drenched in rich truffle sauce.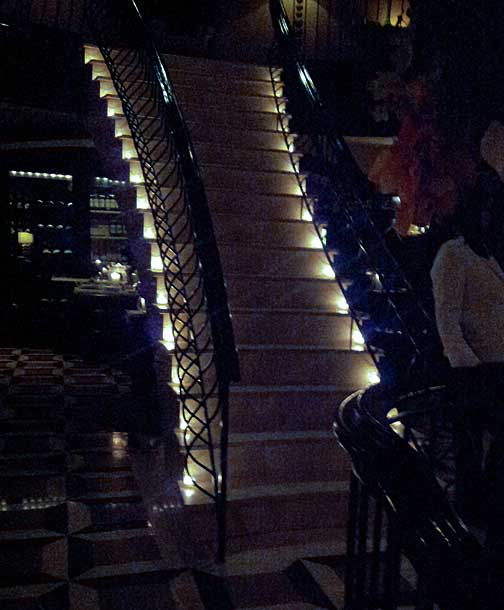 Miscellaneous
Getting around New York City is surprisingly easy. Walking is convenient and, since Manhattan is (mostly) on a grid system, navigation is fairly intuitive. Crowds and traffic can strain progress but sometimes moving one street over (if it's on your way) can make a difference. The subway is easy to use–and great if your feet are starting to hurt, or again for avoiding traffic. Just bring some cash since there was a problem with the ticket vending machines when I was there (not sure how common that is) and the booths don't take credit cards (but they do give out handy subway maps!) Riding is economical and for a longer stay, a 7-day pass is a bargain.
Have a teen who wants to sleep in? Leave them in the hotel and catch an early broadcast of GMA or the Today Show! The Today Show films in Rockefeller Center, right by Bouchon Bakery and I was worried that I was arriving too late (7:30 ish) but it was no problem. The whole experience was well organized, friendly and fun. Even better I happened to catch the filming of a celebrity chef cook off! Tip–don't stand behind the watermelon if you want to catch yourself on the film 😉
And final advice? Good shoes, good shoes, band aids, good shoes.